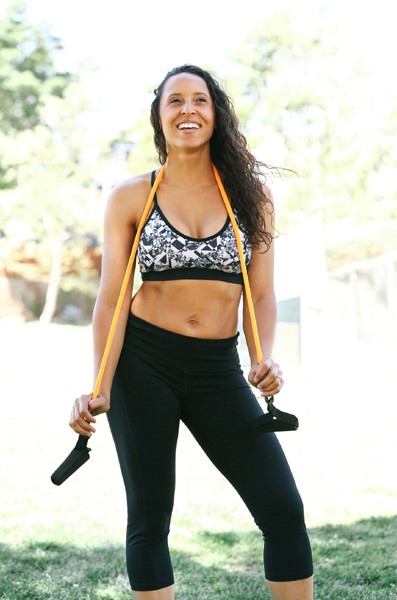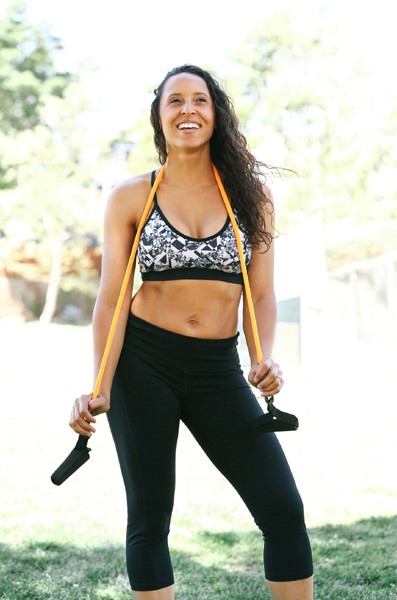 Today we'd like to introduce you to Jada Kelly.
Jada is an accomplished fitness professional with numerous professional credentials. Her specialty is fitness education and she has proved her mettle even in the face of extreme difficulties. She plans to continue sharing her knowledge with others and this includes publishing a book that she is currently working on.
Below you'll find our interview with this unstoppable fitness guru. 
Jada, please share your story with us.  How did you get to where you are today?
I discovered a love for fitness in college; actually my boss saw it before I even realized it. I worked at the Rec Center and was given the opportunity to get my first group exercise and personal training certifications there. I started working with my first clients during my senior year of college. After that, I was hooked. I continued teaching group exercise and training clients as a side gig through my first jobs out of school. Training and teaching were things that I loved so much. It didn't matter how tired I was or how little time I had, I could always make time to teach a class or train someone! That's when I realized that I truly loved this type of work.
Eight years ago, I left my corporate full time job to switch to a job in fitness and education. I started teaching middle school PE at a charter school. That was amazing be able to take my passion for fitness and use it to inspire these amazing kids! I continued training clients on the side and began competing in amateur bodybuilding contests with the National Physique Committee's Bikini Division. That was something that I shared openly with the students and families that I worked with as a way to show them I wasn't all talk but I worked hard, ate well and did all the things I was encouraging them to do. It's so crazy because I have had so many students who are in college now come back and tell me how that example had such an impact on them and the decisions they make now. Hearing those things are so beautiful, can't keep the smile off my face. About 5 years ago, I became pregnant with my first son and was determined to continue training and being an example to my clients and the families I worked with. 6 months after my son was born, I competed again on the bodybuilding stage. What an amazing moment that was. I didn't place in that show…I had previously won and was nationally ranked. But, that show after my first son, was one of the proudest moments of my life. Knowing that I gave my all and was back and strong enough to step on the stage was better than any trophy. A few years later, I had our second son and competed shortly after he was born. I placed 4th in that show and that was another amazing moment. Last year, I began working with the LA Kiss Girls dance team as their trainer. Sometimes it blows my mind that I'm given the opportunity to work with and give guidance to so many amazing women! It has been a pleasure working with the young ladies on this team. I'm in my second year with them and while the training methods are the same (combining strength, cardio and eating well) there is a whole part about learning to be your BEST that I include with any client.
I have learned, as I look back on my journey, that it's not enough to be nice, or just workout, or just do whatever it is you do. You must give it your BEST. Whether it's your job, your workout, your food prep, etc, you must aim to be your personal best in every area. All this leads me to this past year. I earned a promotion and have had the pleasure of serving as the Health and Fitness manager of the charter school network I started with 8 years ago. Besides training my clients, teaching group exercise classes, being mom to 2 little boys and wife to my husband, I also help with educating the amazing young people in our 15 schools about all things health and wellness. We just had our largest Health Fair to date!! I'm so excited about the future, but at the same time, I'm incredibly thankful for what I have right now. So what's next for me? I have no idea! What I do know it that I will continue to be thankful for all the opportunities I have, I will continue to do my best in every area of life and I will be in the gym tomorrow working my butt off!
Has it been a smooth road?
It's never a smooth road! I remember a few struggles, for example there was a summer where I started a boot camp. I marketed it as best as I could and had about 10 people who were supposed to show up. That first day, no one came. I stood there for the hour not knowing exactly what to do. I think I even cried. I was already married to my husband then and I called him on my way home. He listened to me but didn't allow me to stay in a defeated place. He asked me if I believed in myself. I said yes. In so many words, he told me to start acting like it! I'm so glad he pushed me forward. Everyone is going to have days, weeks or even months that don't go how we thought they would. What's more important is the way we react to the situation. That bootcamp run wasn't the most successful. Matter of fact, might have been the worst one I've ever had. But, it didn't defeat me! If I would have given up, I wouldn't be where I am now! A few milestones…being featured as Bodybuilding.com's trainer of the Month, being asked to represent HMB and be one of their athletes (I am currently still on their roster), starting my web-based coaching program, being top 5 at a national NPC show, my first NPC show back after having my son, being hired as PUC Schools Health and Fitness Manager.
What are your plans for the future?
I am working towards do more speaking engagements around fitness, overall health and what it looks like to live a healthy lifestyle. I have a soft spot for moms (probably because I know the struggle to be fit and be mom firsthand) and most of my info is geared towards the working mom. I started writing a book this year, and will work to finish that before the year is over. I also have goals of competing again in hopes of earning a professional status. I'm looking forward to training my clients next week AND someday having the opportunity to speak in front of thousands of people, encouraging them to make health a priority because they are worth it!
Let's dig a little deeper into your story.  What was the hardest time you've had?
Hardest moment…gosh, I had a miscarriage in 2013. That was incredibly difficult. A few weeks before, I had announced my pregnancy to my kickboxing class. My husband and I were so happy to be pregnant with our second child. The first pregnancy had been so great and easy that we thought at 10 weeks, we were safe to share with everyone. At our 12 week appointment, we found that there was no heartbeat. I was devastated, but in that moment, I realized that I had a choice to drown in the feeling of defeat or put my focus on God and praise Him through my pain. I chose to praise God. Even though pain didn't immediately go away my focus shifted and my husband and I knew that eventually, we would have another child. 3 weeks after the miscarriage, I was just starting to feel normal again, and then I injured my back. I couldn't walk for a few days and I once again felt devastated. The pain of the miscarriage resurfaced and my frustration intensified because I felt like 2 things I cared about, family and fitness, where being taken away. I had to take about 2 months off of working out, and didn't see any clients during that time. It was a crazy time but a great reminder that nothing I had was promised. I got through by forcing myself to focus on the blessings that I did have (my job, my husband, my 1st son, my faith, my life, my family, etc.) and looked forward to being able to exercise again. The other thing that pushed me forward was knowing that sooner or later, I would get through this and then I would be able to share my story to encourage someone else. We can talk more about this if you like!!
Do you ever just stop and think WOW – I've made it?
I can't say that I've had an "I MADE IT!" moment 🙂 I don't know if I will ever feel like I have made it. There will always be something more to strive for. There have been a few great moments though that have helped to propel my career. One moment that stands out in particular, was competing on the NPC National stage in 2011. I was awarded 5th in my class out of over 30 women. That moment opened a lot of doors professionally and solidified my partnership with Metabolic Technologies, Team HMB. I am still an athlete for them now! Another awesome moment was being featured as Bodybuilding.com's trainer of the month. That post allowed to me to go national!!  I began working with my first out of state clients and I'm thankful for that recognition. Now, I truly see every interaction that I have with someone as a defining moment. I am humbled that people would allow me to help guide them through their fitness journey and I love finding new and creative ways to help make the fit life sustainable.
When I look around at the amount of people I have the privilege of influencing on a daily basis, it blows my mind. From my work as a Health and Fitness Manager for schools, to being a #fitmom, to teaching my group exercise classes, to training and coaching, each interaction makes me smile because I am truly doing what I love to do. There is so much more to come but I am truly living out my dream.
Pricing:
Prices range from $80 and up for in person sessions.
Web-based programs start at $140 per month. 
Contact Info:
Email: jadakellyfit@gmail.com;
Twitter: @jadakellyfit
Instagram: @jadakellyfit
Check out her work below: