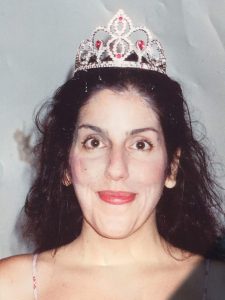 Today we'd like to introduce you to Lucretia Tye Jasmine.
Lucretia Tye, please share your story with us. How did you get to where you are today?
My mom's best friend gave a diary to me when I was in third grade, and that's when I fell in love with writing. In my diary, I described the events of my days and nights, but I also made lists and drew fashions and fantasies. I made up a version of myself that I wanted to be – one line in an early diary states, "After school today there was a dance. I was pretty, popular, and fun." Ha! By the time I was in 6th grade, and I'd discovered pop music and pornography, I made up stories in my diary about sexy romances with rock stars.
Born in Boston, Massachusetts, I grew up in Louisville, Kentucky. My family was active in the feminism and civil rights movements. A voracious reader, I was deeply affected at a young age by authors Carol Adams, Margaret Atwood, Marilyn French, bell hooks, Toni Morrison, and Alice Walker. I've always adored critters. As a child, the blood on my plate horrified me. I've tried to avoid meat and dairy ever since.
The treatment of women is similar to the treatment of animals, something I realized while reading Adams and Atwood while earning my BFA in Film Production from NYU.
NYU! Amazing. Mind-expanding. My favorite professors taught at NYU: Paul Arthur, Alice Deakins, Boris Frumin, Penelope Johnson, Antonia Lant, Elena Pinto Simon. My aesthetic was born there, my critical thinking deeply honed, my world opened. My philosophy for ethical living emerged, a philosophy earlier encouraged by Doug Proctor, the Vice Principal of J. Graham Brown High School, Jean Gish, my math teacher there, and later mirrored by riot grrrl.
riot grrrl Los Angeles! The Third Wave feminist punk rock subculture was like the friend in theory I always wanted to have in practice: badass, creative, smart, cool, and loyal.
Writing, drawing, filmmaking, and the physical work of assembling my assemblage art really help me. The physical action of cutting and pasting for my zines help me deconstruct literally what disturbs me emotionally and mentally. It's like magic. Writing and art-making become transformative. Plus, it's (usually) fun.
My mom, Lucretia Baldwin "Teka" Ward, influences me every day of my life by living how I want to live: self-sustaining and wise, practical and artistic, nonviolent and self-aware, informed, gracious, considerate, ever-evolving and willing to improve. In high school, my writing teacher, Sue McVie, told me I was a good writer, and that really affirmed me. It was then that I began writing about groupies and rock stars! Also, my brother, Lacey T. Smith, Jr., has always believed in me, and I in him, and I believe this mutual and deep faith has really helped us.
Overall, has it been relatively smooth? If not, what were some of the struggles along the way?
It's been so very difficult. It's been a challenge for me to earn a living. I'm a sensitive introvert who lets others go first. I have doubts about capitalism and a serious critique of any hierarchy. Also, my physical appearance was and is not fashionable, so it's been a real challenge to navigate the world of surface-oriented humans. Conformity does not come easy to me.
I've struggled mightily with depression, an eating disorder, and OCD inclinations. Black-out drinking and cigarette smoking were problems. I've been clean, sober, and abstinent from most of my vices for many, many years.
I thought life would get easier as I aged, but it hasn't. I've been saddened by many people. Troubled deeply by time-wasting, invalidating, and exploitative systems of government, employment, and health care. The solutions are to maintain my ethical center and my creative practice; encourage my essential feeling of joy; to politely and clearly ask for what I want; nurture my appreciation of beauty and healthy pleasures; and be loving, patient, and tolerant. Of myself and others! Know when to let go. It's a tall order…
We'd love to hear more about your work and what you are currently focused on. What else should we know?
Wild interests and an inclination to rage against the machine with a flair that could equal the groupies and rock stars who fascinate me, I make art and write about what I admire and what I wish to transform or transcend. I write in all kinds of genres, from lyric essays and memoir to poetry to fiction to journalism, and same with my artmaking, from zines to short films, oils and pastels to assemblage art.
I'm really proud of all my art and writing. There is a lot! I've written three books, over three hundred essays and stories, a script, a Series Bible, and approximately one hundred and fifty poems or songs. I've made about one hundred pieces of art.
There are a few pieces of art and writing that I think accomplish my ideas: short films and videos about rape, including Daybreak (16 mm film about rape), Quinn (video about an eating disorder), Untitled Film #1 (16 mm film about being a woman in patriarchy), and Untitled Film #2 (16mm film about bulimia), that I made as an NYU undergraduate; charcoal drawings about bulimia; Polaroids of my best friend, and of my sweetie, that show the beauty of the male body from a woman's point of view; a poster of my riot grrrl Los Angeles zine contribution, A Grrrl's Diary: Oh God I'm a Girl, based on a series of Betty and Veronica comic book panels; the Perfect 10 Beauty Pageant series (mannequins, evening gowns, and sparkly beauty pageant sashes); and the Groupie Feminism art series (assemblage art that includes a school locker, hotel doors, American Girl accessories, a suitcase, a jewelry box, and a fan, with mixed media including glitter, cash, tears, love letters, a casket, and toy furniture). I also love my oil painting, Ruby, which is of The Body Shop's banned ad campaign depicting a large and naked woman doll; and Your Love of Beauty Kills Me, an acrylic with dried flower petals and velvet in the shapes of pinned butterflies. Zines I made with my mom, by myself, and with friends.
A few things I've written feel really effective to me: a novel, The Adventures of Annabelle Ballantyne, about a fan who goes on tour with a rock star, making friends (and some unfriends) with groupies, the band, and the record label owner, taking along a tuxedo cat, Elvis, and a Chihuahua, Starla; a collection of short stories inspired by rock 'n' roll lore, Power Ballad; a short story about an abattoir; and a short story about being sexually harassed. I'm proud of my Series Bible for an eight-part episodic drama about groupies. Also, two oral histories that I plan to turn into mixtape zines: riot grrrl Los Angeles1992-1995; and The Groupie Gospels.
I'm also really grateful for every time I've ever been published or exhibited. Most recently, in the Los Angeles Beat online; Please Kill Me online; and essays for Women Who Rock: From Bessie To Beyoncé, Girl Groups to Riot Grrrl, edited by Evelyn McDonnell (2018); and Let It Bleed: How To Write A Rockin' Memoir, edited by Pamela Des Barres (2017). The New York Times exhibited my archival concert footage of Bikini Kill; the U.S. Library of Congress, my interviews with vegans and groupies for Feminist Magazine Radio, KPFK, 90.7. The Punk Museum of Los Angeles has several times exhibited my riot grrrl art. I'm relieved that a lot of my riot grrrl zine collection is housed at Fales Library and that one of my films and some of my zines were chosen for Alien She. One of my films can be seen via Joanie4Jackie.
Earning my MFA at CalArts almost killed me but it was there I developed my most enduring theme: a groupie feminism that includes my DIY aesthetic and animal rights compassion.
Extension classes in studio art at UCLA were also lonely and painful experiences, but the chance to try so many materials – from pencil and charcoal to pastels, acrylics, watercolors, and oils – demystified previously intimidating artistic processes. Plus, I made art about my cat!
Even if I never get rich and famous or critical acclaim for any of it, and even though I have yet to earn a self-sustaining living from it (just 25 g/year would be enough!), the main thing is that the act of creation reassures me and lifts my spirits, providing me with a sense of purpose and accomplishment, the ability to transform, and the feeling of happiness. It also distracts me from fears about the current pandemic.
Something else I'm proud of and that makes me happy is Turn It Up!, a collective I co-founded. We advocate for gender parity in music. https://www.turnitup.team/
What do you like best about our city? What do you like least about our city?
Oh Los Angeles!  What a tormented and bewitching love affair is Los Angeles! LA encompasses everything a great romance encompasses: Excitement! Possibilities! Glamour and mystery! Nostalgia and anticipation, seedy beauty and glassy glamour. Seduction and self-destruction! Action and self–fulfillment! Betrayal and boredom and heartbreak, frustration and disappointment and despair, rage and resurrection and starting over. Oh the freeways, the mountains, the ocean and sand! The museums, the vegan restaurants, the  coffee shops, the concerts! Living in my faithful jalopy with a punk rock squatter I met in Hollywood when I first arrived in LA. Moonlight drives and hikes after midnight with my best friend on winding roads and through the mountains. Adventures with my true love sweetie as we try new things together. And always: the flowers, the trees, the plants, all of it, native and imported. Sages! Bay Laurel! Pine! The wildlife! The scent of cool nights, so fresh, and when it's about to rain. And the sky, the big beautiful sky.
Los Angeles lets us see the vastness of the sky – even with the pollution. The traffic, the expense of having and maintaining a car and a place to park (oh those parking ticket enforcers), and the unreliability of so many people who live here test one's will to stay (and one's will to live) . People seem more predatory in LA, and way more judgmental than in NYC. The heat, and the relentless sun.  Egads! I'd truly treasure more rain, thundering gray skies and summertime fireflies.
I've lived in Los Angeles since 1989, when I left NYC. The entire time I've lived here I keep planning to move away. And yet, the longer I live here, more and more every other town seems like a toy town when I visit (except of course, New York  City, my other great love affair, and cities in Europe). I met my best friend here, and it's where I found my true love. I've befriended critter companions here I'll always adore. Los Angeles, Los Angeles! I can't leave you yet!
What is "success" or "successful" for you?
Self-sustaining, nonviolent, ethical, honest, truly fair, and creative. Responsible. Not being cruel. Also: making the art and writing one really wants to make, and, ideally, earning a good living doing it!
Contact Info:

Image Credit:
All artwork photos by Lucretia Tye Jasmine; Photo of Lucretia Tye Jasmine by her grandfather, the architect, Jasper D. Ward
Suggest a story: VoyageLA is built on recommendations from the community; it's how we uncover hidden gems, so if you or someone you know deserves recognition please let us know here.