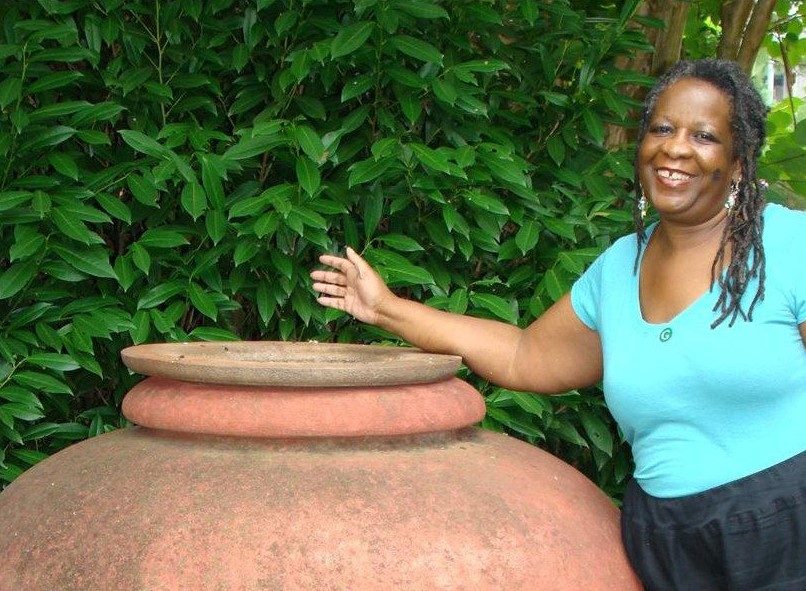 Today we'd like to introduce you to Inez Singletary.
Inez, please share your story with us. How did you get to where you are today?
I was 27 years old. It was my birthday. I was in the process of divorce. I was in a period that astrologers call the Saturn return when the planet Saturn has made its first full trip around the circle that represents your astrological chart. Compare it to Jupiter, which circles the chart every 12 years. I think the Saturn return (between ages 27 and 30 is why the statement "You can't trust anyone over 30" exists. Age 30 smacks you in the face to open your eyes, and it makes you want buckle down and get realistic. It forces you to awaken from your dreams, and it often does it rudely. But I did not know this. All I knew was that I had listened to a tape of my sister's reading and was blown away by how much this person who did not know her knew about her.
I did not sit with the same astrologer as my sister. My reader's name was Karesse, and she was appropriately named. She was sweet and gentle and she gave me three hours instead of one. My mother used to say repeatedly, "I know you better than you know yourself," which used to irk me, but Karesse certainly knew me better. She gave myself to me that day. That day I walked away with an expanded version of myself.
Maybe connection with astrology was my mother's knowing me, while she knew it not. I did not know it either at the time. She was interested in astrology. She said she had five children and they were all hers, but all different. She turned to astrology for explanation. She also had a reading. Having a reading is not a common thing, even today, though I understand that astrology is on the rise for Millenials.
My mother thought astrology should be taught to the masses. I think so too. It is a wonderful aid to the understanding of self, others, and the events of our lives.
Karesse handed me this circle with symbols in it. These symbols were the signs and planets that made up my personal map, laid out in certain relationships. I couldn't recognize a thing, which she acknowledged, but wanted me to hold it in my lap anyway.
When she was done my first thought was, "I have to learn this." Soon I was in a class with my sister where I met the man who would be my second husband. Though my second is now and ex, we still connect via astrology. I feel privileged to share this language and way of looking at the world with two dear people.
Soon we would all be studying what looks like Tarot but is a vessel for Qabalah. I consider astrology my golden key and tarot/Qabalh my silver key. Tarot/Qabalah gives me a level of wisdom about the universe and humankind which helps me to be a wise counselor and guide.
I have also taught astrology and when I noticed a joyful playful vibe in the session where I had students recreate their own chart on large paper with colored pens and cut it out. It was as if this group of adults was transported to a carefree time in childhood, and I decided to incorporate art into my classes. For a new moon in Gemini, sign of communication, we might create a word wand so that people would be aided in recognizing and remembering the power of their word.
In 1985, my mentor and teacher selected me to continue his work of writing guidance for the new and full moons in Aspects magazine. When Aspects folded, I continued offering my guidance via email, then newsletter, then blog. I have been writing this new and full moon counsel twice a month for 35 years, and I have never missed a single one! In health, sickness, sorrow, heartbreak, personal crisis, I still produce words of guidance and inspiration for others.
I use astrology every day as a way to view the world, to make sense of it, or at least have a good template upon which to study the world, but also a template upon which to look at myself. I don't use it to plan all the right moves for my life but to get insight about my life.
Astrology at it's best is not for the purpose of fortune-telling, but for illuminating the path that you are on. I don't tell people what is going to happen. I help them make what they want to happen.
Making is a theme in my life as a teacher, a leader, an example. I wrote "Making What Your Means Can't Buy" which tells the story of how I bridged the financial gap created by my second divorce. It is about how I learned to interact with the universe in a manner that supported me in actual fact.
Overall, has it been relatively smooth? If not, what were some of the struggles along the way?
It has not been a smooth road, nor have I given up or veered off the path too far to recover. While I am advising people on how to negotiate their lives, I consider it necessary to practice what I teach and to honor the challenges that come. It is extraordinarily helpful to have the hints and pointers provided by astrology. Astrology confirms one of my earliest lessons from Qabalah. There is order in the universe. No matter how chaotic things might appear, there is an underlying order. This allows me to keep perspective and optimism in times of trial.
We'd love to hear more about your work and what you are currently focused on. What else should we know?
The basis of being an astrologer is to interpret individual charts, to prepare a client for the "weather" of particular placements of the planets as they affect the birth chart.
For example, Covid-19 and Black Lives Matter occurs with the timing of planetary placements. Capricorn, for example, is a sign that has to do with form, structure, tradition. Sometimes Capricorn represents the boundary to the outer limits. Keep things as they have always be. People must conform and adhere and obey the rules. With Jupiter, Saturn and Pluto in Capricorn for the rest of the year, we experience not only limits to our movement, but for some, curtailment of income or increased fear.
My job becomes trying to explain the shadowy times a bit, to call it a season or a period, a storm to be weathered. I try to give reassurance, to say that this isn't just some hell visited upon us, to say we can come through wiser and better.
The thread that connects it all is my writings on the new and full moons. This keeps me in touch with what my clients and others are facing and perhaps fearing. It helps me to explain the story behind the story.
I am proud of being a shelter in the storm, the voice of reason, the protector of people who are in the vulnerable process of living.
What sets me apart from other astrologers is my understanding of the universal forces as taught to me by Qabalah. I am able to be a standard-bearer because I am able to see deeper into things and not promulgate popular but erroneous beliefs. I try to help people to keep their heads and their hearts in times of crisis.
What is "success" or "successful" for you?
I consider success to be happiness. I am successful because I am happy. I am successful because I can make a positive impact on people's lives. I consider it a success when a client reports that they feel better or that they are inspired or that they are looking at something in a new way.
Pricing:
Many Moons Blog – Free, delivered bi-monthly by email
Private Consultation – First Time – $175
Private Consultation – Repeat Clients – $125
Contact Info:

Image Credit:
Deborah Singletary, Ken Wright
Suggest a story: VoyageLA is built on recommendations from the community; it's how we uncover hidden gems, so if you or someone you know deserves recognition please let us know here.