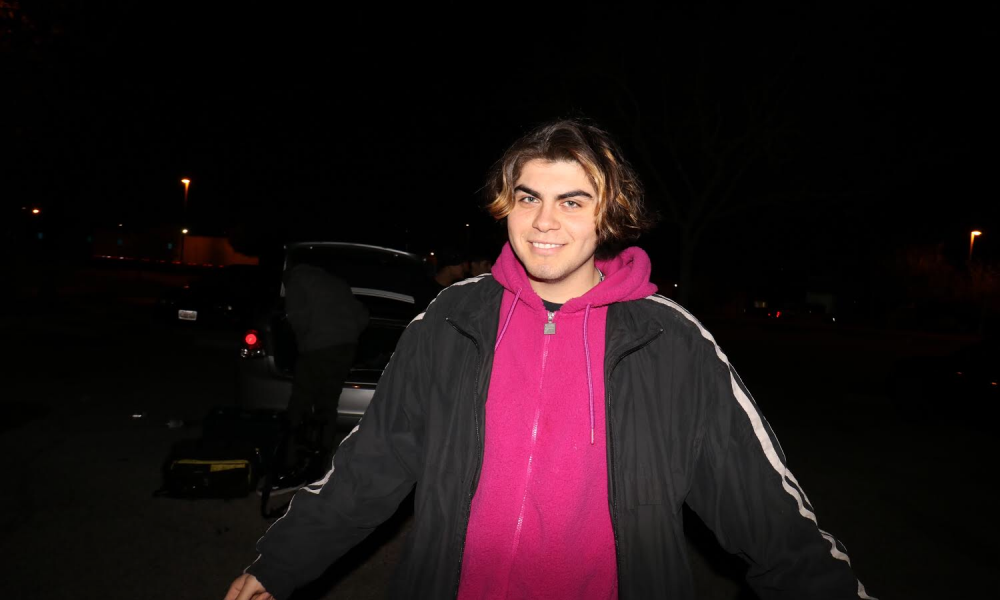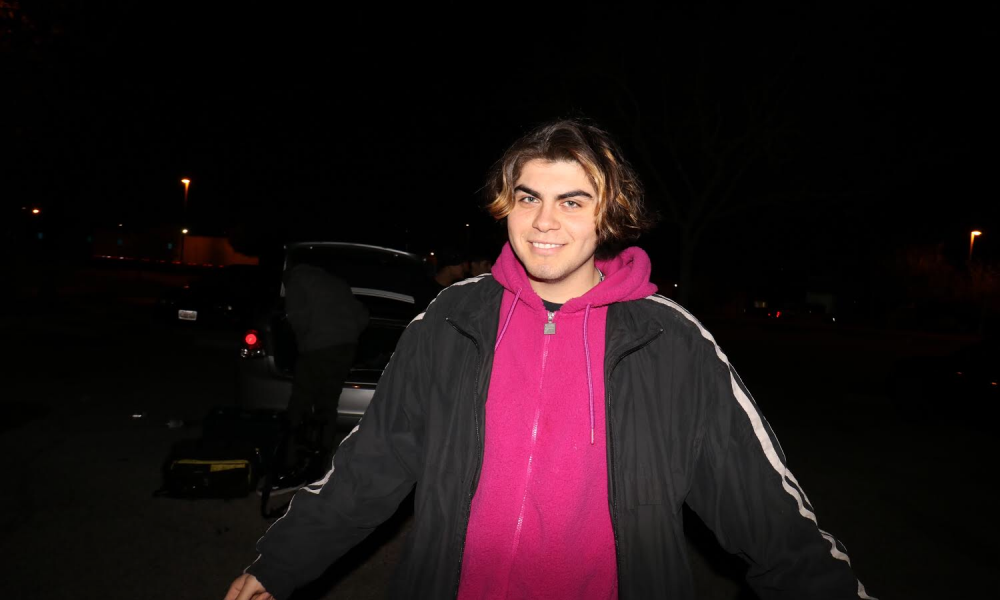 Today we'd like to introduce you to Alex Uribe.
Alex, please share your story with us. How did you get to where you are today?
My name is Mario Alexander Uribe. Many people know me now as Alex Infinity. I was 17 when I got the name Infinity while reading Albert Einstein's biography. The idea is that energy is infinite and cannot be destroyed or created, only transformed. I use all the pain and joy that I've experienced in my life and transform it into art that inspires people and hopefully speaks for those who don't feel safe expressing what's really going on inside their heads. I think I make music for all the kids like me who feel lost and out of place in this fake and crumbling world, we find ourselves in. I want to give them a voice.
My fascination with music and writing began at a very early age. Some of my earliest memories include setting up pots and pans all over my grandmother's kitchen floor in Atwater Village and banging on them like I was playing the drums. Music has always been my escape. Growing up, bands like Green Day, Three Days Grace, Red Hot Chili Peppers, Linkin Park, Hollywood Undead, and many many MANY more were my outlet to understand the many complex emotions I felt as a child. I was always mature for my age and gravitated towards bands or artist that expressed pain, anger, and sorrow. I don't know if that's weird, but that's me. I'm a very joyful person, but beneath my playful exterior is a damaged soul who's seen and experienced a lot of pain and sadness in my 20 years. I think that duality allows me to embrace both of life's extremes, respectively, and you can feel it in my music. In my teen years is when I got into artists like J. Cole, Logic, XXXTENTACION, Joey Bada$$, etc. etc. etc. Like I said, I always like artists who go deep. Those who aren't afraid to "take it there." It makes me feel understood. A feeling that has always been very scarce in my life.
I was 16 when I'd say my journey creating music began. The way it started was like divine intervention. It was my first time getting high and I was with my childhood friends. Out of nowhere, as my friends were lying down to go to sleep in my friend's living room, I started freestyling. Like spoken word type shit. I went on for like two minutes and that was really the moment that changed everything. There's a lot more context to it like I was in this toxic relationship and whatever. Anyways, after that, I started freestyling all the time! My friends and I would drive around Glendale playing the instrumental for YG's 'Why You are Always Hating' and just rap about whatever we were going through. For my friends, it was more than anything just something fun to do, but for me, it felt like the outlet of self expression that I had been looking for my entire life. I started writing poems and lyrics in my notes app all the time.
When I was 17, around July of 2016, I recorded my first song with apple headphones over a beat I made on garage band. It was trash. But the feeling of hearing myself in a song did something to my spirit. Shortly after releasing that song, that toxic relationship I mentioned earlier came to an end and kind of forced me into this spiritual journey (which I think is just returning to my truest self, my spirit). So for me, my music journey goes hand in hand with my spiritual journey. There's been so many unrealistic moments, people, events, etc. that all feel like there has to be some sort of higher power guiding me. I believe in ancestors and the power of the universe or God. Also, ever since I was a kid, I knew I was here to change the world. Literally, I would tell that to my parents. It wasn't even like a dream. It was just this deep inner knowing that I was born in this body at this time for that reason. Throughout my life, that's always been in the back of my mind.
Anyways, I continued writing and later that same year, I learned how to download beats from YouTube and record my voice through this chafita ass program called Audacity that I downloaded on my laptop. I became obsessed. There was really no going back from there. Another thing about me, I'm very passionate. Whatever I do, I have to do it all the way. I can't half ass things, except school work tbh. So I continued recording songs by myself in my room. It's crazy to reflect on those times. Back then, I didn't have anyone waiting for me to drop anything. I didn't know anyone who made music. I just did it because it felt good. It was like an addiction.
The feeling of finishing a new song and bumping it in the whip, there's nothing like it. The only feeling better than that, is performing but ill get into that later. Anyways, I kept creating songs and traveling further down the rabbit hole. A couple of days before my 18th birthday (April 9, 2017), I dropped this song called 'Scrambled Eggs' which was by far my best song up to that point. It also became my first song to rack up 1000 plays a few months later, a huge accomplishment considering all my previous tracks capped around 100. On June 3, 2017, the day of my high school graduation, I dropped a five song mixtape, including Scrambled Eggs, called The Legend of Señor Clutch. Four of those songs are still available on my Soundcloud.
It's hard to talk about where I'm at without acknowledging everything that got me here. The many people I met, befriended, unfriended, etc. I could write a whole book about it. Just know, there are a lot of people who have inspired me, mentored me, pushed me to be where I am now.
During my first week of college at CSUN, in my Chicano Studies speech class, I met Goob, who introduced me to his rap group, Aikido Notion. That was the beginning of a whole other part of the journey. I threw my first real concert with them, Project Infinity, New Year going into 2018. I saw this music video for a song called 'Trap Tears' by Raury(another artist who has greatly inspired me), where he performs on top of a truck. SO, me being the ambitious spirit that I am rented a uHaul truck and used it as a stage to perform for party goers in my front yard. Nobody knew my lyrics. One girl even yelled to play something else, it was a disaster. But I didn't take it as a loss, more as fuel to go harder. Around that same time, I got a MacBook Air and downloaded a cracked version of Logic Pro X because my friend Yoni had it and could teach me how to use it. I began producing beat after beat. I spent many nights in my homie Aldo's dorm room making beats until 6, 7 in the morning, with an 11 am class a few hours later. I was obsessed with getting better. Every new beat could be the one that becomes a song. I was still new to producing so many of the beats were pretty bad, but some turned out to be gems. One beat that I made that second semester of college ended up becoming a song called 'Hip Hip' featured on my most recent album, 'Daydreams and Nightmares.' I continued making songs by myself and with my new group of friends, Aikido Notion, as well as my CSUN friends, Eshoo Gang.
March of 2018 also led me to the Young Warriors and Tia Chuchas by way of the San Fernando Street Festival. As soon as I got involved with the youth mentoring program, I went all the way in. I tabled at any event I could. I gave my heart and soul to the program. About a year later, February 2019, with the help of the other Young Warriors, I introduced the resurgence of the Young Warriors Youth Open Mics at Tia Chuchas that takes place every third Friday now. I've also had the honor of becoming the lead facilitator for the program as well as co-facilitator for off site programming with Friends of the Family and Casa Esperanza as well as a peer mentor for Rise Up Los Angeles and The Gr818ers. I've had the opportunity to speak in front of many different groups of people in many different settings from middle and highschool classrooms to potential donors at the Tia Chuchas annual fundraising Gala, even community events such as the Celebrating Words Festival at Pacoima City Hall. It's been an incredible two years and I'm super grateful to Tia Chucha's, Young Warriors, and the many people I've met because of it.
Back to the music. Skipping the details of 2018, which saw my first release on Spotify, Apple Music, etc. as part of Aikido Notion's second album, 'Ain't Playing' and my second solo project, 'Days of Our Lives.' 2019 was my biggest year by far. I performed well over 50 times at various back yard concerts, open mics, events, etc. I released three singles, was featured on four songs by other artists(Devincii, Erika Stormm, Yaotl, Aikido Notion), one EP, and my first full length album, 'Daydreams and Nightmares.' I produced, wrote, recorded, and mixed the entire album and my grandmother who was one of the most influential people in my life, passed away the same morning that the album came out, December 19, 2019. I also directed and edited the accompanying music videos with the help of my friends Misty Shots and Yuung Hollow. Like the rest of my music, 'Daydreams and Nightmare's is a glimpse into my personal life.
I try to be as honest and vulnerable as possible in my music. I feel like I make music that my younger self would have listened to. Stuff that I needed to hear when I was a kid. I hope that I can be somebody's Three Days Grace or XXXTENTACION. Aside from my genuine love and obsession for creating, that's a huge source of inspiration for me. Like, I appreciate when people compliment my music, but what truly means the most to me is when people message me or in person tell me that my music helped them in some way or another. I see myself in them. I want them to know that I understand how it feels to feel hopeless, alone, depressed, all those things that are so difficult to talk about. I can say that I've come a long way from having no fans and no one knowing my lyrics. My most recent concert was my Daydreams and Nightmares Album Release Party, February 3, 2020. Almost exactly two years after Project Infinity, but this time, everyone knew the lyrics, and everyone sang along. I don't like to brag a lot, but for me, this was a huge personal accomplishment. I am especially considering how personal and intimate the subject matter of the album is.
As I said, my music journey is tied very tightly to my spiritual journey. Everything I do, I do with all my heart and soul. Everything I make is made with love. That's why I am where I am today. That's why people love me; Because I love them. I do. I truly believe that I am guided and protected, especially now with my grandmother watching over me. I know I am here for a grand purpose and I'm excited to see where this journey takes me. My biggest goals are to represent my generation and my community, the 818, and to inspire the next generation to follow their heart and to find healing in this damaged world. I also want to use my voice and platform to speak for issues that affect my community and my people. I am a Chicano. I'm aware of the many systems in play to keep my people out of power. I'm also aware of the many triumphs and accomplishments of my people. I want to uplift latino voices. Create opportunities for others to be heard. This is very important to me. I want to create more opportunities for the youth in my community to embrace their creative nature. I want to help people — That's why I call myself The Infinite One. I want to live a life so grand that my next incarnation hears about me and is inspired. I want everyone to know that they are infinite. I am no better than the next kid trying to make something of themselves. I am Alex and I am Infinity. I am Alex Infinity.
We're always bombarded by how great it is to pursue your passion, etc – but we've spoken with enough people to know that it's not always easy. Overall, would you say things have been easy for you?
Growing up, I was a victim of intense bullying and abuse. That played a large role in shaping my identity and the way I see myself. I've been dealing with mental health issues my whole life. It runs in my family as well. That caused me to be a timid and insecure child. I had to push myself to become outgoing and charismatic. Its something I've gotten pretty good at over the years. Internally, however, I still see myself as the shy kid who daydreams and likes to escape a lot. With the music, I didn't really know anyone or anything when I started. I spent almost a whole year making music by myself with no guidance but the internet and my heart. I spent many Friday nights of my 12th grade year in my room alone making songs. I remember this one time I performed a show where only one person showed up beside the sound guy and my partner at the time. I still sang like it was a whole crowd. I've made all my connections myself. I learned to produce, mix, and master so I wouldn't have to rely on anyone else who may not care as much as I do. I don't have anyone in the music industry, so I've really had to hustle to get to the point I'm at.
We'd love to hear more about your work.
I am, first and foremost, a Sylmar based Chicano Artist. I don't know exactly what to label myself because I do so many different things. I would say I am a musician, poet, youth mentor, event organizer, actor, entrepreneur, and community leader. It's a lot, but I do it all. I write, produce, and engineer music as well as produce and engineer for others. I am a youth mentor through the Young Warriors. I host concerts, open mics, and other social gatherings. I'm also known for my intense energy on stage. I like to really give my all when I'm performing. I think what sets me apart from others is the fact that I do everything and I do them all well. I would consider myself a one man army. Of course I have help from others, but I really orchestrate almost all of it. There's no limit to what I will do next and my art is genreless. I have songs that are more like poems over gentle guitars, songs that motivate people and make people jump, songs where I scream out of raw emotion, songs that speak on the really personal subject such as depression, suicide, toxic relationships, I have songs that celebrate life. Before every live performance, I invite the audience to take three deep breaths and say hello to the person next to them. I do it all. And I do it all with love.
So, what's next? Any big plans?
I am planning to drop a lot of music in 2020 and organize a local tour to continue getting my name out. The first show will be March 6 at LeadSkateshop in San Fernando. My long term goals are to tour the world and sing in front of sold out stadiums. I'd like to use the money and influence that I acquire to create equitable opportunities for youth in my community. Create or assist existing Orgs and Nonprofits that benefit at risk youth. I would also like to start my own mentoring programs connecting youth with resources to create and pursue a sustainable career in the art industry.
Contact Info:
Image Credit:
Pedro Aldama, Misty Shots, Edwin Almaraz
Suggest a story:VoyageLA is built on recommendations from the community; it's how we uncover hidden gems, so if you or someone you know deserves recognition please let us know here.