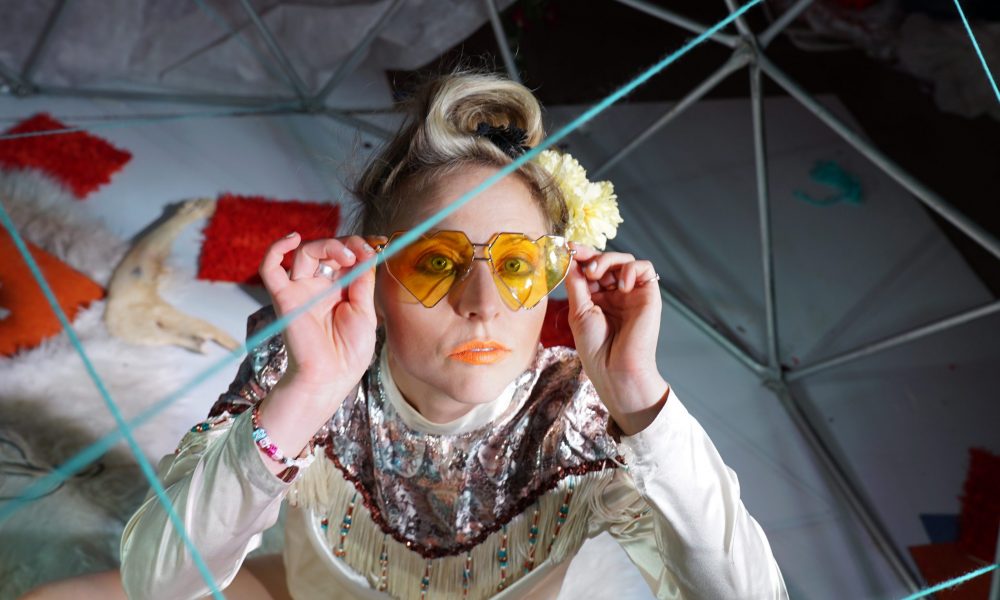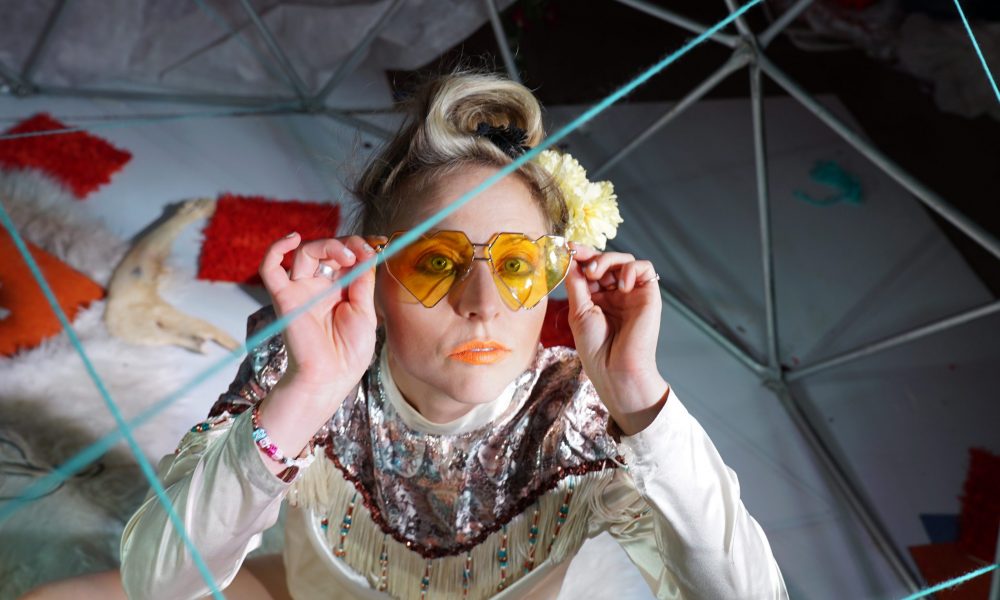 Today we'd like to introduce you to Raquel Bell.
Raquel, we'd love to hear your story and how you got to where you are today both personally and as an artist.
I come from Mysterioso Ranch which is a people zoo in Texas.
I come from NYC where I went through my most self-destructive stage for nearly 12 years.
I come from Gholson, TX where the best watermelons grow. I grew six different varieties at least. And I learned more about neighbors, one of the great joys in life. I also learned about deadly viper snakes, great honky tonks, and how to talk to white supremacists.
I come from the Red Woods primarily. Where the deep infrared glow is the strongest on the planet.
I come from Los Angeles where my grandmother taught me about shopping, our responsibility for the homeless, and about making a beautiful home to live in surrounded by flowers.
I also come from New Mexico and Canada and some secret places.
We'd love to hear more about your art. What do you do and why and what do you hope others will take away from your work?
One morning when I was living in Brooklyn, I had a dream. In the dream, I had access to portals of information. I was awake and asleep at the same time, and I could direct the kind of information I was receiving. It all happened too fast to be created by my imagination. I was being shown. The same week I had another dream in which I was in a different reality than earth. There was no gravity, no air, no water. All the beings and substances were foreign, made of light and glowing. It was a real place! I enjoy sharing these experiences I have with audiences through the subliminal.
When I was young, I suffered from horrible anxiety and depression. I was in a physical jail of fight or flight. My creativity was high, but my ability to manifest my work into the world was always stifled by my own darkness.
I went on a quest from a young age to heal myself. I sought out teachers and practices. I studied Alexander Technique, Pilates, Feldenkrais, became a Reiki Master, studied Ashtanga, meditation, took classes on trauma, went to Jungian therapy, you name it! I was on a quest.
The real shift in my work happened when I started to believe in myself, and I stopped giving power to outside perspective and judgment. Most of us are victimized in some way. We can all face the wounds of what made us feel like a victim and turn that energy around so we can become our true selves. Living your whole life as a victim is a very depressing concept. I was on that road, and I first had to see that I was living as a victim. I felt like a victim of the music business because I felt powerless as a woman. When I lived in New York City, I couldn't believe how lame the other women artist were. Why weren't they supporting each other? Why weren't they fighting the incredible male dominance in music? Where was the power of sisterhood? I was shocked by the lack of sisterhood. I started a band with Jessica Pavone who I met playing in Normal Love. Jessica and I rehearsed once a week. We started rehearsal by meditating together laying in my bed and listening to the recording of our previous rehearsal. Then we practiced a new piece that one of us had composed and continued working on our previous music. Then we went on tour to support Pavone's new record. When we would arrive at some of the venues, we would be treated like sh*t! We had toured with Normal Love and other bands in the U.S.A. and Canada, so we weren't novices. After we played our sets the dudes who had snubbed us would kiss our asses. These tours were really hard work, but I am glad that I did it because I know it made a difference. No dude can pack a tour van as well as I can. I was a Tetris genius. Being underestimated is hilarious. Having patience is essential.
Galecstasy is my latest band with Jared "Chairy" Marshall of Primary Mystical Experience. We have an unreleased record called PATIENCE. It is a brilliant title. In the music I sing "Patience, Patience, Patience, no no no no no more Patience! I don't have any more patience!" I think what I was trying to say is, how long do we have to keep treating one another badly! Men to women, race to race. Why do we still keep people in cages! Why is it OK to spend hours on our phones and computers and not do anything helpful for the planet? Why is it culturally acceptable to take and take and not give back?
Galecstasy is a great pursuit of my heart because it gets me off the computer and out into the world where I can interact with people in extraordinary ways. I promise you that if you come to a Galecstasy show, you will see or hear something directly beamed in from outer space. 🙂
I also do live Meditation Meds, and I love to do house shows. I did a live Meditation Med in Austin, Texas. I asked the audience to tell me what was bothering them physically or emotionally and I channeled a live meditation concert. It was hilarious. The recording is up on my website. I also performed a live Meditation Med with Primary Mystical Experience at The Plus Bus in Glassell Park. Someone asked if I could do a meditation on aging. I think I said something horrific like "I love to f*ck old people." This is what happens when you are channeling. Sometimes absolutely embarrassing things pop out. I also made an enemy at that show because we misunderstood what the other one said from across the room. This also happens! Art is so powerful. We made up at the end of the show.
I am also a member of the Astrology Ballet. I am a student of the glorious choreographer, Deborah Hay. I worked with Harry Partch music and danced in NYC. Last year No Promises Productions helped me create SWANDALA, which was a live recorded dance ceremony in Texas for the record. The film isn't done, but the event was definitely a mystical experience. The Astrology Ballet is an extension of Galecstasy, but it is focussed on dance and dance film. We use psychedelics and trance states to play with light and energy. We make films and perform with Galecstasy.
What do you think it takes to be successful as an artist?
Many people believe that artists choose to be artists, but this is not the case. When you are born an artist, it is like being born with a leg that just walks another way. Many artists say being born an artist is a curse because you can not escape it and nobody on the outside of your experience seems to like that you can't conform to the norm. Success is knowing what your gifts are and honoring them with every fiber of your being. Knowing that your gifts are gifts is a big part of self-acceptance. If you are an artist and you do not honor your gifts, then you will get very depressed or go crazy. Honoring the talent is an important job. How you dress, how you eat, how you decide to breathe, in the ways you speak to other people, how you prepare, knowing when to rest and when to attack something. The process is the art itself. Great artists are never seeking approval from outside of them. They know when they are successful because magic explodes. My success is that I have found paradise within myself. And sometimes an incredible sense of success happens when I'm able to share paradise with the audience, and we all glow brighter as a whole.
As another tip to artists (musicians/dancers/directors/etc.) I would stress the importance of NOT DOING. Our culture has an obsession with doing and very little emphasis on sitting still. It is in the stillness that all the really big gold nuggets of genius emerge. Be careful that you are not getting caught in webs as you walk around in the world. It is better to stay at ease and at peace in your own personal ship so that you don't let your energy drain away. As an artist, you need a great deal of energy to CREATE. If the culture could help artists by giving them more money and time and support, then the art would be more abundant, and the community at large would benefit. AND THAT BRINGS ME
TO MY NEXT POINT!
EVERYONE SHOULD BE MAKING ART!!! AND MUSIC!!! AND DANCE!!!
It is a crime that children are not taught drumming and dancing from start. It is the greatest part of being a human being, and it is the first thing that the people who have all the power to govern are taking from those of us who don't have the power. Our spirits need to sing and feel. If you are ever feeling down or confused and you start to play the drums, I guarantee you that you will feel more yourself after. I practice or play nearly every single day. Drumming is a profound tool, and everyone is capable of doing it.
Do you have any events or exhibitions coming up? Where would one go to see more of your work? How can people support you and your artwork?
www.rbell.ink is my beautiful website full of treats!
It is a portal of delights! Where you can:
Purchase Swandala (my latest solo record)! https://storbm.bandcamp.com/album/swandala.
See many videos that I created with some extraordinary collaborators. https://www.rbell.ink/video.
Listen to or purchase "Meditation Meds" (which are channeled guided meditations/imagination-adventures).
SIGN UP FOR MY MAILING LIST!!! (I send out about four emails a year when there is something fabulous to share)
Follow GALECSTASY; we perform regularly at the historic Grand Star Jazz Club in L.A. We have a residency there and bring in special guest musicians, dancers, and performance artists every 1st Thursday. Galecstasy is currently making our first studio album, and it is incredible. We want to share it with everybody so please sign up for my mailing list or follow @raquelbell101 and @galecstasy.hole on Instagram
I also post Galecstasy shows and other events on my website such as our latest live radio show for Montez Press at the L.A. Art Book Fair at the Geffen Contemporary at The Museum of Contemporary Art.
Buying my recordings or coming to one of my shows will make flowers grow in my heart.
Contact Info:
Website: www.rbell.ink
Phone: @raquelbell101
Instagram: @raquelbell101
Twitter: @galecstasy.hole
Image Credit:
Marfa Open, David Marshall, DrBleep, Swandala, Galecstasy, BradMarcum, WGRickel
Getting in touch: VoyageLA is built on recommendations from the community; it's how we uncover hidden gems, so if you know someone who deserves recognition, please let us know here.