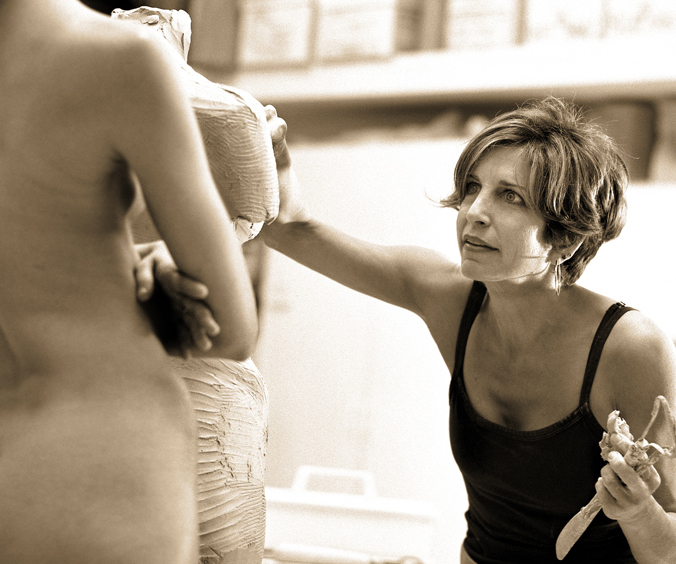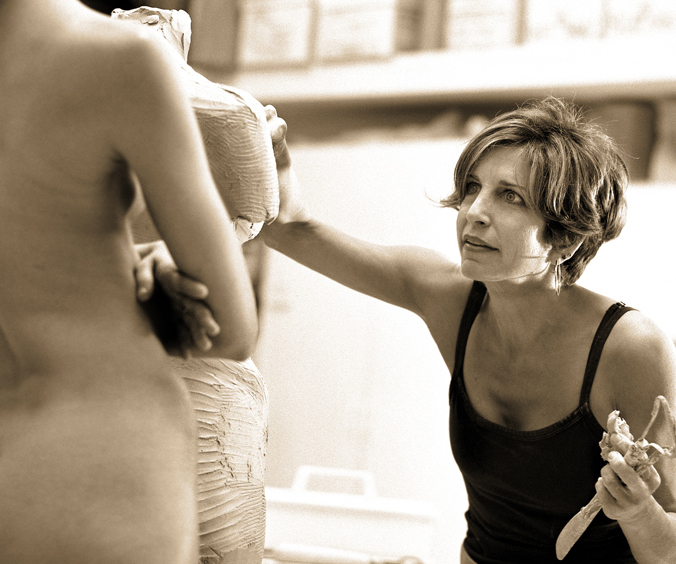 Today we'd like to introduce you to Tanya Ragir.
Tanya , please kick things off for us by telling us about yourself and your journey so far.
I started making art as early as I can remember. I worked with clay as a child, and as a teen I discovered the lost wax process and started casting jewelry. All of the pieces I made were figurative. I made a pair of wedding rings for my parents with figures on them that created an infinity symbol that they wore for years. When I graduated high school early, I enrolled in several UCLA extension classes including anatomy for artists where I got to sketch cadavers at the UC medical center. I took an extraordinary sculpture class with Susan Titelman that I think really cemented my love for clay and the figure.
Entering college, my dilemma was that I had to make a decision between visual art and dance. Up until that point I had also been pursuing very serious studies in modern dance, ballet and jazz and was dancing in a company and also had a love for playing music and writing. In the end, all of those things informed my art, but I realized I had to say no to some things to say yes to something else fully, and that sculpture embraced more of my gifts than any other single art form.
Once in school at UC Santa Cruz I worked with wonderful teachers and was introduced to a lot of different media. I experienced some success and visibility right out of college in Santa Cruz, so when I came back to Los Angeles I was pretty dismayed when I encountered a lot of rejection and gender bias from the LA art community. At this time, I just went to WORK. I found my way into the commercial sculpting business of the mannequin industry and stayed there for 20 plus years. I learned how to churn out life-size sculpted figures with my eyes closed and also how to run a business. I asked myself the questions about what the differences between my craft and my art were. I knew that this was not my art but a way to support my art and my family. Eventually I was able to find a balance of time between sculpting mannequins for steady income and maintaining a fine art practice. I was both an artist and my own patron. For a long time, I was told by people in the art world that I shouldn't say that I sculpted mannequins. Now I'm actually really proud of that work and I can see how it greatly contributed to my fine art practice.
Can you give our readers some background on your art?
I have always been a sculptor (but I love to draw too!) I work in many mediums but sculpt predominately in clay. As of about 20 years ago I started firing the clay to produce finished ceramic sculptures. Before that I would make molds of the clay originals and cast them in a range of metals or resins. I know a little about a lot. As I've gone on, I lean about things based on what I need to know to make the things that I want to make. I've always sculpted in what I like to say the language of the feminine. I get asked why I use the female form and I tell them because it's my species. The woman's gaze on the female form is different than the male gaze- I, as a woman, feel a deep affinity with someone I am sculpting.
There's an architectural thread that runs through my work, where I 'm thinking about the relationship between the feminine form and landscape… zooming into elements of the figure as if through the lens of a camera and shifting the scale and framing those elements so they become abstract. I'm looking at the ways in which women's bodies are perceived socially or how women perceive themselves. The work I'm doing now also fragments the figure and ties it to the land, but in a way that relates to damage, decay and renewal. My work grows out of very personal events and narratives in my own life, but my greatest hope is that when someone sees something that I make, the experience lands somewhere emotionally for them too. I hope to communicate something that transcends my own specific story and touches something that's universal, that's not necessarily understood or decoded but FELT on a primal level.
Do you think conditions are generally improving for artists? What more can cities and communities do to improve conditions for artists?
One of the major challenges has to do with the larger picture of what's happening in the economy and how that's affecting the way that art is collected now. I see that the middle of the collector base is shrinking while the top bracket is extremely healthy. Art is being collected now as an investment. 20 years ago, there were so many more accessible galleries in communities and passion purchases ranged from $200 to $10,000, but that price point for impulse, in person, purchases is a much smaller number these days. People are buying art at art fairs and online a lot more now. On the other hand, the fact that a collector can DM an artist on Instagram is an exciting example of the many new resources artists can use to reach collectors directly making selling their own artwork easier than ever and eliminating the role of the gallery. A gallerist, at one time, was someone who both nurtured an artist and also fostered a collector's interest in an artist's work as it grew and changed. If there was more of an effort from galleries or institutions to educate collectors about artists' processes, to really get them invested in and excited about artists' practices (especially emerging and mid-career artists) and not just trends of the art market, I think that artists would have, in general, longer, more stable careers and buyers would have better art collections.
What's so challenging about this job is that artists are expected to make art, promote their art, be active on social media, be out in the world, run their business… having to do all of these jobs beyond just making good art. We must stay true to who we are while navigating doubt, financial storms and find a way to create balance in our lives.
What's the best way for someone to check out your work and provide support?
tanyaragir.com
1stdibs.com
Los Angeles galleries: Denis Bloch Fine Art, Gloria Delson Contemporary Arts, REN Gallery
Blink ADC Fine Art at their gallery in Cincinnati or online
Contact Info:
Image Credit:
Mitchel Evans
Getting in touch: VoyageLA is built on recommendations from the community; it's how we uncover hidden gems, so if you know someone who deserves recognition please let us know here.