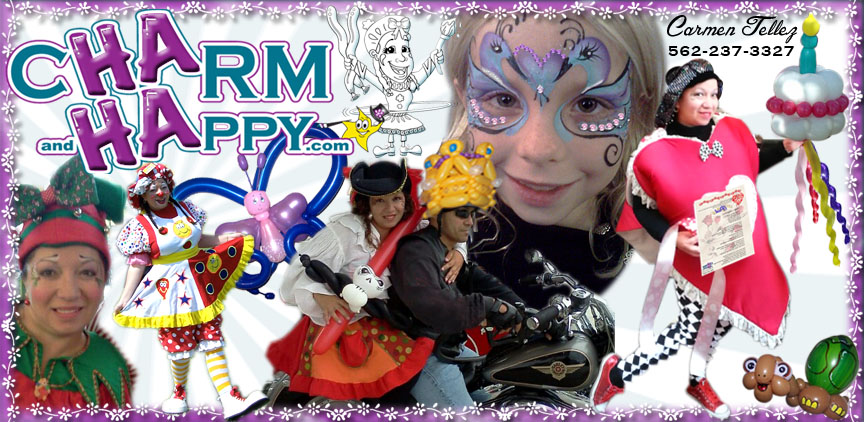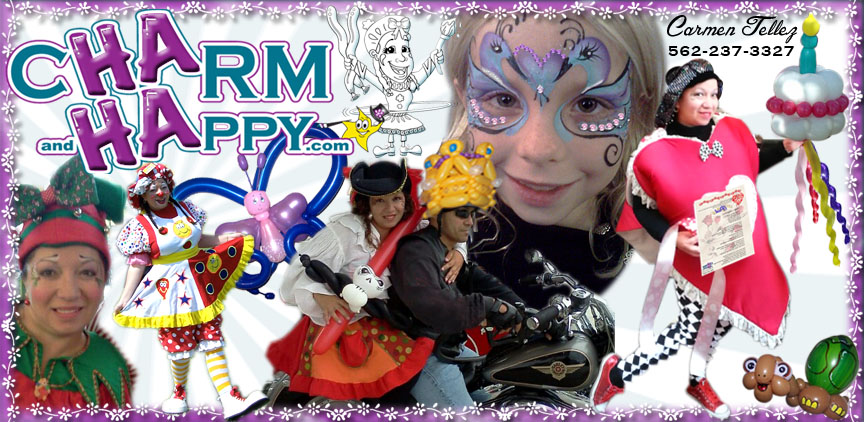 Today we'd like to introduce you to Carmen Tellez.
Carmen, let's start with your story. We'd love to hear how you got started and how the journey has been so far.
As a teen, a youth group I attended asked me to wear a Ninja Turtle costume for a big children event. I agreed since I was pretty involved and really wanted to see the kids have a good time. We had a bunch of family & cousins at parties growing up, so I knew how kids Loved fun stuff. That started a whole new level of appreciation of patience, kindness, controlling situations and water.
A few years later after completing a printing course in high school and in a regional occupational program (the then R.O.P.) in PRINTING, a friend whom doubled as a clown asked that I face paint as a clown at his next gig with him for his clown business. I kindly declined, explaining that I do not like clowns. He was surprised and explained that since I already know him and since I like kids and know some art appreciation that he'd buy me the paints and that… he already promised the client he'd have a face painter side kick there to help him. I couldn't say no after that. Boy did those kids have a great time. But… I still did NOT like the clown Eggo. I did want to help though so I went to the library to learn what a clown is "supposed" to look like, dress like, act like. My friend is far from what I was learning as I suspected. Frosty Little was the featured Ringling Clown in the How-to VHS from RBBB circus. I continued with clowning and shortly after a few months, the other clown quit (he'd been clowning previously for 2 years). I let go my Eggo.
One day, I was invited to a new clown club Latin Clowny Town. I was encouraged to go out and find other clowns to join. I did, I attended, I learned, I was hooked. My friend Bubulina introduced me to a couple of clown magazines Clowning Around and the New Calliope. What? There are so many more clowns in the state? country? world? Wow!!!!! There are clown conventions?! Clown supplies?! I was on a roll now.
In 1998 I quit my full-time job as Electronic PrePress Graphics Manager and continued what started in 1994 as CharmandHappy.com since then life has been a combination of lifting spirits of the sick to celebrating a variety of holidays & birthdays with communities nationwide, stepping in as an ambassador of good will for kid's night at restaurants to being shown off as advanced artist entertainer to celebrity party guests along with a few TV spots like Life Moments, Mujer L.A., NBC News, 20/20, Target commercial, 1 vs 100, The Wedding Band, SouthLAnd, the Love Connection, Buscando Amor and a couple of radio with Brother Sage in South Bend, Indiana.
Along the years, as customers inquired about special requests like hosting big company picnic games, dressing like a gorilla, delivering balloons, painting entire bodies, painting pregnant bellies, supplies carnival games and the like, I've done what I can to add such requests to my list of available services.
Private life ups and downs never completely wiped the smile off my face then or later. I was a trooper and always just walked on doing what I did best… being CharmandHappy.
Traveling the nation including Alaska and a cruise out of the country visiting a few ports in the name of entertainment taught me to appreciate networking and seeking work where ever I landed. I'd prep my visits by calling nearby schools and restaurants for a chance to hire "CharmandHappy" while in town. I'd utilize my printing background by providing potential clients with flyers, posters and a letter to introduce my arrival and advertise to their audience expecting my arrivals.
I've been a working home town artist entertainer momma since my son was born in 2009. His daddy passed away when my son was 6 months old. The days of business and marketing mainly just for fun became a thing of the past real fast. Now, I had to be a responsible parent with a tiny bundle of Love and trust in me, only me. Stepping up the seriousness in business though always lucrative for me anyway was a must. A mortgage, 2 new vehicles, a baby, bills at hand allowed no time to clown around (pun intended). That was about the same time that the economy took a dump. I never had a slump in business like other I knew over the years did. Business became slow. I learned how to budget.
Several years later, 2017, I'm proud to say CharmandHappy.com still has a strong vast of repeat clients, referral Love and new customers whom trust in me to provide p'HAHA'rty shows to family events.
Overall, has it been relatively smooth? If not, what were some of the struggles along the way?
A few bumps along the way include I had to learn how to drive to get to my very first party hired on my own. I had been scared to drive before age 21. I still was, but I was not gonna let down this family who specifically wanted Charm the other clown's helper at their party. Took me 2 or 3 times to pass the driving test, but I did it.
My brother who doubled as my passenger helper to carry stuff in the parties, passed away in 2000. I almost quit. I was gonna quit. I could not find anyone to take my place for upcoming gigs. Then several clients did NOT want a substitute. They wanted Charm (me)! I had to go perform. The show must go on. Strangely 2 years later and the death of my brother was still fresh in my heart, mind and soul. A TV producer Linda of Pie Town Productions called me asking I'd like to be on the show Life Moments featuring people who overcome a life struggle. I told her that I didn't know nor did I ask how she heard about me but I explained there are far more people in this world who she could better spotlight than I. I told her there are those whom have cancer but still strive every day. Those with missing limbs or whom have had children whom have passed away, military heroes, etc. She expressed interest in me anyway and so I agreed to have the show follow me to Mooseburger Clown Arts Camp that I had chosen to attend to see if I still had what it took in my heart and skills to continue clowning. I met Frosty Little. (The RBBB Master Clown in the VHS I first rented in 1994). He was my week-long instructor. I knew then it was meant to continue clowning as an artist entertainer.
My sons father passed away 6 months after our son's birth.
In 2015, I was a victim of a much bigger threat and attempted take down. This changed my life for me and my son. I believe we are fine now. CharmandHappy.com continues making folks smile and laugh today 2017.
CharmandHappy Family Event Entertainment – what should we know? What do you guys do best? What sets you apart from the competition?
CharmandHappy.com provides artist entertainment for family events like company picnics, community events, family parties, birthdays and holidays.
Balloon art is known to many as little long skinny balloons shaped to look like a stick figure dog. Balloon art is much more than that. Our balloon art includes using the skill to twist a variety of shapes, sizes and prints of balloons into 3D looking balloon plush animals along with mask looking hats, inflatable twisted dresses, cartoon characters' balloon look-a-likes, company logos, full size replicas of anything your mind can imagine with the right team and time.
Face painting used to be cute hearts, stars and happy faces on the cheek. Recent years the bar has been raised to include upgradable options like rainbow color variety strokes to create color blended works of art for a full variety of designs like animal faces, cartoons, beautiful wisps and curls, robotic detailed creations and even zombies.
The "HAHA" show (because there is an HA in Charm and HA in Happy) has become our most popular request for those interested in a full variety clown or artist entertainer show. Elements of entertainment like joking interaction with the audience, juggling, peacock feather balancing, silly magic tricks set the party to start. Once the show is over, the fun continues with the above-mentioned face painting and balloon art. Also, games with parachute fun and other get up and let's have fun type games get the children and parents off their seats. Lastly, a goodbye and photos end with smiles and a new Love for the CharmandHappy they just met.
During the week, Pink Gorilla Singing Telegrams are requested for office birthdays or a life size Dancing heart to Loved ones at work, restaurants or at home. A few bits of personal information are requested possibly like nick name, age, job title and/or dream job, favorite/worst song, etc. to create a one of a kind personalized singing telegram for the recipient.
As a company, I am most proud that the trust my customers instill in me to provide a fun party experience through my art and entertainment is not done so in vein. I only know this thru their year and after year bookings, referrals and updates with phone calls, texts and social media.
What sets CharmandHappy.com apart from other companies other than length of time in business is my effort to continue upgrading skills, keeping fun fresh, renewing props, updating skits, keeping a sense of charisma in my personality as an entertainer. Looking at each audience member within my path in the eye so they can see ME. my twinkle, my Love, my hope for their laughter.
What is "success" or "successful" for you?
I personally was never looking for success. CharmandHappy started as fun and rewarding and lucrative. Now, I can look back and forward too to say that success has been my dedication to the art of clowning, guest's genuine feelings of heartwarming fun and professional business tactics.
My criteria would have to include keeping customers informed of what can be provided to make their family event fun and memorable. Allow them to understand the rates in order to either save or splurge. Keeping my promises and over deliveries to their expectations.
What I'm looking for now is a brand that represents the newer CharmandHappy. I'm not 21 anymore. I'm 45. I can't wear the cute lil baby doll dresses, the jumping in the jumper, the flirting with the singles anymore… I'm a more mature artist kind of CharmandHappy with the same passion for artistry and delivering knee slapping excitement.
Pricing:
The HAHA Show generally $375 / 2hrs.
Singing Telegram generally $135 and up.
Face Painting and Balloon Art only generally $325 rate varies lower and higher
Company Picnic options vary with a popular variety $600
Contact Info:

Image Credit:
Carmen Tellez
CharmandHappy team members
Company Picnic Guests
Harry Connick Jr.
Fletcher Rhodan
Daryn Flores