The editorial team has a special attachment to our new series, The Trailblazers: Rewriting the Narrative, because so many of us feel that media portrayals of women have been too one dimensional. Today, women are doing incredible things in all fields – from science and technology to finance, law, business, athletics and more.  With the Trailblazers series, we hope to highlight and celebrate female role models, encourage more equal and just representation in the media, and help foster a more tight-knit community locally helping women find mentors, business partners, friends and more.
Below, you'll find some incredible trailblazers from in and around DTLA that we hope you will check out, follow and support.
Courteney Morris

I was born and raised in Riverdale, MD. PG COUNTY STAND UP! My parents were vital in my upbringing as well as my two siblings. My father was very techy and creative. Since, I had a lot of energy as a child, my mother decided to put into sports. Basketball was my go-to sport. Read more>>
Brittany Tran

My name is Brittany Tran, founder and chief strategist at Good Hause, a creative agency based out of Los Angeles. Through Good Hause, I hope to reinvent and build upon my earlier success as a television producer to focus on female-led businesses. Read more>>
India Harris

I began to go to school at FIDM majoring in Beauty Industry Marketing and Merchandising and was excited to begin my career in that industry. I made a lot of connections through school and by hanging out around LA and networking with people to promote myself as a freelance makeup artist. Read more>>
Kennesha D.

In middle school, my father took me to purchase my first sewing pattern from the fabric store; he taught me how to properly read it and put the garment together. From there, I practiced creating the same piece over and over. Read more>>
Angelic Lockett

I started making candles as a therapeutic hobby. I had a really difficult time coping with the murder of my father, who had been murdered around the corner from my home. I tried many different coping mechanisms but candle making and finding my stride within spirituality are the only things that helped. Read more>>
Genesis Kubilis

My full story hasn't even unrolled yet, I'm only getting started. I've always been a person who carries ambition in their minds and heart. I naturally think of all the amazing possibilities and work towards them until they are accomplished whether they are huge or baby steps. Read more>>
Tiffany Williams

Modern Blended Life was born as a blog after consistent questions about me and my family and how we navigate life as a blended family of seven! There is my daughter (11) from a previous relationship and my husband's son and daughter (10 & 9) from a previous relationship. Read more>>
Nicole B. Day

I've been fooling everyone unintentionally all these years, but in a good way. This wouldn't be a great story to tell and help inspire other women if it wasn't for that! You see, I've created this illusion that I'm much young-er, hip, the life of the party, only hang out with celebrities and ready to take on the world in the public. Read more>>
Miranda Kelton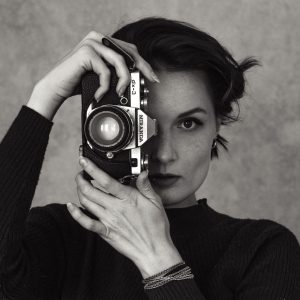 For as long as I can remember, I envisioned myself ending up in some type of creative career… but my decision to pursue Photography, in particular, didn't happen until I was in my late teens. It was my original intent to become a Graphic Designer, but after college, I realized that Graphic Design wasn't the right fit for me. However, my time spent studying Graphic Design proved to be very valuable as I gained many creative & technical skills, learned how to structure projects for clients, & picked up a lot of knowledge about branding along the way. Read More>>
Bianca Foster

I am a mother to my sweet daughter Gabbie, wife to my loving husband, Kindergarten teacher, cheer coach, soccer mom, loyal friend, sister, an daughter. God is the light of my life. I grew up the projects in Jackson, MS. My environment or living situation never defined who I was or who I wanted to become. Read more>>
Elena González Santulli

My artistic background is rooted in the capital of Spanish Cinema and hometown Málaga, Spain. Like many artists, I chose a path that is not-so-linear, nor promising. I came to the States as a kid, for better opportunities in education. I landed in New York and feel I was much more influenced. Read more>>