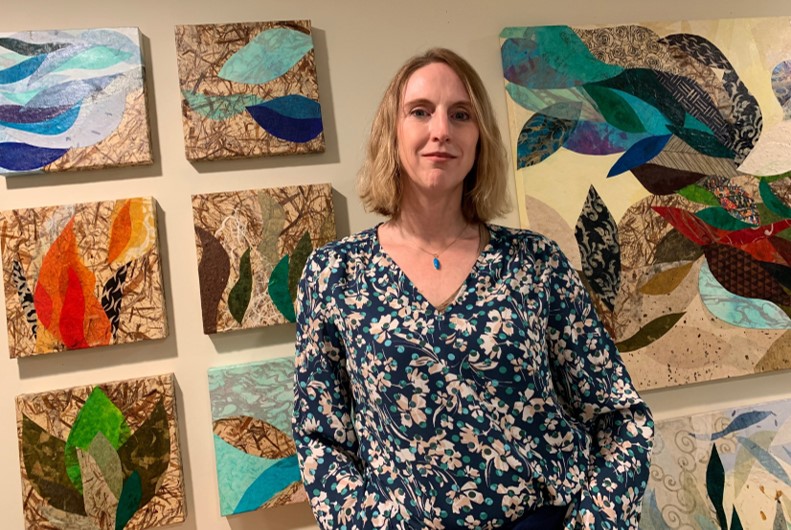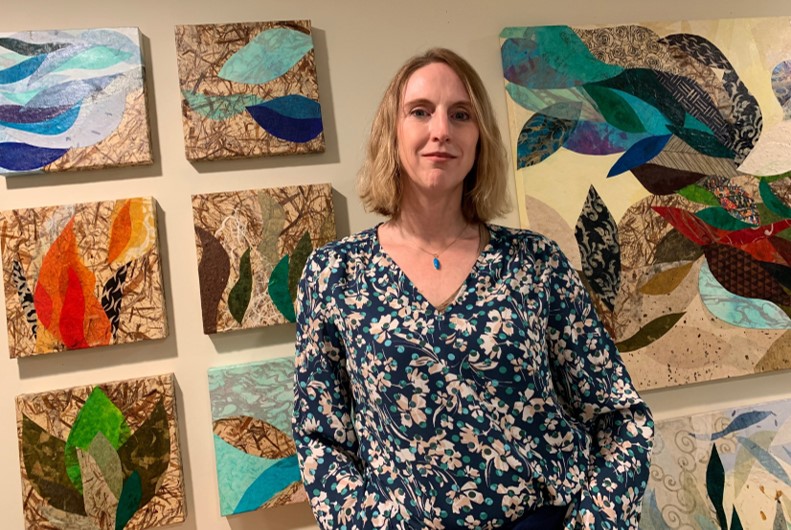 Today we'd like to introduce you to Maureen Maki.
Thanks for sharing your story with us Maureen. So, let's start at the beginning, and we can move on from there.
I told my mother I wanted to be an artist at five years old. She encouraged it and said that my grandmother (who I never met) out in California was an artist too. I grew up in a blue-collar family in Michigan. My father and grandfather, and even my brother, all worked in the factories for General Motors.
I think that's where I got my interest in making things, and it never wavered as I made my way through high school and then art school at the University of Michigan. I moved to downtown Detroit where I opened my own gallery. First, it was just an attempt to show my art, but we quickly opened it up to the community and exhibited solo shows by local and sometimes national artists.
This was the late 1990's, and we were having the best of times. Desolate downtown Detroit was a playground for me and my friends in the art and music scene. However, it was a dangerous game at times. Too many people died too young due to drugs and reckless behavior. In 2000, I made the decision to get away from it all and move to Los Angeles.
It was a great move in many ways – and hey, my grandmother had been an artist in California – it was destiny. I hit the ground running and had sold-out art shows, did a public art project, started an online art business and found collectors. Still, I had a darkness that followed me – my departed friends, my mood swings, my genetics. I fell into a debilitating depression that truly took me down.
I never ever stopped making art through it all, but I had enough close calls to make me think. The need for health insurance and funds for a decent home and studio required that I get a more steady income. I dedicated my time to getting a day job, a home and most surprising of all – a great husband. My art business was pushed to the background for the first time in my life, which scared the heck out of me.
Being an artist in the U.S. is often looked down upon. I had to defy everyone I knew and even myself on a daily basis. I am an artist no matter what you say, no matter how illogical it seems in this world. I am going to do it. I clung to that. I had to if I was to keep going.
So stepping back, letting up on the constant pushing, promoting, and selling truly frightened me. It challenged my sense of who I am and who I was telling myself I was for my whole life. But I survived. I pursued other creative outlets and worked on my memoir and a novel. I was met with tragedy when my mother died, then my father, and then my cat, all in the span of 18 months. The energy it took to get through it nearly flattened me all over again.
With the help of friends and family, I made it. But as I recovered, I was struck by just how fragile this life is and how short. It propelled me to turn my basement into an amazing art studio and dedicate myself to painting all over again. It was easy. I already had the materials and years of experience. I slipped back into my work like riding a bike; it was muscle memory. It felt better than I imagined.
Having the break made everything more precious, and I had a new perspective. I could actually see how art worked for me – how the magic that happened on the canvas truly excited me and at the same time calmed me because I knew I was doing the right thing. I could understand that the energy that lived in my work was transferred on to others who responded to the work.
How wonderful to create energy that others can experience. My collectors tell me that my work inspires them each day when they look at it. This, of course, is a great compliment and a confirmation that I am making a difference, no matter how small, in the lives of other people by doing what I love and believe in.
I will continue to do so, and now I am exhibiting and selling my paintings in person and online via my website. They bring uplifting energy into a space. When someone is down or struggling, I hope that they can look at the work and be reminded of the good stuff in our world. Life is short and it keeps getting shorter as the years go by.
I encourage others to use their time doing what they love, follow their dreams no matter what the world may say. Surround yourself with beautiful, meaningful things if you can because it will get tough at times. Everyone has a story. Everyone lives through so many ups and downs. I am truly amazed by what people go through – and then reinvent and start over and thrive. Keep on going, persevere.
We're always bombarded by how great it is to pursue your passion, etc. – but we've spoken with enough people to know that it's not always easy. Overall, would you say things have been easy for you?
Being an artist is what I always wanted, and I'm doing it, so that is awesome. But as I said, the world doesn't always welcome it. The business is up and down, like any small business. You have to be resilient and be able to sit through failure and be willing to try and try again. It's good to have multiple streams of income and multiple price points too. You have to do everything – creating, promoting, selling, and accounting.
It can be emotional because what you are making is personal and very strong and sometimes draining. You need a lot of energy when your art business is still your side gig before it gets up and running and able to support you. Then you still need the energy to keep it going. So again, the lesson of perseverance serves me well. I can't tell you how many times I've had to get back up, dust myself off, and say here I go again.
We'd love to hear more about what you do.
I create and sell art that charges a space with good energy and reminds the viewer of the magic of life. Currently, I make paintings out of collaged paper. It's a technique I developed over the years, starting as a painter who used a lot of mixed media in my paintings.
That and a love for paper and printmaking led me to this technique of taking handmade and specialty paper and layering it together on canvas to create rich textural surfaces full of life and energy.
What were you like growing up?
I was shy at first. Then I became daring and willing to risk everything for a new experience or new creation. I figured out pretty quickly that I wasn't like everyone else – at least that's what I thought. And I didn't want to be like everyone else.
I was an artist, and I loved rock and roll. I was inspired by album covers, and my first drawing lessons were copying album covers – doing pencil drawings of David Bowie and others I liked. 
I just never considered that I was anything other than a creative artist and I was willing to try anything. I have written songs, played in bands, written a couple of books (very unpublished) and more in addition to being a painter. But I always come back to visual art. That's my first love and most consistent love.
What is your proudest moment of your career so far?
A proud moment was when I made the cover story of the Metro Times in Detroit. It was kind of a challenge between me and my partner who I ran a gallery within Detroit. We kept saying our goal was to make the cover of the local arts paper.
I did get my work featured on the cover a couple of times, but when I had the cover story, and a talented journalist George Tysh took the time to get to know me and my art and write a truly thoughtful long piece for the paper, I was thrilled. I had finally made that goal come true. It was bittersweet in some ways.
As he was working on the story, I decided to move out of Detroit and on to Los Angeles. It became a goodbye story. As I was driving across the country in my little Toyota station wagon packed with all my stuff, the article came out. I had to laugh. I felt like a big fish from a small pond heading to a big pond where I would be small all over again.
Contact Info:
Image Credit:
Ed Glendinning
Getting in touch: VoyageLA is built on recommendations from the community; it's how we uncover hidden gems, so if you know someone who deserves recognition please let us know here.