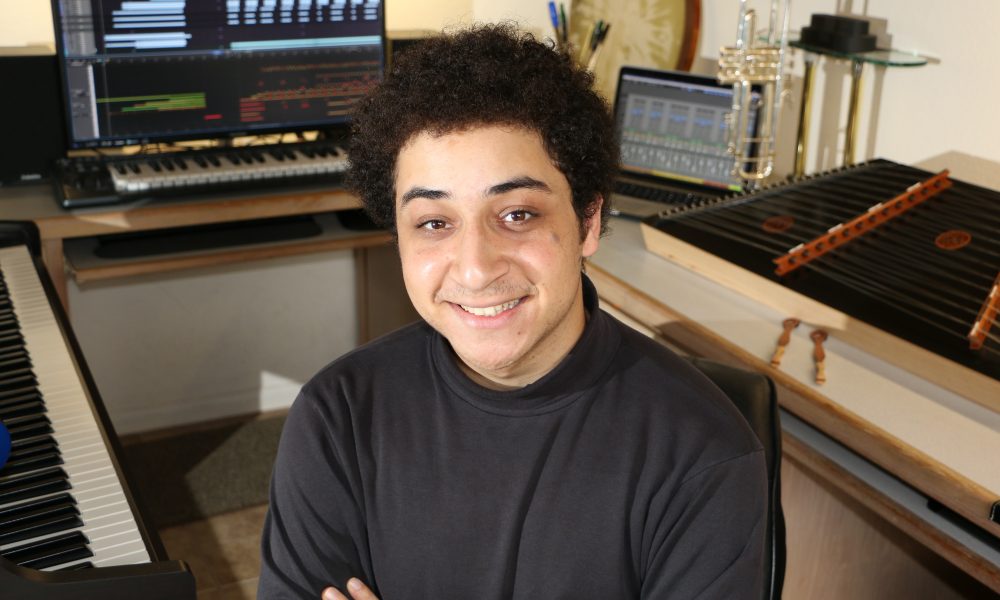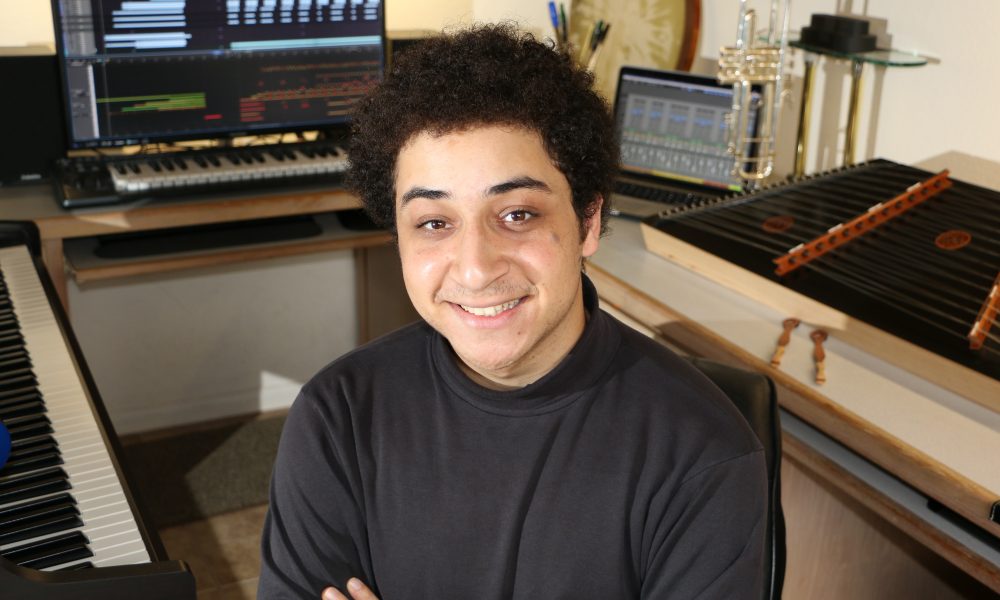 Today we'd like to introduce you to Kion Heidari.
Kion, please share your story with us. How did you get to where you are today?
I grew up in the suburbs of San Diego. Though I took some piano lessons at six years old, my journey really began when I started doing musical theatre at age ten. It introduced me to a whole new world (no pun intended) of music and performance in a group setting. Through theatre, I was singing, acting, reading music, and honing skills I never knew I had. Not long after, I started playing trumpet in middle school band, where I learned the ins and outs of a music ensemble and the capabilities of wind instruments. It was also around this time that I watched "How to Train Your Dragon" in the cinema. I formed a deep love for the movie, in large part because of John Powell's rousing score. His music had suddenly entered my heart and has never since left. It was this score that made me realize the genius of musical storytelling at a young age and set me on my path to becoming a composer myself.
Years later, on a high school music trip to Ireland, I encountered two firsts that would follow me for years to come. Singing in a choir, and playing the tin whistle. Though every student on the trip purchased their own tin whistle, I was the only one who kept at it after the trip was over. After years of self-teaching, I began performing with it and, eventually, using it in my compositions.
After the trip, I joined my high school choir and never looked back. I was compelled to take voice lessons and improve the musical instrument that is my body. I started joining whatever ensembles I could, which led me to perform with SACRA/PROFANA, a San Diego professional choral group, at Comic-Con in 2014. Since then, choral singing has become a staple of my life, and I consistently perform in different groups (though it has become much more difficult since COVID, obviously). Choral music has had a profound impact on my musical and compositional voice, and all the better for it.
I hate to admit it was so simple, but my decision to start composing happened rather quickly. At age 15, my love for film music had come to a bit of a boiling point, and I woke up one morning and thought "You know what? I'm gonna give it a shot". And I did! I had gathered enough knowledge from my experiences leading up to that point, so why not? This was a rare and important moment of decisiveness in my life. In the beginning it was very, very hard. It's never easy, but this was the hardest it had ever been. How was I supposed to write even a semblance of a good melody? I would sit at the keyboard for hours, come up with something, and then throw it out because I hated it. But, for some reason, I kept trying and improved ever so gradually. I was given a significant boost when I took a class for digital composition and another for recording arts. These classes gave me essential knowledge when it came to digital audio workstations (DAWs), mixing, mastering, arranging and recording, in addition to letting me practice composing in a variety of styles. Shortly thereafter, I composed the score for my first short film. It was difficult, but even more fun than I imagined.
My decision to major in music composition in college took quite a bit of thought, but it all came down to one thing. I imagined what career path I would regret NOT doing most, and that turned out to be composing. I had to at least try. I ended up applying and being admitted to the California Institute of the Arts, a place I never thought I'd be good enough to get into. I began in the fall of 2016, and I entered a rigorous schedule that persisted all four years. But I loved every minute, as I learned so much more about music and composition from the classes I took, as well as the multitude of performances I took part in. I studied with great composers and teachers like Karen Tanaka and made irreplaceable friends along the way. I was also able to practice scoring to picture much more than I anticipated. CalArts' animation program allowed for many opportunities for collaboration, and so I ended up scoring 21 student short-films while there. It was a dream come true. I was even able to create a voice acting portfolio!
I graduated from CalArts in the spring of 2020 with a BFA in composition (specializing in film/video scoring). The vast portfolio I emerged with helped me to land freelance work outside of CalArts, as well as an internship. Recently, I was hired as a composition intern at Audio Design Desk, a software that creates sound for films incredibly quickly. I'm absolutely overjoyed to be composing music on a regular basis, and I'm looking toward the future with optimism (though it can sometimes be difficult, given the current state of things).
We're always bombarded by how great it is to pursue your passion, etc – but we've spoken with enough people to know that it's not always easy. Overall, would you say things have been easy for you?
A path is never without its twists and turns. No matter how many of my goals I achieve, I always seem to carry self-doubt and a lack of confidence in my abilities. I'll often compare myself and my work to others, or I'll look at the insane amount of competition and luck that's required to succeed in my field and think, "I'll never make it through that. What's the point?" Then I'll take some time to myself, listen to my favorite music, and remember why I'm doing this in the first place. I love music, I love stories, and I have something unique to say. I can't give up now, especially after coming farther than I ever expected.
I'd also like to mention that I have a loving group of friends and family that are always there for me when the going gets tough. I'm forever indebted to them.
We'd love to hear more about your work and what you are currently focused on. What else should we know?
First and foremost, I'm a composer for film/media, but I'm also a singer, instrumentalist, performer and voice actor!
My job as a media composer is to tell a story through music. Whether it's a harrowing tale of woe and despair or a video of a dog eating food, it's my job to convey the story, emotions, and message all through tuned vibrations. It's also my job to adhere to the vision of the person(s) creating the piece of media, while also making it my own as best I can. It can be pretty challenging, but it's always fun in the end.
One thing I've discovered about myself over the years is my versatility. It comes in handy when a creator says, "I want the music in this style. Can you do that?" In the past, I would say yes even if I wasn't actually sure. For example, I didn't think I could write for jazz or big band, but when put to the test I was able to pull it off! This happened quite a few times before I became confident I could compose in almost any style asked of me. The fun thing about getting to that point is you can start blending genres and trying new things. Let's say I'm asked to score a scene and jazz is requested, but I feel it needs a bit more gravitas. I'll simply combine the rhythmic/soloistic style of jazz with the cinematic scope of a full orchestra. This way, it complements the scene in all the best ways, while also creating a unique sound you won't find in many other places. Heck, if the scene ends in a killer robot attack, you can even throw in some crazy electronics. That's the beauty of composing for media. The sky's the limit in terms of what kind of music you make, as long as it's in service of the story (and the director's interpretation of it). While some may see it as limiting, I find it to be quite the opposite. It's a wonderful feeling to create something so unique that it fits the media more than anything else would.
When I can, I love to incorporate my performance abilities into my compositions. Whenever possible, I will record myself playing the tin whistle and/or my own voice. Sometimes I will even record a whole choir of just me! Given my background, I feel as though the tin whistle and the choir are a part of my musical identity. Using them in my compositions helps my work to stand out and feel like ME, and it's fun to use them in ways that they aren't typically. I also play some percussion instruments, like the daf (a Persian drum), that are rich with different sounds to experiment with.
A lot of my work time is spent throwing things at the wall and seeing what sticks! Some things work, some things don't, but that's part of the fun- creating unique musical tools to tell unique stories.
Has luck played a meaningful role in your life and business?
I attribute much of what I have in my life today to luck, though not in the way you may think. I mostly attribute it to the circumstances of my birth. I was lucky to be born to a mother that signed me up for musical theatre, thus starting my journey. I'm lucky I grew up where I did, and that my family was able to pay for extracurriculars that cultivated the person that I'd become. I'm lucky my family was able and willing to pay for my education at CalArts. The vast majority of people do not get those opportunities, and it's a statistical miracle that I even have them. I hope to spend the rest of my life giving back to the world in a meaningful way. I'd like to use my inherited privilege to do some good.
Contact Info:

Image Credit:
Ghobad Heidari, Marley Townsend, Megan Lee Miller
Suggest a story: VoyageLA is built on recommendations from the community; it's how we uncover hidden gems, so if you or someone you know deserves recognition please let us know here.