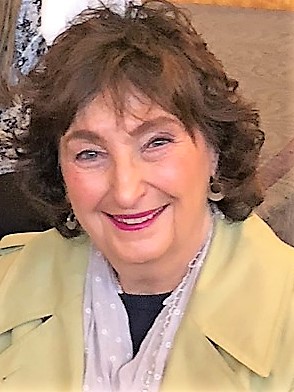 Today we'd like to introduce you to Edythe L. Bronston.
Edythe, let's start with your story. We'd love to hear how you got started and how the journey has been so far.
I grew up in the suburbs of Allentown, PA, the elder of two girls, with a mother who constantly played the piano and sang in our home, with me at her side on the piano bench singing show tunes. My mother was quite beautiful and talented and was much in demand to act and sing in our local little theater.
That was the extent of my musical background until I was 15 when a boyfriend took me to one of the many roadhouses which dotted the Pennsylvania countryside to hear Ray Anthony. I had no idea who he was but was intrigued by the music (and by the very good-looking bandleader.) I was informed that this was "jazz," with which I had absolutely no familiarity, and proceeded to investigate this new interest, starting with Stan Kenton. By the time I moved to Los Angeles in 1959 my ears had been sufficiently opened to allow me to explore and learn more about the exciting L.A. jazz scene while I studied and eventually became a lawyer.
The most important production of my life was the birth of my beautiful daughter, Pam, who is sweet, kind and caring and who has given me amazing grandchildren, Kelly and Jeffrey. I am also the extremely proud great-grandmother of Oliver and Harlow, who are the source of much joy in my life. My son in law, Eric Spencer, and my Grandson in law, Derek Chaiken, round out our immediate family which has recently been joined by the lovely Jhing Sillona, as Jeffrey's bride. This makes me a matriarch, a role of which I am so proud and humbled!
I was admitted to the California and Federal Bar in 1980. After putting in my time with several prestigious law firms, in 1995 I opened a solo practice in Century City, concentrating on Receivership and Provisional Directorship law. Shortly thereafter, I myself became a Receiver, a Provisional Director and a Partition Referee, appointed by the state and federal courts. In this area of practice, I am a fiduciary to all interested parties and thus a neutral. As a Receiver, I take control of and run, or sell, all of a Defendant's assets, including businesses and properties, according to my court order. As a Provisional Director, I am a board member of "paralyzed" corporations, and my role is to break board deadlocks while the shareholders/directors are litigating in court; as a Partition Referee, I control, sell and distribute proceeds of property to which various entities and/or interests hold competing interests.
My cases are always very interesting and often out of the mainstream and include the filming, completion, post-production and delivery of the Disney television movies "Eloise at the Plaza," and its sequel, "Eloise at Christmastime;" oversight and eventual liquidation of a large nightclub in Hollywood; sale of a film production company; control of an entertainment loan out corporation; sale of a movie script; sale of assets of a video game designer/manufacturer; and control over assets in a Ponzi scheme case brought by the SEC. I have also been the co-Trustee of the Lee Hazlewood Estate, after having served for many years as Receiver over his very large royalty stream. I served as a Provisional Director for 5 ½ years on the Board of the corporation which produces the annual Los Angeles Auto Show and am a Provisional Director on the Board of the Four Jays Music Company, dba Harry Warren Entertainment. Four Jays is a musical publishing company which manages the extensive portfolio of composer Harry Warren.
During almost 40 years of practicing law, I have been involved in many state and federal bench and bar committees, including a five-year stint as an appointed Attorney Representative to the 9th Circuit Judicial Conference. I also was a Founding Director and past President of the Los Angeles/Orange County Receivers Forum and the statewide California Receivers Forum and of the California Bankruptcy Forum. As an appointee to the Los Angeles Superior Court's Ad-Hoc Committee on Receiverships, and on that Court's Committee on Earthquake Issues, I assisted in the work of developing rules, policy and procedures to guide the Court and litigants to a more efficient and uniform implementation of receiverships and to increase communication between the bench and the bar.
While busy with my law practice and attendant writing and speaking on issues in the law, my love of jazz continued to grow and I am blessed to count among my friends many superb musicians. This entrée opened my eyes to the dire position of many practicing musicians, who find themselves under-insured and under-employed. I learned that all but the very top tier of musicians, as well as the relatively few in-demand studio and session musicians, had to rely on a partner's income and insurance as a necessary supplement to their income from their music, due in large part to the shift in the marketing of all music and the drastic reduction in available jazz venues. Although I had no idea how to make this happen, I vowed to raise the consciousness of the jazz fans who loved the musicians who created the music but who lacked the knowledge of their plight and the ability to directly assist those musicians.
On January 30, 2006, I gathered a few jazz-loving friends around my dining room table and the California Jazz Foundation was born. Dominic LoBuglio, a colleague and close friend of mine, is a jazz-loving CPA who became our CFO. Between Dominic's and my professional expertise, we were able to comply with the extensive federal and state rules and regulations, incorporating in March 2006 and ultimately receiving our tax-exempt status in early 2007.
Great, so let's dig a little deeper into the story – has it been an easy path overall and if not, what were the challenges you've had to overcome?
Forming a non-profit from scratch is always challenging. The first obstacle is funding the initial activities to get the non-profit up and running so that a structure is in place to operate. In the case of CJF, money was needed to pay for insurance, a social worker, publicity and mailings. While most jazz enthusiasts are charitable people, virtually no one will donate money to an organization which is not tax-exempt. By dumb luck, I had decided to make CJF a membership organization. While the membership fees were quite reasonable, membership was annual, with the result that CJF has had a consistent base of members who almost always renew.
Wading through state and federal requirements to incorporate and then attain the blessing of the Internal Revenue Service is complex, time-consuming and nerve-wracking. Presenting a concert (with talent donated by the musicians) seemed like a logical first step so we planned a Sunday afternoon concert for March 18, 2007, far enough in advance to ensure that CJF had received its tax exemption from the IRS. Local 47 of the AFM kindly gave us space and the wonderful women of the Los Angeles Jazz Society cooked, brought and served food on the patio. There was just one problem : despite my constant calls, my nail-biting, and the assistance of Senators Feinstein and Boxer, the IRS notice that CJF was, in fact, a tax-exempt charity did not come through until February 15, 2007, only one month before our publicized first fundraiser. A gigantic, collective sigh of relief followed.
Please tell us about California Jazz Foundation.
The mission of the California Jazz Foundation is to provide aid and assistance to California jazz musicians in crisis through a team of caring, knowledgeable professionals in collaboration with community partners. We are very proud to say that in our soon to be 14 years we have helped almost 300 musicians with rent, medical bills, automobile maintenance, telephone and utility bills and virtually anything that is needed. Our social worker interviews and counsels all applicants, assisting them with their applications; then, after completing her due diligence, she summarizes their circumstances and makes a recommendation to our five-member Review Committee. Upon the Committee's approval, our office cuts checks to third party vendors (never to the Applicants.) We are pleased to report that the entire process is generally completed within three to five days of submission of each completed Application.
An additional significant benefit to our applicants is the California Jazz Foundation's membership in the Entertainment Assistance Cooperative ("EAC,") a loosely formed group of social workers employed in the entertainment charity community. Membership in EAC allows each social worker who has opened a file and done his or her due diligence to make referrals to other appropriate agencies without the necessity of multiple applications. Another immeasurable benefit is our statewide Medical Referral Network, comprising many medical professionals and covering most areas of practice. These dedicated professionals have arranged to reduce their fees to an applicant on a sliding scale basis, after which CJF can assist with the cost.
Did luck play a part in the foundation's success?
I would have to say that luck has had only one role in the success of CJF and that would be attracting the marvelous, dedicated people who work so hard to support us and our constituents. The Board of Directors, from the very first meeting, has comprised individuals of unmatched talent, energy and integrity; the same is true of our Advisory Board. Our members, donors and supporters have a steadfast commitment to our cause.
As for me personally, I am constantly amazed and perplexed at the honors and kudos I receive for doing the work that is my passion. I have received the Jazz Journalists Association's "Jazz Hero Award," have been inducted into The Jazz Cruise Hall of Fame and profiled in many publications. On reflection, I am a very lucky person!
Contact Info:
Suggest a story: VoyageLA is built on recommendations from the community; it's how we uncover hidden gems, so if you or someone you know deserves recognition please let us know here.