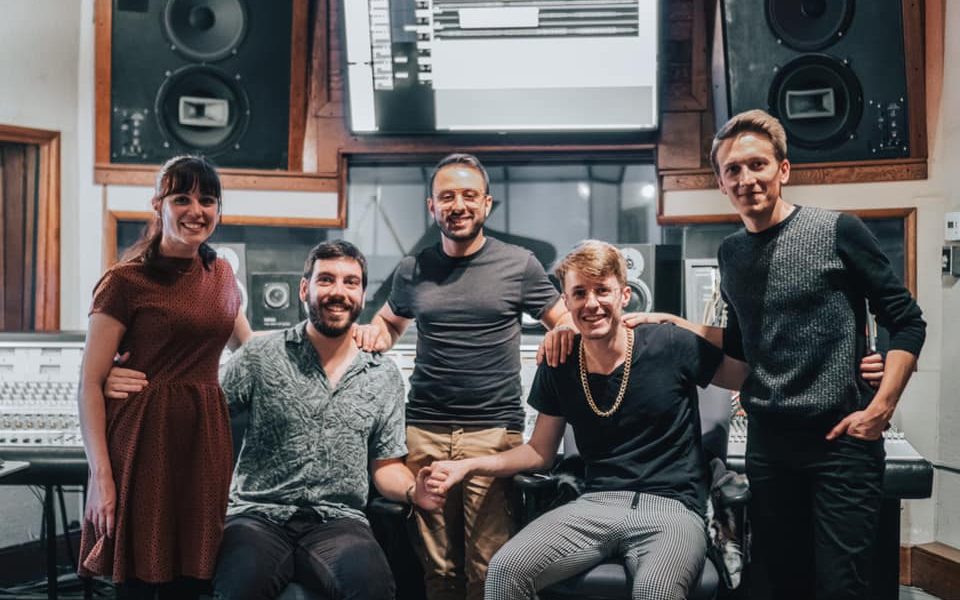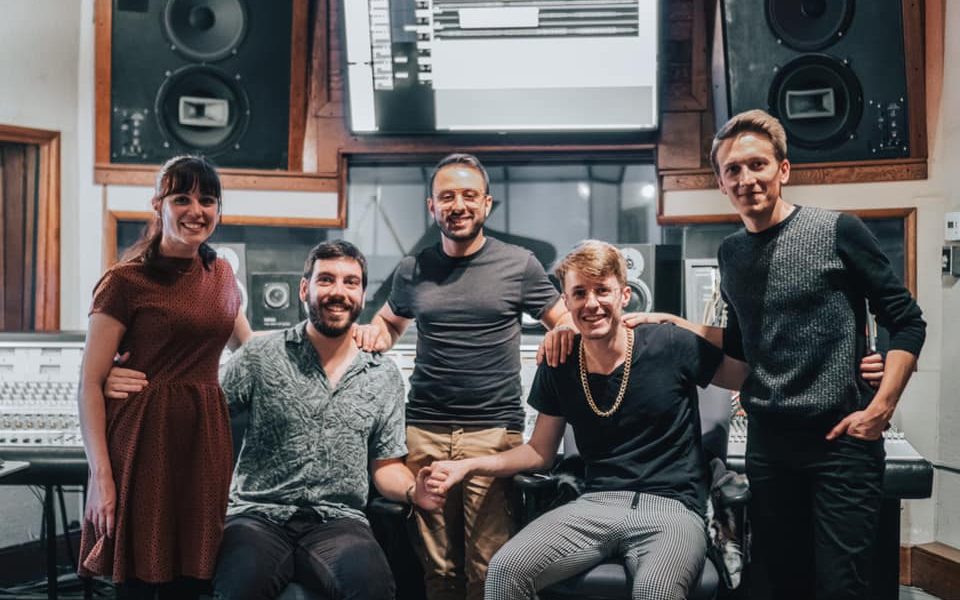 Today we'd like to introduce you to Gaia Leone and Leonardo Bertinelli.
We are two musicians who came to the US from our home country, Italy. Leonardo Bertinelli was born and raised in Rome and started playing guitar at the age of 12. Growing up, he was fascinated by the 60s and 70s culture which he combined with his studies in aerospace engineering. In 2016, he decided to turn his passion into a career by moving to the US to attend Berklee. Gaia Leone comes from further South (from the small town of Reggio Calabria). She picked up bass at the age of 18 after some years of guitar and, after earning a degree in Language Interpretation in Italy, she was accepted to Berklee on a full-tuition scholarship in 2014. We started working together on different projects while in College. We produced and arranged for singer-songwriters, produced and recorded jingles, produced live shows, recorded music for award-winning exhibitions, composed Music for commercials and short films worldwide.
Once moved to LA, we tried experimenting with a Boston-based Artist we were (and still are) working with to fully produce one of his songs. We took care of it from demo to mastering stage. The main Artist we're producing right now is Hip-Hop emerging voice Tristan Simone. Tristan Simone, born in Spain, is a sociopolitical rapper and jazz artist who performs in Spanish and English. Having lived in five countries, Simone fuses the styles, genres, and techniques acquired along the way into his music to bring a variety of cultures into his artistry. Tristan is famous for his outstanding live performances and charisma. He has performed at numerous shows for world-famous artists such as T-Pain, Missy Elliott, Sylvia Rhone and just recently, for world music group Patáx.
Tristan had just written a really powerful song, titled "Music is Dead", centered on his personal struggle through Depression and Anxiety but didn't have any tools to bring it to life. That's when we joined forces. In less than two weeks, we gathered performers, arranged, produced and rehearsed the song. We went through different demo stages, got feedback from professionals actively working in the industry, found a great LA studio to record at (Stagg Street Studios) and an amazing video crew within the Berklee LA Alumni community. We also took care of travel plans, accommodation, transportation, scheduling and ran the session following professional standards (that Gaia learned while interning in LA). The whole experience was a success and the song – together with a Music Video – was released on November 21st and you can view it on YouTube: https://www.youtube.com/watch?v=6I7Uv27IbMM.
Great, so let's dig a little deeper into the story – has it been an easy path overall and if not, what were the challenges you've had to overcome?
Our collective is an ongoing experiment. As a duo, we are surveying different options and walking as many paths as we can to narrow down what would get us as closest to the goal as possible. We are constantly challenging ourselves with new objectives. While we were at Berklee, we started working within the college walls. After that, we expanded our business: bringing a Boston artist to L.A. was our first cross-country experiment and we could not be prouder of how it turned out.
Of course, the road hasn't always been smooth and we encountered many obstacles along the way. When we first started we had to balance a very busy school life with our personal projects. We were both taking a lot of project-based classes, working multiple jobs on campus, volunteering for the institution (Student Government Association) and taking care of our network by playing or engineering for our fellow students, going to their shows, helping them with projects, etc. Our projects always required a little bit of budgeting and that didn't come easy at first since we had to learn how to properly plan and manage our finances for these type of work. The more clients we worked with, the more we realized that we were lacking some background in Music business, marketing and promotion. We didn't always know who to call for tasks as basic as booking a studio outside Berklee or when pitching a project to a third party we weren't aware of the importance for an Artist of having an Electronic Press Kit.
All of this prepared us best to develop a production model that we think is unique to our approach. Apart from the more "concrete" aspects to consider (budgeting expenses, scheduling conflicts, contracting musicians and rehearsal space rentals), we focus a lot on the more "human" aspects of the production process. We want to keep everybody happy and healthy throughout rehearsals, demo stage and at the studio. During pre-production we spend a lot of time scouting the right talents. To us, making a song means growing together and experience something not only musically but also personally. For Tristan Simone's production, for example, we knew that choosing the right people was crucial. We needed the right musician who not only was a skilled professional but also had an empathetic approach and could deliver an honest and unique performance enhancing the words and feelings of the composition. We were lucky and thankful to find all of these qualities in the exquisite soul of pianist and composer Riccardo Gresino, a fellow Berklee colleague and promising talent, soon to become part of the finest LA Music scene. Gathering such a collaborative and like-minded team allowed us to honor the vision, which probably is the hardest thing to do when tackling such an ambitious and multifaceted project. We all served Tristan's pioneering vision with no ego, communicating and working as a team in the sole name of Art and Music.
Overall, we can say that it hasn't been a smooth road but we had and have the best companions to walk it with. When you manage to create something so honest and pure it's amazing how even people who might not be directly involved (from a business or professional point of view) will be driven to follow and support you, contributing to a better experience for the whole team. That's why we're so thankful to Marco Morabito, a fellow drummer who flew all the way from Italy to LA to help us film and get ready for the session.
ABA Productions – what should we know? What do you guys do best? What sets you apart from the competition?
ABA Productions is a collective born within the Berklee community with the common goal of producing Music and events with a cross-country mentality. Our objective is sharing talents around the US and the world. We're both Music producers but we specialize in different areas. Leo is more versed into live sound, record making, record production, mobile recording and mixing, while Gaia is more focused on in-the-box (software-based) production, writing and composition with an interest in commercial writing and film scoring. She's also an active live bass player and session musician.
We offer both analog and digital recording services that we can easily export world-wide, should the client need it. We're known for our holistic approach to Production. Artists can come to us with just an "embryo" of a song; we'll take care of the rest and plan the steps to bring it to completion. At ABA Productions, Artists feel free to express their ideas and their music in a creative environment, where they find the support and hands-on professionalism to bring it all together. Whatever you need, we're here to help you make an impact. Come to us with your ideas and together we'll make the noise you were meant to make.
What makes us the proudest is that we actually manage to achieve what we plan and work so hard for. We don't necessarily look for fame or success in the first place. What really matters to us is creating a memorable experience for the client without forcing anything, prioritizing the Artist's creative process. To us, creating a safe and non-judgemental environment is crucial. Our leadership can be summed up like this: We are enhancers not owners. We try to discover, amplify and protect each Artist's unique voice. We're not interested in "pre-packaged" products to be thrown into the mainstream market. What we strive to achieve is originality, earnestness and a profound message. That's what – we think! – sets us apart.
What moment in your career do you look back most fondly on?
We think that our proudest moment was when we did the session at Stagg Street Studios earlier this November. The atmosphere and the energy were great and everyone of us (the band, the producers as well as the staff from the studios, friends and supporters who came out to see the session) were working together in synergy as a team. The only thing that really mattered to everyone at that moment was Music.
We were really glad to see that the people from the studios were genuinely interested in this new, unusual Music we were presenting. They were receptive and got captivated by Tristan's message and, by the end of the session, they told us they were eager to keep working with us. This proved to us that our model was finally and successfully exported outside of our College reality and we were able to make new and exciting connections in the LA industry.
Contact Info:
Website: bertinellisound.com
Phone: 781-513-1892 (Gaia) , 857-277-8509 (Leo)
Email: <leonardo.bertinelli@gmail.com> , <gaialeonemusic@gmail.com>
Image Credit:
From Blue to Greene
Suggest a story: VoyageLA is built on recommendations from the community; it's how we uncover hidden gems, so if you or someone you know deserves recognition please let us know here.