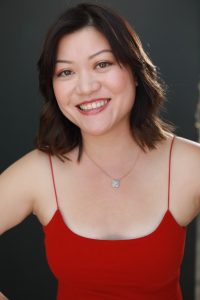 Today we'd like to introduce you to Rebekka Lien.
Rebekka, we appreciate you taking the time to share your story with us today. Where does your story begin?
I was born in Hamburg, Germany. I moved to Taiwan when I was five and to America when I was eight. My parents divorced when I was eight years old so I did not see my dad for ten years. Because of that, I really struggle with self-esteem issues and feelings of being less than.
I got bullied when I moved to America not only by non-Asian people but by Asian Americans. My mom used to make my clothes because we could not afford to buy Calvin Klein. We could hardly pay rent. I grew up giving my earnings to my mother for rent. Times were really tough and I felt bitter that other people had it so easy. I wish I had both parents and an affluent upbringing.
I didn't realize that God was actually preparing and training me to see my worth apart from money, fame and material things. When it comes to acting and the entertainment industry, you can achieve a lot of things and still feel like you're not enough. I've been a star on stage but once filming stops, you're just a normal person like the rest of the world. We are all looking for significance, we all want to be seen. But a lot of people are looking for it through recognition from strangers, yet not realizing that they feel unloved by the people around them.
I always wanted to be an actress but when a drama teacher in middle school yelled at me that dream died immediately. She yelled at me because I was giving lotion to my friend and my friend dropped it and screamed. However, the teacher blamed me for causing a disruption in class. I felt humiliated.
It was only in 2014 when I broke up with my ex-boyfriend that I received a community class flyer in the mail. It was a class for improv comedy and I thought it would be really nice to laugh again. I was severely depressed from the breakup. I took the class and remember feeling such happiness from making fun of life, laughing with others and feeling a sense of community.
The teacher told me that I had a really great look for commercials. He asked me if I wanted to take a commercial acting class. I decided to join though it was a big financial commitment at the time. I rented out my couch through Airbnb (probably illegally since I was renting my apartment) and used those earnings to pay for the class. You know how it is in Hollywood no one really talks about it, but it's a real struggle.
I took the commercial acting class, got myself an agent and went to many auditions, not really getting anything. The interesting thing is wherever I went, I met people who are like-minded and I started to see that this journey was not so much about booking a gig but about letting love in. Because of previous betrayals, hurt and pain in my friendships and relationships with my family, I had a fear of rejection and intimacy. God was healing my soul from being outcasted by people.
I got on a fashion competition show and marriage show, which scared the crap out of me. I thought I was going to marry a stranger and I had nightmares every night that I was going to marry the wrong person, this was really triggered by my parent's divorced. I got diarrhea on the first day of filming the fashion design show in the Philippines. I should not have eaten street food- I'm pretty sure it was the seaweed. To be honest, Hollywood is a b*tch, but you've got to be a b*tch back and stand up for yourself.
Contrary to popular opinion those who make it are people who decide to be themselves instead of bowing down to the mainstream. It is about saying what's on your mind instead of sugarcoating to be liked by the majority. I already have trolls that hate on me. It's amazing how much time people have to make up fake emails and fake Instagram accounts.
I want to be in a drama television show, a sitcom, a travel show where I get to eat a lot of food and meet strangers across the world. I'd like to be in a movie. I see myself acting out my own life and acting out a character that's similar to who I am someone who is eccentric, unique, spunky. But I also like to act out a character that is mysterious, maybe an undercover cop, a detective, someone who is badass and pulls out guns and knives and kills enemies, like a CIA agent with beautiful hair and a corset.
I am an actress, stand up comedian and creative who can bust out in song and dance, playing cello and piano at the same time. I can paint you a beautiful abstract art, graffiti, sew up some fashion designs. I have a podcast called The Bex Show where I talk about my dating woes and waiting until marriage to have sex. My YouTube show (The Bex Show) is a plethora of prophesies and dancing in a parking lot.
I am a world traveler. I've backpacked to 30 plus countries, 14 of which I follow the Holy Spirit and had no money and had to learn how to ask for help. I break into peoples' hearts basically. That's my God-given power. I don't believe in rules or regulations. I believe in breaking down long-built walls inside of our hearts. That is my gift. I've been stranded on an island in Vietnam with $20. I wish everyone saw the kingdom inside of our hearts, it's really amazing what can happen when you open your heart to love. Anything is possible and love conquers all.
Alright, so let's dig a little deeper into the story – has it been an easy path overall and if not, what were the challenges you've had to overcome?
I took my first acting class with money I should have spent on rent. I thank God everyday for how He provided along the way. Not growing up with my dad kind of hurt too because I didn't have the financial support of a father and had to work since I was eight. In addition, my mother was a bit critical and always yelling at us. I wish she was more emotionally available but I really didn't get to talk to people about my feelings until later in life.
I went completely numb for a few years and relationships were hard to build because I had an emotional wall up. I started seeing a therapist last year and was able to talk about my emotions a lot more. Now I can tell people how I feel and not build up this intangible wall. I hope to see my dad soon, it's been three years.
I talk about family a lot because I believe our hearts is number one in our lives. Without being emotional present in our lives we can do a bunch of career things and not really have depth in our lives. Our hearts can be numb even when we are getting money or winning in our career life.
Let love in, that's the most important thing in life. With love, all things are possible.
Can you tell our readers more about what you do and what you think sets you apart from others?
I am an actress, comedian and artist. I am also a prophet who gets messages from God. I was hesitant to mention that since it is Hollywood, but I am in a point in life that I'm not afraid to share what's on my heart. I grew up playing piano because my mother was a piano teacher. I play cello and piano. In Hollywood, you have to do everything from being an Uber driver to acting out scenes.
I have been on reality shows, travel shows and tv shows. I'm still undiscovered, I've been in hiding for a while but I'm ready to show the world who I really am. I'm not ashamed of who I am anymore.
I am a great actress though I have not gotten a lot of formal training. I love comedy improv and I'm really good at being myself. What sets me apart from other people is that I don't care what people think anymore. I used to be a people pleaser and I used to say yes yes yes to everything. #FOMO was basically my life and now I've learned to speak up for myself and ask for what I deserve.
Lately, I've been booking a lot of commercials and tv shows. Sometimes it's just background work but it doesn't hurt to meet other actors. For me, acting is about playing. I love playing and make believe. I love meeting new people and hearing their personal stories.
God always leads me to people when I'm on set, there's always one person I'm supposed to meet.
If you had to, what characteristic of yours would you give the most credit to?
I used to think that success was everything but I realize that if you don't have anyone to love or support you when you've succeeded then you were really focusing on the wrong things. True success is knowing that you are loved no matter where you are in life. Growing up, I was not very close to my mother because she was very critical and so I've had to learn how to tell her how I feel. Emotional hiddenness and isolation is one of the reasons that people "succeed" but still feel like they're not doing enough.
I have learned that success is knowing that you are a child of God and that you are loved no matter where you are in life. Success is loving yourself and looking yourself in the mirror and knowing that you are enough.
When I started to realize that I am enough, I can then do anything out of a place of abundance and love for myself.
Remember your heart is everything, follow your heart and say what's on your heart and God will always lead you to where you need to go.
Contact Info:

Image Credits:
Christopher Colvin, Molly Pan, Patrik Foto, Rodnae Productions
Suggest a Story:
 VoyageLA is built on recommendations from the community; it's how we uncover hidden gems, so if you or someone you know deserves recognition please let us know 
here.