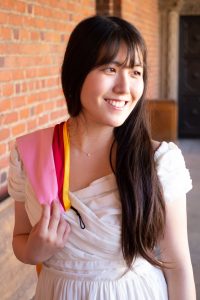 Today we'd like to introduce you to Misaki Saito.
Hi Misaki, can you start by introducing yourself? We'd love to learn more about how you got to where you are today?
I am a classically trained pianist and educator, passionate photographer and arts leader. As a survivor of bullying, I recently founded a non-profit arts organization called heARTists where survivors of painful experiences come together and artists make original artworks inspired from survivors' stories.
It's really difficult to define who I am in one word really… but overall, I am an art lover, curious about a wide variety of things and simply an explorer in life enjoying this journey! Having this wide and diverse interest in arts developed from a young age. I was a dreamer and dreamed of becoming involved in various kinds of things. You may think it's crazy but I have dreamed of so many different things and changed my mind basically every year! (Well, anyone can dream and it's free right?!) At age seven, I dreamed of becoming a ballet dancer. I was always so fascinated with the beautiful movements as well as the costume and stage designs. It was like a sparkly-sugar world! At age eight, I dreamed of becoming a concert pianist after listening to a gorgeous Mozart recording by Takeshi Kakehashi. When I was nine, I dreamed of becoming a professional mountain climber, climbing Everest, K2. Growing up in Yamanashi, Japan, sometimes called the Southern Alps of Japan, I was always exposed to beautiful, untouched nature and have done intense mountain climbing, including wintertime climbing and ice-climbing! At age 10, I wanted to be an Olympic figure ice skater and even participated in many years of summer camps practicing with Mao Asada, Miki Ando, Takahito Mura, and many other notable Olympic ice skaters. This was also the time I started learning Japanese traditional dance, taking private voice lessons, and attending musical theatre, ping-pong, and a youth aviation school.
At age 14, I dreamed of working in the United Nations after I listened to horrifying accounts from my friend who was living in Bangladesh at that time, telling me atrocious stories of poverty and what's actually happening in that country. As an innocent child, I was looking for ways to save the world, and working in the UN was the first thing that came to my mind. In order to achieve that, I decided that I needed to improve my English. At the local junior high school, I met an ALT (Assistant Language Teacher) who came from the United States to help teach us English. One day I was participating in a piano concert in my town, and I invited her since I knew she was a cellist that graduated from the Eastman School of Music. After the concert, she came up to me with great excitement and asked me if I am planning to pursue music during high school, and convinced me that I should. I also told her about my dream of working for the UN, and then she came up with this brilliant idea to study music in the United States so I could pursue both paths! I applied to an arts boarding high school in Michigan called the Interlochen Arts Academy, which she knew from attending their summer music camps. Although my parents told me that even if I got accepted, there would be no way for them to afford the tuition, yet I was fortunate and got a vast amount of scholarship from the school. It was a dream come true! This was the biggest decision I ever made, and I came to the US all by myself at the age of 16. My parents promised me that they could only send me to the US for one year and thought it would be a nice short study-abroad experience.
I am the type of person that when told something is impossible or never done before, I am motivated to make it possible. Attending the arts boarding high school was special and I loved every experience of it! This promise of one year of studying abroad became two, then three, until I finally began my undergraduate studies at Lynn University in Florida with a full-ride scholarship. Afterwards, I came to USC for my Master's, which became a doctorate degree, which finally got me to where I am now! But during my Master's, I was forced to take a gap year due to overwhelming financial obstacles. However, I did not easily give up that year. I made the decision to fully commit to my ambitions and spent the entire year working in every available field in order to accumulate enough funds for tuition and living expenses at USC. In addition to balancing three jobs simultaneously, I undertook an extremely strenuous crowdfunding effort that ultimately proved successful, even raising more than the initial goal, allowing me to finish my Master's at USC. Subsequently, I entered my recent doctoral program, for which I attained full tuition coverage plus stipends as provided by my Teaching Assistantship in the Japanese language program. I seriously never considered getting thus far, but it proves we never know what ends up happening in life without trying our best!
Alright, so let's dig a little deeper into the story – has it been an easy path overall and if not, what were the challenges you've had to overcome?
I am fortunate for all my experiences, including both good and bad, but the road that I have taken so far has not been smooth at all. As I mentioned earlier, I was learning so many things simultaneously at a young age and in fact kept taking all those lessons until I came to the United States! How did I manage to do it? It was because I was homeschooled for mental and emotional health reasons. I am one of five siblings, and my oldest sister is autistic. Though we initially lived in Tokyo, my parents thought sending us off to a smaller school for my special-needs sister would be better for her education, as she could be better taken care of in more intimate environments. My father changed his job and we came to this rural town in Nagano, where we ended up almost completely excluded and shunned from society simply for being 'outsiders' from a big city.
It was cruel. I remember my family was forbidden from bringing trash into the village's designated area. My siblings were bullied at school everyday, both physically and verbally, not only by classmates but from teachers as well. We were excluded from all school activities, weren't allowed to go on school trips, and when there were school festivals and tournaments where all students were meant to participate, we were simply ignored and our works were never displayed in public. I watched my brothers losing hair even at a young age from sheer trauma and stress; I saw them being tormented from going to school, and we experienced all kinds of abuse and harassment from neighbor kids splashing us with pee to locking us in a car. Some things were so brutal they exceeded what any normal human child should experience. At first, my parents were on the teachers' side and tried to continue sending us to school, but ultimately my mom realized that she was hurting her children more than they could take. The option of committing suicide suddenly didn't seem so far away anymore. It was then that my mom decided to be 100% on the side of her children. Whatever society said, however the community tried to attack us, she was committed to take all responsibility and opened a small 'home school' in our house, where she also accepted other children who struggled with public schooling. She was one of the first people to do this kind of thing in Japan, thus we were often interviewed by newspapers, magazines and many other forms of media from all over the country. The media said whatever they wanted to say, and although some were positive, many chose to show us in a negative light, saying hurtful things like "the Saito kids are lost in a maze and will never be successful". Each of us persevered in our own fields of interest and ultimately finished scholarship-funded graduate school degrees and found work in mathematics, Chinese calligraphy, and meteorology.
We all go through painful experiences and have different stories. Many times I have tried to hide my past and never tell anyone what had happened to me during my childhood years. Then I realized that I needed to accept myself for who I am, including the good and bad. First of all, I found the necessary courage and wisdom to develop gratitude and humility as a result of these experiences, cultivating an ability to appreciate and understand difficult situations and develop them into sources of benefit. Being homeschooled both created an environment of safety and gave me the freedom to explore, opening doors to fields such as ballet, traditional dance, piano, figure-ice skating, table tennis, aviation school, mountain climbing, photography, Girl's Scouts and volunteering, musical theatre, and singing. Having to support a developmentally-challenged sibling gave me the chance to learn independence, patience, and discipline, all of which have been necessary in my path to success. Sharing my early life with my siblings have brought me joy and love for others, and the financial situation as provided by my parents gave me both opportunities to explore and work harder, but also lessons of frugality, modest living, and appreciation even during times of hardship.
Alright, so let's switch gears a bit and talk business. What should we know about your work?
I have diverse experiences and years of practice in various arts other than piano, even though my degree stayed in solo piano performance since high school. By combining my experiences of being homeschooled in Japan (where the practice is still not well-accepted even today) and with my cultivation in the arts, I came up with the idea of heARTists. Our slogan is "The heart is where ART lives". I believe it is time to give back and make a difference in the world.
heARTists is an online platform where survivors of painful experiences share their stories, and then our group of artists creates their own unique artworks inspired by them. Our team includes a wide variety of artists including musicians, composers, dancers, visual artists, photographers, yet we are open and always looking for more! After our first work of art was produced, the survivor whose story inspired the art contacted us, telling us how much she was moved and how much the art meant to her. In turn, I was simply so touched to hear about her positive reaction, and I hope to repeat this process continuously for more and more people over time. My wish is to create a safe and open environment where people feel safe to talk about their stories and where everyone can feel that their voice is worthy of being heard. We are still in the very early stages of the project, but I am so fortunate to have friends that support me and help make my visions come true. Big thanks go to my co-artistic director Hikari Nakamura for working so closely with me since the very beginning. Also, I was so fortunate to receive a generous grant from Japanese billionaire Yusaku Maezawa and artist Nagasaka Mago for the purpose of growing heARTists! Right now, many of us still live in a society where talking about mental health is taboo, and people who go to therapists are often considered 'crazy'. I would like to normalize mental health awareness and erase these stigmas, making a community that is open and warm where everyone feels 'worthy', while also making arts accessible for everyone.
There were many times that I felt left out and compared myself to peers who studied music way more intensely since childhood. There were times that I wanted to hide the fact that I was doing so many things because it made me sound like I was never serious or dedicated enough for music, causing others to look down on me. This was especially amplified as I was surrounded by dedicated artists and musicians since high school. Many years later, I slowly started to accept myself, including my negative and dark sides. While I could easily victimize myself and focus on the negative aspects of my past, I wanted instead to focus on the positives and think of ways to contribute to this world.
Do you have any advice for those just starting out?
I do not see myself as worthy enough to give advice to young artists at this point yet as I am still a young artist learning and trying to make things work! However, one thing I want to say is that "You are doing alright, and everything will be fine". In the current days where use of social media is massive and we see this 'ideal' type of life daily on our phone screens, it is very easy for us to compare ourselves to others and to feel bad about ourselves. Everything we post, show, and talk is often focused on this positive, magical, and ideal life. But during life, stuff happens and we all go through that. At the same time, you never know what happens based on the experiences and the people surrounding you! I was once obsessed with the virtual world and spent hours blogging and online chatting with strangers, yet many of them became life-long friends, the very people who contributed hugely to make my crowdfunding project come true! Cherish the people around you, cherish all the experiences you have been through, and most importantly cherish yourself. You are one special human being, and there will never be another you! Keep doing what you love, then the path will lead you naturally.
Anything I wish I knew when starting out…? Well… everything?! As an arts leader and the founder of an arts organization, I wish I knew more about business aspects and how to run an organization. My background is mainly in the arts, so I am clueless in a lot of other real-life things. I am still in need of help growing this platform, so if you have a story to tell as a survivor if you are an artist who loves to create while helping others, or if you are simply an arts lover and want to support the young artists and the community… please reach out to me! heARTists still has a long way to go on this path, and I would appreciate the help of each and every one of you.
I believe that there are three things in life: destiny, coincidence, and choice. It was my destiny to be born with my family in Japan, and a long string of coincidences led to my new life in a different country at a young age and my immersion in the world of arts where I had no place before. Finally, it was my choice to realize my experiences were all in the past and that moving on in a positive way was the best way to proceed. I am truly thankful for all the things I lived through, good and bad, for they made me the person I am today. It is now the time for me to help and inspire others with my artistry and make a difference in generations to come.
Contact Info:

Image Credits:
Misaki Saito, Kenji Miyazawa, Wesley Chu, Eloise Kim, Ngoc Vu
Suggest a Story:
 VoyageLA is built on recommendations from the community; it's how we uncover hidden gems, so if you or someone you know deserves recognition please let us know 
here.