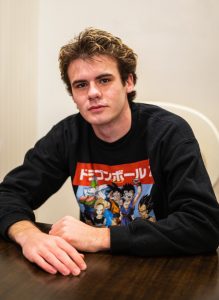 Today we'd like to introduce you to Kelly Butts-Spirito.
Hi Kelly, can you start by introducing yourself? We'd love to learn more about how you got to where you are today?
Well first I want to thank you guys at Voyage LA for giving me a platform to tell my story. I am incredibly thankful for this opportunity.
My name is Kelly Butts-Spirito. I'm a twenty-one-year-old film director, event host, and aspiring media journalist. I work in NYC and Los Angeles and am coming up on four years of sobriety living a life that I love. I feel blessed to be in the position I am today, but my life has definitely not always been this way.
School was always really difficult for me. I worked hard and deep down I knew that I was intelligent, but I'm dyslexic, so that never came through on tests or essays. I started using drugs and alcohol in middle school. When I was seventeen, I was expelled from my high school for substance abuse and sent to three months of rehab. That was a low. I didn't know where my life was heading.
After rehab ended, I was placed in a group home in Montana. That experience lasted over a year. I was 18 when I finished my rehabilitation and left the home. Then I did an additional year of high school at a prep school called the Winchendon School in Massachusetts where I played baseball and ran cross country. While I was there, I reached two years of sobriety and began to really hit my stride as a student, athlete and overall human being.
It was at Winch where I first fell in love with filmmaking and media journalism.
I started to focus on the impact of my video work, I decided I wanted to be a film director and began setting goals for where I wanted to take my career. I focused on being a positive influence on the people around me and it began to pay off in a huge way. I was voted to speak on behalf of my class at our senior dinner, signed a division one letter of intent to the University of Evansville to run cross country and continue my baseball career at the division one level.
The summer after I graduated, I packed my car and drove from New England across the country to southern California where I was set up to play baseball in a college summer league in San Diego. While living and playing out there I worked as an intern at a film/news media studio called KOCT Oceanside. The studio was great, but more important than any of the skills I learned at work were the connections I made with folks in the area. Toward the end of the summer, I decided to leave San Diego and go to the hills of Los Angeles to film in a house with the founders of viral party account Imshmacked. I met some awesome people out there when I was nineteen and began to build my network in LA.
Fast forward less than four months later, I had left college and was filming a live event for Dave East's "Survival" tour. I had just finished filming ad content for an influencer named Sean Kelly and was heading to Puerto Rico to backpack and film a media journalism piece in an effort to raise money for educational support for students with learning disabilities — a topic that hits home for me because of my dyslexia. I had decided to drop out of college in the first semester, leaving my dream of division one sports and academics behind to pursue my directing career because I saw opportunities coming my way to travel and make content that felt important in building the life I want. I was still working tirelessly on my sobriety throughout my time in college and Puerto Rico continuing to foster a healthy lifestyle.
March marks four years of sobriety for me. I have been blessed with the opportunity to have spoken at homeless shelters and rehabs in Massachusetts about my battle with addiction. I have been blessed with the experience of speaking about these same topics at Winchendon School and speaking at a conference at Vermont Academy on gender expression, wellbeing in education + athletics as a prep school student.
Over the past year I have been blessed with the opportunity to film for Lollapalooza's virtual festival, shot and edited video for 2x Grammy Nominated artist, Lonr. and other incredible underground New York and LA artists. Some notable moments were having one of my videos with Lonr. hit 130,000 views and got featured on MTV + Raptv. Another notable moment was hosting my first concert.
All that being said, over the past year, I have also spent time without a place to sleep in Puerto Rico and faced the harsh realities of addiction, losing friends and seeing separation within my own family. I believe that life will hit everyone with difficulties at one point or another but the important thing is that we stay motivated. Life can change in a split second and being grateful for every opportunity has helped me begin to find my way in this world. I want my art and my work to reflect the experiences I have had and bring people hope and passion.
Few twenty-one-year olds share my life experiences as someone who is a film director in Hollywood, has experienced addiction, has lived through abuse in a group home, and has spent time homeless. I want to share this resilience with everyone I touch from my video work to my personal interactions.
I have been working relentlessly on building my own video empire, a multimedia company under my tag @_freespirito. My goal is to have a whole production company, while also working in media journalism for a news source like the New York Times. Some people say it's an ambitious dream, but it wouldn't be the first time I've defied the odds.
I want to take a moment to thank Voyage LA for sharing my story. In some ways, my path can be a metaphor for the creative environment of LA and is an example of what makes this city so special. It is a place where one can make anything happen if one wants it badly enough. The city is built on small hungry artists who are reaching for the stars, pushing the envelope and shaping the culture of media. I feel very happy with how much I have been able to accomplish so far in my career but in no way am I satisfied. I have put down the groundwork for major success but I still have so far to go.
Two years ago I drove to LA for the very first time as just a kid with a camera and a dream…I am still just a kid with a camera and a dream, but through hard work and consistent values I have been able to take considerable steps closer to that dream and I could not be more thankful to have the ability to share my story.
We all face challenges, but looking back would you describe it as a relatively smooth road?
For me, it definitely hasn't been a smooth road. I believe, though, that beauty and success come from overcoming difficulty and learning from my mistakes.
One thing I have struggled with early on is letting negative feedback or failure get to me. I have struggled at times in LA and NYC with staying true to my artistic vision and not getting swept up in the demands of the mainstream industry. I was tempted by a documentary deal last year, because of the size of the contract, not the substance of the work so ultimately turned it down because it would have taken me away from the work I'm passionate about. I stand by that choice. Everything I have seen and learned over the past two years indicates that if my work is great and my vision is clear the big deals will come, even if that takes time.
My message to other young people just starting out is that the key to success is believing in yourself and your vision even when others are cutting you down, rejecting your work or not valuing your artistic vision. This is true in any field of work. The same resilient mentality and belief in myself when others doubted me that led me to signing a division one letter of intent in high school has brought me success in my directing career. I have made an active choice to work with smaller companies and artists to build up my name, my brand, and my style so that when I work with bigger artists and bigger companies it won't mean making massive creative compromises of my character. I have heard the word "no" quite a bit over the years in regards to my work. But the best thing I have done is continued to persevere and work hard even when I feel like I am going nowhere. Sometimes the greatest successes come after the biggest rejections and my decision to continue working after many failures has led to great opportunities.
Another struggle has been financially supporting my work outside of school. After leaving school, I was hit with financial realities that had to come first and that sometimes got in the way of creativity temporarily. I coped with this by editing on the side for bigger videographers while doing my own directing work and just finding different ways to make connections and build my network + video income.
As you know, we're big fans of you and your work. For our readers who might not be as familiar what can you tell them about what you do?
I am a film director, event host, and media journalist.
I direct visuals not only for musicians but also for companies, sports teams and eventually hope to move into the news media space.
I specialize in telling stories through visual art. But I have also spoken at schools, homeless shelters and rehabs about sobriety and reaching success in the media world after climbing out of the dark place I was in using drugs. I am most known for my music video work currently, but I am planning to expand more thoroughly into hosting bigger concerts, doing big commercial work and working in media journalism consistently. I will help more addicts recover and be also raising money for students with learning disabilities.
I also would like to move more permanently into the creative journalism world, working on visual storytelling with companies like the New York Times, Vice Media, The 74 million and the American School Board Journal on education pieces and tackling inequalities for students with language based learning disabilities.
What sets me apart from others in my field is that I bring so many different life experiences and skills to the table. I am not just a music video director, a videographer, and an editor. I am also someone who can bring people together and host shows. I travel and raise money. I think a lot of people in the media field either work in entertainment or in news. I would like to bridge the gap and do both entertainment and news in my career.
On top of all that, I plan to help with education reform and addiction recovery. I believe it is not common to meet a 21-year-old that has lived in a group home, is just under four years sober after being in rehab and also works professionally in the music industry, has backpacked solo and hosted his own concert, as well as played division one sports. I think my ability to be resilient and take risks others may not be comfortable taking has been the key factor in me overcoming so many difficulties and finding success at a young age.
Can you talk to us about how you think about risk?
I believe taking risks is what makes for great adventures and growth.
With that being said, consistency and being grounded are also key in developing success. Risk-taking is something I believe must be done with confidence and thoughtfulness.
I am certainly a risk taker. I dropped out of college and walked away from a scholarship because of film opportunities. I also flew to both Puerto Rico and LA with no plan in the same year before even turning twenty one. I took those risks because I truly believed that I had the skills and drive to make both of those situations successful. I took those risks because I had developed a skillset that matched the risks I was taking with serious potential of legitimate merit-based reward.
When I was using drugs and drinking, I also took a lot of harmful, senseless risks. I hurt myself and the people around me. That's different. I believe in educated risk-taking. I am an outside of the box thinker, so people often doubt me and my goals because they defy the status quo. If I have an educated idea that I believe in, but maybe the pieces aren't necessarily laid out for me, and people are doubting it can happen, I generally go for it despite it being risky and put in twice the work to make my venture successful.
Pricing:
$3,000 – $100,000 + music video budget range
Financial range of budgets for commercials
$1,000 – $5,000 social media brand video promo
Contact Info:
Email: kellybuttsspirito@gmail.com
Instagram: @ _freespirito
Facebook: Kelly Butts-Spirito
Twitter: @_freespirito

Image Credits:
Photographers: Julian McHale, Seamus Brennan, Luke Powell.
Suggest a Story:
 VoyageLA is built on recommendations from the community; it's how we uncover hidden gems, so if you or someone you know deserves recognition please let us know 
here.