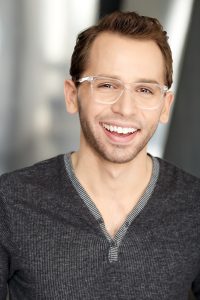 Today we'd like to introduce you to Jake Novak.
Hi Jake, so excited to have you on the platform. So before we get into questions about your work-life, maybe you can bring our readers up to speed on your story and how you got to where you are today?
I started acting and singing in my local high school's musicals when I was nine, though my first performances really came much earlier whenever my grandpa would turn on the camcorder. My study of theatre took me to Boston, where I got my bachelor's from Emerson College in, fittingly, theatre studies. But the moment I got my diploma, I realized Gramps had the right idea all along and headed west to see if anyone would pay me to be on camera.
Naturally, I got my start in LA working in 99-seat and regional theatre (read: not on camera), but quickly landed a coveted job at the happiest place on Earth: Best Buy. That didn't last very long, but luckily I soon got hired at Disneyland, where I played Olaf in the opening cast of "Frozen — Live at the Hyperion" and still to this day sing in the Dapper Dans barbershop quartet, A.K.A. the dreamy stripy guys on Main Street you listen to while waiting for a churro.
But somewhere along the way, I remembered that I came to LA to do Hollywood stuff and decided to, like, do that. I became frustrated with the lack of opportunities and inroads I was able to make as either an actor or writer, so I took myself to YouTube film school and learned how to create #content on my own.
Since then, I've gigged as a freelance videographer and currently work as a junior editor for ABC's "Tamron Hall Show." But I put most of my creative energy toward writing, performing in, and filming my own funny songs and music videos for the internet's viewing pleasure, some of which people actually watch.
Would you say it's been a smooth road, and if not what are some of the biggest challenges you've faced along the way?
My road has looked a lot like an LA freeway: in some places, it's been almost hilariously smooth and enjoyable, while other stretches have looked like they suffered a contagious pothole outbreak and chose to not take medication.
I struggle plenty with anxiety, both in my professional and personal lives. In the rare moments when I've been in one of the "right" rooms with one of the"right" people in my industry, I've found it difficult to be the best version of myself — or even to introduce myself — because I overanalyze and put undue pressure on the situation. There's a healthy (or rather unhealthy) dose of imposter syndrome wrapped up in this, too. But on the bright side, my anxiousness has proven to be great comedic fodder, so it's almost been worth the therapy bills.
One of the toughest parts of my journey (ew) has been motivating myself to keep going, to continue making the things I want to make. I've had very long periods with little audience and even fewer prospects, and while the response I've gottenon my work has almost always been enthusiastically positive, its scope has been fairly limited; it's hard to describe how disheartening it is to spend dozens (or hundreds) of hours on a project and watch it not even hit a thousand views, even though you're sure it's good. Sometimes it just feels like, what's the point? How will it ever change?
But I've also had a couple crazy moments when I've spent just a day or two on a project and it's blown up beyond what I would've thought possible, which is obviously thrilling but also scary in its way. The first time I had a video do well, I didn't make another for nearly half a year. On the whole, the yin and yang has helped me (exceedingly gradually) understand that I should just focus on improving my work, not raising my view counts, because eventually, the former makes way for the latter – and I don't think the reverse is true.
Thanks – so what else should our readers know about your work and what you're currently focused on?
I write and record short, funny songs and film and edit music videos for them every week – all on my own. My style is defined by cleanly comic lyrics, surprising punchlines, high-quality music, and weirdly good production value. I've been told I have a penchant for making viewers laugh and be sad at the same time, to which my only response is, "Write what you know."
But in a Shyamalan-worthy twist, I've become best known for a skill I do not at all look like I should possess: rapping. My "anxious gamer" open verse on Salem Ilese's viral song "PS5" has scored several million views and has been described as if Lin-Manuel Miranda wrote "The Big Bang Theory." I've made other TikTok rap duets with jams like Stacey Ryan's "Please Don't Text Me When You're Drunk" and Em Beihold's "Numb Little Bug," all of which might just lead me to creating the next "Hamilton" about a guy with social anxiety.
When I'm not spitting bars on other artists' tunes, I write lots of original songs, from culture send-ups like "I Wanna Get Canceled" to jolly jingles like "December Depression." Right now, I'm focusing on "tiny tunes," sub-one-minute bops like "I'm Doing Laundry on a Friday Night (But I Promise that I Have Friends)" and the single person's anthem "I Just Want Someone to Check My Back for Moles." I've also penned parodies including "The Corona Hoedown (Stay the F*ck at Home!)," inspired by the "Whose Line is it Anyway?" hoedown game, and "Covid Carols," a one-man a cappella Christmas medley in which I did my best to sound like the quarantine lovechild of Pentatonix and Weird Al.
One of my favorite things about making these videos is how I get to expand my skills across all the disciplines I use in them. With each production, I'm always able to sharpen my writing or level up my filmmaking or singing in a way that's exciting to me. It's particularly fun when I write something that requires a kind of video I'm not equipped to produce, and then I do it anyway — one aspect of the work demands the others get on its plane. I just find that really freakin' neat.
So, before we go, how can our readers or others connect or collaborate with you? How can they support you?
Anyone who wants to work with me and/or collaborate can get in contact via my website and social media. I'm jonesing to work in narrative film and television, whether that's as a screenwriter, actor, songwriter/music consultant, singer (or rapper), director, or coffee runner, and would love to connect with other folks in the industry, if only to learn how many pumps of sweetener they take in their iced whatever.
The best way to support me right now is by (gulp) liking and sharing my videos and following/subscribing to my channels. Just simply hitting that heart button and sending a song to a friend is such a big deal. I don't have an official avenue for monetary support right now, but I may start one in the future because I like money.
If nothing else, I'd love for folks to just watch and enjoy my videos. It's really a special thing when some stranger leaves a comment about how a song gave them a great laugh or resonated in some way — and not just because the comments help the algorithm. (They do help the algorithm, please leave comments.) To be able to make connections like that while doing something I genuinely love is so cool that I can't even come up with a sarcastic remark to undercut it.
Like with my grandpa and the camcorder, I'm really just trying to get the person on the other side of the screen to smile. If I'm doing that much, then I'm doing pretty well.
Contact Info:
Suggest a Story:
 VoyageLA is built on recommendations from the community; it's how we uncover hidden gems, so if you or someone you know deserves recognition please let us know 
here.