Today we'd like to introduce you to Sabrina López.
Hi Sabrina, it's an honor to have you on the platform. Thanks for taking the time to share your story with us – to start maybe you can share some of your backstory with our readers?
My story goes way back. At age 13 I did my first ever production in 13 the Musical. I fell in love but I didn't understand what that love could turn into. Before high school, I did every production I could find as well as performing at the local dinner theatre in Fresno, CA in the Junior Company, which was a ten songs preshow to the mainstage production, consisting of 12-15 children ages 8-18 in shirts without a first name written in big letters over the front. I performed with the Juniors until I went to high school and decided I wanted to try my hand at full productions.
My hometown had a school with a performing arts magnet, therefore along with studying the actual curriculum, I was able to formally train in singing, dancing, and acting. I did every play, musical, one act, and competition I could squeeze my way into. By my junior year, I found myself to be one of the more reliable and improved students and I decided to go to the Oregon Shakespeare Festival Summer Seminar for High School Juniors. This was my first time being able to travel to train in theatre and I met some friends that I have the pleasure still being friends with just shy of a decade later. With my high school training ending, I decided that acting and the performing arts was what I wanted to do with my life. Even though for some, figuring out what you want to do with your life is the hardest decision to ever make, for me it was just as easy as taking a breath.
After high school, I started working with the Selma Arts Center after being asked to be in their production of In the Heights as a feature dancer and as the character Yolanda. I mention this show because it was very pivotal to my journey as an actor. It was the first time I got on stage and did not have to hide my Mexican heritage. My only spoken line in the show was, "no hablo ingles," ironically as I did not speak a lick of Spanish at that time. Prior to this production, I was in others where directors and I would have to make excuses for logical reasons a Latin presenting character would be in 1930s Ireland or 1740s France. This was the first time I was able to express my culture, dance my dances, and speak my language. I have Lin Manuel to thank for that. After this production, I stopped making excuses as to why I was there but started demanding my presence as a Mexican actress. I even started learning Spanish.
My college experience was very much nonlinear. I chose to go to Fresno City College for a year and a half while I figured out how I wanted to approach my acting career. During this time I did most of their mainstage shows, competed in the regional American College Theatre Festivals in Hawaii and Arizona, as well as performing with the Selma Arts Center. At City, I learned that not only was I one of the few competitive actors there trained in musical theatre, but I had a love for dramatic plays. During this time I felt like I actually had a shot at being a real actor. While at the theatre festival in Arizona I auditioned for the Open Jar Institute and was accepted to their intensive audition seminar in New York City. It was a week-long seminar which allowed me to come to New York and fall in love with my would-be home. After returning, my family and I decided it was time for me to leave Fresno and expand my horizons and audition for the American Academy of the Dramatic Arts in Los Angeles. I was accepted to their winter program and I moved there in January 2018.
While attending AADA I learned far more about myself than I expected. After all the classes in acting styles, theatre history, period dance, stage combat, and so much more, I learned that not only in musical theatre my true passion but I also loved classical theatre. I fell in love with the Restoration and Romanticism periods with the big costumes, floral language and gaudy behavior. Period dramas had always been some of my favorites so this did not come as a huge shock to me. Since I did go to school in Los Angeles I had my first turn in acting in front of the camera which proved to be far more of a challenge than I expected. With my background in theatre, it was an adjustment that took me a while to get used to. I graduated at the Dolby Theater in May 2019 and started auditioning. However, this didn't last very long as the coronavirus pandemic was soon to come.
I managed to book small short films and original musicals in LA before the pandemic hit but I found that I was not happy. Any actor knows that you have to love the city you're in before you can grow comfortable in your craft and the whole time in the back of my mind I dreamt of when I would make my move to New York. On March 18th after being furloughed from my job and my side gigs falling silent, I decided that instead of living confined in a one-bedroom that I shared, I would go back home to Fresno and be with my family during the hard time. It was the best decision for myself as the world went through such a transformational period. I took most of the time reviving my creativity, taking online classes and seminars, and I even got a job as a virtual party princess playing Moana and Jasmine for most of the time at home, which was such a joy. During this time, some of my friends from Fresno City College worked as an independent theatre group called Free Royal Theatre Co. and did online readings of some of our favorite public domain plays. I honestly did more work as an actor in front of my computer than I did in LA outside of school. I was grateful for this, so I started auditioning for more online work. The next thing I knew, I was cast in a zoom production of an original play called "One Empire Under God" which invited me to come to New York and be in the full production. Of course, I obliged with three months to plan. In October of 2021, I moved to New York City.
It has been 7 months since I moved to New York. I worked on the production which closed in late November and I was soon cast in "A Mikado" with the Gilbert and Sullivan Long Island Light Opera Company, which is currently in production. I have also worked on a couple of short films since moving here. I do have to say that I am significantly happier here in the city and that I am following my initial instinct of being on Broadway. Although, as the industry is changing, I am thankful for my time in LA learning about film. I feel like a diverse actor and I am just over the moon to have the opportunity to do what I love in a city that I adore.
Can you talk to us a bit about the challenges and lessons you've learned along the way. Looking back would you say it's been easy or smooth in retrospect?
Has anyone been smooth? Mine for sure has not. It was easier in the beginning. During the training period when my schedule was my work was laid out for me, it was easier. The work itself has its own level of difficulty that we're all familiar with and we graciously accept. Personally, the business end of our path is the hardest part because even when it feels like we're doing everything right, results are a thing of consistency and luck. Our path has never been one to be generous, but it's a sacrifice we make.
Right after my college graduation, I was working a job that employed me most of the week from 12pm-8pm. Prime auditioning hours. It was an 8-hour serving position which exhausted me to my very core. Of course, at this time I was beginning to establish myself which is not only time-consuming but ridiculously expensive and confusing so finding work to put in the portfolio that I had the time and energy to audition for was few and far between. I realized that if I wanted to take this seriously and be the actor I know I am, I had to get out of this job. Literally days before I put in my two weeks, the coronavirus was rampant. I decided to always put my acting career first and to never compromise that.
Appreciate you sharing that. What else should we know about what you do?
Honestly, I could go on and on, there is so much work that I've done that I'm so proud of.
One of my big favorites was my last show in Fresno which was Hunchback of Notre Dame wherein I played Esmeralda. This was one of my dream roles and I was so excited to do this show with the people I've been performing with for over three years. This character also came into my life when I truly needed her and the way that she is someone that ferociously stands up for what she believes in but at the same time is s gentle and kind to everyone is the kind of role model qualities that I needed at that time in my life. Apart from being able to run around onstage in a long skirt and corset wielding a bowie dagger and dance with the and passion of someone with a free spirit was something I really truly needed in my life at that point. Musically as well, it took me many years before this production and many years after to figure out what I really loved to sing. I really love the grandiosity of the vocal score in the original production. With the ensemble in the forefront and the grand choir backing them up with this gothic feel makes me shiver every time. I found that I really like singing classical-style music.
As of right now, I am in my first Gilbert and Sullivan production. In "The Mikado" I am playing the role Yum Yum and this show has really proved to be a challenge for me musically. One of my pandemic achievements was finally learning to play piano. It took long enough, being a singer for 13 years. I was able to teach myself my entire vocal track with my new skill and if I take nothing else from this production, that is something that I am ridiculously proud of. Also just the playful and satirical nature of this show is some of my favorite types of work that I love to do.
At the Academy, in my third semester, we took an acting styles class which was one of my favorite classes I took there. We learned the Restoration and Romanticism period, in which I worked with the plays "School For Scandal" as Lady Teazle and "Arms and the Man" as Raina. There was this feeling in class when I put on the corset, the hoop skirt, and the tremendously big and red wig where I just felt like I hit full form. Playing these characters who are tremendously ridiculous while looking like a painting coming out of Versailles was just something that felt so natural. That class allowed me to fully consider that even though these shows are ridiculous and grand, I have a space in them and I want to build my career doing them for as long as I possibly can.
What were you like growing up?
I stared shy. Before I came into acting I was very timid and I kept to myself. I wasn't really used to having people around and talking to me so I when I spoke I was very quiet and used to stumble over my words quite often. I come from a huge sports family so I tried my hand at those. I played soccer, volleyball, and softball for a second but that never stuck. I was competitive but I wasn't good enough to play the whole game so I was benched for a lot of it. I used to love horseback riding a lot. I still do to this day, but there are not many stables that I have access to in the city these days.
After joining choir and theatre I grew loud. Around this time was when I transferred schools to go to Roosevelt School of the Arts (my high school, I forgot to mention that earlier) so most of the students from my earlier childhood didn't recognize me when I went to college with a more confident and commanding aura. I was one of those typical theatre kids. I worked hard at what I did, I listened only to original broadway cast recordings and glee. I felt like most of my friends had been doing this for far longer than I did so I had my fair share of catching up to do.
Contact Info:
Instagram: @sabrina_mae21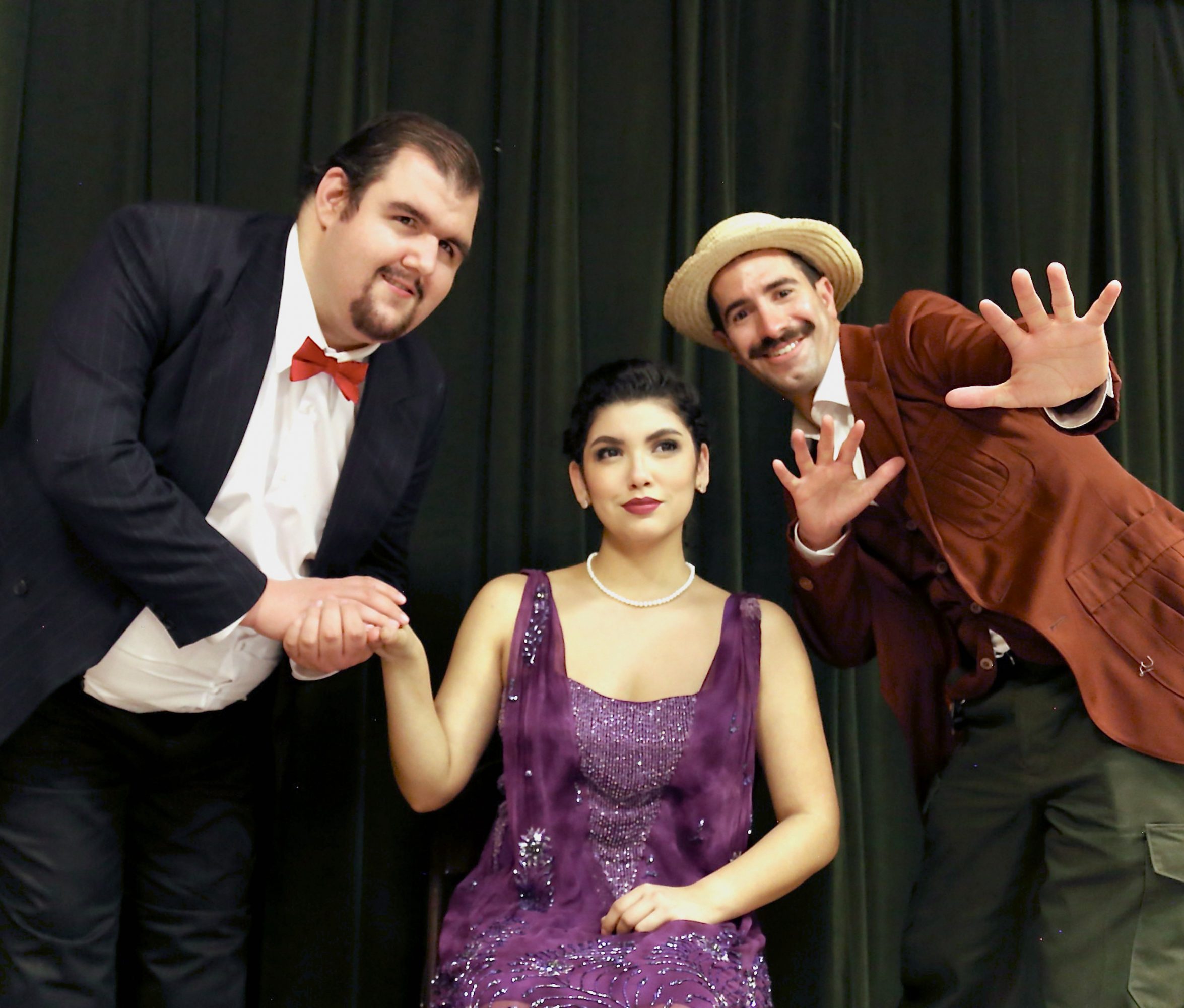 Image Credits
American Academy of the Dramatic Arts Dominic Grijalva
Suggest a Story:
 VoyageLA is built on recommendations from the community; it's how we uncover hidden gems, so if you or someone you know deserves recognition please let us know 
here.