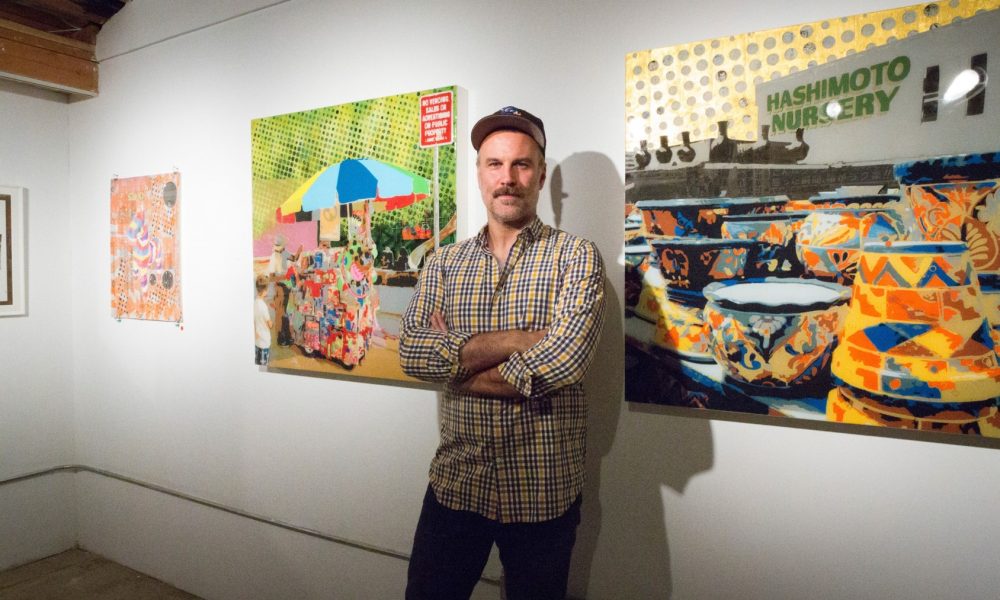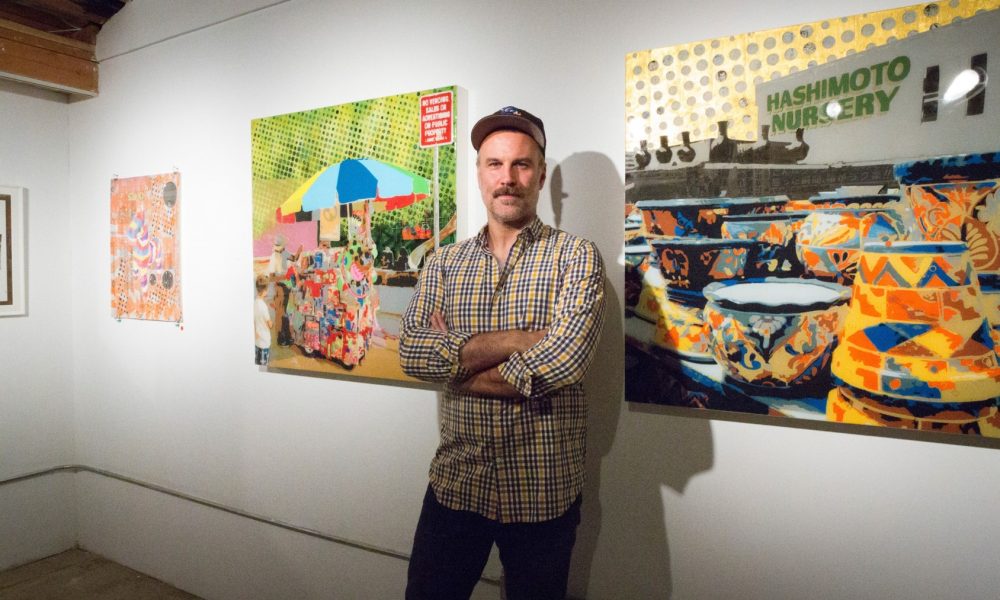 Today we'd like to introduce you to Tōshee.
Tōshee, let's start with your story. We'd love to hear how you got started and how the journey has been so far.
I was born in New York City—raised in Queens for the most part, then moved to Manhattan. Queens has a reputation for being both blessed and cursed with some real characters: Simon & Garfunkel, Stern, McEnroe, Madoff, pretty much every Mets team ever…I'm sure I'm missing some; can't think of any others worth mentioning. I attended the Lycée Français de New York, which was every bit as French as it sounds.
Going to a francophone school on the Upper East Side and coming home to a bilingual household (both my parents immigrated from Latin America in the early '70's) exposed me to different ways of seeing and interpreting the world at an early age.
My dad introduced me to the joys of drawing. He used to make me pictures of cars or airplanes, and I remember spending a lot of time learning to draw fighter jets out of these little-illustrated books of military hardware published by Salamander. I was a boy, it was the '80s, and the Cold War was still very much a thing.
My high school art teacher, Carol Scott, was a big influence on my development as an artist. Her deceptively simple mantra about the essence of visual art ("a line, next to a line, next to a line…") is as easy to recall as a nursery rhyme and as hard to crack as a koan. She once called me "insufferable," but I'm pretty sure she meant it in the most loving way possible.
At Harvard, I studied in the Department of Visual and Environmental Studies, which was every bit as byzantine as it sounds. My coursework included a wide range of subjects, including graphic design, architecture, landscape, and the history of the built environment (the "Environmental" part of VES). I had many great teachers, including Louis Bakanowsky, Albert Szabo, John R. Stilgoe, and Toshihiro Katayama, also known as "Toshi." Maybe you see where I'm going with that, but don't get too far ahead of me.
I put my visual arts training to good use right out of college, testing and eventually producing video games. Okay, that had nothing to do with my coursework, but I did have a ton of experience playing video games. I also applied my years of study to co-writing a musical. Once again, this was also not at all relevant to my degree, but definitely more fun than I had ever had to do anything else. Keep in mind that a company was paying me to play and make video games at the time.
In Los Angeles, I worked my way up the ranks as a TV comedy writer. I wrote for Nickelodeon. I wrote for Norm Macdonald. Then, I worked for Napster. I listened to music, wrote about music, and wrote about ways to get other people to listen to music.
Of course, those people could've just gotten jobs that required them to listen to music, like mine. But those jobs are rare. Looking back, I can appreciate how lucky I've been in my work life. Most people would kill for any one of these gigs. I've had them all. I started showing art at the end of 2013. My first show was at Gabba Gallery, which was voted "L.A.'s #1 Art Gallery" in L.A. Weekly's "Best of L.A." October 2017 issue.
Immediately afterward, the paper was sold to Orange County ring-wingers who purged the entire staff. Coincidence? Probably—regardless, Gabba truly is exceptional. Owner Jason Ostro has been instrumental in championing my work and helping me develop relationships with galleries and curators around town, most notably with L. Croskey of Cannibal Flower and Thinkspace. Jason also rocks a tuxedo like nobody's business.
Over the last five years, I've participated in over 40 shows, including three solo exhibitions. I've also found a home at Keystone Art Space, where I keep my studio. I'm a bit of an introvert, so I credit director Melanie Mandl and the staff at Keystone for creating a welcoming space where I can be around other artists and not get swallowed whole by my work.
Art critic, gallerist, and impish provocateur Mat Gleason is fond of saying that artists are judged by their associations. If so, then I'm extremely grateful to my friends and colleagues for making me look much better than I otherwise would by myself.
We're always bombarded by how great it is to pursue your passion, etc – but we've spoken with enough people to know that it's not always easy. Overall, would you say things have been easy for you?
Rocky road is my favorite ice cream—chocolate, almonds, and marshmallow? I mean, come on. It also accurately describes the path leading up to my career as an artist. I was going through some intense adversity in 2013 when I started making art again for the first time in over a decade. To say that it helped save my life is no exaggeration.
Fortunately, my teachers over the years instilled in me a passion for visual expression that I was able to tap into. It gave me the push I needed to eventually climb out of a very dark hole. (Also helpful: individual therapy, group therapy, support groups, neurofeedback, meditation, medication, exercise, sleep, family, friends, making my bed, and not eating like an asshole).
When I was getting ready for my first gallery show, I thought about adopting an alias. My given name is long and sounds a bit pretentious, hardly the right fit for the modesty and austerity of the art world. Cool artists had aliases, and I liked the idea of being cool. They were usually one-word names, like Hazard, or Spankmouse, or Boblenek. I wanted one.
While I deliberated, I got inspired to reach out to Toshi Katayama, my graphic design professor. I wanted to share with him that I was well and making art again. I wanted to thank him for teaching me composition, elegance, and traditional paste-up design techniques. Toshi was more than just a teacher; he was my friend. He also once called me "too lazy" for missing an important deadline, but I'm pretty sure he meant it in the most loving way possible.
I had to look him up online to get his contact info. The first entry I came across was his obituary. He had died a few months prior. I was sad. Then, I had an idea. Instead of choosing some cool, clever alias, I'd honor my teacher and friend. I signed my first works "Tōshee." I think if he were around, he'd be sternly critical of spelling, but also quietly pleased.
So, as you know, we're impressed with Tōshee – tell our readers more, for example what you're most proud of as a company and what sets you apart from others.
I make mixed media fine art. I call my pieces layered compositions.
My works combine painting, collage, stencils, and assemblage. Some of the materials I use include liquid acrylic paint, Sumi ink, charcoal, cotton rag mat, resin, precious metal leaf, magazine and newspaper clippings, vintage maps, handmade papers, and printed ephemera.
I draw my inspiration from Japanese woodblock prints, traditional cel animation, comic books, architecture, social criticism, cityscapes, street art, and the areas in which cultures overlap. In other words, I'm drawn to most things that have "a line, next to a line, next to a line…"
I've completed commissions and installations for production companies, law offices, and shipbuilders. I've also donated a number of works to charities across L.A.
Tōshee compositions reward careful observation. The highest form of praise is when a collector tells me that the longer they have their piece up, the more they like it. Planned obsolescence may work for consumer goods, but art should last forever—or at least until the sun expands and swallows the Earth.
So, what's next? Any big plans?
In the fall, I'll begin preparing for my next solo show, a continuation of my series "One Hundred Views of Japan." The exhibition is scheduled for March 2019 at Keystone Art Space. For those of you keeping score, it'll take more several more shows to actually hit one hundred views.
In the meantime, I'll be completing commissions and accepting new ones, arranging studio visits for prospective collectors and anyone else who'd like to stop by and submitting to juried competitions and publications. I'll also continue to venture out of my studio, meet more artists and see their work. As a famous art critic, gallerist, and impish provocateur once told me, if you want to be in the art world, you have to be in the art world.
Contact Info:
Address: 338 S Avenue 16 Studio B14
Los Angeles, CA 90031
Website: www.toshee.org
Phone: 323.600.4344
Email: toshee@toshee.org
Image Credit:
Andrew Sachs, Mark Christopher Harvey, Jeffrey Sklan
Getting in touch: VoyageLA is built on recommendations from the community; it's how we uncover hidden gems, so if you know someone who deserves recognition please let us know here.