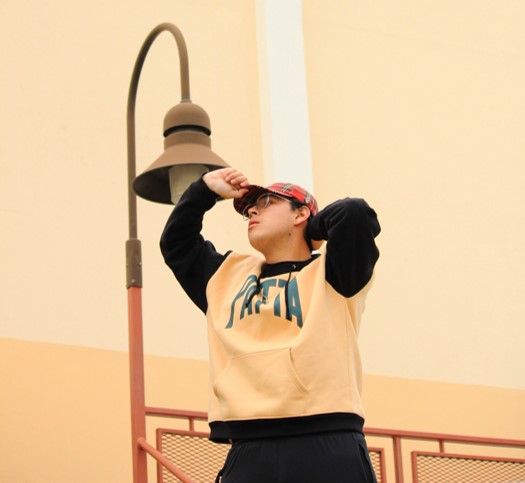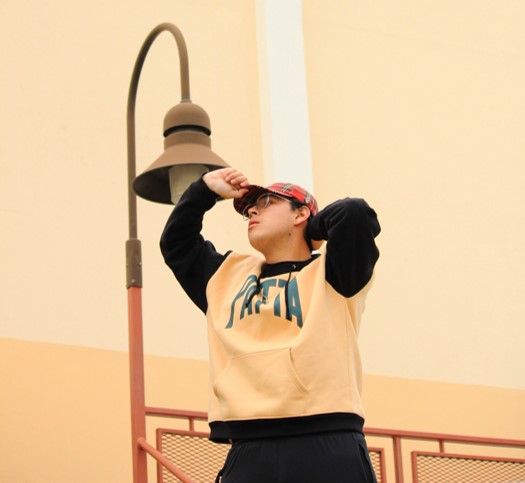 Today we'd like to introduce you to Santino McNaughton Jr.
Thanks for sharing your story with us Santino. So, let's start at the beginning and we can move on from there.
So it all really started in college. I was born and raised in the Antelope Valley and moved to LA originally to study Forensics Science and pursue comedy – doing stand up and taking courses at groundlings on the side. On campus is where I met Jared, the other half of Aroy Productions. We were performing at a talent show and after the show, we would see each other around campus and in the dining hall but we never really hung out or talked. Every time we saw each other he was going and I was coming until one day we were both in the dining hall at the same time; we talked, I tested some material on his friends, and after he invited me back to his dorm. He showed me a skit he had been working on with our other friend Dan and he invited me to help out with the next one – so I did.
Then it all started, Dan, Jared and I were pumping YouTube skits out almost every other week, then we started doing music videos for our friends, Dan stopped making videos with us and I fell into an identity crisis. Making videos with Dan and Jared not only reintroduced me to my love for the arts but they also made me rediscover my own artistic capability, causing me to reconsider my entire career path and even who I was as a person. Up until this point, I had fully 100% convinced myself that I was not creative, and growing up, I was a creative kid. My first real aspiration was to be an artist, but when you have that conversation about how "artists don't make money" and get told that "you should just keep it as a hobby" 20 plus times with family members you begin to reconsider everything really.
So I left every dream of being any form of an artist in 8th grade and decided to concentrate on school and get that secure job. That wasn't who I really was, though, in the middle of me not knowing what to do with my life we were still shooting. While we were shooting was when you would be able to find me the happiest and realizing that is what really helped me take that leap into filmmaking. I was interested in Forensics but I dreaded going to class, I had no passion for it, and I knew that is not what I wanted to do for the rest of my life. I was done living for others, I was tired of being quiet and most importantly, I was tired of being unhappy. Now here we are, it seems like I made the right choice.
We're always bombarded by how great it is to pursue your passion, etc – but we've spoken with enough people to know that it's not always easy. Overall, would you say things have been easy for you?
No, the road has not been smooth, but I also feel like the road is never going to be smooth; it is all about how you swerve around the potholes and ride over the bumps. Coming up as an independent filmmaker you gotta do a lot of stuff yourself, with that being said everything we've made has been made off the strength of our own will. Before I was even studying film, Jared taught me the basics of editing and I pushed to figure the rest out. We never had fancy cameras, sets, or equipment but we would shoot anyway. We didn't know anything about ISO, shutter speed, or FPS we were just shooting stuff because we wanted to. We were never working in the best conditions, hell some of these conditions almost killed us and that is not an exaggeration.
We just wanted to shoot for everybody and anybody, one time we shot two music videos in one day. We started in LA and drove an hour and a half away for the second one which we ended at 6 AM. Till this day we shoot with such limited resources, it is just easier now because we know what we are doing but that just goes to show how much you want it. I was even living in my car at a point in time because I had to stay in LA, there was a point in time where Jared and I were shooting at least three times a week and I couldn't go back home. I had to be there to learn, to build my portfolio so I did what I had to do. Even within all this stress of trying to figure out how to make something work or stretching myself so thin between projects and being homeless, I truly enjoyed every moment of it. The struggle truly is different when you're chasing something you love.
So let's switch gears a bit and go into the Aroy Productions story. Tell us more about the business.
Well, to make a long list of Jobs short we can do anything with a camera, but we are primarily known for our music videos. What we do is bring quality to the guerilla style of filmmaking, because I get it. It is hard to make something look good without the resources but that does not mean that you cannot make it look good. Try to make it look cinematic, get that symmetry going in your shots, if you want a story do a story, ask the owners of that mom and pop shop if you can shoot in there. You don't need everything needed to make a movie, to make a movie. When we shoot, we make sure to carry the same taste in quality that would be expected if shooting on a set because that quality can be reached, you just have to work a little bit harder.
This can be shown with our short film Biking, we didn't have a set for any of those shots, we didn't have professional actors, a budget, or equipment to work with just the desire to shoot and prioritize quality. This is why I would consider Biking to be our greatest accomplishment because of what we made and how we made it. Over 16,000 people have watched it, it has been recognized at some festivals and the people it has touched has made me beyond happy. In making the film that was truly my only goal, if only 20 people watched it, I wanted at least some of them to take something away from this film and more than 20 people have. Upon its release, people have told me about how it made them cry, about how it touched them because their friends or people they know fell a similar faith, and most importantly I wanted people to understand a story that doesn't get told. And that is why I choose to do this not only because it makes me happy but because of the way I can touch people.
As creatives, we do not have time to tell stories that do not mean something. We are role models and inspirations to those younger than us, we are in a climactic age of climate change and as minorities, we are being hunted. So what I understand and what I push others to see is that we do not have time to play with our words. You know? And all these things find themselves at a place where filmmaking feels like an organic tool that I want to connect to. I wanna use our words, our ideas, and our stories to fill others and I want to be on a social/political pulse when it comes to what we make for ourselves. It needs to not only be made for us but for everybody else as well because we can't just tell stories, we should tell stories in service of freedom. Ever since we chose to do filmmaking fulltime that was my goal and we were able to do it without a budget. That's why Biking was such a proud moment for me. So If you have a story to tell, tell it because the world needs to hear it now more than ever.
Has luck played a meaningful role in your life and business?
I feel like everything that has happened up until this point has been largely based on luck. Just like the story of how Jared and I really started working together. We would always see each other but would never stop and converse because our schedules were so opposite of one another like I said every time we would see each other I was coming and he was going. So the fact that we were both finally able to sit down and talk one night was completely by chance is crazy because that was potentially the one and only time that would've been able to happen because after that he stopped going to the dining hall completely. Really that is the biggest stroke of luck because if I would have decided that night to go into work early, go out to eat, or even just cook because the vegetarian options at the dining hall were completely shit I would 100% not be doing this interview or be doing any of the stuff I am doing. Jared would have just stayed as that kid I met at the campus talent show. There are other times I can account for but that is definitely the biggest and I wouldn't call it luck really, I wouldn't want to take that credit away from the universe. Stuff happens the way it should and to quote Ol' Dirty Bastard "truthfully I have no clue what is going on I am just happy to be here… the creator will make sure everything is alright."
Pricing:
Video Starting Price 500$
Photo Starting Price 300$
Motion Graphic Starting Price 250$
Contact Info:
Image Credit:
Jared Bishop, Rebecca LeBlanc
Getting in touch: VoyageLA is built on recommendations from the community; it's how we uncover hidden gems, so if you know someone who deserves recognition please let us know here.