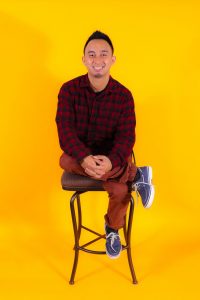 Today we'd like to introduce you to Raymond Gerard Braza.
Raymond Gerard, let's start with your story. We'd love to hear how you got started and how the journey has been so far.
Ever since I witnessed my grandfather and uncle record our family road trips back in the early 2000s, I knew I had to do the same. Though I was very little and had no knowledge of what any video camera devices were, the fact that you can record memories through a lens really caught my attention. After borrowing my grandfather and uncle's old JVC camcorder a few times, I was able to adapt to using it right away. Sure, I loved recording everything. From documenting road trips to Disneyland with my family, to simply just going to the park, I was hooked with this contraption and was bringing it everywhere.
I did not watch that many movies or television as a kid, for I was more into recording things. Until one night, my perspective of narrative cinema opened. I remember this specific night, I was attached to John Carpenter's infamous horror film, Halloween. Mind you, I was probably eight to ten years old, so my understanding of movies was immeasurable. What I did understand from watching this film was how eerie it was supposed to make you feel via John Carpenter's original score, the film's low light cinematography, the amazing actors portraying characters in horrific scenarios, which all come in play in portraying a horrific narrative. After watching Halloween, I was getting into various franchises of Scream, Child's Play, Nightmare on Elm Street, etc…, and that is when my obsession really kicked in. I told myself one day that I was going to create a horror film. This time around, I was about eleven or twelve, and I remember just getting a bunch of my cousins and a creepy Porcelain doll and directing them to basically improv this film and react to the doll in a shockingly way on camera. Of course, I thought I was being serious about it and thought that I knew what I was doing, but as a kid, it was overall fun and games.
Five years pass, and though at this time, I'm still obsessed with horror films, I began learning what filmmaking was in high school. I was in French class and had an assignment to create a short film in French with some classmates, and that is when I took advantage. After writing the script with classmates, I was able to direct the film on my own and made sure everything was the way I wanted it, especially the editing. This was still a time when I was barely learning Windows Movie Maker, a video editing software, but after editing everything and showing people what I
love doing, our film ended up making girls scream in the class during the screening. We ended up getting the highest grade in the class and everyone knew what I wanted to do in the future.
During high school, my mind opened up to new things in terms of filmmaking. Growing up a skateboarder and already having an interest in filmmaking, I was able to film my friends skate. From watching a lot of professional skate videos, my passion for the horror narrative decreased, and I was leaning towards getting a job after high school in the skateboarding-film industry.
After high school, I went to Ventura College to get my G.E. At this time, I was majoring in computer science and thought to myself that I needed to grow up and not film skateboarding or film anything anymore, until I met a filmmaker named Andres Flores. I will get into detail about Anders in a bit, but because of him, I was inspired and was confident to major in film studies. After three years of community college, I transferred to California State University, Northridge, to study Film and Television. In my last semester of CSUN, I had to get a film internship. From there, I sent a direct message to Nigel K. Alexander's Instagram and asked if he needed interns. First off, Nigel K. Alexander is an infamous skateboarder YouTuber who creates skate videos for everyone, especially for the youth. Instantly, he replied, and because of him, I was able to work for him straight after college. I had great opportunities to work on videos for Mountain Dew, Nike SB, GoPro, Primitive, etc… and I will always be thankful for him opening my DM that one day. I've learned so much from Nigel, one of the most talented and beautiful souls on this planet, and to this day, we keep in touch.
Fast forward to a year or two, I landed a video marketing job in which I still work for today. My skills I learned from Nigel help me get this job, and I am forever grateful. This job allowed me to have free time to tap into my obsession with horror films. In 2018, I wrote, produced, edited, casted, and directed a short horror film called "Wayward Nature", which is now available on Amazon Prime. That film has won "Best Horror Short Film" in two festivals around the world. Today, I am doing various projects, including a "festival tour" for my recent short horror film, "Pigmenta," which recently won "Best Horror Film" and "Best Original Score in a Short Film", and a premiere for NewFilmmakers Los Angeles' On Location film contest, which is premiering Saturday, October 5 in Hollywood, and I'm in negotiations with a special project I'm pitching to Curated by Facebook. From watching horror films and filming with my grandfather's JVC camcorder, to experimenting in the skateboarding-film industry, I finally know what I want to do for the rest of my life. I've learned so much form meeting great people, and these people have sharpened who I am today and made me realize what I am. I'm not just someone who films skateboarding or sports. I'm not just someone who loves horror films. I'm a filmmaker and storyteller.
Has it been a smooth road?
Throughout this trajectory, there were many hardships along the way, finding out what I wanted to do was the first. Being born in a Filipino household, I grew up in a family that was into nursing or engineering, and that was something my parents sought me to do for a while. Another reason they and others didn't want me to do film was that I was simply Asian and that I stood out. While I was in community college, I met someone I did not expect to be a big part of my life today, and it is my big brother Andres Flores. Back in 2012, I met him because I knew his sister, and so we had a quick chat about filmmaking. I vividly remember him giving me advice on filmmaking and asking me questions about my passions and what type of filmmaking I do. I honestly did not know what I wanted to do and did not know how to do it, and at the time, I only knew how to film skateboarding but that was something I didn't tell him because I knew I wasn't fully in love with it, or so I thought to myself. I told him that I love filmmaking, but it was something I thought I can't build a career off of because I didn't want to let down my parents. In my mind, I never told him about my thoughts on diversity in the film industry. He is Hispanic, and I am Filipino, but because of his vocal tonality and honesty in his voice, I knew that if I brought up how different we are in the industry, he would still keep going, and that's something I wanted to do. He then advised me to go to school for what I wanted to do, and not what my parents wanted me to do. Because of him, I listened, and I made the choice of a lifetime. After immediately chatting with Andres, the next week or two I asked him if he can help me with a short horror film, and of course, he said yes. Ironically, after his initial response, I did not get in contact with him until I began to create my first short horror film, "Wayward Nature", in 2018, which was the year I finally knew what I was going to do, but then came with more struggles.
When I was at CSUN, I learned every aspect of film besides learning actually how to direct, and that was when I came in close contact with Andres again. The last time I chatted with Andres was the first time back in 2012, so him being able to contact me via Facebook messenger again was a blessing. I did not know how to direct or produce any films, so I had Andres help me throughout my whole process. He would answer my questions in a timely manner, and be so nice about helping me out with everything. Because of him, my first horror film won awards. Fast forward to the present day, we made another horror short film together that has won awards, and we are continuing to work on projects together every month. Because of him, I learned that you can be who you want to be despite what your parents think, and what your race is. You can do whatever you want to do at any age or stage in your life. I thought to myself it was too late to make horror films because I barely did after college even though I wanted to do it since I first watched a horror film at an early age. From not knowing what I want to do, to barely knowing anything on actual filmmaking, I couldn't have made it to where I am today without my big brother Andres Flores, the best mentor who's helped me throughout these years. You can also find out more about Andres Flores through his Instagram, @andresflores805.
So let's switch gears a bit and go into the Silent Paradise Productions story. Tell us more about it.
I'm establishing my film production company, Silent Paradise Productions, in hopes to give a voice to the "voiceless" in the film industry. This production company will not only be used to show my narrative storytelling, but it will give many artists a chance to show the industry their voice and value. What sets myself apart from others is how different I am or want to be in the film industry and in the Filipino culture. You do not see many Filipino's in the film industry, and you don't see many Filipino's doing horror films, and that is what I'm most proud of.
How do you think the industry will change over the next decade?
It's hard to tell where I see the film industry going, but I do want to break the stereotypes and let more diversity speak. I want the industry to be more versatile with filmmakers and give everyone a chance. I would also like parents, not only in the Filipino culture, to let their kids be what they want to be. I hope to be one amongst many Filipino/Hispanic filmmakers succeed in the film industry in the next decade.
Contact Info:

Image Credit:
Trevor Cobb, Steve Escarcega
Suggest a story: VoyageLA is built on recommendations from the community; it's how we uncover hidden gems, so if you or someone you know deserves recognition please let us know here.