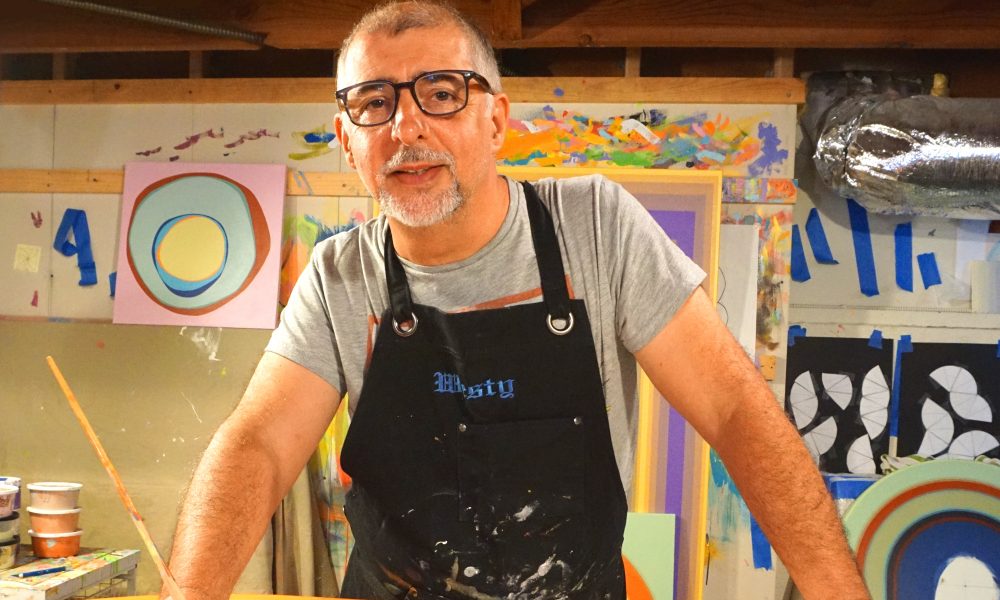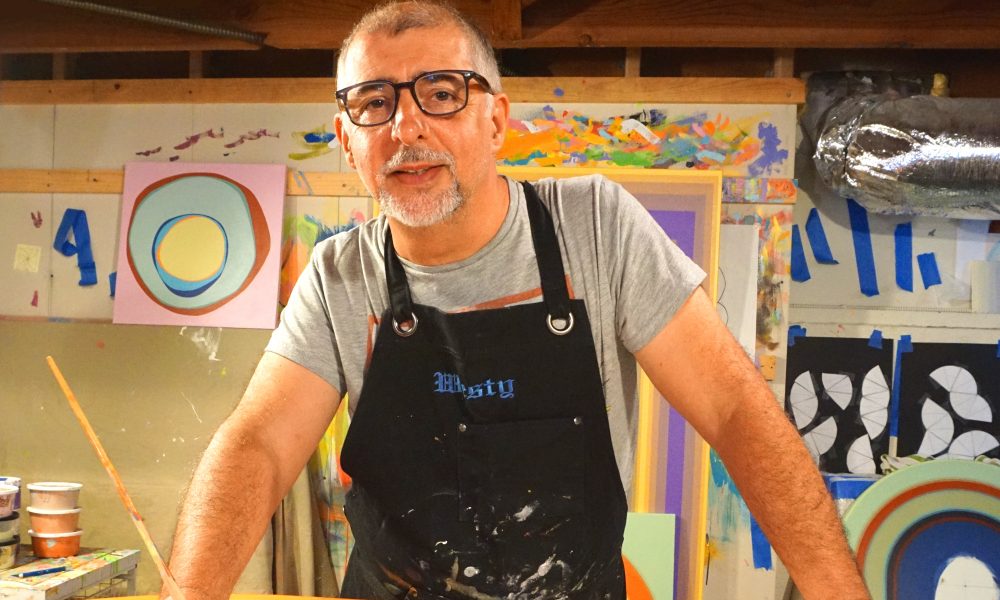 Today we'd like to introduce you to Paul Westacott.
Paul, let's start with your story. We'd love to hear how you got started and how the journey has been so far.
I grew up in the industrial North of England in a small town outside of Leeds and I have been drawing and painting for as long as I can remember. I went to art school in Cardiff, Wales to study painting and because of an inexplicable early fascination with opera, also got my Master's Degree in Theatre Design. My professional life has continued on this dual track ever since, working as a designer in theater, film, animation and theme parks in order to support myself and my family, and my studio work, which is my creative center freed from financial constraints.
I moved to LA in 1999 just to see what it would be like and have been here ever since. Moving to Los Angeles was a pivotal point in my life in so many ways, and proved to be crucial to my development as an artist. I was fascinated by the city's scale and diversity, and like many ex-pat British artists before me, I found the light of SoCal intoxicating, almost overwhelming in fact. When I arrived here it literally felt like someone had flipped a switch and turned the lights on. I loved it but it was quite disorienting.
I guess that, like most artists, I have always been sensitive to my environment. Before my move to LA, my work was figurative in a kind of surrealist way and after I moved to California it began to change, the colors that I used became more intense, more saturated, and the imagery became less central. This was not merely a stylistic change, more importantly as the thematic elements changed, I began to doubt the validity or meaning at the center of the work. I felt like things just didn't fit anymore, that I was trying too hard to make "art" and it began to feel phony and inauthentic. This came to a crisis point around 2004 and I abandoned painting completely. It guess it just never occurred to me when I moved here, that I would not be able to make the same art in sun-drenched LA that I did in a studio in rainy South Wales.
After wallowing in self-pity for a long while, I decided to face the fact that things needed to change. My center of gravity had shifted and if I was ever to start painting again, it would need to be complete start over. I boxed up my oil paints, scared that I would get up to my old tricks again, and went back to fundamentals. Working with some strict constraints, allowing myself only two or three colors of house paint and one or two simple shapes, I set about re-learning how to make art. What followed was an incredibly productive period, a kind of creative rebirth. Ironically, the constraints that I imposed on myself were a liberation, I was able to focus on and revel in the things that I had loved about making art in the first place. Pure color and form were like a playground that I had rediscovered, and I have never looked back. I love painting again now that it is coming from an organic place in my life here in LA. I love having the freedom to be inspired by whatever I see and I love the reactions that I get from it. People are always telling me how joyful and happy they feel when they look at my work and that is a great feeling.
One of the hardest things for me to let go of in my figurative work was the strong sense of narrative that infused my painting. I suppose that my interest in theater and film meant that I was naturally inclined to explore elements of personal mythology and storytelling in my work. I was more than a little scared that letting go of this in my painting might rob it of any meaning, even if that meaning could only be really interpreted by me. What I had never considered was that when I stopped trying to impose meaning onto my painting, I gave the viewer the freedom and permission to interpret and bring their own meaning to the work. To my amazement, people started to talk about the feelings they had when looking at one of my paintings or prints. That a particular color combination reminded them of their childhood kitchen and family meals, or that shape made them think of a curious eye watching them, or the martini olives that their grandfather would share with them as a child.
I discovered that when I, the artist, vacated the "story space" people would fill that void with their own stories and bring their own resonance. These days, at shows, I very rarely have discussions about composition or color theory, I am much more likely to have a conversation about what a particular viewer sees and brings to the work. Each of these conversations is unique and often surprising, and they are the thing that I enjoy most about showing my work.
Great, so let's dig a little deeper into the story – has it been an easy path overall and if not, what were the challenges you've had to overcome?
I always say that as far as my career is concerned, I have taken the scenic route. Like many people who work in the arts and entertainment, I have had innumerable jobs and tried many things to keep food on the table and the wolf from the door. It can be difficult to balance making art with the need to make a living, especially in places like LA and London, where the cost of living is so high. I suppose this is the eternal artist's dilemma, but I have been lucky in that my design training and skills are in demand in LA and I have rarely found it hard to find a paying gig. I have also been lucky enough to work on many fascinating projects with interesting and talented people and I think this has helped to widen my perspective on the world and my work as an artist. Being an artist can be a lonely business and while it would be great to have more studio time, I am thankful that I have an avenue for getting out into the wider world occasionally.
Please tell us more about your art.
I am an abstract painter and digital printmaker. My work is often described as minimalist but also boldly geometric and often highly colorful. People often say it has a cool mid-century vibe, but I think that is a byproduct of using flat areas of color and simple shapes, rather than any intentional influence.
I have always painted and I always will, but I also enjoy working digitally. A lot of my printed work is created via computer code that I write myself. Coding was something that I started learning because I wanted to build my own website. Once I started to learn the basics of coding, I quickly became fascinated with how similar the process was to my painting process. I quickly dropped the idea of a website and realized that I had discovered a new creative medium. A medium that allows me to explore elements of randomness and surprise in the artwork, which I find endlessly fascinating and kind of cool.
What moment in your career do you look back most fondly on?
My first independent sale, I will always remember, it was a young couple at my first show who really fell for a particular piece. They hovered around for the entire evening of the opening, agonizing over whether they should buy it. Of course, I had no way of knowing anything about their situation but it seemed like an important step for them and I could tell that it was a big deal for them to commit to buying a piece of art and that meant a lot to me. There have been other moments that have made me proud, such as when I had a piece shown on a massive LED billboard over the 10 Freeway for a week, but there was something so special about the moment of that first sale that it stays with me.
Contact Info:
Suggest a story: VoyageLA is built on recommendations from the community; it's how we uncover hidden gems, so if you or someone you know deserves recognition please let us know here.