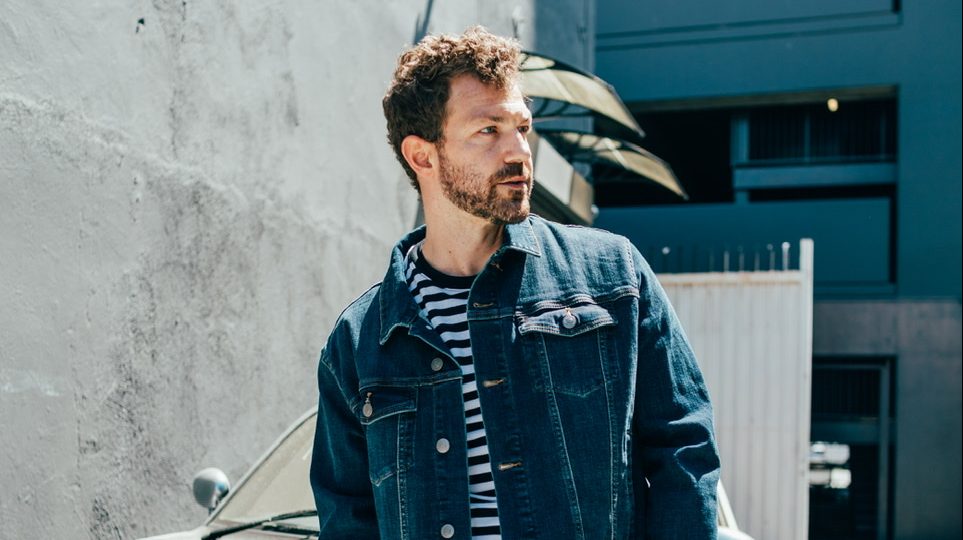 Today we'd like to introduce you to Nick Rascona.
Nick, can you briefly walk us through your story – how you started and how you got to where you are today.
I am an Actor, Musician, and Model. I play poker at a professional level. And I volunteer in Civil Rights Activism with the Dekalb SCLC in Atlanta, GA.  I can put a roof on your house. And I also played professional Soccer.
I grew up in an artistic atmosphere. Watching marching bands in Drum Corps Int'l was a major part of my influence as a trumpet player. My father was a Professional blues rock pianist in his day and also trumpet player for concert band. My mother is a country gal who loved design, crafts, and art.
At age five, I began playing piano and had lessons for a year or two. I later took on trumpet in middle school. I always aspired to march DCI as a kid; basically, professional marching band. The age cut off for that is 22. I was also an athlete, I played all the sports, but mostly I was an aspiring soccer player. I loved the freedom of that game wrapped in all its beauty. So, I had the opportunity to march DCI. For a D3 Corp called the Cincinnati Glory in the summer leading up to my 8th grade year. My instructor, Joe Wesche, was in the corps and he got me a look. It was thrilling to march the Soprano for them. This was a feat for an eight grader to be marching DCI at Bugle. Trust and believe. And also all this before I had ever marched in band for my high school.  But for me, I had to march for a corps in DCI then, or never; because summers in high school are busy for a student athlete. In high school I played all the sports along with being a musician. I was not in theatre club, but I also dabbled in acting as a youth.  
In college I was a trumpet major and NCAA athlete; playing soccer in college when I shouldn't have even sniffed being an all Star in high school. I made the decision leading up to my red-shirt sophomore year, to leave NKU and transfer around as a journeyman soccer player for different colleges. Ending with a stint on the Cincinnati Excite pro indoor team and a cup of tea in Belfast with Linfield FC. Before an ankle surgery ended my career in my rookie preseason at the pro level. My first game was going to be in the UEFA Qualifying round. At the time, it looked like we were going to draw Barcelona as our opponent; which would've been a flogging by their reserve team no doubt. Regardless, I believe the team drew someone else that year. As League Champions of the Premiership we deserved to be there no matter who it was against.
Nevertheless. That was the summer right before the housing crash. And I came back after. I never put down the guitar I started learning in college. Kept my trumpet chops together also. I read a ton. I worked for seven years as a roofer/contractor. And 14 as a Soccer Coach. One week there was a commercial on the radio playing every day. Saying "do you feel like you have a talent you have never used in life but you are meant to come tryout and audition…"
I finally took them up on it. Shuffled some things around in my life with the blessing of two wonderful bosses I worked under (two jobs). And I auditioned as a musician. It was for a national talent agency and educational platform based in Atlanta. They were running a national campaign and just so happened to give Cincinnati a shot.
They told me that I could be an actor and a model also. At the time, I thought that was funny but I just said "yeah ok". I really didn't think much of acting and modeling back then. I was a musician. We are always too cool for school. But I did it anyway. I learned the craft of acting and fell in love with it. I ended up moving to Atlanta in March 2017 (the same day the i85 bridge burned down actually) to explore the industry. I can say it was a brilliant experience for the most part. 
Upon my career in the Entertainment industry beginning: I played a few union gigs as a trumpet player..I landed a few speaking roles through self-submitting. I am currently an active member of the Dekalb SCLC cast for Moore's Ford Bridge Lynching Reenactment in Atlanta, GA. I then traveled for a brief stay back home in Cincinnati in spring of 2019. Where I got signed to PCG Talent Agency under Peter Condopolous and Sharon Ford; later moving to Helen Wells. It was through PCG that I landed the biggest role of my career to date. A guest lead as Detective Smith of
Atlanta PD on the TV-One Series "Fatal Attraction." Helen Wells was a beautiful home also. All of it was such a humbling experience. I gleaned so many things from my directors.
I can also say, leading up to the aforementioned accolades; my background experience there was phenomenal. I was able to, as a rookie, work on sets for Debbie Allen, Tasha Smith, Lee Daniels, Tyler Perry, and there's more, that's just a few. So, my experience in the Atlanta market was rich and vibrant. I have many friends there.
I am also a poker player. I started going after the pro poker circuit on a small buy in level ($500-2,000 buy ins). I ended up in Las Vegas through some serendipitous dynamics. And went on to live there.
I moved to Las Vegas to play poker and drive Uber; and get signed as entertainment. I achieved this. And got signed by a great agency in Las Vegas. The Best Agency in Las Vegas. But then the crisis hit.
Immediately before the crisis began out west, I had taken a trip for a class and networking in LA. I already am a student of Shari Shaw (and Thom Scott in Atlanta) out here.  When the crisis completely displaced me, and I saw some things I didn't like in the gov't. I had a decision to make. Go to Atlanta? Or Go to LA?
While I decided, I determined it was a good idea to drive up to the Rockies to consider my options. Long story short that story wasn't long; and I drove to LA because it just seemed like the wisest choice. I always wanted to get out here. It's just funny how sometimes we have an idea or a plan, and life sort of throws a wrench in it right? What if I told you something paradoxical here: In the midst of all sorts of calamity and a hell of a road of long hope I'm not mentioning; amidst all the insanity going on. I'm here. Somehow, I made it here, ahead of schedule. This has been a journey. It has been beautiful, and tragic, and lovely, and heart breaking. There's been betrayal and connection; there's been remorse and achievement. Feeling of  this sense of peace and a mess at the same time.  It's wonderfully poetic. A giant thank you to my family and friends who have supported me physically emotionally financially throughout this journey. With every person, there are, or should be, amazing people who help. No one can make this alone.
Overall, has it been relatively smooth? If not, what were some of the struggles along the way?
Struggles come in all shapes and sizes. One thing I'm happy about is I have learned from struggles. I can't begin to present myself as perfect. So, the reason I find it hard to talk about struggles on the journey, are mostly because they are my own fault. One way or another; it was on me. So, take that for what it is. Some bad things can legitimately happen also. It's not all one sided. It's not all a huge accountability signal. Reality is real. There's good and bad. There are two sides to each story at the very least; And people add variables.
So, I've found when something bad happens, or a struggle; to just keep it pushing. Not to discount it. Not to take away from the reality of whatever it is. But I have just personally found, as an artist, we operate with so much energy. "[We have to let that energy just flow through us. If it doesn't belong or match to your energy.]"-Shari Shaw paraphrase.
Nick Rascona – what should we know? What do you guys do best? What sets you apart from the competition?
I am an Actor, Musician, and Model. I play poker at a professional level. And I volunteer in Civil Rights Activism with the Dekalb SCLC in Atlanta, GA. I can put a roof on your house. And I also played professional Soccer. My perspective and cognitive development sets me apart mostly. A pro athlete is expected to learn something, and be able to perform it, at a game speed level on the stage, the FIRST time. My time as a roofer also aided this. With strict attention to detail while performing one of the hardest and most dangerous trades in construction.
I have performed many different careers and jobs in my life; this makes me have a wide range to pull from for acting. Just again, a serendipitous or sort of synchronicity type of thing there. Sometimes life is preparing us for our true purpose. So don't give up artists! If you are working as a Janitor right now, Hollywood might make Joe Dirt 2 and need David Spade's best friend on the job: and you just so happened to be the man for the part. You just never know! My perspective sets me apart mostly
What is "success" or "successful" for you?
Success isn't always results oriented. It's also not my driving motivation. That is how I define success.
Contact Info:
Phone: 5133754667
Email: rascona.nick@gmail.com

Image Credit:
Janelle Castillo
IG @janxcast
+1 (818) 689-1003
Suggest a story: VoyageLA is built on recommendations from the community; it's how we uncover hidden gems, so if you or someone you know deserves recognition please let us know here.