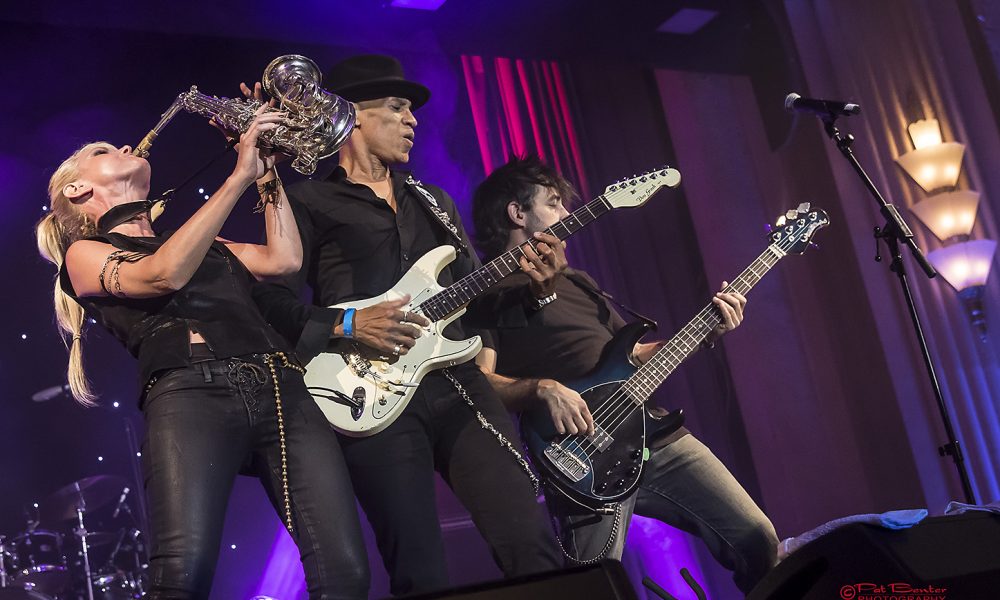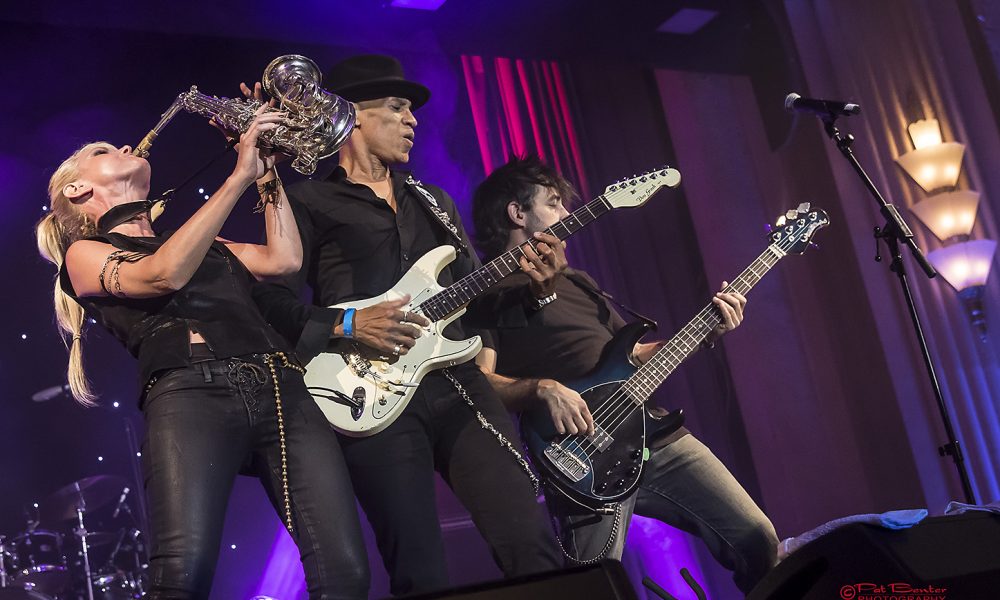 Today we'd like to introduce you to Mindi Abair.
Mindi, can you briefly walk us through your story – how you started and how you got to where you are today.
I was born in St Petersburg, FL and grew up on the road with my father's soul band. I started playing piano at the age of 5 and saxophone in the 4th-grade band when I was 8. I graduated from Berklee College of Music in Boston with a degree in woodwind performance and moved to LA to take over the music scene.
Once I arrived, I realized that there were 1000 other saxophone players that people were already hiring that was amazing. They seemingly didn't need one more. Add to that the fact that I probably looked like a cheerleader… I definitely didn't look the part. I sat in at every club that would have me. I went through the LA Weekly with a fine tooth comb every week to find every spot in town that hired live music. I called and sent demo tapes in to every place I could find so I could play. I played on the streets at the LA Marathon.
I played in the Macy's men's underwear department for sale, I played in coffee shops, hotel lobbies, and even on the street on the 3rd Street Promenade in Santa Monica. One day while busking on 3rd Street Promenade, a jazz artist named Bobby Lyle stopped and listened. He talked to me after I stopped playing and said "You know, I should hire you, you're good. I'm doing an album right now." Of course, I said, "Yes I'd love to play on your album!" I gave him my number, and he hired me. I played on his record and toured the world with him for the next 5 + years. The guys in his band took me under their wings and taught me how to be a true professional.
Playing with Bobby snowballed my career into playing with Adam Sandler, Jonathan Butler, Teena Marie, the Backstreet Boys at the height of their career, and Duran Duran for their comeback to the US tour. I thought I was playing on the street just to do what I do and pay the rent. I ended up building a career of it! I put out my first record independently in 1999 while with the Backstreet Boys. Then I signed with Verve Records in 2002. My first single broke the record with eight weeks at #1 for an original song at jazz radio. Many records later, I now have 2 GRAMMY nominations, 11 #1 songs at jazz and blues radio, 6 top 5 records and 2 that hit #1 on Billboard.
A few years ago I was called to play a track for American Idol by Don Was, one of my favorite producers (Bonnie Raitt, The Rolling Stones, Was Not Was.) I played a sax solo on "Old Time Rock 'n' Roll and landed on the tv show to perform it with the artist. I was then called in every time they needed a sax solo for the next two seasons. My last season was playing for Phillip Phillips every week… and he won! Amazing. But even more amazing was the phone call I got from Steven Tyler the morning of the American Idol finale. He said a flurry of things like "We've got to do this… time is running out… we're on… gotta do this." I had no idea what he was talking about.
But a few hours later I was standing in his trailer listening to the brand new Aerosmith record playing sax to it straight into his face and singing licks back and forth with him. It was surreal, and he hired me on the spot to be the first sax player since 1973 that toured with Aerosmith. I soaked it in. It was an amazing experience… I call it my summer vacation with Aerosmith. Around the same time, one of my heroes passed away, the great sax player for The Boss Bruce Springsteen, Clarence Clemons. I got a call from Max Weinberg, Bruce Springsteen's drummer, to come to play the Beacon Theatre in NYC with Springsteen. He knew I knew every Clarence Clemons solo and part. I was such a fan.
And they hadn't replaced him yet. I jumped at the chance and got to play with Springsteen for a night… amazing. Some people dream of playing with Miles Davis and John Coltrane. I dreamed of playing with Aerosmith and The Rolling Stones and Springsteen. I've been lucky enough to check 2 of those dreams off the list! Those experiences really made me want to bring more to my band. I wanted to bring that rock 'n' roll abandon to my career – writing and playing. I made a record called "Wild Heart" and brought in my rock 'n' roll friends to my career for the first time. It features Gregg Allman, Joe Perry, Max Weinberg, Waddy Wachtel, Trombone Shorty, Booker T. Jones, and Keb' Mo.' I received my first GRAMMY nomination for this record.
I hired Randy Jacobs (Was Not Was, Bonnie Raitt) to play guitar with me and I switched out a few band members to bring in more power and energy. Randy and I met when I first moved to LA playing in Olliewood Swinging, a band that was led by Oliver Leiber (his father Jerry Leiber wrote numerous hits for Elvis and more). It was an amazing band…. we played The Mint in Hollywood every week to a sold-out crowd. Randy would do backflips into the audience mid-guitar solo. We became friends and shortly after he started his band The Boneshakers. It was blues-rock… so much fun. Cut to a few years ago, and Randy was playing in my band, and most of my band were playing in The Boneshakers.
We were playing The Newport Beach Jazz Fest with my band on one stage and The Boneshakers on the 2nd stage, so I went to sit in… it was family. Well, it was electric. I loved every second, and we decided after that night to join forces and become Mindi Abair and The Boneshakers. Our first show together became our LIVE CD. And we released our first studio record Mindi Abair and The Boneshakers "The EastWest Sessions" recorded in the historic EastWest Studios in Hollywood in September 2017. We shot the cover photo on Sunset Blvd just outside the studio. This band is LA through and through. The record debuted #3 Billboard Blues, and we hit #1 on the RMR (Roots Music Report) Charts.
In 2018, we've won an Independent Music Award for Best Blues Song Fan Award for "Pretty Good For A Girl" featuring Joe Bonamassa and received 8 Independent Blues Awards including Best Artist of the Year and Best Contemporary Blues Band. Along the way, I authored the book How To Play Madison Square Garden – A Guide To Stage Performance and I created a signature saxophone mouthpiece with Theo Wanne that is sold worldwide. I've been very involved with The Recording Academy over the years, serving on the LA Chapter Board of Governors, as the President of the LA Chapter of the Recording Academy, and now I currently serve as a National Trustee and the Co-Chair of the Advocacy Committee for The Recording Academy.
I've lived in Hollywood on the same street for 20+ years. I bought a 1916 Craftsman that looked like the set of Silence of the Lambs when I bought it. In between tours, I fixed it up, and it's a gem now. A few friends bought houses at the same time on my block and we were so poor we tried to find TV shows to fix up our homes for us. The only one we could find that would take us was "Ground Rules." It was a landscaping show on HGTV that pit neighbor against neighbor to fix up their yards… and we did all the work with our friends on TV. Ha… we chose the wrong show… I wanted the one where they did the work for us! But I came out with a great looking front yard! I love coming home to my little oasis in Hollywood.
We just recorded a Christmas album… Mindi Abair and The Boneshakers "All I Got For Christmas is The Blues" … and it's so fun… blues and rock and a little jazz and soul… we wrote 4 original songs (we wrote the title track with Oliver Leiber who introduced Randy and I in his band long ago!) And we re-imagine some classics like "Merry Christmas Baby" and "Run Run Rudolph." It drops Oct 26th this year on my record label Pretty Good For A Girl Records. And we're out on the road constantly all year and into next year… I'm so lucky to have amazing friends who are such immense musicians. I'm so proud to stand on stage with them every night and make music.
I wrote a song for our last CD with Randy Jacobs "Pretty Good For A Girl" which has turned into a mantra for me. I created a women's empowerment website http://www.prettygoodforagirl.net that features amazing women. I think we have to lift each other up and celebrate each other… the song sparked the site… and hopefully it'll grow into more! I've toured and/or recorded with: Aerosmith, Joe Bonamassa, Smokey Robinson, Joe Perry, Trombone Shorty, Booker T. Jones, Gregg Allman, Kenny Wayne Shepherd, Fantastic Negrito, Waddy Wachtel, Bobby Rush, Keb' Mo', Teena Marie, Lee Ritenour, Adam Sandler, Duran Duran, Bill Champlin, Jimmy Webb, Max Weinberg, Dave Koz, Mandy Moore, Lalah Hathaway and the Backstreet Boys.
We're always bombarded by how great it is to pursue your passion, etc. – but we've spoken with enough people to know that it's not always easy. Overall, would you say things have been easy for you?
I grew up in such a small town… St. Petersburg, FL. I wasn't ready for how big Los Angeles was. I came in not knowing a soul, but just wanting to play music. Everyone was looking at me like I was nuts when I moved here. It was hard. There are already so many incredible players/singers/artists in LA… why did they need one more? But I decided if they wouldn't hire me, that I would make my own and hire them.
I looked for every opportunity to play in LA and hired people that I thought were great players to play with me. I begged my keyboard player from college, Tommy Coster, to move out here. I needed someone I knew! I promised him I'd keep him fed … sometimes that's all it takes! He moved and was the start of my band in LA. He's since gone on to write "The Real Slim Shady" with Eminem and more.
We played everywhere they'd have us and built my band slowly. I then started touring with other artists, which allowed me to grow and develop what I had to say as an artist/player. You never know what challenges will inspire… I'm glad it wasn't easy… it made me make my own!
We'd love to hear more about what you do.
I'm proud to be a woman breaking the glass ceiling every day as a musician and artist. I started playing saxophone at the age of 8 when my 4th-grade band instructor Ann Reynolds laid out all the different instruments and told us to pick one, and we'd learn how to play them.
I'm glad no one told me it was odd for a woman to play the saxophone until it was too late. I love changing people's minds about what a woman sounds like, what a woman is capable of, and what a woman can be.
What were you like growing up?
I grew up on the road with my father's band. It was a really high energy blue-eyed soul band, and I'd watch him shimmy and shake and run around the stage and play every night. It was so fun! My grandmother was an opera singer. We'd sit at the piano and sing and play. After my father's band broke up when I was around 4 or 5, he started putting together rock bands that'd tour the US.
For the next 10+ years, I grew up in those bands' practice rooms soaking in the music and the vibe. Music was everywhere, and I was always in love with it. Every band or choir class that was available at school I'd be in. Every possibility of playing… I was there. I became the drum major of my high school marching band. I was such a band geek!
At home, I would sit and watch MTV for hours. I wanted to be Nancy Wilson from Heart kicking her leg up mid guitar solo or be Tina Turner strutting across the stage.
Contact Info:
Image Credit:
Greg Allen, Pat Benter, Peter Tellone, David Spagnolo, Concert Communicator