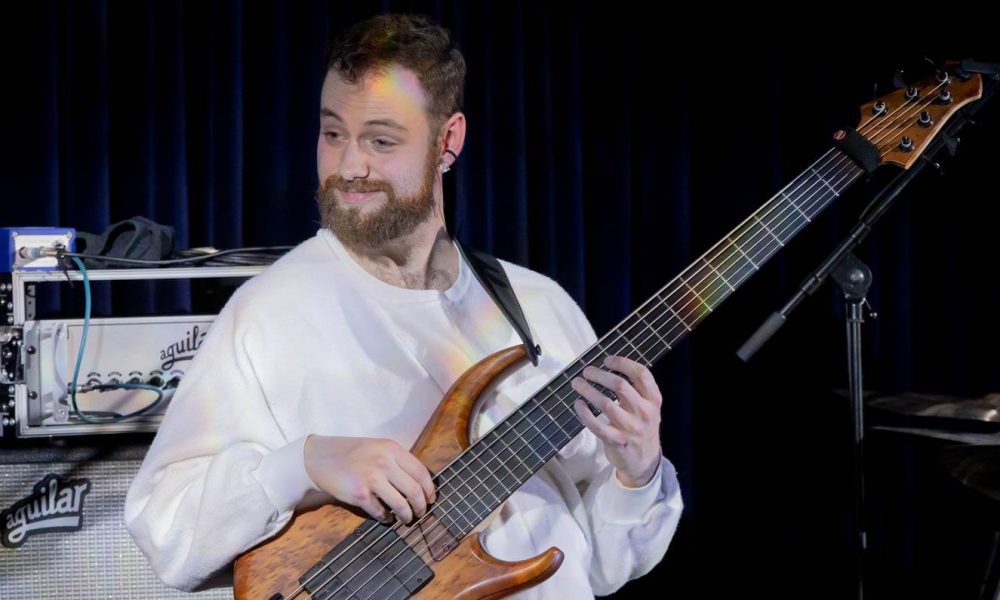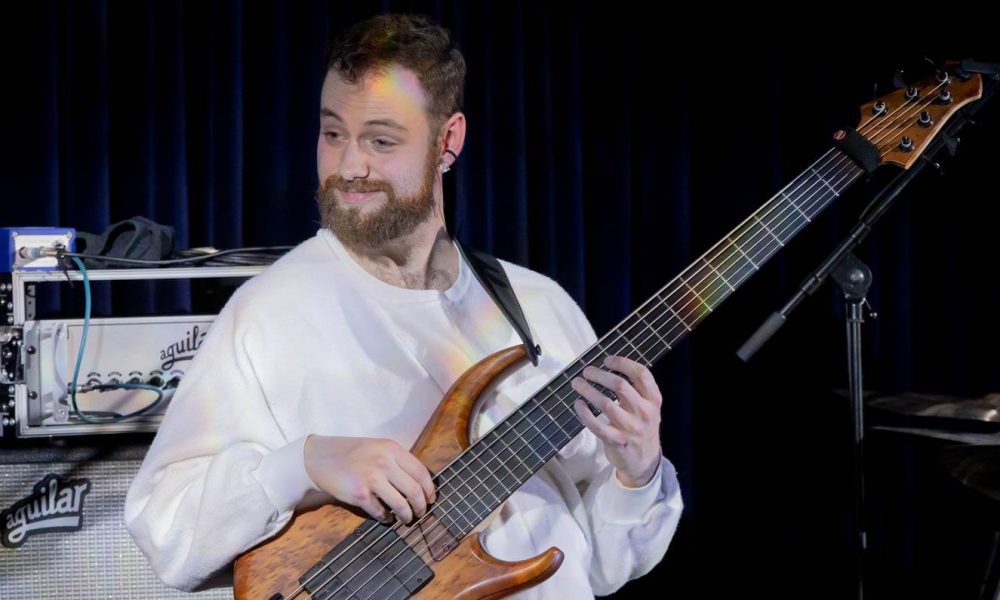 Today we'd like to introduce you to Max Gerl.
Max, can you briefly walk us through your story – how you started and how you got to where you are today.
I am a professional bassist. I was born in Dallas, TX to two musician parents (both violists). My mom played in the Dallas Symphony, so most of my weekends as a kid were spent going to her concerts. At the time, it seemed like a drag; I would have preferred to stay at home and hang out with my friends in the neighborhood, but in retrospect I am so grateful to have absorbed so much great music at a young age. When I was around three or four, my pre-K friend, Samir, started taking piano lessons from one of the teachers at our school, which sounded fun, so I started with piano lessons a few weeks later. Fast forward five years, I switched elementary schools going into the 4th grade and started playing alto saxophone in the school band. Around that time, one of my neighborhood best friends had gotten a guitar for Christmas, so I said, "cool, I'll get one too and we can start a band!" He was pretty quick to let me know that HE was the guitarist and that I could be the bass player, so I went home and asked my dad, "what's a bass?" He put on a video of Led Zeppelin playing Achilles Last Stand Live at Knebworth in 1980, pointed to this cool looking guy in an all-white suit, absolutely blazing on what looked like a big guitar, and said, "That's a bass." I was convinced, but my parents weren't. They were tired of paying for instruments that I tended to lose interest in after a few years, so they told me if I wanted it, I'd have to save up chore money and buy it for myself.
One year and a LOT of leaf raking/floor sweeping later, I went out and bought myself a starter bass guitar for Christmas. It came very naturally and I practiced constantly, though at the time, I didn't think of it as "practice", it was just what I wanted to do in all of my spare time. A few years later I auditioned and was accepted at Dallas's famed Booker T. Washington High School for the Performing and Visual Arts, a school that boasts Roy Hargrove, Nora Jones, and Erykah Badu as alumni. It was there that I developed a love for music that I'd never been exposed to, such as jazz, salsa, R&B, and fusion, I also started turning my focus to the upright bass. It was initially tough sledding, as the jazz program was the flagship of the music department, and the director was very intense, to put it delicately. He didn't take an initial liking to me, so I spent my freshman, sophomore, and junior years trying to prove him wrong and earn a spot in the top ensembles. My senior year, I auditioned for Berklee College of Music and was awarded a full scholarship.
That summer between high school and college, I was invited to play in legendary Texas saxophonist Shelley Carroll's jazz quartet, and start gaining real experience as a working musician. I might have learned more from gigging with Shelley five nights a week that summer than in all the years I spent in school. I will always grateful to Shelley for that. I would not trade my time at Berklee for anything in the world. I was blessed to have such incredible bass teachers as John Lockwood, Steve Bailey, John Patitucci, Victor Bailey (R.I.H.), James Genus, Bruce Gertz, and Dave Buda. Their lessons were supplemented by the instruction in music performance that I received from Tia Fuller, Rick Peckham, Bob Gullotti (R.I.H.), and Hal Crook (the best music teacher I have ever had). I dealt intermittently with left forearm tendinitis in my sophomore and junior years at Berklee, which lead me back to the bass guitar, my first love. I graduated with honors in May 2017, with plans to move to New York and join the bustling jazz scene, but within a month I was stricken with tendinitis in both forearms. In mid-November 2017, made the move to New York anyway, refusing to let this tendinitis demon defeat me. It was slow going at first, but my career really launched when Los Angeles based pianist Cameron Graves took me on the road for his Planetary Prince European album release tour.
Once I got back to New York, I had a little bit more name recognition and had grown considerably as a player. Cameron is a monster pianist, as is our drummer, Mike Mitchell. Playing trio with them every night for a month had forced me to grow exponentially. With this new confidence in my musicianship and physical performance, and after a few more tours with Cameron, I decided that I needed to move to Los Angeles, as that's where most of my work was coming from. I landed in LA in January 2019, and since then I've been fortunate enough to play with some of my favorite artists, be mentored by one of my heroes, Stanley Clarke, release my debut record, "Tbilisi", and travel the world playing music with my friends. LA has been better to me than I ever could have imagined!
Overall, has it been relatively smooth? If not, what were some of the struggles along the way?
My biggest obstacle has been recurring tendinitis in my forearms. The bass (especially upright bass) is an extremely physical instrument and is known to commonly cause repetitive stress injury. For years, it would come and go. It started in high school, when in the summer before my senior year, I had to take a few weeks off to let me forearm pain heal. It returned in the fall semester of my sophomore year of college, and I had to stop playing for several months as the pain become debilitating and playing continually made it worse. I was able to get back to the electric bass during that spring semester, but it wasn't until that summer, almost nine months later, that I was able to get back to the upright. The fall semester of my junior year, it came back AGAIN, and it seemed like I was going to have a repeat of the previous year.
Fortunately, I found a physical therapist close to where I lived in Boston (Berklee is located in Boston's Back Bay neighborhood) who helped me heal without having to put the bass down. After several years of pain-free, one month after I graduated from Berklee, it came back AGAIN, this time in both forearms, and worse than any of the times I'd dealt with it before. Despite seeing every type of doctor, chiropractor, osteopath, physical therapist, acupuncturist, and holistic healer I could, nothing helped, and I eventually had to stop playing again, completely derailing my plans for the New York move. It was a difficult time, and I thought I was going to have to give up being a bassist. The doctors were telling me I might need surgery, and that even THAT might not fix the problem. I had never felt so defeated.
Over the course of the next eight months, I was able to slowly work myself back into playing shape, despite the doctors telling me it would have taken much longer, and moved to New York anyway. The tendinitis slowly got better, but within one month of my first tour with Cameron Graves, it came back almost overnight. I felt so sorry for myself, wondering, "why me, why does this keep happening, why now right before my biggest career opportunity?" A friend of mine recommended a book to me, called "The Mindbody Prescription", by John Sarno, a rehabilitative back specialist at NYU. His idea is that musculoskeletal disorders are originally started by deeply repressed rage, which triggers reduced blood flow to certain parts of the body via the autonomic nervous system. The book is divided into three parts: what the idea is, the various ways it can affect your body i.e., what disorders it can cause, and how you can defeat the process. I read this book on the flight to France to start the tour and stepped off the plane, pain-free. This book changed my life, as it's now been years that the tendinitis demon hasn't bothered me. John Sarno saved my life, and I'd recommend that anybody suffered from chronic pain read his book.
Can you give our readers some background on your music?
As a professional bassist/artist, my specialty is performing and recording live music in any variety of settings and genres. I also record and perform my own original music with my band, the Max Gerl Quartet. I'm probably most well known as a fusion electric bassist, but my skillset encompasses a lot of other areas. There's no gig that I don't feel confident walking into. I play electric bass, acoustic bass (orchestral, as well as jazz), and keyboard bass, all equally comfortably. I read music proficiently, compose, and play in many different styles, so I would say that what sets me apart is my versatility. I've been successful partly as a result of my ability to be somewhat of a musical chameleon. For instance, in this time during the stay at home order, most of my work has been recording bass for people from my home studio. Just yesterday I recorded bass on one client's original jazz composition, another client's hip hop track, and a third client's Sicilian traditional folk piece. I was fortunate to play so many different kinds of music as a kid, and as a result I have an authentic understanding of how to function in a number of different styles and musical situations. More recently, I've begun releasing my own originally music and launching myself as an independent artist, which has been scary but also very rewarding. My debut record, "Tbilisi", was released in December 2019, and is available on Bandcamp and all streaming services. I also have a single with my trio coming out on May 29th! Another one of my quarantine goals has been to finish writing my second album so that once the city reopens, I can take my band straight into the studio.
If you had to go back in time and start over, would you have done anything differently?
To be 100% honest, there are times that were tough and perhaps I could've done a few things differently but I wouldn't change much of anything about my experience. The only thing is I would spend more time studying composition in school. I never saw myself as a future artist/composer when I was in college, just a sideman. Now that I'm venturing into my own music, I find that I rely on a lot of the same compositional tools and tricks. We live in the internet age, so I have all the resources I need at my disposal to study comp in more depth, but it would have been helpful to spend some time in a formal study.
Contact Info:
Image Credit:
Maria Jarzyna, Jeff Myles
Suggest a story: VoyageLA is built on recommendations from the community; it's how we uncover hidden gems, so if you or someone you know deserves recognition please let us know here.