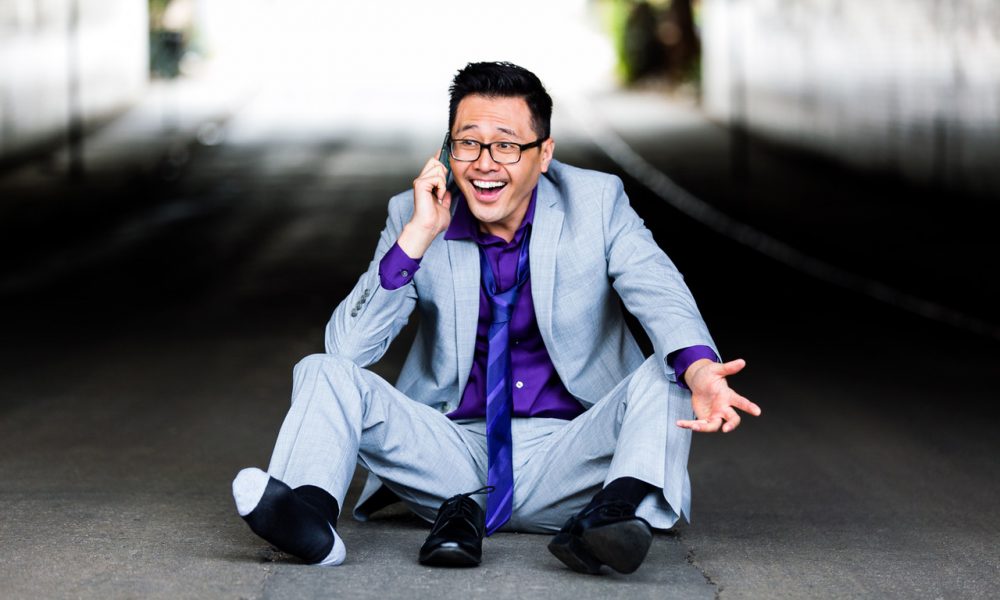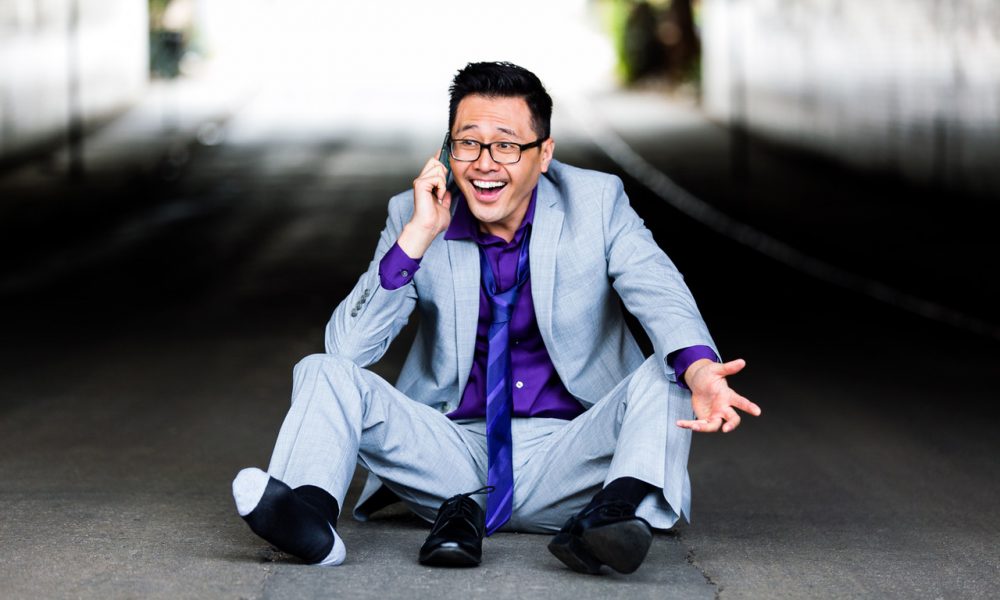 Today we'd like to introduce you to award-winning actor/filmmaker and TV host Lawrence Chau.
Lawrence, please share your story with us. How did you get to where you are today?
Growing up rather poor in a turbulent household in Toronto's working-class Chinatown never afforded me the simple luxuries in life like the latest pair of flashy sneakers, or decent heating during the harsh Canadian winters, or even a sense of calm and innocence. Instead, it was a life dedicated to studying, getting my first part-time job at 13, and helping mom navigate a complex plethora of debilitating health, social and legal issues. Dad held down two jobs and wasn't around much whilst my two older brothers morphed into rebellious souls — a combative trio infused with volcanic tempers.
As for me? Well, I was that amiable yet solitary kid down the street, quietly observing, analyzing and doling out zingers.  Humor and book smarts were strong coping mechanisms.  By a stroke of fate, I was born with a gene of quiet defiance and a spirit of steely determination to succeed, and ultimately escape — whatever odds. I must admit, the Gods of Fortune were not kind. What were they thinking, tossing a monkey wrench into mom's dreams of medical school in favor of journalism school? The arts? Sacrilegious!
After graduating with a degree and an award in journalism, I trekked off to Hong Kong in the 90s armed with two suitcases and $2000, and a checklist of lofty dreams: to work in public relations (check) and to see if I could somehow cut a break in entertainment (check). My early showbiz breaks came by way of hosting Citylife, a prime-time English entertainment lifestyle program in Hong Kong, as well as acting in theater, and modeling in commercials and music videos. I also freelanced as an entertainment journalist and even became a published lyricist with the Composers and Authors Society of Hong Kong. Working six, seven days a week and holidays was the norm.
The floodgates to showbiz really sprung open when I was recruited to join the leading TV station in Singapore. The tag "overnight success" rang true: I went from temporary roving reporter to anchor and senior producer of Showbuzz, the country's flagship English entertainment news program, all in the span of one month. Interestingly, I wasn't even supposed to be on the show as the network had me pegged to be an after-school veejay to square off against the arrival of MTV Asia. Good thing I grew up addicted to Entertainment Tonight and Billboard magazine. Hats off to journalism school, too!
Before you know it, that once shy kid in stitched hand-me-downs was donning Hugo Boss and Armani, and sporting luxury timepieces as an Omega watch ambassador whilst jetting around the globe business class and staying at the finest hotels — all as part of my job to interview the world's biggest stars: George Clooney, Tom Hanks, Mariah Carey, Celine Dion, Halle Berry, Hugh Jackman, Denzel Washington, Jackie Chan, Michelle Yeoh, Vin Diesel and Johnny Depp, to name a few. I was even handpicked to emcee Tom Cruise's regional press conference and red carpet premiere for Vanilla Sky; got pinched in the butt by the Spice Girls; golfed with Cindy Crawford in the Swiss Alps; and wine and dined with Boy George and Culture Club.
Then came a blitz of awards, acting roles, hosting live specials (like Miss Singapore Universe) and assuming the anchor chair of Celebrity Squares, Singapore's franchised version of Hollywood Squares. I even helped raise $32,000 for charity as a celebrity guest on Who Wants To Be A Millionaire Singapore. Those were, indeed, sweet days but also a shock to the system as I was regularly clocking 70 to 90 hours a week and getting by on three hours sleep.
After a good ten years in Asia, it was back to Toronto in the 2000's for what I thought would be a much-needed long break. Sadly, my sabbatical was short-lived. Dad and mom were diagnosed with cancer back-to-back. I bid adieu to Asia and opted to stay "home" to take care of my parents. During this time, I landed the hosting gig for the award-winning paranormal series Ghostly Encounters, which aired on OWN Canada and also got picked up internationally. It can still be seen stateside on cable channel Destination America. Other bit acting roles and commercials came my way, but I knew the time to make another big leap of faith would eventually beckon.
Dad fortunately survived; mom, sadly, didn't. Losing mom was traumatic. She took her last breath in my arms at the hospital. We were alone. I felt defeated, a word that never gelled well in my vocabulary. Mustering the strength to move on I packed my bags and closed up shop, once again throwing caution to the winds and starting from scratch. Next destination: Hollywood.
It's true what they say: Los Angeles ain't for the meek. The competition is fierce. Everyone is jockeying for that big break. You have to put up with rejection after rejection, a lot of bullshit, and a few shady characters along the way. This town will eat you alive amidst an alluring yet deceptive glow of sunshine and palm trees.
Despite an impressive portfolio, my career mirrored the 101 freeway: stuck and going nowhere fast. I felt compelled to take control of my own career versus the traditional grind of auditioning and booking the odd bit part. I parted ways with my manager and agent and endeavored to write, produce, executive produce and star in my first short film entitled Justice for Vincent (JFV).
Inspired by a true story, JFV was very much a reaction to the recent rise of hate in America — but unlike most social justice stories from Hollywood, this one emanated from a slice of rarely seen Asian American history. Chinese American Vincent Chin was allegedly mistaken for being Japanese and bludgeoned to death with a baseball bat in Detroit 1982 at a time when the so-called "Japanese Auto Invasion" was hurting the American automotive industry. Adding to the tragedy of the murder was the court sentence that let the murderers off with a mere $3000 fine and three-year probation. Community outrage over the case sparked the largest Pan-Asian civil rights movement in America.
It was a story that also hit home on a profoundly personal level. Seeing Vincent's mother, Lily, wage a campaign for justice in a foreign land reminded me of my own mother, who's pain and struggles are burnt into me. She was an immigrant from the same village as Lily; spoke the same dialect; and also sacrificed everything to move to North America only to have her life turned upside down.
30 accolades later, including qualifying for the Oscars earlier this year and winning a prestigious industry Silver Telly Award for creative excellence in the area of social issues, sees me finally catching a break after an intense two years of traveling to 20-plus film festivals. In some ways, you could (sadly) say I prophetically sounded the alarm of Asian xenophobia as JFV was completed prior to the coronavirus outbreak. With some people, all it takes is one incident to spark a knee-jerk racist reaction. Since the spread of COVID-19, there has been a reported 100 incidents of Asian hate crimes and bias-related incidents across America occurring on a daily basis.  Very alarming and disheartening.
Awards aside, the film has been gratifying spiritually. In addition to having met many of the civil rights activists involved in the case, which was beyond inspiring, I am grateful to have helmed a high-quality film with the help of director Andy Palmer and a top notch cast and crew — all of whom gravitated to the power of the script's message: a mother's loss is a mother's loss; hate is hate; injustice is injustice. It's a message that has also resonated with people from all walks of life for it's not just an Asian American social justice story, but a social justice story period. Perhaps the greatest sense of accomplishment occurred when a tear-filled audience member approached me after a screening.  She candidly told me our film had altered the somewhat racist views she held towards people of color. I still get goosebumps over that. Mom, I think not having a doctor in the family turned out fine.
We're always bombarded by how great it is to pursue your passion, etc – but we've spoken with enough people to know that it's not always easy. Overall, would you say things have been easy for you?
The magic is making it look easy, but boy, has it been tough! Some of the challenges being:
1. Defying conformity and parental expectations.
2. Financial struggles (contrary to my image, I was not born with a silver spoon in my mouth).
3. Proving naysayers wrong.
4. Knocking on doors cold.
5. Enduring rejection and criticism.
6. Forging ahead in chronic pain on a daily basis (as a result of several sports injuries and auto accidents).
Please tell us about your work.
Actor, TV host/producer, writer, filmmaker; former journalist and public relations consultant — spanning Canada, Asia and America.
Has luck played a meaningful role in your life and business?
I have always had good luck meeting talented, influential movers and shakers whether they be executives, trailblazers, celebrities or fellow artisans. Many have opened a door, or offered valuable words of advice. I make it a point to return that good fortune to other aspiring artists.
The bad luck, however, tends to crop up with jealous souls, or energy vampires — toxic souls who take more than give back, or stab you in the back. The learning lesson there is to hone your radar. Be discerning. Trust is a much-cherished commodity.
Contact Info:
Suggest a story: VoyageLA is built on recommendations from the community; it's how we uncover hidden gems, so if you or someone you know deserves recognition please let us know here.