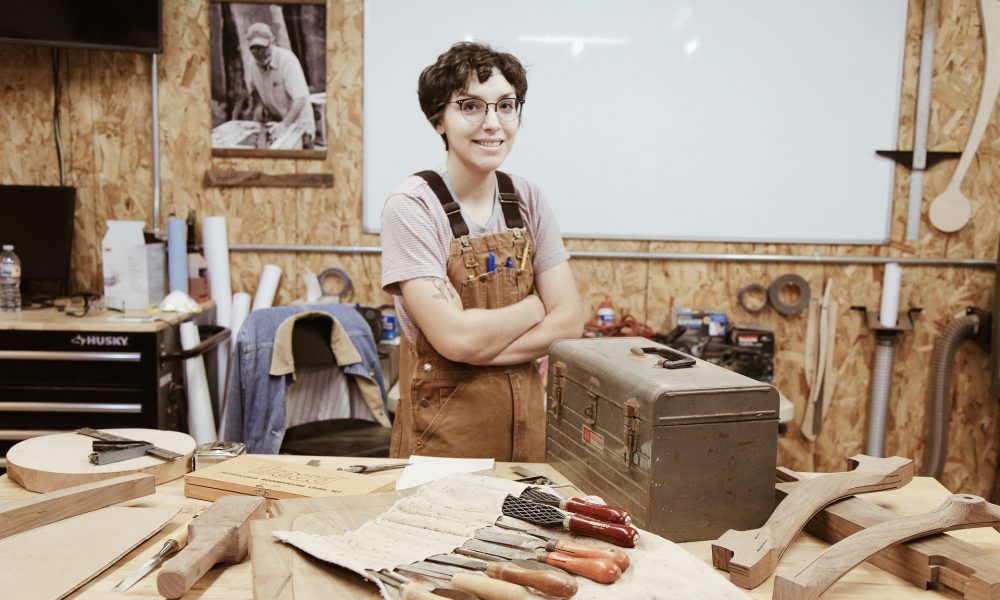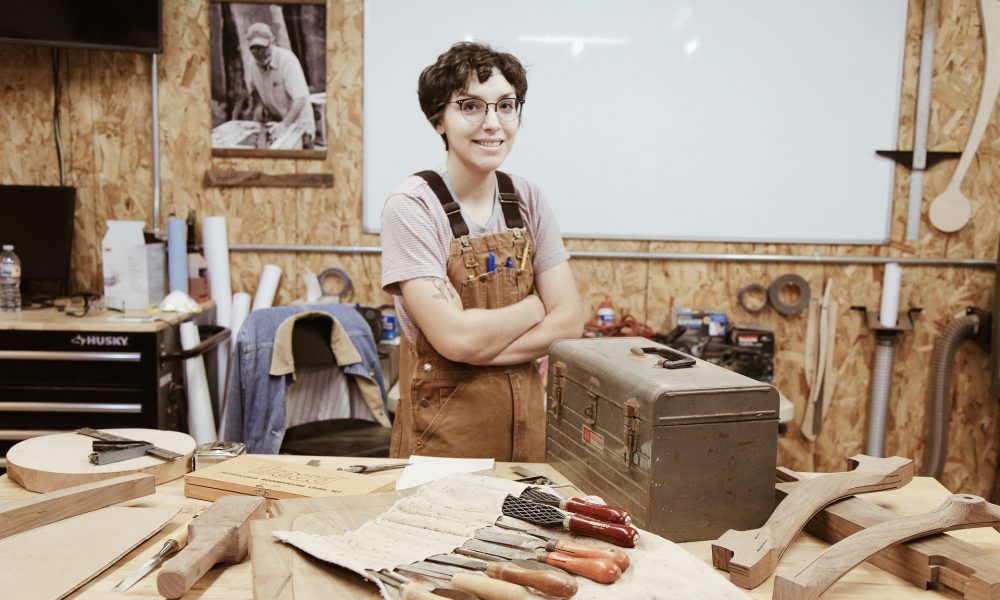 Today we'd like to introduce you to Lauren Verdugo.
Every artist has a unique story. Can you briefly walk us through yours?
When I was a junior in high school, sitting in my art history teacher's class doodling in my notes, he mentioned that after school that day he was having a man from a local art museum stop by to talk about volunteering. First, I didn't know that there was a museum in Rancho Cucamonga. Rancho Cucamonga is a suburban city with arts surrounding it in areas like Claremont and Pomona. I went to the meeting after school that day in 2012. I found out that a world renown woodworker and artist had a home and studio at the top of Carnelian St., 5 miles from my home. Sam Maloof, born in 1916 to a Lebanese immigrant family in Chino, California, who went on to revolutionize the arts and crafts world and the Pomona Valley Arts Movement, built his home over the course of 40 years. In the late 90s, Caltrans moved Sam's home out of the way for the 210 freeway and it became a museum and foundation in 2001.
I started attended weekly meetings at the Maloof Foundation and was completely submerged in local art history and handmade craft. I was drawn to the clay pieces in the gallery room of Sam's home that were called 'Bird Bags' by the artist, Larry White. From 2012 to 2014, I collected over 800 service hours (between academic programs and the Maloof house), graduated high school and started at Chaffey College. In 2014, I became an intern and taught students, K-12, about the Maloof story, his collections and gave tours of his home. I continued on with the program, trying to find ways to be more involved. Fall of 2016, Larry White had a veteran drop out of the female veteran's workshop and he suggested if I could fill the empty spot as they couldn't find another replacement.
From October 2016 into May of 2017, I consistently pestered and asked Larry if I could work with him to assist him at his studio, I had become hooked on woodworking and 3D design. He finally gave in and let me work with him for "just the summer". His home and studio is out in Pioneertown, CA near Joshua Tree. For months, we did not work on his art or sculpture, he had me patching his roof in 113-degree weather and remodeling his kitchen with him. While I was in his studio one-day prepping rebar for the concrete slab we were going to pour for a sculpture base of his, he popped his head in the door and asked me with a serious expression, "So… Are you in this for the long haul?".
It has been two years since I started working with Larry as his apprentice in woodworking, metal, large-scale sculpture and clay. Over last summer, Larry and I put together an education and workshop space in the north wood barns at the Maloof where we now hold hands-on workshops and demonstrations. I have maintained my role at Maloof as Education Assistant and Workshop assistant while also working on my own woodworking and art. From cardboard portraits, chairs and drawings, I have found what I want to do for the rest of my career. My personal life and childhood were rough but going to that after-school program that day changed my life and I jumped at that opportunity to be immersed in the world that I read so much about.
I create not because I want to, rather, I create because I need to. Crafting has become a part of who I am just as much as the curly hair atop my head.
Please tell us about your art.
My main focus in art is applied design and using recycled materials. My furniture is intended to offer the viewer a style reminiscent of the 60s with a contemporary approach and an emphasis on basic shapes. My cardboard portraits originally came out of an art activity that I was showing students at Maloof for using recycled material to make a portrait from a photo they saw in the historic home. It turned out to be something I thought was interesting and then made several more. Cardboard portraits challenge me to take 2D scraps, stack them and peel away some layers to give them depth and texture. In addition, I make some of Larry's infamous 'Bird Bags' which are made out of clay and I will occasionally throw cups and bowls. I feel like it is important to have different avenues of expression. I doodle constantly and take photos wherever I go. Simply because I can't sit still and I don't want to limit myself or close myself off to new experiences.
In terms of what I hope people take away, I hope more women pursue woodworking and challenge what a designer, woodworker or metal sculptor look like. It is hard for POC and those in the LGBTQ+ community in the first place to be supported in those fields in addition to the fact that it is dominated by men. Anyone, if they have the determination to do so, can express themselves through any media. I am half Puerto Rican, female, bisexual and did not come from a background where I had access to woodworking tools, let alone an arts environment. I hope that when someone looks at my art, they can see pieces of my story and the influences of those who preceded me.
Given everything that is going on in the world today, do you think the role of artists has changed? How do local, national or international events and issues affect your art?
I first and foremost am an art history nerd and I feel that the role of artists throughout time has always fluctuated with the emotions and political stress of the era. The job of an artist is to synthesize their personal experiences into works of art, so it, in turn, has the opportunity to resonate with the viewer once the artist releases it into the world. Obviously, it is different when the art is commissioned, but we all know how people like Michelangelo kept their personal thoughts within those boundaries (i.e., Sistine Chapel ceiling or him writing "Michelangelo was here" in Latin across the sash of Mary in his 'Pieta".
We consume a ridiculous amount of news and media in our current society and have ways to reach larger numbers through social media. I find that liberating but it also makes "artists" on social media, a dime a dozen. Traditional craft and the definition of what good art is has become convoluted. It is definitely hard to find a way to make yourself unique, show an authentic approach and find opportunities to get paid for your work. The last few years of economic and political changes in America have affected me personally in terms of school, where I now live and how hard it is to even afford material to continue making furniture. Which is why I love my cardboard work; it is easy on my wallet and the environment!
How or where can people see your work? How can people support your work?
I will have an outdoor installation at the Maloof Foundation for their Sculpture in the Garden show coming up in May and will feature some of my first works in metal. I am currently learning how to weld so I can start infusing metal into my woodwork. 2019 and 2020 are going to be exciting! To stay up to date on upcoming shows and to see what I am working on, you can visit my website, Instagram or Facebook.
Contact Info:
Image Credit:
Hellen Lopez for photography credits and Larry White outdoor sculpture is designed and built by him. The clay piece I am sculpting is Larry White's bird bags which I now help him make.
Getting in touch: VoyageLA is built on recommendations from the community; it's how we uncover hidden gems, so if you know someone who deserves recognition please let us know here.