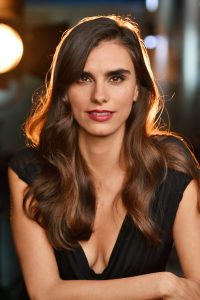 Today we'd like to introduce you to Lara Heller.
Lara, please share your story with us. How did you get to where you are today?
My story started in a mountain village in Germany. LA was just a place in the clouds back then. Today, I'm very grateful to be living in the capital of the entertainment industry! California is another world compared to where I spent my childhood. The area in Germany that I grew up in didn't even have a theatre.
The closest cinema was in a village below the mountain and seated a grand total of 15 people. They'd even pause the film for us when we wanted popcorn! I grew up in what felt like a 1950's upbringing. We watched old movies and  I fancied actors like Gregory Peck and Sidney Poitier.
I then moved on to Luxembourg and finally Switzerland. Both countries are stunning… it just wasn't an option to pursue acting, as we didn't have the kind of entertainment industry that LA has. What we did have was an amazing Olympic ice rink! So I embraced that and was an athlete for most of my childhood, competing nationally for Germany and Luxembourg. Figure skating filled up all my free time-early mornings on ice and summer skating camps with Russian coaches.
I suppose I first discovered acting when I was 13 years old. My dad directed an improvised movie that my school friends and I acted in. We had a blast and that was the moment I fell in love with the world of storytelling.
I was always drawn to the arts. Then one year, I found a monastery on the boarder of Belgium that rented out their premises to Central School of Speech and Drama. It was a course for adults but I convinced them to give me a shot. That was my first bit of formal training.
My school's emphasis was less on the arts and the curriculum helped us to excel in science and languages. The European School of Luxembourg is a school for kids whose parents work at the European Union institutes. It was a wonderful experience as each Member State of the Union was represented in a class. So the playground was filled with children speaking French, Italian, Swedish and all the other languages.
I graduated with a European Baccalaureate and then went on to law school, which one can do as a first degree in England. Whilst at the London School of Economics I was training with a barrister at Garden Court Chambers. We also had a solid drama department at university and I spent much of my time performing Shakespeare plays at the Old Theatre. After graduating, I was then accepted in to drama school and never looked back.
Has it been a smooth road?
I was on track to become a lawyer….then my mother passed away during my final law exams very suddenly. We were very very close and our tiny family felt like a tsunami hit us. I realized life is so much shorter than one ever expects. It was a big wakeup call for me- I really questioned what I should to do with my adult life.
I finished my law degree for my mother whilst applying for a Master in acting. The Arts Educational Schools London offered me a place at the studio and I threw myself into that world for a year. That time helped somewhat to rebuild me. I was blessed because I then booked one of my first auditions-a film called The Cut. The film was directed by Fatih Akin and was about the Armenian Genocide. We opened in Venice and that movie was a springboard to my entry into the entertainment industry.
Acting isn't the smoothest road to walk down when it comes to picking a profession. I think that's what keeps artists humble. I feel one has to be emotionally tough and vulnerable at the same time. Tough enough to accept that a lot is out of our hands and emotionally vulnerable enough to feel safe opening up to a room of strangers in auditions. But it's grit and overcoming struggle that I admire most in the actors and creators I've met. There's this quote by Rumi that I adore; "If you are irritated by every rub, how will you be polished?"
I'm grateful for the opportunities I've been given and those bumpy moments whilst travelling as a kid always taught me something. It was initially hard to move around so much. But because my parents were brave they instilled a love of adventure in me. It was challenging to move to Germany and learn a new language. It was equally tough to move to Luxembourg and learn and study in French. Our school pushed us academically- we had to study all our subjects in three languages. But all those experiences taught us to work outside our comfort zones. It made us strong as kids-we got used to working in foreign languages. Steep learning curves are always worth it!
It was quite the culture shock to move to the UK and to navigate city life. London taught me to be independent and to allow myself to dream. Some of my best friends are from LSE so I'm very glad that I went. Law school put us all through our paces- we were drowning under books to read. But I think they did that on purpose to teach us to not be afraid of vast quantities of information and to teach us to prioritize what's relevant and what's not. The training taught me to trust and to use my mind. It show me that anything is possible when we put our heart into it!
Along the way, I've always found that no matter where we moved or what happened, acting was always a safe haven for me. It offered a safe environment to explore stories and play! I'm lucky that acting has been a great source of joy.
We'd love to hear more about your work and what you are currently focused on. What else should we know?
I've finished shooting a movie called Synth, which explores artificial intelligence. I usually go for roles that scare me a bit and this was something I had not done before. Ryan Coleman's script granted us the liberty to explore that boundary between real and simulated feelings. The film is a character-driven piece and we had a lot to play with. It was a gift to work with actors such as Michael Monks and Don Wallace. I was looking for something intense and exciting and Synth offered that. Our director, Scott Wheeler, let us play and be free in the scenes which is what made the shoot so enjoyable.
Zoe & The Astronaut is now out too. It was my first time playing a Brazilian character, which was exciting. My initial impulse that pulled me to the film was the opportunity to play a comedic role in a dark story. Eke Chukwu is one talented artist and director and that was why I was so keen to join the team!
I enjoy shooting action and thriller films. I love training and movies like Troy The Odyssey were great fun to make. We worked on skills like fencing and archery, which I loved- probably because sports is connected to my day to day happiness. Inline skating, bar burn, and circuits always bring that rush of endorphins that I crave.
I am fortunate that my job is my passion and getting the opportunity to explore different worlds and roles gives me such a buzz.
Is our city a good place to do what you do?
LA is a wonderful city to be in. It's filled with creatives and the nature is stunning. It's pretty incredible to be able to surf and ski on the same day. I love the American attitude and find the city to be a source of inspiration. Every day is an adventure in LA and there's so much opportunity!
Contact Info:
Getting in touch: VoyageLA is built on recommendations from the community; it's how we uncover hidden gems, so if you know someone who deserves recognition please let us know here.