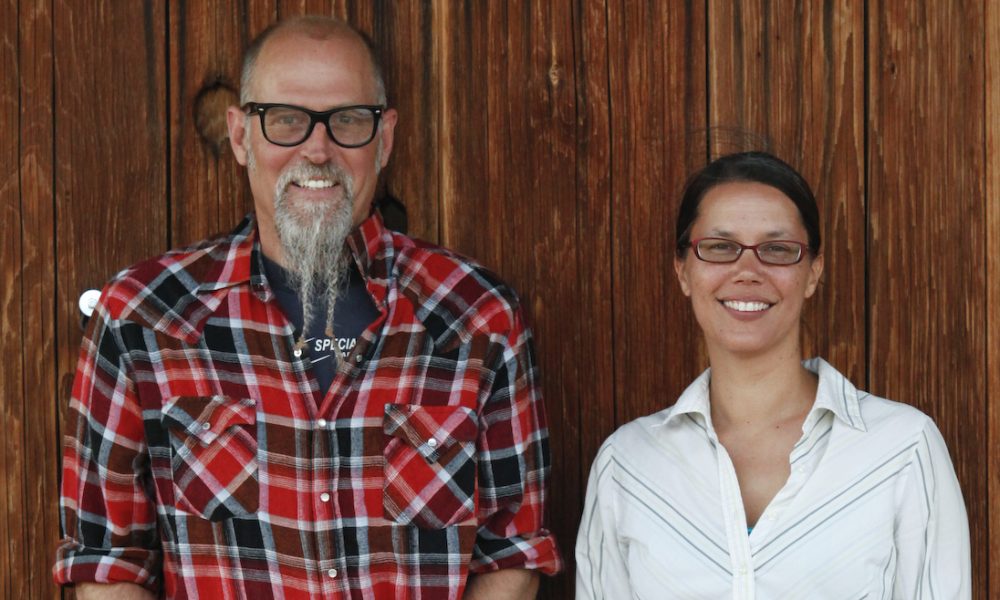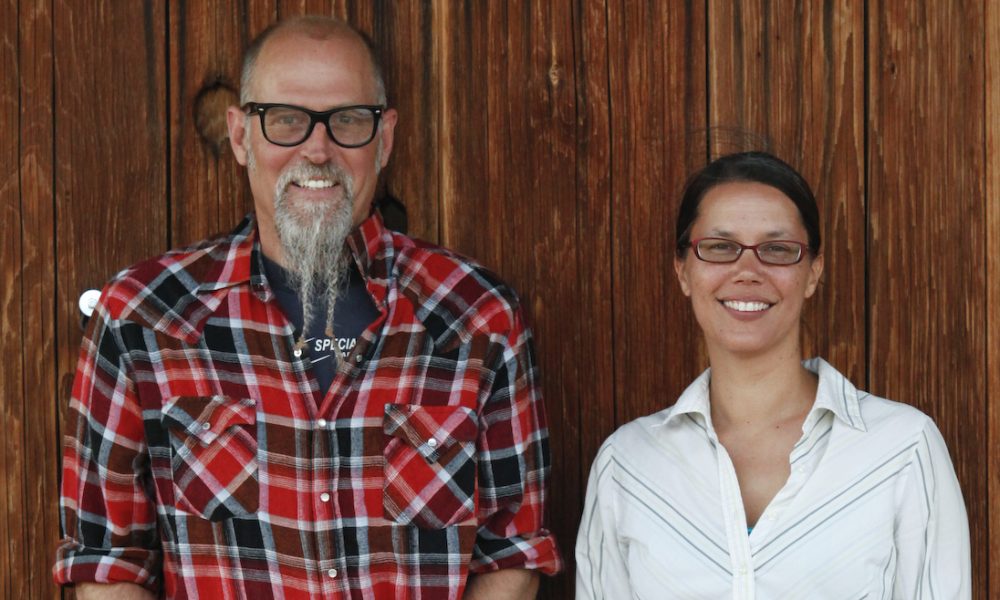 Today we'd like to introduce you to United Catalysts, Kim Garrison and Steve Radosevich.
Kim and Steve, let's start with your story. We'd love to hear how you got started and how the journey has been so far.
Our collaboration as United Catalysts began in 2001 at California State University, Long Beach, when we created our first interactive sculptures and performances as BFA students. We had some great conversations about art and its roles in societies and realized that we both were more often interested in the art of traditional cultures than in the contemporary art we were seeing in galleries and museums.
We spent a lot of time investigating together why that was. Historically art has served many functions beyond being a commodity and a status symbol, two roles it has often been associated with of late in the gallery and museum world. We were especially interested in the use of art objects for transformation: art as a healing tool and a focal point of community ritual.
Before we met, we'd both been through intense and sudden family losses and had used our art practices to work through the grieving process – so we understood the power art has as a mechanism of transformation. It made sense for us to be drawn to together in creating conceptual art projects that create a time and place for others to explore and experience inner transformation, and to be catalysts for positive change.
At CSULB, we built a purification machine as part of a performance to reset the creative energy in the sculpture department, massaged ROTC students after September 11th, and created an exhibit of interactive "ritual tools." Our art mentors there, especially Kristen Morgin and Doug Buis, were patient and encouraging with us, even though our projects were very different than the work other students were producing, even to the point of inspiring debates as to whether or not what we were doing was "Art."
In 2003, we were accepted into the MFA program at the University of Nevada, Las Vegas, mainly through the efforts of sculpture professor Bob Wysocki, and we produced all our work collaboratively in the three-year program. To our knowledge, we are the first artists to have been accepted as a team into an MFA program. During our tenure there, we continued our exploration of art and ritual. We sent messages to and from the beyond in 100 Messages Sent by a Crow, grew dreams in the desert "wasteland" in Planting Circle/Growth Ring, and explored stories of the heavens in Mysteries of the Skyworld.
Over the years, we have worked on a number of long-term projects, including the Iron Camera Project, recording stories of the earth with a camera made from the element at the earth's core, and the Mystery Ranch Project, a series of site-specific art, architecture, and collaborative events that are transforming 60  acres in the Mojave into an arts and desert ecology research center.
Currently we both teach at Orange Coast College, have co-curated over twenty contemporary art exhibitions, and facilitated many group projects, including art and music performances, workshops and books. We have completed artist residencies at Petrified Forest National Park and Oakes Creek Ranch, and have created community-based performances and art installations throughout the American Southwest. Now we are working on our first global public art project and our most ambitious endeavor to date: the Skywheel Project.
We're always impressed by ambitious artists like you who pursue their passions — but we've spoken with enough people to know that it's not always easy. What kinds of challenges have you faced through the years?
Long-term collaboration, so common in other forms of artistic expression, was still relatively new in visual art at the time we started working together, and it's still fairly rare now. In our early years, we got a lot of questions about who did what and how it all worked and why we wanted to collaborate. We were a bit of a curiosity.
All of our work is collaborative. We investigate themes and discover, discuss, experiment and process these themes into art. Our backgrounds and skill sets are different but complementary, and this affords us a kind of binocular vision, which we find particularly helpful. It takes our egos out of the art-making process because we discuss our ideas and choose the plan of action that best communicates the story we want to tell.
Two of our secret weapons have always been our spouses, Martha and Leland, who have not only always been supportive of our collaboration and the energy it takes to produce art, but are also extremely helpful sounding boards for our sometimes crackpot-sounding ideas, and the outcome of our work is better for it.
Working as a team has also helped us tackle more complex projects than we'd be willing to handle on our own, and to believe in those projects, even when they may not be popular themes in the art world. Most of our work investigates the world as a sacred place, and we are interested in the working mechanisms of the transformative experience.
Ritual and prayer, for instance — these are words full of conflict in America today, often misunderstood, derided or feared. Our society is having trouble with these topics in general, and while art history classes are full of examples of sacred and devotional art, contemporary galleries and museums often shy away from art that deals with these subjects.
Your work with community ritual in art is very interesting. How do you approach creating these kind of projects?
From the beginning, we always said we needed to be totally sincere in all the work we do. If we are creating a transformative ritual and asking people to participate in it, we have to believe in it ourselves, even if we make jokes, package things in a goofy manner or laugh a lot in the process. Sometimes people distrust that sincerity, and who can blame them? People are used to insincerity in art.
Making art that is clever, slick, or snarky is always easier than putting yourself out there – while being truly sincere makes you vulnerable. But the world has been changing a lot recently, and the art world has been changing too. Snarkiness isn't all that helpful, and creativity can be used for real harm — political internet memes have been a particularly harsh demonstration of that.
More artists are asking themselves how their art can help reflect the challenges of our present human experience and help drive our society forward in positive and thoughtful ways, so we are starting to feel like we are part of a creative culture that is seeking to be more thoughtful and sincere.
Of course, there have always been great artists out there making artwork as social activism, like Kim Abeles and Kara Walker, and artists making large-scale contemplative works, like James Turrell. We are glad to see these themes are starting to trend more in the art world as a whole.
When we think about our work in relationship to our society, we tell ourselves that we want to make work that is relevant – not important, because importance always implies a hierarchy, while relevance seeks to make a connection.
Tell our readers more about your current public art endeavor, the Skywheel Project, and how it seeks to make connections as a community ritual.
We have been researching and developing this body of work since 2008. The project invites people around the world to write heartfelt, personal prayers for the future of our planet. We are building a space satellite that will house these prayers, and when launched, will orbit the Earth for a thousand years, as a symbol of our goals to work together to strengthen our planet's future.
The satellite's design is inspired, in part by Tibetan prayer wheels, and like these meditation devices, it will spin as it orbits, allowing us to visualize everyone's prayers radiating outward across the sky and blessing our planet. After launch, people will be able to track the satellite around the globe using a Skywheel app and can receive prayers contained in the Skywheel as it passes over their location.
There is a lot of technology and science involved in the process, but at its core, the Skywheel Project is a modern ritual that promotes a sense of shared commitment to our world at a pivotal time in its history. It also celebrates the diversity and commonalities of our ways of expressing what we hold sacred, and it encourages individuals to contemplate the future of the Earth as a whole. Anyone can be a part of this project and contribute a prayer for the world at skywheelproject.com. We believe that intentions drive actions, and we hope that participating in this project inspires people to look for other creative ways to tackle the challenges we face.
Wow, this project sounds exciting! So, what's the next step?
This year we kicked off a seven-year exhibition world tour of the Skywheel Project with an installation in Stargazers: Intersections of Contemporary Art and Astronomy, curated by Tyler Stallings at the Doyle Arts Pavilion at Orange Coast College. It has been a profound experience to collect the prayers of people around southern California in the Skywheel Tower, and to speak them aloud in a performance with artist Joy Fire and OCC students and faculty. We are learning a lot through collaborating with other artists on music, dance, poetry and film components to the project.
Now we are working with curator and gallery director Karen Hendon to bring the project to California State University, Fullerton's Begovich Gallery in Spring 2020, and with sound artist and curator Samantha Blackwolf to organize an exhibition in Saskatoon, Canada, where we are especially excited to collaborate with musicians and storytellers from the First Nations communities.
In addition to working with academic and cultural institutions to bring this project to the public, working with the aerospace industry and various technology companies is a key component, and we are actively seeking collaborations to further the design, engineering, and fabrication of the satellite and attach it to a future launch mission.
Through all of this, we are creating new works to add to the project, inspired by our interactions with communities around the world, and highlighting the amazing things people are writing about their experiences on this planet and their hopes for its future.
This project has changed us in many ways over the last ten years, and we know it will change us even more in the years to come. It is an idealistic, pie-in-the-sky endeavor, and a complex and unreasonably large management challenge, but also so full of beauty, tears, honesty, and hope, that we are just lucky to be a part of it.
Contact Info:
Image Credit:
Brooks Manbeck, Cara Garcia
Getting in touch: VoyageLA is built on recommendations from the community; it's how we uncover hidden gems, so if you know someone who deserves recognition please let us know here.