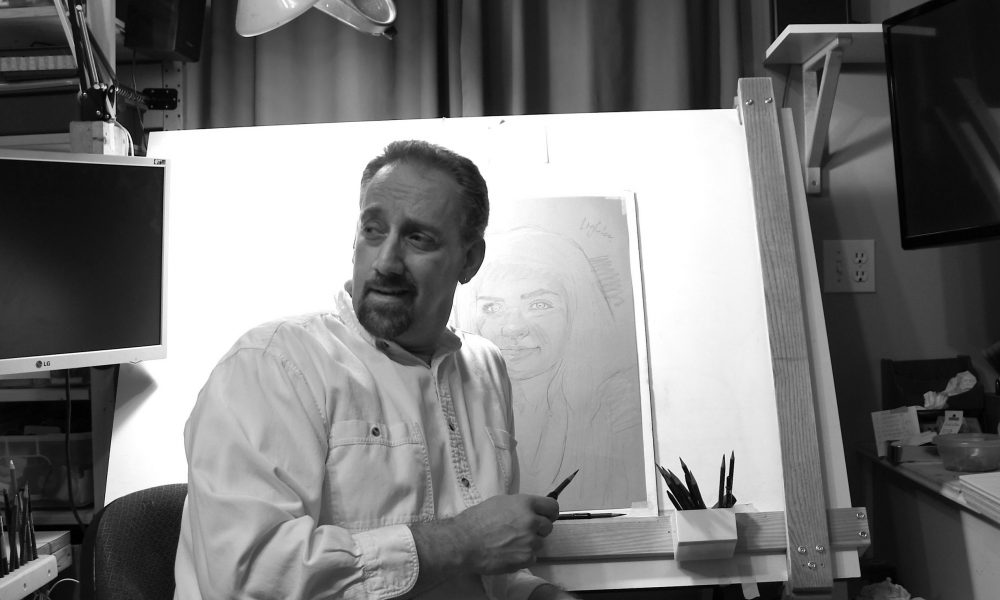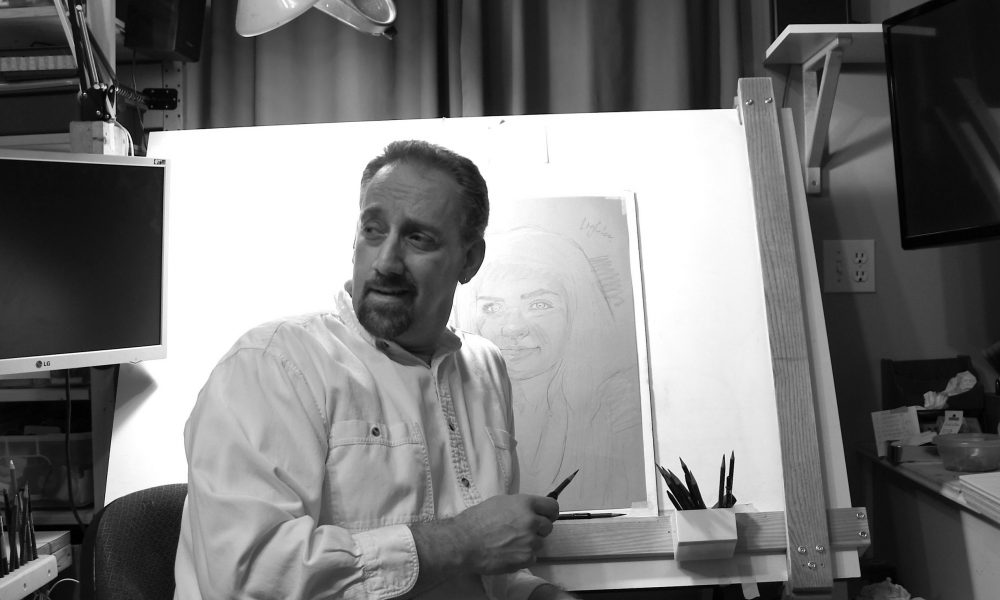 Today we'd like to introduce you to Justin Maas.
Justin, let's start with your story. We'd love to hear how you got started and how the journey has been so far.
When I was ten years old, I already knew what I wanted to be when I grew up. A Jedi Knight. I had a fall-back plan of being an artist & by the age of 12 I had nearly abandoned the idea of being Obi-Wan's next Padawan. In all seriousness, I pretty much always knew that art was going to be my career path. The idea of being able to do what I love – and make a living at it – was really all I ever focused on.
I was born in Hartford Connecticut but moved to Canada before my 3rd birthday. I have lived in various large cities across North America (Vancouver, Calgary, Milwaukee, Montreal) but have found "home" in a small town in British Columbia called Salmon Arm. It's very small – at just under 20,000 people – which you would think would make a career at art a challenge, but through the magic of social media and the internet I have been able to carve out a niche for myself, despite my small local customer base.
I credit my schooling – a great program in Milwaukee, some terrific courses in Chicago, and a degree in visual communications in Calgary – as 'teaching me how to be an artist' but thats only really 'laying the groundworks. In art school and art programs you learn how to create good habits and you are exposed to different mediums but it's up to the artist themselves to push forward on their journey. For me, probably the most important thing – aside from putting in the hours practicing – was being exposed to great art. In Western Canada we have a lot of Canadian art in our galleries but not a lot of work from the rest of the world. It was on my semi-regular trips to California that I had my first exposure to the European Masters. The Van Goghs, Rembrandts and Manets at the Getty Museum. Goya and Rubens at the Hammer – but most important to my young eyes were the pieces at the Huntington Library – most importantly Thomas Gainsborough's "The Blue Boy." I was mesmerized by this painting. It remains one of the 3 or 4 most important pieces that I have seen in person and I think had a strong role in shaping me into a portrait artist. It's remarkable how much good art there is in the LA area.
We're always bombarded by how great it is to pursue your passion, etc – but we've spoken with enough people to know that it's not always easy. Overall, would you say things have been easy for you?
As you can imagine, making a career in art is almost never smooth. I was fortunate to go to an art school that had a very good commercial art program, so I majored in Visual Communications – which is basically Graphic Design and Illustration. This has been a huge positive to me, allowing me to 'pay the bills' while doing a job I enjoy – even though it's not quite as enjoyable as painting or drawing all day.
Interestingly, when I went to school I was convinced I wanted to be an illustrator. I left school, did illustration work for about a year & realized I hated it! The problem is that while I was drawing or painting all day, I was doing what other people wanted me to. The editors would often make decisions about my work I didn't like and I felt more like an art director's pencil than an artist. Worse still, at the end of the day I didn't want to paint "my stuff" because id been doing other art all day. I 'fell back' on my Graphic Design training & realized that it was a much better fit for me. The jobs were interesting and varied enough that I enjoyed them but when I called it quits for the day Id still have the desire to paint what I wanted.
The "painting what I want" part was also not easy though. I felt like by doing *any* fine art I was doing what I enjoyed but in reality, I was suppressing the fact that I am a portrait artist through and through. Since people don't regularly purchase paintings of other people they don't know, I ended up doing things like cityscapes, landscapes and animals – when what I really wanted to be drawing or painting were people. I came to this realization (finally) about seven years ago. I decided I would rather never sell another piece, as long as I was creating what I truly wanted. From that day forward I have been a portrait artist almost exclusively (the few landscapes I have done are because I wanted to!) and funnily enough – even though I am now doing things that are supposedly less saleable, my success has grown substantially. The old adage of "do what you love' applies here.
We'd love to hear more about your work and what you are currently focused on. What else should we know?
Most people would call me a "realist portrait artist," although that might be a bit misleading. "Realism" often makes people think of photorealism – which has never been my goal. Since the advent of photography, the question – especially for portrait artists – is "why not just take a photo." And so for me, this has been at the forefront of my work since the beginning. How do I make a portrait drawing or painting better (or at least different) from a photo. My style combines elements of photorealism and sketching to create an image that at first sight is fairly realistic, but still has the energy of a sketch. It's been a life-long journey and I still don't feel as if I am there yet.
In terms of what I'm best known for, its almost certainly my celebrity portraits. I started posting on twitter in 2015 and one day I decided that I would do a few celebrity drawings to show that I am able to create a likeness. My thinking was that I could show you 100 of my commissions and while you could judge the quality of line-work, and composition you had no way of knowing if the drawing was an accurate representation of that particular subject. But if I drew a well-known celebrity you could see that I can indeed capture a likeness. So the original plan was 6-10 drawings. But then one day I posted a drawing – I believe it was number 4 or 5 in that ten drawing plan – of Ewan McGregor. I tweeted it at around 11pm, went to bed and when I awoke, was surprised to find I had 0ver 600 emails. Most of them were simply notifications of retweets but there are a dozen or so commissions inquiries. Of course what had happened was that Ewan himself had retweeted the drawing but in my head I thought "there is something here." A few months later, I joined Instagram & the options opened up exponentially from there. Reposts of my work by the Rock, Martin Lawrence, Ice Cube, Mr. Bean, Queen Latifah, Viola Davis and more helped gain my work gain huge exposure.
As for what I'm most proud of so far in my career? Probably my book, Drawing Realistic Pencil Portraits Step by Step which was published by Penguin Random House earlier this summer. The book itself took me less than a year to write but it is the cumulation of 30+ years of artistic practice so it was an interesting, challenging and enjoyable experience. The reviews and analyses have been very positive and made the decision to put the work into this book so worthwhile.
What were you like growing up?
I was a pretty quiet kid. I liked sports and music and the usual things kids do but first and foremost it was always all about art for me. When we visited Europe for the first time when I was 12, we spent three weeks at my grand mother's place in London. The first two weeks my parents too me all over & the last week we mostly just relaxed… meaning I had spare time myself. I went to about 5 or 6 galleries – by myself – for a second time because I had to see these amazing works once again. Not typical 12 years old behavior.
My favourite memory from childhood is, unsurprisingly, an art memory. When I was 5, I entered an art contest where the parameters were to "draw a picture of Calgary," the city I lived in at the time. As you would expect, most entries were landmarks like the Calgary tower, the Rocky Mountains or some of the other things that mark the landscape of the area. I am not sure if I consciously decided to skip this, or my brain was simply hard-wired to look at things differently but my entry featured a cowboy riding a dinosaur. Cowboys are a way of life in Calgary & the area is rich in dinosaur fossils so it just seemed to make sense to me. It apparently resonated with the judges too, who awarded it 1st place.
Contact Info:
Image Credit:
All images © Justin Maas
Suggest a story: VoyageLA is built on recommendations from the community; it's how we uncover hidden gems, so if you or someone you know deserves recognition please let us know here.