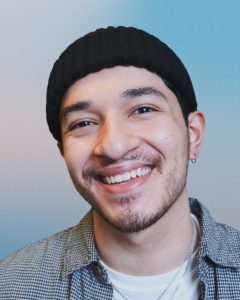 Today we'd like to introduce you to Jonathan Funes.
Alright, so thank you so much for sharing your story and insight with our readers. To kick things off, can you tell us a bit about how you got started?
So, I was first introduced to the Adobe Suite when I was in high school. I took an Advertisement Design elective and that was the first time I ever considered it as a career choice. After that class, I was hooked and started watching tons of YouTube videos learning as much as I could and implementing that stuff in my class.
During that time I was also in a band, so as I got more comfortable on Photoshop and Illustrator, I started designing our t-shirts and album art, which was really exciting for me since it was the first time I had ever seen people buying and wearing something that I designed. After graduating, I attended UC San Diego, where I had a couple of design jobs and internships where I gained most of my experience. It was also here that I started branding myself as Funes Design and creating an identity as a designer and an illustrator. At this point, I had never considered myself an illustrator, but I knew that it was something that I wanted to get into. I hadn't taken any drawing classes or anything like that, so I started practicing every day and worked on developing a style that was fun for me to draw and unique enough to be mine. But I feel like this bit is still a work in progress for me because I'll see another artist post something and I'll be like "Oh whoah, I really like what they're doing there, maybe I'll do something like that in my next illustration," because it's really hard to not be influenced by other people's work! So I don't know, maybe I'll never settle on one style, we'll see how this plays out (laughs).
But yeah, it was while I was at UCSD that I established myself as Funes Design and started making myself a little more known! I did some logos for friends and even started designing and selling my own t-shirts, tote bags, stickers, and prints on campus and online which definitely made high school me really proud. And after graduating, that pretty much brings us up to now! I've been freelancing these days and have been lucky enough to have branded a handful of local businesses in LA. Being from here, it's really sad to see so many areas taken over by gentrification, so helping these businesses owned by people of color fight back in any way that I can has been very fulfilling for me.
Alright, so let's dig a little deeper into the story – has it been an easy path overall and if not, what were the challenges you've had to overcome?
I do have to say that attending a university that is predominantly STEM-focused probably wasn't the best idea for a designer (laughs), but it's because I came in as a computer science major. My parents thought it would be a better career choice than pursuing art, so I gave in and went to UCSD for computer science. I literally only lasted like two weeks (laughs)! There was no way my brain could handle that much information, and there was no collaboration allowed in class for academic integrity reasons, so I called my parents and I was just like, "I really can't do this anymore, I'm switching majors." Unfortunately for me, UCSD is not an art school so there were no specific graphic design courses or anything like that to help my situation. I decided to pick up a communication major and started looking for hands-on design experiences on campus. I had very basic knowledge of Photoshop and Illustrator but, by some miracle, I was able to get a job as designer at the career center that same week! Here, I learned how to use InDesign and, slowly, I was able to build a small portfolio of banner ads and a minor rebrand, which landed me my first summer internship at an agency in LA.
During this time, I also joined a competitive marketing team on campus and this was where I found my own design community. I was on the production team, which was a small group of designers, photographers, and artists! I was literally so happy to find other people that I could talk to and learn from and we all still talk today and help each other whenever we need an extra set of eyes or anything like that. I think having a network like that is extremely important. From there, my portfolio grew even more, and I left my career center job for another design position at a marketing office at UCSD called University Centers. I was lucky enough to be a part of a talented team of designers and illustrators and had an art director who could really teach me about design! This was where my work started getting more creative and fun because now I was making posters, t-shirts, and logos for upcoming concerts and events happening on campus. I basically treated this place like my school, and I definitely think it prepared me for working as a freelancer. So in the end, even though I was put in a tough spot with hardly any educational resources, I still made it work somehow and now I'm a designer! Thankfully now there's a small-but-growing design community at UCSD and it's mostly all student run. It's really inspiring to see and I hope they somehow convince UCSD to add more graphic design based courses to the curriculum because I know I wish I had that.
As you know, we're big fans of you and your work. For our readers who might not be as familiar what can you tell them about what you do?
I'm a multidisciplinary designer, which means I have experience in different areas within the design space. I specialize in art direction, branding, illustration, typography, and other general graphic design stuff like layout, photo manipulation, among other things. What I think I'm most known for, though, are my illustration posts on Instagram. I really enjoy playing with different proportions and integrating colors and textures in my illustrations to bring more excitement to my drawings. People really seem to enjoy them and I really like taking some time out of my day to just sit down and draw so it's a win-win (laughs)! I think what sets me apart from others is definitely my work style.
When I'm given a project, whether it's branding or a poster design, I really like to do my research on the subject beforehand. The more I learn about what and who I'm designing for, the more concepts I have to play with and it makes the whole design process a lot smoother. Not only that but providing a good experience for my client is always a top priority for me. I like to make sure that they're always in the loop, so whenever I share my designs with them, I'll explain exactly what I did and why and back it up with the research I did beforehand. That way, they can know my thought process and we can avoid any miscommunication. As of now, I'm happy to say that all of my clients have been more than happy with my services and I plan on keeping it that way (laughs).
Before we let you go, we've got to ask if you have any advice for those who are just starting out?
I really wish that someone had told me from a younger age that I could pursue graphic design as a career option. Art and design was always pushed as a hobby, or there was the fear of becoming a "starving artist" if you chose it as a profession. But the reality is that it's a great career choice with so many possibilities! Literally, everything around you was designed by someone, from the website you're using to the graphic on your t-shirt, and it's all done by extremely talented designers. So, if you're thinking about approaching design as a profession, take this as a sign to do it!
You really don't need art school to become a designer, you just need access to a design software, YouTube, and a few hours to spare every day. That was honestly how I learned most of what I know today and it was what got me enough experience to get my first design jobs and internships. I've even started making my own design series on YouTube and InstagramTV called TIME TO GET ILLUSTRATED to help designers who maybe can't afford to go to art school or just want to learn for fun. If you're thinking about doing design, I definitely recommend it and you can watch my series for free on my Instagram page or on my YouTube channel to get started!
Contact Info:
Suggest a Story:
 VoyageLA is built on recommendations from the community; it's how we uncover hidden gems, so if you or someone you know deserves recognition please let us know 
here.