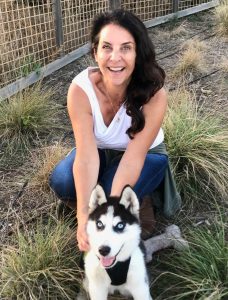 Today we'd like to introduce you to Janine Davis.
So, before we jump into specific questions about the practice, why don't you give our readers a few quick bullet points about you and your story.
I'm on my third career. Here's how things went down.
• Career 1: Fresh out of getting a BS, Math, I got a job as a software engineer with Accenture (at the time, Andersen Consulting). After a few years (including a stint in London!), I ended up going to a large global ad agency (TBWA Chiat/Day) and rose up to the C-level, running all of the technology for North America. After nearly ten years there, I knew it was time to go for two reasons.
1. Jay Chiat, the company founder, was brilliant and ahead of his time in all things, including technology. We attempted doing virtual office eons before it was a thing. We hired two MIT grads to essentially create a technological way to maintain our strong company culture for a remote workforce (we basically wanted them to create Facebook or Slack for us, but 25 years ago). When Jay sold the company to TBWA, the new CEO had a secretary with a typewriter. 'Nuff said. Not the ideal place for an entrepreneurially-minded technologist!
2. I had two babies back to back, and there was no such thing as work/life balance working for an ad agency. 80 hours a week was the baseline. I was pretty sure I was ready to do something with more flexibility so I could see my kids, but I thought I should be sure that it was my career preventing that, not where I worked. So, I left to head up Application Development at DirecTV back in its early days.
Before I joined, I told every one of the 30-ish people I interviewed with (it was a big, critically important position, so they really made me earn that job offer) that I would work really hard, but would need to leave at 5 PM every day to see my babies. My boss was great. My managers and team were great. They would come by my office at 5 to shuttle me out. But I straight up felt too guilty knowing they were all going to be there hours after I left the office. So, on to….
• Career 2: I'd always been a natural matchmaker and had connected several people to several jobs throughout the years, so I thought I'd give tech recruiting a try. I figured worse case if I hated it, I'd find myself a job. Apparently, I didn't hate it since I was in that industry for 20 years! My entire recruiting career was spent supporting LA startups in their growth, with a focus on technology and product roles. I'm an OG LA startup person – I was around in the eToys days! I worked for a great recruiting agency for 13 years and then left to be Co-Founder of my own agency, Fetch Recruiting. (I exited Fetch, but it's still alive and well.)
• Career 2 ½: Well this isn't really a career change, but this experience played a huge part in my career evolution, so I'm gonna include it. About six years back, Darya Allan Attar, the founder of an organization called Broadscircle was putting together a panel on women making it to the C-suite. She needed someone out of tech to round out the speakers. She asked Ben Kuo of Socaltech.com for a recommendation, he gave her my info, and I was able to fill that gap for her. Afterwards, Darya and I got to talking. She told me about another organization she'd just started called ChickLauncher (now renamed Women Founders Network).
She told me the group was all about getting mentoring and capital into the hands of female founders. The only people that held me back in my career were women, which is so sad and so wrong. As a result, I've always been passionate about nurturing other women and leveling the playing field. WFN was a perfect fit for me. Startups and supporting women! I got involved immediately, joined the board and proudly remain on it. Beyond what WFN does for the world, it gave me an incredible gift personally. I got to start mentoring and coaching female founders and realized that was my purpose on earth. So….
• Career 2 ¾: While continuing to run my recruiting agency, I concurrently got certified as an Executive Coach with The Hudson Institute of Coaching, and juggled recruiting and coaching for a couple of years until….
• Career 3: I transitioned fully into Executive Coaching. And here is a little mini story of the magic of connection. About 15 years ago, I went to some random and somewhat bizarre networking event. Weirdness aside, I met a guy there named Matt Stodder (another LA startup veteran), and we have stayed friends since that day. At a routine coffee catch up a few years back, when I told Matt about my new career as an Executive Coach, he asked me if I knew of a company called Evolution. I told him I'd check them out and let him know if I wanted an intro. When I first went to Evolution's site, I was faced with this tag line "Scale Without Losing Your Soul," and knew I had found my tribe. Matt introduced me to its founders, and long story, I'm now very proud to be one of Evolution's Partners.
Great, so let's dig a little deeper into the story – has it been an easy path overall and if not, what were the challenges you've had to overcome?
Everyone has both smooth and bumpy parts to their journeys. Aside from the struggles that come along with doing two complete career reinventions, I'd say I had two major rough patches. About 15 years ago, I went through a very painful divorce, and the subsequent massive juggling act many mothers face of trying to support my kids financially, be at every one of their school events while still over-achieving at work. It's mathematically impossible to operate at 100% both at work and at home.
The next patch hit when I was going through my Hudson Executive Coaching certification program a few years ago, (let me preface this by saying that it's a very rigorous program. It's about 20 hours a week for eight months.) Midway through the program, my dad had a vascular stroke, which caused dementia and a fairly rapid decline and ultimately his passing away. I was the only child that lived locally, so his care and then the trustee duties all fell on me.
This all happened while I was concurrently going through Hudson, running my recruiting agency, and doing executive coaching (basically three full-time jobs). And then one of my dogs got pancreatitis. And then cancer. Twice. (He's fine now!) There was actually more, but you get the drift. On top of the sheer weight of responsibility I was carrying, I'm wired for anxiety and have complex PTSD (which basically means I tend towards a constant state of fight or flight.) It was a two year period of time that wore me down to a pulp.
Suffice to say I would not wish the hell of either of those rough patches on my worst enemy. However, I'm exceedingly grateful for both. As much as I'm wired for anxiety, I'm also wired for self-awareness and development. Often the most painful experiences are the best jet fuel for internal evolution. Out of necessity, I learned the tools to survive and thrive. And those experiences and tools make me an exponentially better coach.
Please tell us about Evolution.
I'm a partner with Evolution, doing 1:1 Exec Coaching, 360s, Offsites, and Leadership Training, Culture Development & Integration and also some hybrid consulting work around Hiring Audits, Retention, Hiring for Potential vs. Perfection and Diversity. There are about 25 of us scattered around North America, but LA is our HQ, and 10 of us are based here.
What's different about Evolution is that we merge deep internal self-development with business and organizational development strategy and best practices. Our mission is to play a part in healing the world, we are just doing it one person and one company at a time, through evolved leadership and culture work. We genuinely believe that the company of the future will have much broader stakeholders and define success far beyond just showing great financial returns.
I also tend to get involved in lots of extra-curricular activities. I've been on several non-profit boards and currently, sit on the board of Women Founders Network and Target Zero. One of the highlights of my career (maybe of my life) was to be a Mentor at the United States of Women, and being on the same speaker page as Michelle Obama! I'm a proud native Angelino, and though I have clients in other cities, I'm #longla all the way.
I'm a Mentor for TechStars LA. Techstars Anywhere and SAM's Precellerator and am extremely entrenched in and supportive of our startup ecosystem. I co-founded Women in the Tech Part of Tech, an invite-only group of women CTOs and CPOs with the intent of increasing our voice and mentoring the next gen of women to move into the exec ranks. I speak around town on some of the topics above, as well as Imposter Syndrome, Hiring for Culture Fit, and Leadership & Culture 101. I've been to prison many times to teach entrepreneurism!
I'm also a super connector, but don't tell anyone.
Do you look back particularly fondly on any memories from childhood?
It's a three-way tie.
1. Seeing Jimi Hendrix at the Hollywood Bowl when I was 3 (I saw him break his guitar on the stage, and then I fell asleep).
2. Meeting my husky fluffball Tassa Bear when she was just 2 months old.
3. Going to the Magic Castle back in the day when you could only get in with a magician (my grandpa was one!)
Contact Info:
Getting in touch: VoyageLA is built on recommendations from the community; it's how we uncover hidden gems, so if you know someone who deserves recognition please let us know here.