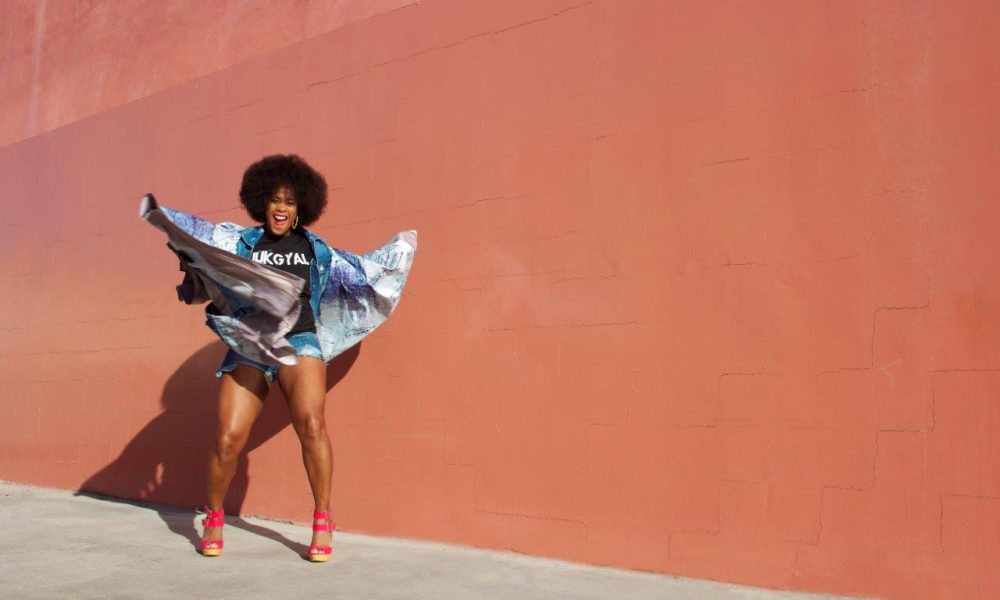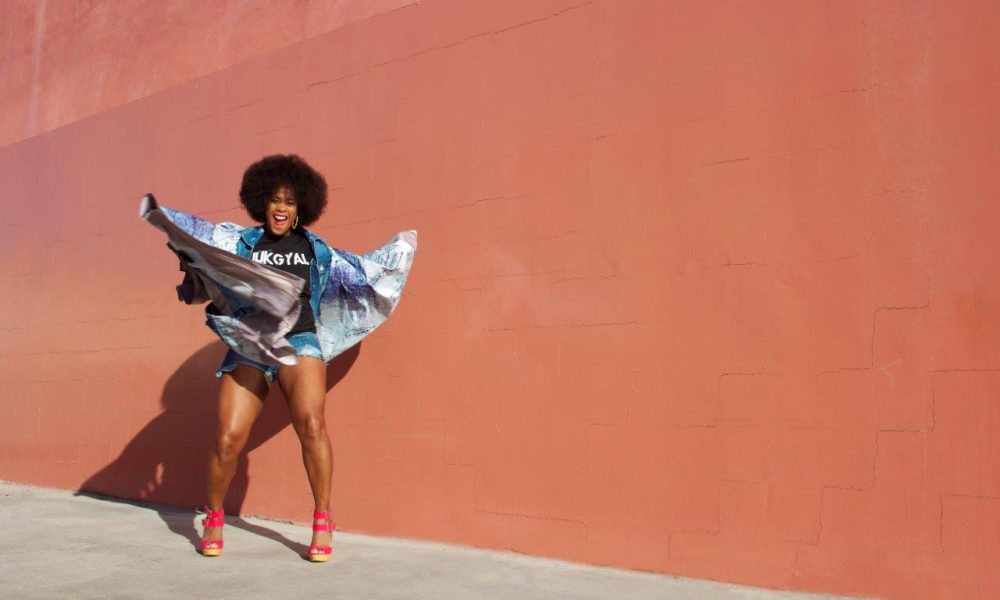 Today we'd like to introduce you to Jae Blaze.
Jae, can you briefly walk us through your story – how you started and how you got to where you are today.
I am an award-winning Choreographer and Artistic Director. I've basically been dancing all my life. No formal training however it's just always been a passion. Grew up in Jane and Finch, Toronto Canada in a Jamaican household. There was where I first started "battling" male dancers in club cyphers. My best friend Fatima and I decided to start a dance crew called "Blaze Entertainment". From there, we put our butts in gear and started hunting down gigs. Producers and directors used to see us go-go dancing in clubs or rehearsing in university hallways and ask us to do music videos. This snowballed into stage performances, commercials, and movies.
One day a new artist came to Toronto to shoot her video directed by Lil X, whom I already had a working relationship with. We worked together breaking a lot of new artists by infusing the Jamaican dance genre Dancehall into a lot of the visuals. From Sean Paul, Shaggy, and Kelis we brought our familiar element to the forefront of pop music that was almost unknown at that time. As it turns out, the artist was Rihanna who I later became her co-choreographer and backup dancer.
I began working in the U.S with some heavy hitters bringing Dancehall to the centre stage. Worked the Grammys, American Music Awards, European Awards, The Super Bowl, Dancing with the Stars, Oprah, XFactor. Worked with artists like Jennifer Hudson, Kelly Rowlands, Jamie Foxx, toured with Black Eye Peas for a few years. I've done commercials with McDonalds, AT&T, Target, Kelloggs. I've worked on movies with Whitney Houston and Jordin Sparks, Cheetah Girls and a Dancehall movie called King of the Dancehall starring Nick Cannon.
My greatest achievement thorough dance is being the first to bring Dancehall to an international stage. My Dancehall piece was performed on So You Think You Can Dance-the first in North America. It was also featured on CNN for its achievement. I'm also a recipient of the MTV award for Best Choreography for Kanye West's video "Fade".
Currently, I am working as an Artistic and Creative Director for various artists. Working in the music industry has become second to the full-time work I have to put in to getting this JukGyal venture off and running. I was teaching at various studios in LA however due to Covid everything has been forced to go online. So that's where I am…
Overall, has it been relatively smooth? If not, what were some of the struggles along the way?
A smooth road…ha!! I wish! My mom would say, "when you make mistakes, you pay with your time or your money" and I have realized that tenfold!!
First struggle is the emotional torment of having to put the career you have had for over 20 years on pause to go and really fight for your new dream. I miss seeing my creations come to life on someone else's budget. Lol. I miss touring and being in a new city every week. But I also hate being boxed in creatively when you have to submit to a different vision and truthfully, I missed my bed! So I'm torn sometimes.
Starting my own business, I became a true to life skit "Hey Mon" from the hit comedy show "In Living Color". I became the Accountant, Human Resources, Book keeper, Fashion Designer, Distribution, Audio Engineer, Website Designer, Social Media Division, Photographer, Videographer and lastly Instructor. I'm not kidding and I'm sure I left out a few other jobs. There's just not enough time in the day. I didn't realize so much went into starting a business. Mind you, I love it. I love that I'm my own boss and I can still be creative on my own terms. I'm learning something new everyday however I wish I knew beforehand so I wouldn't have made so many mistakes. But it's better that I know this way I won't repeat those mistakes again. I know my business from the inside out!!
Now with Covid the struggle is to move the classes online. How do I give the same in person experience to a client who is watching through a screen especially my style of class. I like to physically manipulate the client's body. Show them exactly what body part to focus on. I demonstrate how to breathe, distribute body weight and really become aware of the movement in the client's body. How do you translate that on camera? That has been my daily task. I've found a few things that work but I love the one on one interaction and exchange of knowledge when we are face to face. My clients have said the in person and body manipulation really makes a difference because they can make that mental connection.
Alright – so let's talk business. Tell us about JukGyal – what should we know?
My company is JukGyal. It's an all-female Dancehall class that incorporates fitness equipment into the movement. Working with women like Rihanna, Kelly Rowlands, Nicole Sherzinger and Fergie gave me the insight that women want to feel sexy, be healthy, strong and look confident when dancing. Sometimes that needs to be broken down to the core in order to achieve all these fabulous things. So I started a basic class that broke down female movement to the bare skeleton. Women would leave my class and exclaim "Woah that was a workout". Then I thought ok let's make this workout official and add some fitness equipment… JukGyal was born.
I've taken what I have learned working in the industry with artists who may not be "natural" movers. I have implemented those lessons in my class. The techniques I have used to teach artists to sing/rap and dance are what I bring to JukGyal. Women learn how to groove, dance, breathe and isolate body parts. I use resistance bands of a way to awaken the mind to that body part. Getting stronger in the arms, legs and contracting the core means the movement will look authentic to the genre and confident on the body.
What I am most proud of is I have taken JukGyal out of the studios and out into the world. I have taught JukGyal in several cities in the U.S. Internationally, I have taught in Canada, Italy, UK, Cuba and Jamaica to name a few. I have connected with so many women across the globe and the feeling is incredible. I have trained an Italian affiliate the JukGyal program and she is teaching overseas. I can see the growth. I can see JukGyal being as big as I envision it to be. Hey, I'm being interviewed by Voyage LA..who would've thought!! See…Growth!! I'm loving it!!!
What sets JukGyal apart from others is there really isn't anything like this out there that has merged the fitness and dance world. JukGyal has two different levels. One is the basics. Teaching you how to move your body from the beginning. All the dos and don'ts that will help the client become aware of her body. Simple and plain, you're learning how to dance from the beginning. Level 2 is once you know what your body is doing we add fitness equipment. I incorporate a HIIT circuit so you are getting a calorie crushing total body workout while you dance. So for women who love to dance but hate to work out, it's the perfect class option.
In addition, JukGyal organizes a girl's dance trip to Jamaica every November. We support Jamaican female Choreographers by taking classes and giving them care packages that will help promote their classes. The women usually teach dance in the front of their homes or on the street so our care package includes phone gimbals to record and wireless music boxes to play music. The women in turn can use the footage and promote their classes to tourists. Unfortunately, it's common Male choreographers from Jamaica get more opportunities to tour the world and teach abroad. This leaves the women on the island waiting for the tourists meanwhile their created moves are used in popular music videos globally. Therefore we try to support them as much as we can by bringing awareness to this problem.
While in Jamaica, we immerse our women in totality of the Jamaican culture. We go to museums, eat at local restaurants, visit beautiful exotic locations and take amazing dance classes. It's an amazing experience however due to Covid we had to cancel for November 2020. We are hoping to resume our annual trip November 2021. Anyone can come. All you have to do is meet us there. Last year we had women from US, Canada, Italy, Netherlands, and Mexico. It's a dope trip!
This past year I have launched a JukGyal Activewear division. I want my women to look badass while dancing and working out. So we have an array of clothing from sports bras, tees, bodysuit to tracksuits that truly represents the brand, is fun to wear and looks amazing on. JukGyal also specializes in waist beads. We use the waist beads as a commitment to clean eating, working out and pursuit of a healthy lifestyle. Once the beads are tied onto your waistline, it's a mission to watch them drop down the waistline.
Any shoutouts? Who else deserves credit in this story – who has played a meaningful role?
Biggest cheerleader, mentee, teammate and official JukGyal Instructor is Benedetta Patuzzo lovingly known as SpydaB. She has been a major asset to me. When she is not behind the camera, she's editing. She helps me organize my day and what's forthcoming. She has been my right hand through it all and is an amazing assistant. If I don't know where my head is, she will find it, set it on my shoulders and adjust accordingly. And I'm not kidding. So I'm very thankful to have her on my team!
And of course my JukGyal Massive. The women on social media who promote my class to the masses by sharing, tagging and reposting my content. They are out there speaking to their friends and family, constantly inviting new women to join. They have literally kept JukGyal afloat during this pandemic and I'm eternally grateful.
Pricing:
Online Classes $10
In Person Socially Distanced Beach Classes $15
Regular In Person Classes $20
Private Classes $50+
Contact Info:
Image Credit:
Benedetta Patuzzo, Twin Toronto
Suggest a story: VoyageLA is built on recommendations from the community; it's how we uncover hidden gems, so if you or someone you know deserves recognition please let us know here.