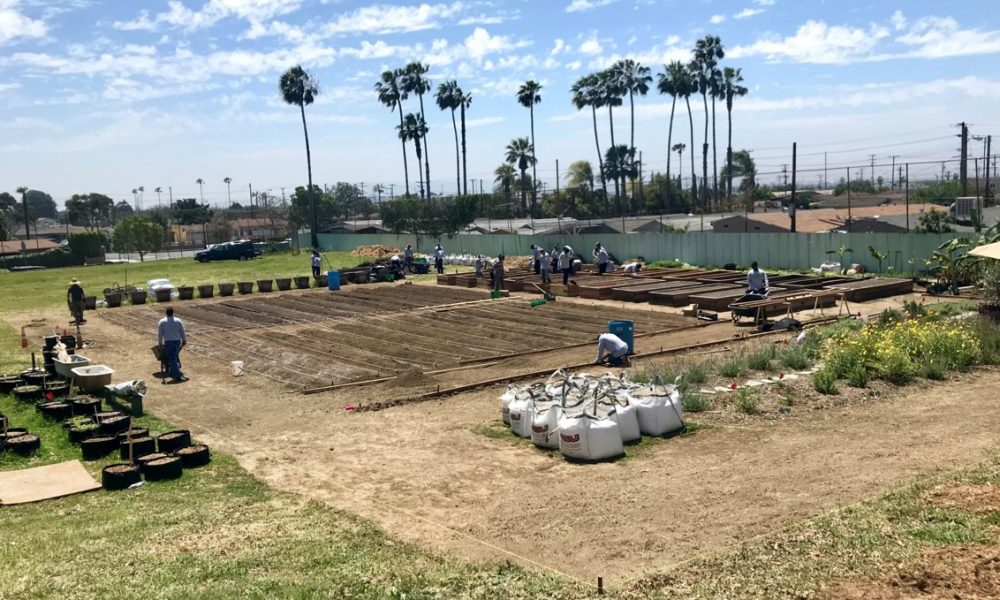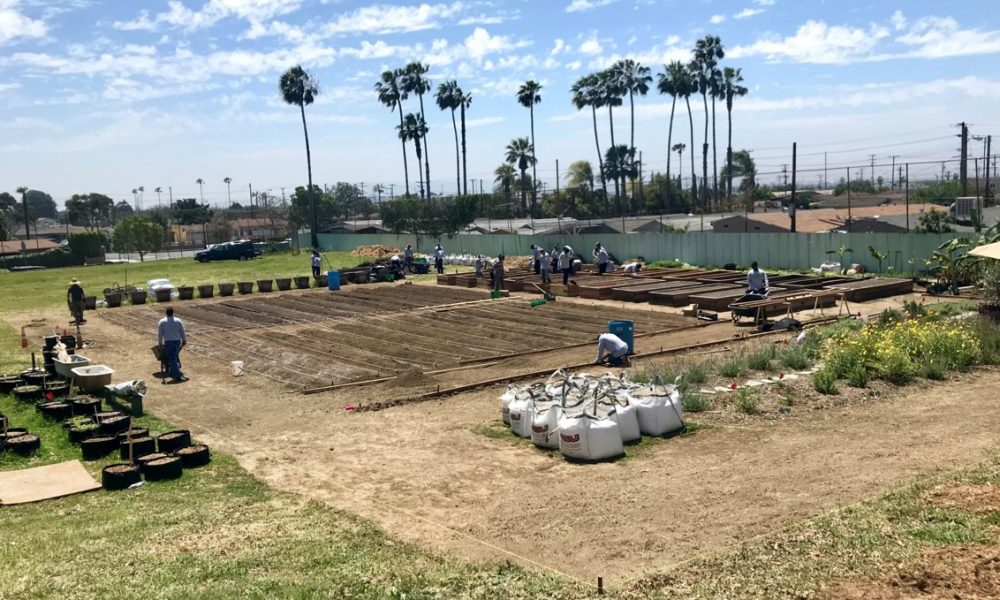 Today we'd like to introduce you to Erika L. Cuellar.
In 2013, Erika L. Cuellar and Richard D. Garcia co-founded Alma Backyard Farms (ALMA). As Los Angeles natives, we understand on a personal level the challenges that the most vulnerable in our beloved city face — food insecurity, a lack of green space, and the plight of formerly incarcerated people re-entering society. Our prior work at Dolores Mission Church, Homeboy Industries, and Jesuit Restorative Justice Initiative afforded us an opportunity to work with disadvantaged people – at-risk youth, juvenile offenders, prisoners – and listen to their desire for a chance to give back and lead productive lives. More specifically, ALMA serves at-risk children, youth and formerly incarcerated people through educational programs rooted in urban agriculture with an emphasis on environmental stewardship.
ALMA creates dynamic opportunities through urban farming for community empowerment. The mission of ALMA is to re-claim lives of the formerly incarcerated, re-purpose urban land into productive urban farm plots, and re-imagine disenfranchised communities as a place of empowerment. ALMA brings about much needed alleviation to low-income communities, children and individuals who are struggling with difficulties brought on by food insecurity, lack of green space, and a broken criminal justice system. In South Los Angeles County, ALMA creates opportunities to serve historically disadvantaged groups through its three core programs: 1) Edible Teaching Garden & Culinary Arts for children & youth ages 3-17, 2) Urban Agriculture Training for those re-entering ages 18-60, and 3) Social Enterprise. ALMA's approach to education, with an emphasis on environmental stewardship, generates opportunities to transform desolate spaces and lives into stronger, safer and healthier communities.
Rooted in the principles of restorative justice and grounded in environmental stewardship, ALMA's approach brings new life to communities, land, and people that are all too accustomed to traumatic events. ALMA has become the intersection where at-risk children and youth meet new opportunities for environmental education, food security, and where formerly incarcerated people receive support as they re-enter. Through urban agriculture, ALMA creates a space to address the underlying needs of at-risk communities. ALMA's urban farm sites create a sustainable food system that makes LA healthier, safer and stronger.
Overall, has it been relatively smooth? If not, what were some of the struggles along the way?
As a 501(c) 3 non-profit, a major challenge is the inconsistent nature of funding. While we've had the generous support of several foundations and individual donors, we are always looking for long term partners in the battle towards food justice and restorative justice.
ALMA faces the intense influx of released prisoners in California. Currently, we are only able to admit 60 trainees annually in our Urban Agriculture Training Program, and while we would love to further our reach to more people, this influx has more demands beyond our current capacity.
Land tenure is another challenge. We have managed to negotiate leases for 3-5 yrs at little to no cost with land-owner partners. While we feel stable in our current spaces, Alma hopes to own land where there would be less risk of loss.
While developing more land into an urban farm helps advance ALMA's mission, this farm expansion entails new challenges. ALMA is in the process of scaling its farm operations from 0.25 acre to 1.5 acres. These challenges include having to identify what ALMA's adequate staffing needs look like. The opportunity to farm more land includes the possibility of transforming more lives through education and job training. There are possibilities for new job positions to be identified so as to reduce the possibility of overburdening ALMA's current staff.
While the new 0.75 acres are under development in Compton, 0.25 acres are simultaneously in development in San Pedro. ALMA's reach now extends beyond Compton, and with this outreach comes added possibilities and responsibilities. At this point, ALMA's organizational growth is pivotal and requires that ALMA's leadership plan for a long­term goal of playing a supervisory role. ALMA faces the challenge of investing more time to train its staff to uphold the integrity of our fundamental mission to: re-claim lives, re-purpose land, and re-imagine community.
Please tell us about Alma Backyard Farms.
ALMA operates all of its programs at its urban farms in East Los Angeles, West Compton and now San Pedro. Combined, these sites provide over 1 ½ acres of urban farmland.
ALMA's impact is marked by the quantity of children, formerly incarcerated people and community members that our quality programs reach. Our youth program impacted 500 at-risk children and youth (ages 3-13). Among the youth served in 2018, 60% are Black/African American, 40% are Latino and 95% qualify for the free/reduced-price federal lunch program. These youth come from low-income and food-insecure households. 95% of kids self-report that if they are a part of the growing process – from seed to harvest – they are more likely to make fruits and vegetables a part of their daily habits. As one parent put it, "My daughter and I spend time together in the kitchen preparing dinner with recipes and ingredients from ALMA."
Our Urban Ag Training Program impacted 60 formerly incarcerated people in 2018, an increase from last year's 30. All of our participants have gained job- and life- skills to build up their personal foundation of restoration and healing that is a pivotal part for successful re-entry into society. Among the formerly incarcerated beneficiaries of ALMA's service were: 52% Latino, 35% Black/African American, 10% White, and 3% Asian. ALMA serves formerly incarcerated people ages 18 to 60. 97% of our participants have continued their progress through either further employment or continued education.
In 2018, our Social Enterprise grew 8,000 pounds of organic food on 20,000 square feet (approx.1/2 acre). Through our Farmstand, 4,800 community members have access to the organic produce at affordable prices. 80% of the ALMA-grown food was sold, and 20% was shared with partner-agencies that convert the produce into healthy meals for low-income persons, seniors and the homeless.
In 2018, ALMA launched it's Community Compost Initiative and diverted 9 tons of waste. We partnered with local community members, the nearby school, coffee shops, breweries and artisanal shops to gather compostable materials. ALMA's work truly affects the entire food system and impacts every corner of the city.
ALMA restores lives through a supportive community grounded in urban agriculture. There are overtones between urban agriculture and re-entry. As Armando, a recent program graduate, put it, "I've been learning a lot about my own life and what's going on in my heart through the spiritual overtones that we get from farming. One thing that I learned was how to transplant. Plants go through a shock when you move them from one environment to another. We come from prison and go through a cultural shock.
Plants need a lot of support to survive. And like the plants, we're also getting a lot of help from ALMA to re-enter."
If you had to go back in time and start over, would you have done anything differently?
Nothing. Food injustice and criminal justice are both pressing issues in California that you cannot wait on. There will never be a right time to start tackling injustice. It is always a good time to start. Everything you learn on the way shapes your work.
Contact Info:
Image Credit:
All photos taken by alma backyard farms
Suggest a story: VoyageLA is built on recommendations from the community; it's how we uncover hidden gems, so if you or someone you know deserves recognition please let us know here.