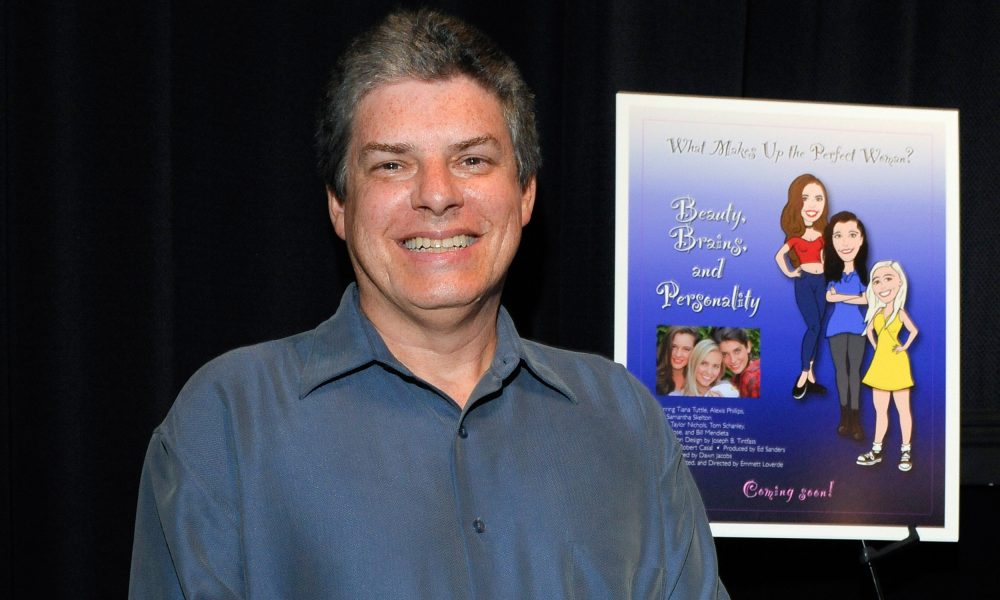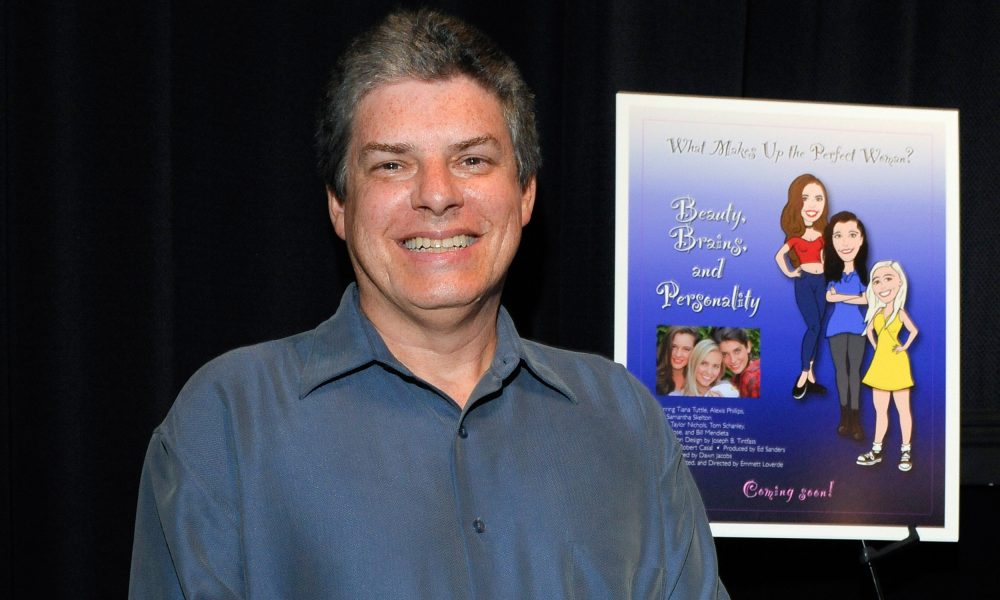 Today we'd like to introduce you to Emmett Loverde.
Emmett, can you briefly walk us through your story – how you started and how you got to where you are today.
I am a filmmaker. I am currently at work on a documentary about Los Angeles musician David Shepherd Grossman, I'm co-writing a horror movie with Larry Maraviglia, and I'm setting up another project based on a TV series that I created with my brother Paul Loverde called "Free Advice."
I have known David Grossman since we were teenagers and I've used his music in many of my films. I've known Larry Maraviglia for much of my life and we've written a number of film projects together. And of course, I've known my brother just about my entire life and have been trading ideas with him since I learned to speak. So that's where I think I'm going.
Where I am today: My most recent film "Beauty, Brains, and Personality" premiered last February at Hollywood's TCL Chinese Theatre and is currently making its film festival run. I have a number of features and short films available on Amazon Prime Video and I have several plays, short stories, and a children's picture book currently in publication.
Where I started: I am a native of Chicago and I grew up in Berkeley and Albany, California and received a degree in Theater from UCLA. I have been living and working in Los Angeles for most of my life (though I did put in nearly two years in New York).
As a child, I loved to draw and paint. I picked up a still camera when I was about twelve years old and a video camera soon after that. I then wrote, produced, directed, and shot whenever and wherever I could. While making movies was too expensive, I wrote stage plays. When filmmaking became (sort of) affordable, I jumped right in.
My first projects were very low-tech but lots of fun. One was called "Snacking," about a super-low budget film festival (based on some of my own experiences) and another was called "Cranky Call," about an obscene phone call gone happily wrong. "Snacking" starred Larry Maraviglia, Tom Schanley, and J. Keith Van Straaten, among other folks. The theme for "Cranky Call" was written and performed by David Shepherd Grossman. I also made my first feature-length film around that time, an experimental family comedy called "Santa's Letters" that featured adults playing children because I didn't think I could afford to work with children at that time. The stars of "Santa's Letters" included Bill Mendieta, Jonathan Arkin, Ferrell Marshall, and Tom Schanley and much of the music in the film was written and performed by David Shepherd Grossman.
I needed a break from the scale and pressure of feature filmmaking so I made a number of short films and also worked on numerous film projects for others, as writer, editor, or cinematographer. I made the comedy short "A Timely Maneuver" with Bill Mendieta and Amanda Noret, who was appearing regularly on TV's "Veronica Mars" as the evil Madison Sinclair. I also co-wrote a historical miniseries called "C.C. Julian" and a feature comedy "Love at Second Bite" for actor George Hamilton.
Each project I did led me to other projects. I moved from "Timely" to the bigger (in scale, budget, and resolution) "She's Out of His Mind." That was a romantic comedy starring the late Joe Greco, First Lady of the State of California Jennifer Siebel Newsom, Kate Orsini, Raegan Payne, and (again) Tom Schanley, (again) Bill Mendieta, and (again) Amanda Noret, among others. David Grossman's music was prominently featured in the film.
Between my own projects I would also occasionally direct plays for other writers and even act. I also worked on fiction short films, documentary shorts, music videos, TV series, etc. And continued to draw, paint, and take pictures.
Everything led to "Beauty, Brains, and Personality" and I'm hoping that "BB&P" will lead me to many more bigger and better projects. I feel like I'm just getting started.
We're always bombarded by how great it is to pursue your passion, etc – but we've spoken with enough people to know that it's not always easy. Overall, would you say things have been easy for you?
"Beauty, Brains, and Personality" featured several teenagers and one preteen in important roles. If you've worked in the performing arts, you have probably heard the warning "Never work with children or animals." This thinking stems from the idea that children and animals can be temperamental and unpredictable. So I was nervous about the possibility of unexpected shooting delays or worse.
The project was not the first time I'd worked with young people in front of the camera or on stage, but it was the biggest film I had made that featured them in prominent roles. And I loved the experience. We had no delays, the actors all knew their lines and performed really well, and we "made our day" (shot everything that we needed to shoot).
I have been working with kids in many capacities for years: I was a Big Brother (and my Little Brother, Vernon Griffin, was one of the camera people for "BB&P" and also appeared onscreen in the movie), I volunteered for a number of years for the youth group at my church and also for the Virginia Avenue Project in Santa Monica, a fabulous organization that teamed adult theater professionals (actors, directors, writers, etc.) with at-risk kids to put on stage plays (VAP unfortunately was forced to fold in 2017), I was a teacher with the Los Angeles Unified School District, et cetera. I have always felt that I'd be a very good "children's director" the way that John Hughes was (think "Uncle Buck" or "Home Alone").
"BB&P" was not a movie about kids, but they did play a very important part in the story. We spent as much time casting the kids as we did choosing the adult leads, even though the kids' roles in terms of page count were much smaller than those of the leads. I believed that the story of the women in this film began many years earlier and that a true friendship could weather the storms and last a lifetime.
We'd love to hear more about your work and what you are currently focused on. What else should we know?
I have a new feature film coming out soon called "Beauty, Brains, and Personality." The film is about a dinner party between three female friends where one says to the others, "Together we make up the perfect woman — you're the brains, you're the personality, and I'M the beauty!" The others are devastated. Six months later, the three are facing defining moments in their lives. One is struggling to be more than just "the beauty" — and failing miserably. Another faces life beyond graduate school and possibly in front of a camera. And the third dives into a new life as she prepares to have a baby all by herself. Ultimately the three realize that though they may be just fine on their own, they are stronger, braver, and happier together.
"BB&P" came about because I was friends with three wonderful women, whom I knew were very close to each other. One day two of them told me that they'd had a falling-out with the third one, a very painful episode in which she'd said to them, "Isn't this wonderful? Together we make up the perfect woman! You're the brains, you're the personality, and I'm the beauty!"
They were devastated by this incident and I didn't understand. "Why didn't you tell her she was being ridiculous?" I asked. They responded that one simply could not say a thing like that because it's too mean. But wasn't she being mean to you? I wanted to understand the situation so I asked their permission to write a stage play about it, which they gave me.
The stage versions of "Beauty, Brains, and Personality" actually contain no male characters. And I knew that a male (me) writing dialogue for women was a little risky, so I went to great pains to ground the script in truth. Every line that the characters say I have either heard a woman say (to me or to someone else in my presence), has been written by a woman or has been told to me by a woman in the form of a story or anecdote.
The play premiered in Los Angeles a few years ago. That production was actually directed by one of the actors in "BB&P," Bill Mendieta.
I have always wanted to turn "BB&P" into a film. About two years ago, I was planning to make a horror film but was having trouble deciding on a script. A colleague asked, "What movie do you really want to make, deep down?" And "BB&P" was it.
Has luck played a meaningful role in your life and business?
I don't believe in destiny or fate or whatever one calls it. I believe that we are given choices and it is up to us to make the most of them. I do believe that luck exists, however. I think I've been lucky in countless ways. I've been lucky enough to have been given the choice to make "BB&P" in a city full of talented actors and craftspeople.
For a filmmaker, it's very hard to know whether one is working on the next blockbuster like "Star Wars" or the next "Valerian and the City of a Thousand Planets" (a movie that I happen to admire but which flopped at the box office). My method has always been to treat any project that I'm working on with the sort of respect that "Star Wars" fans demand (though I leave room for experimentation and improvisation).
This is an exciting moment for us, the team behind "Beauty, Brains, and Personality," because we believe the film is very special but we have no way of knowing whether or not it will be successful. We don't know if we will get lucky on this one. We were very lucky as far as the casting of the movie because we found tremendous actors who were very excited about it. We luckily had beautiful locations. And I think the film is arriving on the world stage at a lucky time when a story like this could interest many people, especially women.
So our fingers are crossed.
Contact Info:
Image Credit:
All images are copyright © Emmett Loverde. "Clawdette the Cat" An image from the book Written and Illustrated by Emmett Loverde; "Santa's Letters" (L-R) Rena Heinrich, Jonathan Arkin, Mary Laina, Emmett Loverde, Bill Mendieta, Sally Ann Smith, and Tom Schanley; "Tag Team Talk" (L-R) Sam "Sammytown" McBride, Emmett Loverde, and Paul Loverde; "The Truth About Me" (L-R) Bryant Sands and Ellie Gerber; "Jesus Awakens the Little Girl" (L-R) Samantha Elizabeth Johnson and Paul Rogan; "She's Out of His Mind" (L-R) Amanda Noret and Jennifer Siebel Newsom; "Good Business Sense" (L-R) Janna Bossier and Paul Rogan; "Beauty, Brains, and Personality" (L-R) Tiana Tuttle, Samantha Skelton, and Alexis Phillips.)
Suggest a story: VoyageLA is built on recommendations from the community; it's how we uncover hidden gems, so if you or someone you know deserves recognition please let us know here.