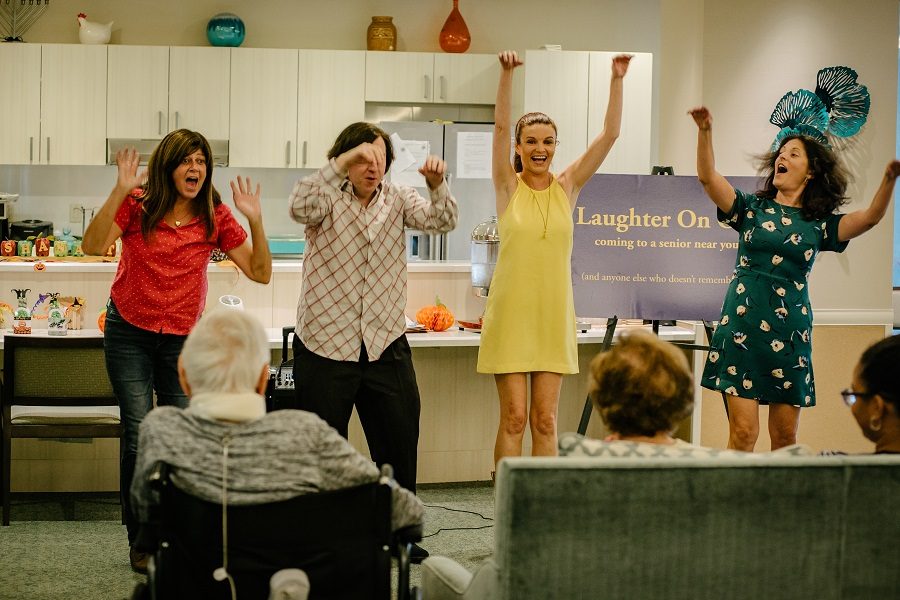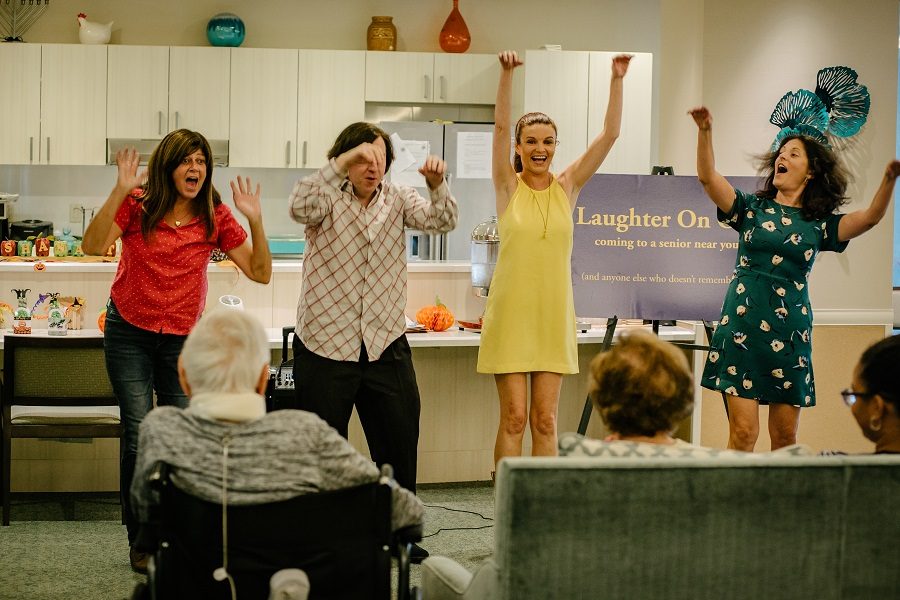 Today we'd like to introduce you to Dani Klein Modisett.
Dani, can you briefly walk us through your story – how you started and how you got to where you are today.
I've been an actor/comedian/teacher for the past 25 years – probably since birth- but only professionally for that long. I did television – the requisite "Law & Order"'s, a few Broadway shows, some sitcoms. In 1997, after my father died I moved from New York City where I was born to Los Angeles. I was waitressing, and people told me I was too funny to be a waitress – at least the people who fired me. My boyfriend at the time offered me a class at UCLA as a gift. They had one in stand-up comedy, so I enrolled.
The teacher, Shelley Bonus, former wife of Richard Pryor – pulled me aside, "a lot of people take this class, but you could actually do this – if you want to." I very much wanted to. I spent the next ten years touring and doing festivals, including the fancy one back in the day held in Aspen. By this point, I had met my husband, and I was not young. We married, and I told him it wasn't like I was dying to have a child, but I was afraid if I died without having one I might regret it.
Two weeks later we were pregnant– and by "we," I mean me. I was having some headache/brain trouble at the time, so I found out laying on a gurney parked in the ER at Cedar Sinai hospital. Turns out all the brain problems were from my hormones going crazy. I used to say getting pregnant was such a shock to my system it almost blew my head off. I didn't know anyone with a baby at the time and felt very isolated, so I decided I wanted to hear stories about how parents got through the experience.
Funny stories, because I always hear things better when I am laughing first. I created a show called, "Afterbirth..stories you won't read in a parenting magazine." Ironically Parents Magazine sponsored my book launch party. That show ran for ten years in Los Angeles and major cities around the country. Then an edited anthology of the stories came out as a book for St. Martin's Press. It featured all LA writers and was a big hit, "with the stroller set," as the NY Post called my audience. Then I had a second child, and the older one started reading so I had to stop writing about him.  
Plus now, I wanted to hear stories about long-term marriage and how to keep laughing together. So I researched and then wrote a book about couples who laugh together with some legitimate how-to using comedian's tools in off-stage. I neglected to mention that the class I took at UCLA I went back and taught ten years later. For this book, called "Take My Spouse, Please," I took the syllabus from that class and applied a lot of the content of it to marriage. Tools like: show up, pay attention to timing, listen, let go of a bad night, etc.
While on a 15 city tour with this book, my mother was diagnosed with Alzheimer's disease. I routed the tour through NYC and hired people to take care of her; she promptly fired them. Manhattan was a terrible place for a person who couldn't walk and was mentally compromised to keep living so I moved her here to LA into a wonderful place called Silverado Beverly Place. They have a whole – let-the-crazy-flag-wave approach to the illness that I love. That's not actually their philosophy, what they really believe in is replacing fear with love. And as little drugging as possible.
A few months in my mother figured out she wasn't really living in a fancy hotel and she became depressed. I was feeling terribly guilty and had gone to my dentist and started weeping before she started drilling. "I wish I could hire a comedian to cheer my mother up," I said through a mouth stuffed with cotton. "Why don't you?" she responded, with the same tone she uses when I tell her I don't floss twice a day. I went home and put a post up on Facebook, "Looking for comedian interested in gerontology to spend time with my mother. Paid gig."
The phone rang 3 minutes later – my dear friend Amy Stiller, also a comic, "I have a friend in LA who I just hung up with who wants to work with old people, call her." I did. She came to meet my mother. She didn't make nice about the whole situation; she was honest, direct and funny. She made my mother laugh out loud. She has been working with my mother 10 hours a week for over a year now.
A few weeks after this comic started, another family saw the results, that my mother was happy and singing and eating again and they wanted this for their mother. Laughter On Call was born. Then I started pitching the idea all over town, and one of the executive directors at Belmont Village said, "Yeah, I get it, but I want you to come in and train my people." I love teaching, so that sounded great to me. Now I visit senior residences around the country teaching three workshops that help people in the world of Alzheimer's find ways to laugh more, for staff, for leadership, and for families.
All present basic tools for people to use so they can show up and not be overwhelmed with sadness or frustration – but to actually engage with their loved one. Because this is one of the biggest challenges with this illness, people don't know what to do or say and so they just don't visit. I give people concrete things to do! And then if you really don't feel you can handle it – I have a comedian who absolutely will!
Overall, has it been relatively smooth? If not, what were some of the struggles along the way?
I will say I have been extremely lucky. I pitched an article to AARP about Laughter On Call and after some back and forth they bought it and published it. There really isn't a better calling card for the senior business than an endorsement from AARP. I had hundreds of responses from around the country which I was able to take to investors and say look, there is a very big demand for this and I believe I can set it up around the country.
The challenge is that I do not have a business degree, this is all a very big learning curve for me. Also, California is very strict on small businesses. No matter how few hours people work for you, if they are "executing the business of the business," in my case making people laugh, they are not independent contractors. That's a big investment in staff. And insurance. The other challenge is changing the whole culture around older people. Creating excitement and enthusiasm in the general population to engage with seniors. To me they are all like living history books, but not everyone feels this way.
Laughter On Call is not a non-profit, it's a business. I'm not sending out volunteers, I'm sending out professionally funny people. Part of my company mission is to pay these people – to make sure we all get how valuable laughter is. Fortunately, Time Magazine came out with a dedicated issue this summer called "The Science of Laughter" that proves every point I've ever made about anything. Well not the stuff about a diet of caffeine and granola being all anyone needs, but at least as it relates to shared laughter.
Last challenging point, the people who work for me are artists, they don't like to be told what to do or how to do it, and yet there is some training for this specific group, so communicating how much I value each of them but also that there are certain boundaries that have to be adhered to certainly keeps me sharp.
Laughter On Call – what should we know? What do you guys do best? What sets you apart from the competition?
We pair comedians with seniors and train healthcare workers and families how to laugh more against very tough odds. There is no other company out there with this specific model. There are people who do improvisation, which is great and actually an element of what we do, but no one is taking comedians, who understand perseverance and the meaning of a "tough audience," and calling upon their exact skill set to reach people who many don't have the courage to engage with.
I am most proud of the fact that I recognized this kismet and that it works. I have seen it with my mother and other clients, and in the comedy shows, we now do for residences as well. These people are still in there, and my comics will use whatever trial and error of words and voices and physicality to reach them.
There is a four-page intake questionnaire that the families fill out giving all kinds of background on the person. What they loved, cultural touchstones but equally important is what they didn't like. The goal is to bring the person to life, to stimulate them, to engage. Sometimes the best way to do that is to talk about a vacation that went wrong, or a relative they couldn't stand.
I am also proud of recognizing this and seeing it in action. Obviously, it takes finesse, you don't want to get the person upset, so we keep it light. And when in doubt, we are not afraid to be silly!
What is "success" or "successful" for you?
This is tough. If I wanted to be generous with myself, it's already a success, right? There are people who no one talked to, who sat facing a wall, who are more involved in their community now. Because the effects of the comedian extend beyond the actual sessions. But for me, it will be a success when I pay back my investors, and the company is making a profit. Pretty sure that's what they teach at Harvard Business School. Beyond that, success will mean having an impact on the culture around Alzheimer's. The disease is not going away. We all have to learn how to show up for it, we are not going to be able to warehouse away a third of the population because it makes us uncomfortable to be around. As I have done with every struggle in my life, I am committed to finding ways of helping people face the truth with humor. Let's take the shame, guilt and isolation out of facing this disease create a little shared laughter. It is possible.
I have seen the future here, and it works.
Contact Info:
Website: www.laughteroncall.com
Phone: 2138406798
Email: danikinla@gmail.com
Instagram: Laughteroncall
Facebook: laughteroncall
Twitter: laughteroncall

Image Credit:
Diego Madrigal, Olivia Saperstein
Getting in touch: VoyageLA is built on recommendations from the community; it's how we uncover hidden gems, so if you know someone who deserves recognition please let us know here.