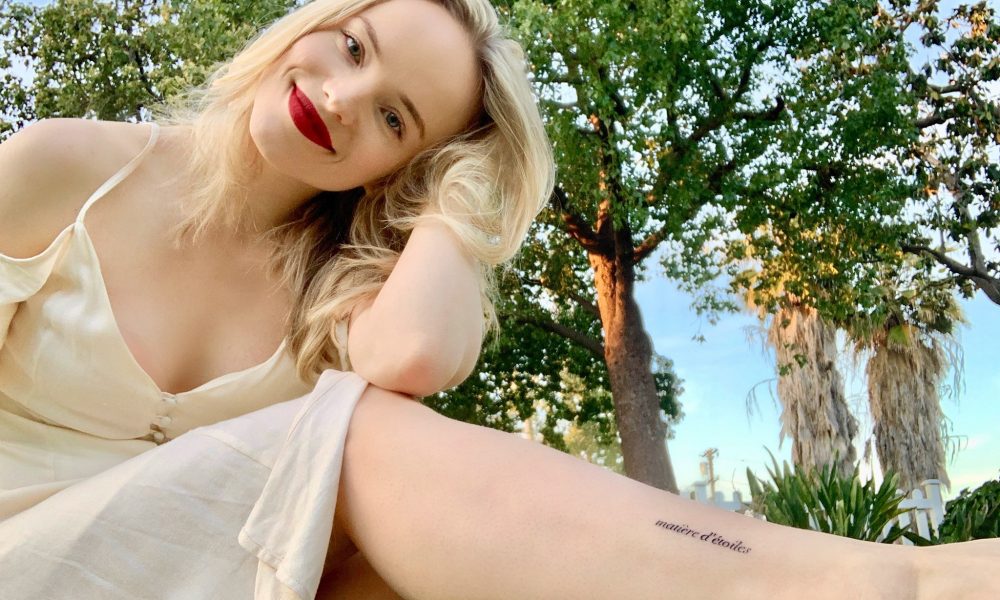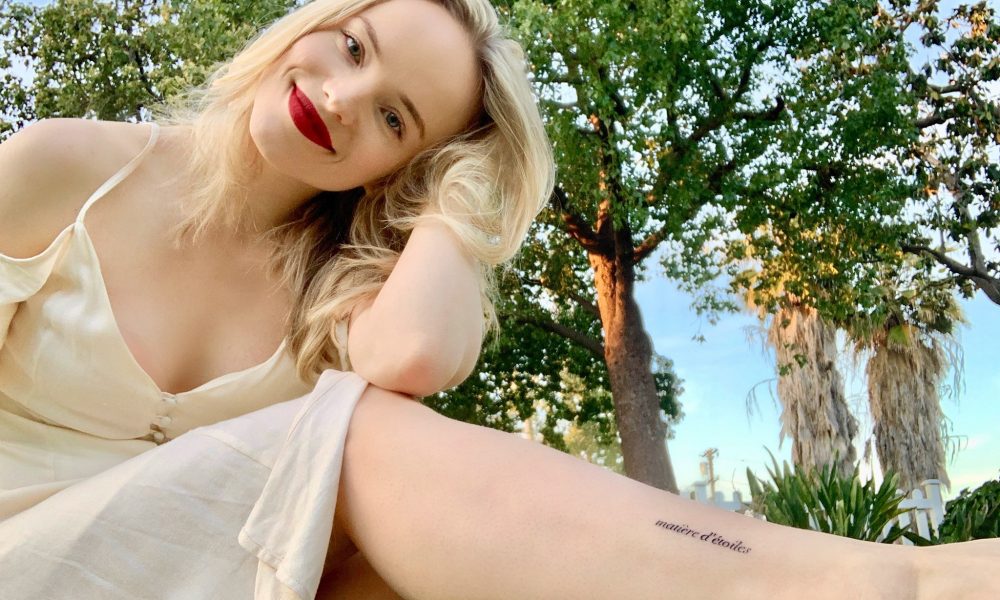 Today we'd like to introduce you to Claire Hosterman.
Claire, let's start with your story. We'd love to hear how you got started and how the journey has been so far.
I never imagined I'd become one of LA's top vocal coaches, pioneering a new way of singing. I grew up on Bainbridge Island (near Seattle) with my Mom, Dad and little sister. When I was very small, I loved performing–ESPECIALLY the Broadway musical Jesus Christ Superstar. At five-years-old, I belted out dramatic ballads while at the grocery store, and my Mom would sometimes smile uncomfortably and explain to onlookers that I was not, in fact, being abused as I bellowed in the aisles, "See my eyes, I can hardly see! See my skin, I'm a mess of blood!" However, this love for performing dwindled as my confidence dramatically fell in elementary school to the end of middle school. I felt awkward and didn't like myself. I also had an incredible, beautiful little sister–Emmy-Award-Winning Actress and singer, Dove Cameron–who constantly performed in public wherever we were, and I felt shy and unnoticed in the corner. The more she shone, the more I dimmed my own light.
It wasn't until my Freshman year of high school that I embraced my love of performing again. After being cast in my first play, I auditioned for and got into, none-other, than Jesus Christ Superstar in the spring at my high school! At this same time, a singing teacher visiting from Seattle, Mark Power, was looking for a space to teach his lessons as he commuted to the island. My parents volunteered to let him come teach his lessons for free in our house, using our grand piano. I was both nervous and thrilled to have a singing teacher in OUR OWN HOUSE, where I could snoop in on lessons with other students as I made ham sandwiches in the kitchen around the corner. As the weeks went on, I listened from the kitchen, pretending to do homework. However, one day Mark had a cancellation and called, "Hey, Claire! Let's hear you sing!" I felt the air had been sucked out from under me and I wanted to HIDE. I shyly sidled in, nervously sung some scales and the rest is history. We worked together for seven years, my voice blooming, as well as my confidence. I had so much success in both acting and singing that I moved to New York and Paris to study acting, musical theatre and opera. Mark didn't tell me until years later that I had had many pitch issues at the beginning of my lessons–which he hadn't told me before–and that my Mom had been slightly worried about my struggles to hit notes. I am SO glad they never told me this, as it wouldn't have allowed me to make such dramatic strides in the short years I worked with him! Mark's positive but honest approach is partly how I approach my own teaching today. Because of where I started, I truly believe that anyone can learn to sing (at least decently!).
My life took many twists and turns in my twenties. I studied acting and musical theatre in New York; my Dad died; I lived in small villages in Bali, Indonesia for a year, learning the local language; I studied opera in Paris and became fluent in French; and I finished college at The Claremont Colleges in California. Having graduated college five years later than most people when I was 27, I felt deeply insecure about what I would do with my degree–anthropology. This may have seemed like a random degree, but–as an actor, performer, artist and person who grew up traveling to India and other countries as a child–I have always loved the study of other cultures. But, I had no idea what to do post-graduation! I had already studied indigenous tribes for a summer in the Brazilian Amazon and knew that a career as an anthropologist was not in my cards. And then my Mom said, "Why don't you teach singing? I mean, you've studied it for over 12 years." I faced my own insecurities around teaching and began giving free lessons to students on the Claremont Colleges campus, to test my own abilities as a teacher.
I had only taught about five students–all of whom had given enthusiastic reviews–and after graduation, I moved into a tiny back house in Burbank, down the street from Warner Brothers and Nickelodeon. I took a leap of faith and asked my sister, Dove, to make an Instagram announcement to her (at the time) 20 million followers. She did, and I think I got about three or four weekly students for the first month or two in my tiny house, with my electric piano. Each month, word spread and I would get another few students. Because my sister is connected in the industry, I was able to meet top influencers in Hollywood who would send me clients to see what I could do with their voices, and–after their clients left lessons raving about their transformed singing–my success skyrocketed. Through the next four and a half years, word continued to spread and now I am referred by top Hollywood Agents, such as A3 Artists Agency (formerly Abrams), to train their clients; I work with Broadway performers and Hollywood actors on numerous TV shows; I am paid for large events and master classes; and I teach beginner to advanced singers all over the world, in-person and via Skype. I am very grateful!!
Overall, has it been relatively smooth? If not, what were some of the struggles along the way?
Ahhh, well. I had major confidence issues when I first began teaching. I'd say that it's taken me until now to begin to feel confident in my own skin while teaching and to own my own authority. I had many people at first–especially parents of young kids–question my knowledge and authority on singing because I look so young. But, as my success spreads and as I continue to work with more of Hollywood, I am becoming seen as a top singing coach in the industry and as a true master of my craft. I also remind myself that I have studied twice as long as it takes to go to university and become a doctor, which is pretty amazing!
We'd love to hear more about your work and what you are currently focused on. What else should we know?
I coach singers of all levels to bring their voices to the next level. I am known in the industry for using a rare combination of the top exercises I have learned from teachers around the world who train world-class singers in every genre, while being a pioneer in my own right, using brand new approaches that have transformed the way I –and many of my students–view singing. I also teach middle voice, which is still unfortunately rare for singing teachers to use (most teachers still only teach chest and head voice). True middle voice allows you to sing using your face, helping you to bounce the sound off of the tiny caves and bones of your face, instead of using your throat to sing. Most people sing using their throat and they haven't been trained to aim the sound into these hollow caverns in the face, which allows you to sing 100x louder, much higher and with power, resonance, ease and emotion. If you want to sing like Ariana Grande, you MUST learn middle voice! Sadly, many students who believe they have been "taught" middle voice still injure their voices and get nodes (which has happened to Adele and Megan Trainor and Demi Lovato), as they are often taught basic and common-place exercises that the teacher doesn't even fully understand, or they are asked to use nasality while pushing unnaturally from their throat or stomach. I teach middle voice the way I believe it's meant to be taught, which can be viewed in many of my Instagram video tutorials.
What has brought my coaching to the next level and further individuated me is bringing the spiritual and emotional healing aspect to voice. On the side, I also am a life coach, working with female executives around the world to help them get the results they want in every area of their life. I help reprogram their thoughts and beliefs so that they can make more money, have better relationships, feel connection with God/the Universe, become healthy in every way, etc. In lessons, I always tell my singing students, "The way you do one thing is the way you do everything," so the mental and spiritual aspect of singing is just as crucial as the technique part. Our minds/emotions/beliefs are all tied to singing. Everything is connected. I guess you can say I'm a holistic singing coach. I have always been very sensitive to energy and emotions, and so I work with singers to transform their singing by removing blocks that cannot be simply "fixed" with sophisticated exercises.
Although I have studied around the world with some of the best teachers, simple "techniques" can only get you so far. A lot of my approach is intuitive, and the singer leaves the lesson feeling more whole, both in voice and spirit–and it is this integrity of body and mind that I believe IS mastery of singing. The other day I worked with a girl via Skype who had always been "tone deaf" and never able to hit notes correctly. Within 30 minutes, she was able to sing notes PERFECTLY. Why is this? She has a twin brother who has always been the favorite–the "good child"–and she always had felt like the black sheep in the family, and, as a result, held herself back in everything she did. It became her identity. After a powerful session, she had an immediate shift in her body and suddenly could hit notes with confidence and ease, and she was like a different person. It was amazing. A lot of women I work with also hold deep shame in their bellies and pelvic areas, and in quick and effective exercises we release the shame and clear space for the sound to come in, allowing for a huge, resonant sound.
I want to make it clear: I don't hold regular 30-minute life coaching sessions for my students. This only happens once in a while, if I feel the student is ready or capable. Most of the time, I am gently peppering in an intuitive and therapeutic way of teaching while simultaneously teaching the vocal exercises. Most of the time the student doesn't even know I am helping to reprogram their beliefs around singing/themselves, but they suddenly have a huge breakthrough and say, "I've never experienced an approach like this before!" It's quite fun and I am most proud of this: being able to impact people on a deep level, both with singing and their lives.
What is "success" or "successful" for you?
Whether you are on your right path. Connected to your heart and divine purpose. True to yourself. Simple as that.
Pricing:
Individual lessons via Skype or in-person: $125/hour
Package of 4 lessons in one month: $480 *packages must be used within 31 days.
Package of 8 lessons in one month: $880 *packages must be used within 31 days.
Contact Info:
Suggest a story: VoyageLA is built on recommendations from the community; it's how we uncover hidden gems, so if you or someone you know deserves recognition please let us know here.