Today we'd like to introduce you to Brian Peterson.
So, before we jump into specific questions about the business, why don't you give us some details about you and your story.
Faces of Santa Ana started quite oppositely than one might think. It began two and a half years ago. I just moved to Santa Ana, and found myself in my downtown apartment, night after night, reading a book called Love Does. The book is about unconditional love and what it means to sacrifice one's life for others. As I laid on my couch one evening, slowly reading and absorbing the text, I hear the screams from a man experiencing homelessness coming from outside my window. I've heard these screams in the past, and previously referred to him as "The Screaming Homeless Man". But this day was different. This time, love intersected his screams and my heart was filled with compassion. I needed to know him, find out his name, and respect him as my neighbor.
A few days later, I was on the way home, from work on my bicycle, and I felt the nudge to look for this man. I rode around the busy streets near my house looking for him and finally found him sitting on a corner with an empty cup two blocks from my home. After laying my bike down, I sat on the floor next to him, introduced myself, and asked him his name. "My name is Matthew", he timidly explained. On this day Matthew was calm and quiet. I bought him a subway sandwich and we sat together while he explained his dreams to me. Matt moved to LA from Kentucky with dreams of being a musician. He stepped out in faith, drove cross country, with no plans or agenda, but only with his burning desire to play music. For the last twelve years, he's lived on the streets of Santa Ana, slowly watching his dreams fade away.
Matt spoke, and I watched him from a place of love and compassion. I began to see the beauty in him that surpasses all the dire circumstances visible to the masses.
Within my heart bubbled a question that changed my life. "Hey Matt, can I paint your portrait?" I think the questioned shocked me more than it shocked Matt because I left my passion for painting somewhere in freshman year of college when I chose to pursue a career in automotive design. Surprisingly, Matt said yes, I took a few pictures, and raced home to explain the good news to my wife. I had no plans to do anything with Matt's portrait other than to hang it in my own home.
What I didn't know, is that Matt's painting would change the entire direction of my life. A couple days later, I brought Matt's finished portrait out to the same corner where I first heard him screaming, and had him sign the piece right above my signature. I assured Matt that his story and journey was just as important as my paint and brush strokes. We are both artists collaborating on this piece. Later, I posted the painting on Facebook and many were asking if it was for sale. In this moment, the "light bulb" went off. I realized that I can use the artistic gift I have been blessed with, to bless others. There was purpose and destiny hidden in my childlike passion for painting. A new flame of love arose in my heart, and Faces of Santa Ana was born. The movement was birthed out of noticing the "one". There was never a plan or strategy to reach the masses with a nonprofit, but instead Faces of Santa Ana has grown with a heart connected to eyes that see the "one" right in front of us.
Great, so let's dig a little deeper into the story – has it been an easy path overall and if not, what were the challenges you've had to overcome?
I have experienced many challenges as Faces of Santa Ana began to grow. Mainly, the challenges centered around relationships with my friends experiencing homelessness. As with any relationship, we face many ups and downs walking alongside our newfound friends.
However, within the last year, I feel like my thought process has been rearranged in terms of the way I view challenges. Above all else, I now see challenges solely as an opportunity to display true unconditional love. Hidden in each challenge, is an upgrade into growing in how to love with a pure heart. I have been yelled at, cursed, approached with hostility, unappreciated, etc., and with every trial I have been groomed inside my own heart to see my clients for who they are made to be.
It's so important to me that my friends experiencing homelessness see a love within me that is real. They come from backgrounds of abuse, neglect, abandonment, and imprisonment, and may have never seen true love up until this point. I hope to approach every challenge and obstacle we face together; with a grace they've never witnessed before. In some cases, their lives depend on it.
Faces of Santa Ana – what should we know? What do you guys do best? What sets you apart from the competition?
Faces of Santa Ana is a Non-Profit Organization that uses fine art to dignify, instill hope, and financially support our neighbors experiencing homelessness in Santa Ana. We first establish a relationship with our clients, then ask them to paint their portraits. We use color to shine a new light on the darkness that usually surrounds their current living situation. As an artist, painting their portraits is a way to connect with them in a deeper way. We also have stumbled upon a unique ability to build trust within our displaced population through this process. Faces of Santa Ana then focuses on selling the artwork and 2/3 of the proceeds go into a "Love Account" for the client.
We ask the client how they would like to use the money in their love account, and focus on furthering our relationship as we steward the money in the form of gifts, hotel stays, trips, food, clothing, etc. The client is always made aware of the funds left in their account after each transaction.
Faces of Santa Ana has become known for helping others see their neighbors with new eyes. Many are afraid of the homeless, and choose to ignore our neighbors as a result. As we share their stories alongside their portraits, spectators are beginning to connect and find similarities between themselves and their neighbors experiencing homelessness.
We are most proud of the way the art has organically connected people. A recent testimony highlighted the fact that a daughter was reconnected to her birthmother whom she has never met through finding out about Faces of Santa Ana. Her reconnection to her mother, was not overshadowed by the label of homelessness, but instead she saw her mother through the eyes of an artist focused on dignifying using color palette and brush stroke. We believe there's something supernatural in art and creating. We enjoy watching how these paintings organically weave hearts together.
What moment in your career do you look back most fondly on?
My proudest moment has been seeing Matthew's dreams come true. Matthew was the first painting, and his "yes" to my question to paint him has started this whole movement. After the sale of Matt's portrait, we began to use the money to book studio recording sessions for him to fulfill his dreams of recording an album.
Recently, Matt finished recording his album called Polar Scale, and his twelve-year journey of homelessness has culminated in the production of the album he originally came out to California to record. Today, there's a new life in Matt, and a new hope and faith for his future. His dream became our dream, and together we walked daily towards seeing it become a reality.
Matt's album is currently available for purchase, visit www.facesofsantaana.com to purchase a copy.
Pricing:
Paintings(30″x40″) are priced at $2500
$1500 goes towards the "Love Account" for the client
The remaining $1000 supports the faces of Santa Ana Non Profit
Contact Info: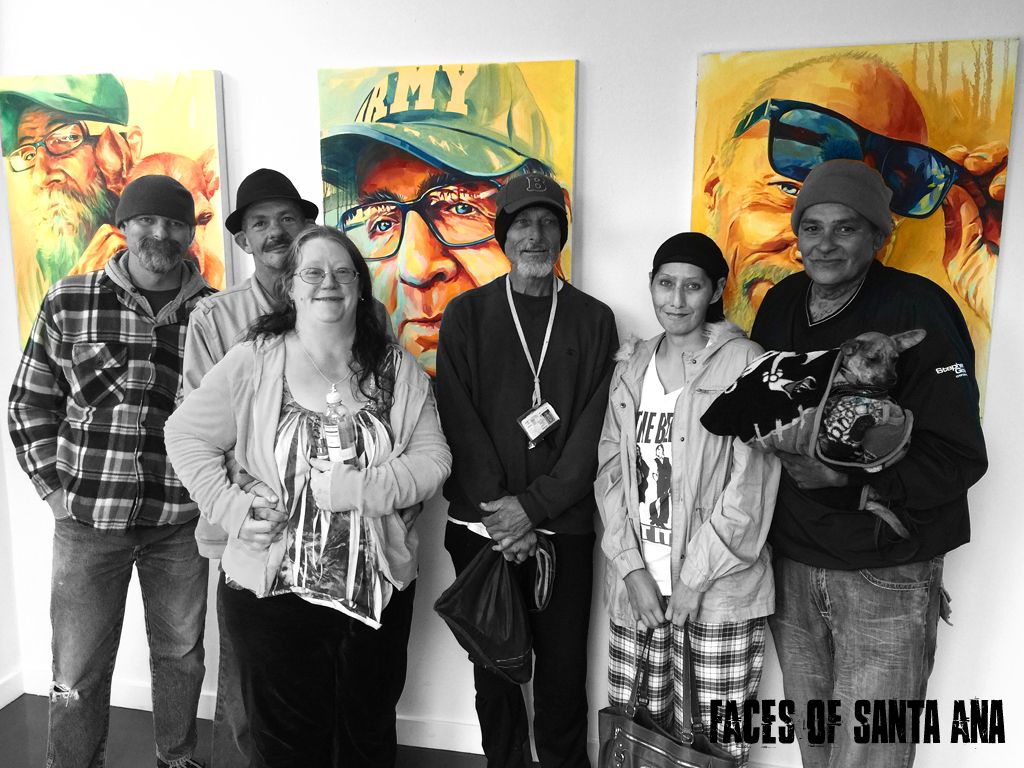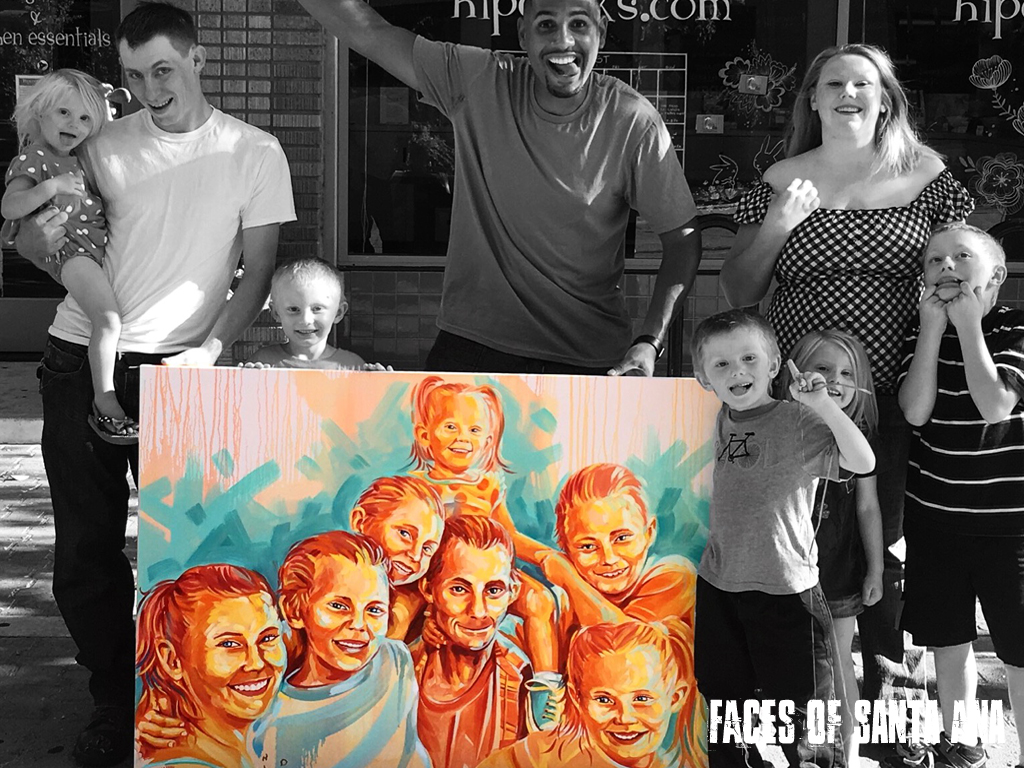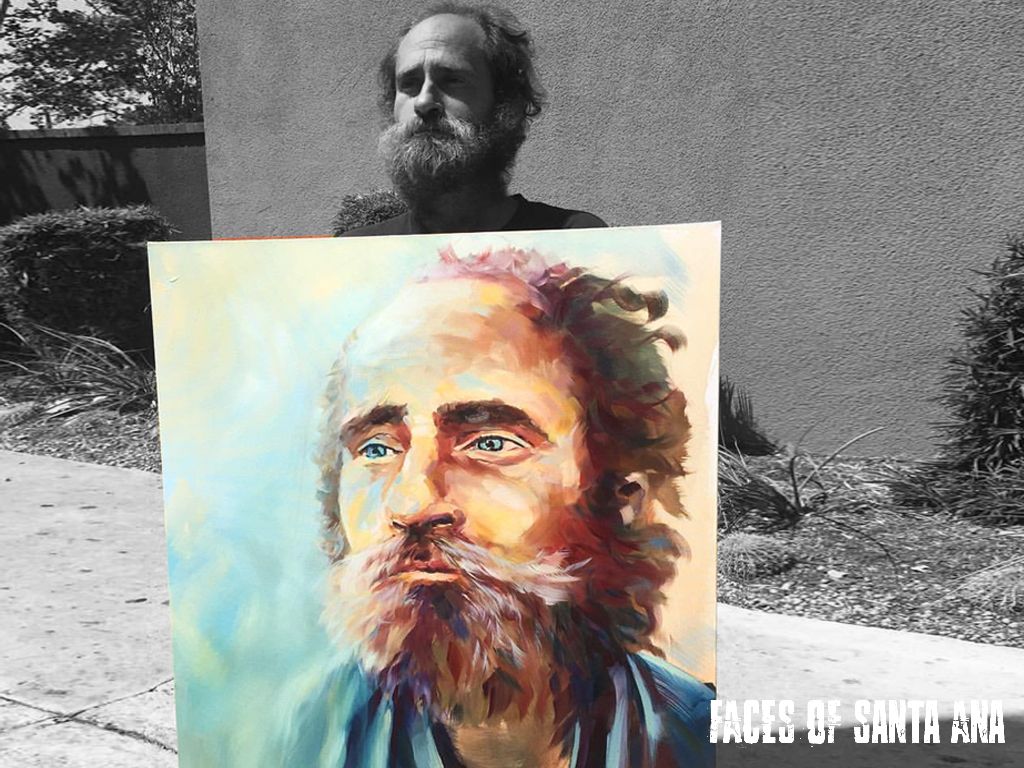 Image Credit:
Faces of Santa Ana
Getting in touch: VoyageLA is built on recommendations from the community; it's how we uncover hidden gems, so if you know someone who deserves recognition please let us know here.