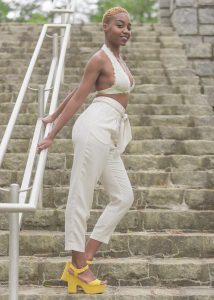 Today we'd like to introduce you to Ariana Iverson.
Ariana, please share your story with us. How did you get to where you are today?
I was born in 29 Palms, CA; I grew up a military kid so of course that means I did a lot of moving around and not being settled. Music, books, writing honestly anything that required being creative allowed me to escape the consistent changing of my environment.
Back then, I thought I would be an actress on Degrassi (I laugh at that thought now). I absolutely loved the show because it was young people that looked like me and my friends going through the same issues we were going through. I grew up in choir and music classes, but I never took it seriously; but in 8th grade I was living in Columbia, SC and I met these guys that were so talented it blew my mind. They recorded, produced and engineered their own mixtape, it was the first time I had ever seen kids my age create something that looked like you could only do on TV. From there, I knew I had to create a platform (I just didn't know how). But of course, life happens and so many things occurred from 8th grade to me graduating high school that music and entertainment just got pushed to the back burner. I fell into the trap of doing something "realistic" with my life.
SOOOO I ended up in college at Bethune-Cookman University in Daytona Beach where I got my Bachelor's in Psychology and then I got my Master's in Counseling. While I was in my counseling program, I just knew something didn't feel right, like I couldn't imagine being a counselor for the rest of my life. Not to say that it's not a good career choice, it's just not a good one for me! I felt like there was another purpose I'm supposed to fulfill. And I kept thinking about music and entertainment as a whole. I made the decision that I wanted to be a music manager and a consultant, but I had no ties or idea how to even get started. So, I finished my program and then started my 2nd master in Entertainment Business at Full Sail University. I was doing the online program, so I had a chance to move back to California and that's when I connected with Charlie Cruise (Cruisemixedit) and the 5 Star Music Group movement. A lot of shit happened in a short period of time and ultimately, I ended moving to Atlanta. The move to Atlanta was probably one of the greatest choices I've made because I was able to reconnect with some old high school classmates during the 2016 A3C weekend and from there, we just started to work! I started my company The Hippy Counselor Entertainment Group and we put out our first EP "Cloudy with a Chance of Riches" with Young Solace from Tampa, FL.
Besides working with the music my personal goal has always been to do something in film and tv production. I started doing background work for various shows and then eventually moved my way into doing costumes for production. I just love being on set! Most people don't understand the hours and small details that really make tv/movie magic. I am also a writer/poet my first poetry book is out now "Poems to a King. Can I get you High" and it is available on Amazon. The goal is to turn my poems into short films. My 2nd poetry book will be out this year and it will also include a Spoken Word album which I'm extremely excited about putting together.
We're always bombarded by how great it is to pursue your passion, etc – but we've spoken with enough people to know that it's not always easy. Overall, would you say things have been easy for you?
It definitely has not been a smooth ride AT ALL! Coming from my background in psychology and counseling my family thought I was out of my mind for wanting to chase this dream of working in entertainment and music. Honestly, there have been plenty of times I've questioned myself. I tried for the longest to juggle both aspects of my life but if you know anything about getting into this industry you have to be ALL IN. Society tells us it's hard to break through the industry and that there is no money in the arts. But I believe the main component to breaking through is having a clear understanding of what success looks like for you.
At first, it was hard sometimes being a female and working in the male-dominated industry. Any time I would be in the studio or at an event, I would always get asked if I was an artist, model or people would assume I was someone's girlfriend. But as soon as I would say I'm the manager and business owner ears would perk up and people would be more interested or mindful around me. I also had to deal with feeling that imposter syndrome, like I didn't really know what I was doing or how I could even make something like this work. Not to mention the struggles of everyday life throwing all kinds of random ass curveballs to keep me on my toes. There has been plenty of times I've considered just going back to doing something "normal", but I don't even know what normal means. I had to learn it's all about paying your dues!
As I have gotten older, I know that working in music will always be a part of my life, I just love the creative process of being in the studio. But also creating a lane for myself is necessary. My interest in acting turned into wanting to be a writer and storyteller for shows while also producing and directing content that help transform lives. I had to realize that although things haven't been unicorns and sunshine, I have had an opportunity to get a glimpse into how the next 20-30 years of my life will be in regard to how I create and collaborate with other creators as long as a I stick to the goals I set for myself.
We'd love to hear more about your work and what you are currently focused on. What else should we know?
I wear many hats I'm manager, consultant, A&R, creative writer, life coach and more. I started to expand my services into helping other music companies start their business while also focusing on individual artists that need life coaching services. I realized that a lot of creators (people who use their creativity to make a living) battle with so many issues from personal to career so I wanted to find a way that I could help. I got my Certification in Therapeutic art life coaching in order to do that. I like to help create balance in life through yoga, business development, creative endeavors and being a personal accountability partner.
Although THC is no longer active, I still freelance with artists and music companies. I just recently reconnected with Charlie Cruise on his company The Wyneberg Group and I will be managing artist and the business and whatever else may get thrown at me. I'm pretty excited about it because it has brought me back to sunny LA again and I have a chance to work with some really amazing people.
What I'm most proud of is that everyone I have worked with has been super talented and has taught me really invaluable lessons which help me on my journey. We really help each other in some kind of way and even if we are no longer working together, we still have projects and really dope shit we've done.
What were you like growing up?
Growing up, I was pretty quiet I spent a lot of time watching movies, listening to music, writing poetry and short stories. But I remember always being told I was "bossy" which makes sense now because I have to run a business. But of course, as a military kid you really don't get a chance to really explore your creativity because you're always moving and trying to get settled. I enjoyed dancing and step team, which helped get me out of my shell a little while in high school.
As a young kid, I was always a hustler! I remember my cousin used to draw pictures and I would color them, and we would go door to door selling the pictures. I think I was probably in 3rd or 4th grade. We even had a candy hustle. I remember having money stashed away in my bunk bed. Back then, I would tell myself that I didn't want to work a 9-5 job (just seeing how my parents operated) I just wanted to live my life and get paid for it. But of course, I really didn't have an understanding of what that meant. Now the vision is much clearer.
Contact Info:
Email: iversonariana@gmail.com
Instagram: _arianaiverson
Image Credit:
First Photo – Shot by DMicheal
Suggest a story: VoyageLA is built on recommendations from the community; it's how we uncover hidden gems, so if you or someone you know deserves recognition please let us know here.