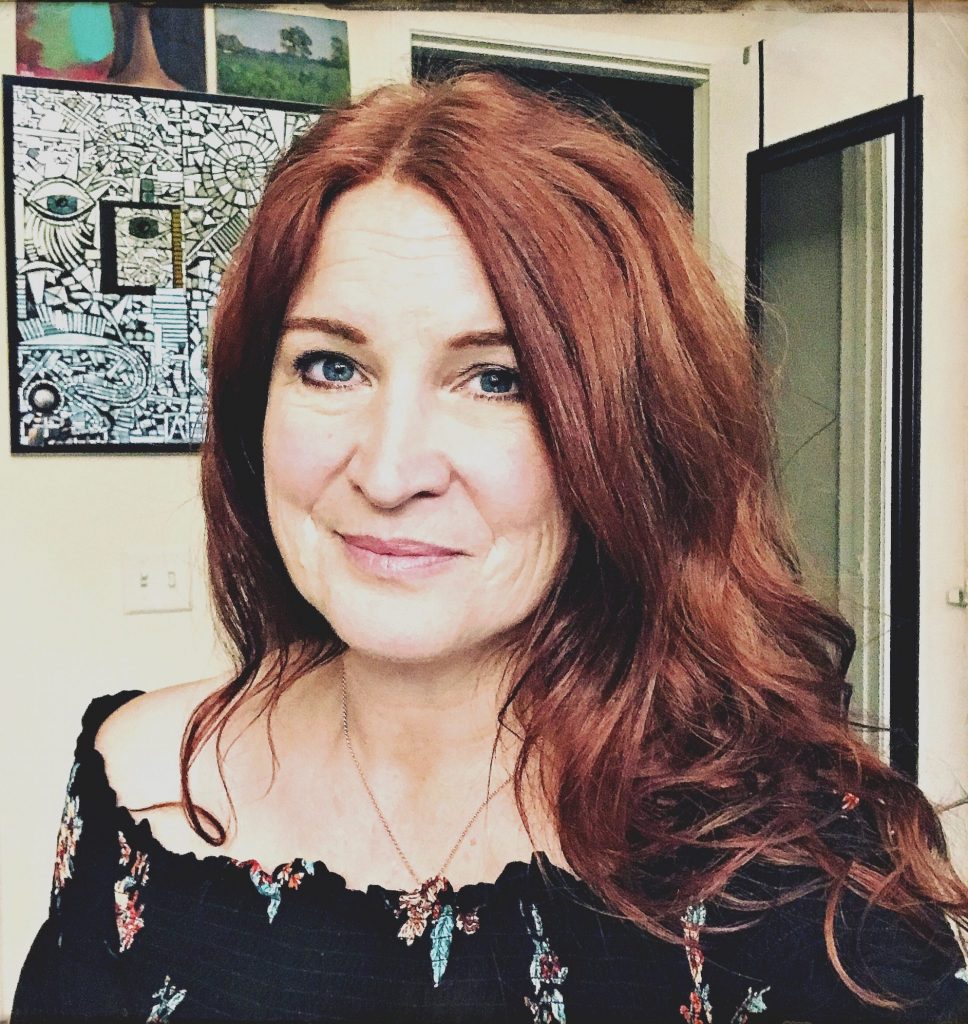 Today we'd like to introduce you to Anne Marie Price.
Thanks for sharing your story with us Anne Marie. So, let's start at the beginning and we can move on from there.
My very first mosaic I ever made was when I was 16 yrs old in a High School art class. Our teacher told us we could do any medium of art for our next project and for reasons I understand more now but not really then…I decided to make a portrait of Sacajawea on an old window using stained glass.
I made one piece and then went on with my life before returning to that initial spark later on in life while I was a stay at home mom to my two daughters. I still remember the moment in 2003 when I decided this was it…this was what I wanted to do. I wanted to figure out how to create mosaic art and I wanted to see if I could do this every day. I joined a mosaic chat group online, bought a book and began experimenting at home and just really never stopped. But in this chapter of my life I was just learning, creating when I could and busy being a single mom for the next how many years. Mosaic art was a stolen moments thing I did after needing to return to work outside the home working long hours in local factories and in between being a mom. It wasn't until I made a life-changing decision to move to CA in 2011 and the difficulties that ensued with this huge change that forced me to reevaluate my direction in life. So I started really actively looking for opportunities to learn more..create more and setting goals.
In 2014 I was awarded the Society of American Mosaic Artist's Robin Brett Scholarship. I was not only shocked I was chosen..but it was huge for me personally as an artist. It was a bunch of someone's saying…"yes..we believe in you…now go do more." So I did. I was able to take classes for the first time and learn different mosaic techniques which was huge for building my confidence. But what I learned in class paled in comparison to what I learned from just being around other artists. Something I had never had the opportunity to do before. I was able to see other artists studios. See how they worked. How they made decisions with their work. And just simply be around people genuinely excited about the same things that I was excited about. I suddenly found myself around like-minded souls. I found my tribe. It was life-changing and crucial for me as an artist. See now I knew…I wasn't alone and if they could do it and figure out a life doing it..I could too. It was a green light moment and I was ready to really start thinking seriously about my goals. After taking those classes I also realized I had been ready for a while…I just lacked the self-confidence to take the next steps of carving out my path. Shortly after, I taught my first class and really never looked back after that.
After living in a couple of different places in Southern CA I made a move to Huntington Beach. This too was a crucial part of my journey. I suddenly found myself in a community that was very receptive and welcoming to artists. All kinds of artists. As an artist who creates mosaic art there are many moments when people in the art world like to put you and your work in a neat little craft box. It can sometimes be difficult to get past the misconception that what you do belongs in a craft show..not an exhibition full of contemporary or fine art. In Huntington Beach I found a place and art community that didn't think twice about what style of art I was creating…it was just art to them and embraced. One of my initial goals was to find a community that first got what I was doing and second allowed opportunities to build from. I found that and more in this community. I also found a place where I could teach on a regular basis through the Huntington Beach Art Center. Again I was embraced and I was able to bring what I had learned so far to the table and share my passion for mosaic art with my community. I also found a home base gallery to exhibit my work with the art center as well in other local city exhibitions.
Has it been a smooth road?
When I made the choice to pursue being an artist I knew it would be difficult. I knew I would have to completely change my lifestyle and do with less. I knew there would be feast and famine moments and I knew I needed to stay the course even when it felt frustrating. I watched my friends who were artists and how they navigated their lives and the many hats they would wear to accomplish the ultimate goal of creating and so I began "trying on hats" and finding opportunities for myself. It hasn't always been easy and there is a lot of sacrificing but I can honestly say every bit of it has been worth it to live a life authentic to who I am.
Another obstacle I had to overcome was how to get my work seen. When I first began as an artist, I was in a small town in WI near where I grew up. I was an introvert and not part of any art communities and not that I had the time to go to any events anyway as a mom but it was really just me and my art and one big free online gallery at my home. I decided if I wasn't going to be able to get my art out there into local galleries during that chapter of my life…I would use what I had available to me. The Internet. I had a worldwide gallery at my fingertips and this was how I was going to get my work out there. So that's what I did and what I continue to do to get what I do out there.
From my very humble beginnings and as I've grown as an artist, I've been able to figure out a path for me. I've experimented with different opportunities and in the process learned what works for me and what does not. It is all valuable information. Each triumph and each fail teaches me a little more about where I want to go with my art and as an artist. I don't know if that ever stops..if I ever stop learning but I do know where I started from and how far I have come.
Please tell us more about your art.
I mostly work with stained glass in my mosaic art because it has always intrigued me. Beginning for me as a child looking up at big old stained glass windows in churches. I remember just looking at every detail, every color and the transparency and textures for what felt like hours and that same feeling I had about it then has just always been there. So I guess I'm known to work a lot with stained glass using different techniques and bouncing around subjects whether it be abstract and contemporary, nature inspired or portraits. I have always been very inspired by my environment so my work has reflected where I am at physically as well mentally in a moment. I also love working with other materials like ceramics and different types of substrates and the challenge of what I can create with them has always been a driving force behind what I do.
I started making my mosaic on stone as a way to work on something small in between working on larger pieces. It was just fun to me and a challenge to create something simple but creative on a small sized substrate. I never intended for it to become anything but a way to break up the intensity of working on a large, more thought out piece, but it turned into one of the first classes I began to teach as a mosaic art teacher. And in turn those classes turned into an opportunity to make an instructional video for Mosaic Arts Online and be part of a growing mosaic art library of courses taught by professional artists and teachers from around the world.
In 2018, I branched out with using a different kind of substrate to create mosaic on and was one of 23 selected artists to create an original design for a mosaic decorated surfboard for "Surfboards on Parade". A bi-yearly event presented by the Rotary Club of Huntington Beach to raise funds through auction for local charities. I was later awarded people's choice via online voting for my surfboard titled "Like Sun and Waves I Rise" which was a tribute to women surfers. It was a wonderful experience and an honor to be among so many incredible artists.
As an artist who has learned to wear many different hats in my career this also seems to carry over into how and where I create. When I arrived in CA in 2011, I was naturally drawn to being near the ocean so I spent a lot of time on the beach. While there beach combing I would sit and rest and just start making beach art in the sand. This felt like a good way to practice spontaneous creativity using only what I could find around me. And again…challenge motivated…I began to really play with this and to my surprise…people really liked what I created and left in the sand. And I just loved the idea of someone walking up and finding my little piece of art in the sand and it making them smile the same way I did when I would come across beach art or a sand castle. It also felt good to create something temporary. To put the importance in being present and enjoying something in the now instead of the stress I could sometimes feel in my studio so I just kept doing it as an almost meditative way to just relax and create for the joy of creating. At times what I found on the beach wasn't pretty. I started seeing plastics and watched people walking past it and thought well maybe if I incorporate it into my beach mosaics full of natural materials…maybe people would really stop and take a moment to look at it…to really see the plastics that were there if art was made with it. So I started using plastics and creating simple messages with my designs to somehow send a message and really force people to take a look and think about what is happening here.
In 2019, I was hired by "Reef" to create five beach mosaics using plastics to bring awareness of plastics on our beaches after they found what I was posting on Instagram. Not only was I creating and given artistic license to create but I was helping to get a much needed message out there so it was a thrill to be involved in that highly shared project.
In 2019, my mosaic titled "Headed Out" was chosen to be on a local distillery…Surf City Still Work's Shorebreak Vodka bottle as they continued their business campaign to support and highlight local artists and their work on their bottle labels. A wonderful accomplishment for me as an artist and a superb and high-quality company to have the pleasure to work with. It was another goal of mine to show my mosaics could also be marketable and used on product labels. This was a great first to show just how successful this idea could be if given the opportunity.
2019 was also a year for travel for me as an artist and I was chosen to take part in an artist residency at acclaimed artist Olive Stack's gallery in Listowel, Ireland. A month long residency helped me explore a different side of the world as well a different side of myself as an artist by exploring the art of painting with acrylics. And it was so inspiring to meet the people in Listowel and just be in a new place where I was free to explore and just be out of my norm for awhile. I fell completely in love with Ireland and had a real connection with my roots while there. Another crucial moment on my journey.
With another mosaic instructional video about to launch in 2020 through Mosaic Arts Online..this time teaching how to mosaic a surfboard, my teaching position at the Huntington Beach Art Center, travel plans and new commissions..it's already looking to be a busy year for me as an artist. I really can not wait to see where I can take this career choice next and what more I can learn from it. I think the main thing I love about mosaic art is the possibilities are just endless. I will never be able to do every single idea I have in my lifetime…there are just too many ways to create with mosaic…but I sure am going to have a hell of a good time trying.
What is "success" or "successful" for you?
Personal success to me is ultimately in having found my purpose. And protecting that purpose…now that I've found it. Being paid well to do what you love doesn't hurt either. But I've learned some things along the way and one thing I've learned is you have to—and I mean you really have to—have a strong sense of self to be an artist. You have to be able to block out all the noise: all the ways people try to make art a competition, all the moments when you don't feel adequate and have a true confidence in your own voice having worth. You have to know you have something unique to say or just something you feel compelled or passionate to say, even if it's been said before, and not be afraid to make it your own version.
You have to be okay with not everyone getting it or liking it. You have to take risks and feel uncertain before you figure it out. You have to remember why you have always felt this need to express and create and nurture that, right along with the sometimes-mundane work. Like anything, if you get lazy or complacent, you lose the original spark of what made you want to create in the first place. Don't lose "you" and what makes you do what you do in the only way you can do it. That's the core goal on my journey as an artist. Just stay true. Be yourself. And I think when you make that a priority and you love what you do…and it matters to you to keep learning and discovering new ways of creating…and telling your story…it can't help but show in what you put out there in the world.
Contact Info:
Image Credit:
Anne Marie Price and Surf City Still Works
Suggest a story: VoyageLA is built on recommendations from the community; it's how we uncover hidden gems, so if you or someone you know deserves recognition please let us know here.