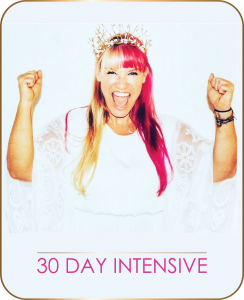 Today we'd like to introduce you to Amber J Lawson.
Amber J, can you briefly walk us through your story – how you started and how you got to where you are today.
Who knew I'd end up here! It was a mix of strategic luck, personality, committed action. I grew up in an Italian family in Raytown Missouri. Sharing our feelings and dreams was not part of our normal conversations. I had a burning in my tummy, I knew I was destined for a bigger life and had to get out of that town.
This is what ignited my life's adventure. I must say I am grateful for my family, I beat to a different drum, they supported all my outrageous notions. I loved to sing, perform and be the center of attention, so much so my High School Music teacher Mrs. Siddens named an award after me the Raytown South High School Amber J Lawson distinguished Performance Award and 20 years later came back to be installed in the Raytown Hall of Fame.
After graduating from college at Mizzou with a theatrical performance degree. I went to Second City Chicago, mainly because my friend Melanie Moore had a crush on Steve Carell. Melanie and I would sneak into the free late-night improv sets to stalk Steve. We dreamed of being on life's stage. I moved out to LA with fire in my belly and stars in my eyes to make it no matter what. I had been introduced to The Landmark Forum, self development program, in Chicago and took it as soon as I moved to LA. This choice started my journey into possibility. I received the insight life is whatever I want it to be. Whatever I want to create. That my word (read: integrity) is the only thing we have in this lifetime.
From this awareness I proclaimed myself a producer and proceed to create magic out of nothing. Shooting a short movie that premiered at Cannes Film festival. THIS is where I began declaring things I wanted in my life with no evidence and manifesting magical results. I lived my childhood dream of reimagining the National Lampoon Lemmings, running several start-ups, speaking on stages around the world. Seeing this beautiful planet on other peoples dime.
During this time we created innovative content, told wild stories, created new technology, business models and distribution. We changed the media business and entertainment landscape forever. I love being at the cutting edge. I took a position at Aol, my role was very visible and life-altering. My job was to double the homepage traffic but then I asked myself the question,
"What is the end game, How do I win this?"
"Get more eyeballs, Do a bigger brand deal? Then what?"
So I went on a journey to figure out if my talents could be used for good if we could turn these super powers into making the world a better place. This was my AH HA moment – on the quest to figure out how to use my talents, run a prosperous business and have a positive impact. This has evolved into the foundation of the manifestation courses I now facilitate.. I believe in conscious companies and guiding others to find their purpose in three steps.
Identify – Identify what you enjoy, what talents you have and where those two intersect.
Purpose – What matters to you?
Action – Taking committed action.
Through this process I formed Good Amplified, Amplifying the Good of nonprofits through storytelling across social media. My vision is to impact a billion lives across platforms through storytelling. Through our partnerships with Nonprofits, brands and influencers we are half way there! We work with amazing impactful organizations like Make-A-Wish and XPRIZE.
A couple of years ago one of my clients, the executive director of Michelson Found Animal, Aimee Gilbreath introduced me to Mastery In Transformational Training (MITT) an emotional intelligence leadership training program. I have always been about growth but little did I know the journey I was embarking on. I thought my life was fine. I had great friends I was living in LA and making good money. However, what I found is I had been navigating life from masculine energy. I was doing it alone, Not asking for support. Thinking I had to have it all figured out. Through this program, I found the courage of vulnerability. I had thought vulnerability was weak but the life I was living was lonely, transactional, I didn't trust or lean on others, I didn't ask for help and I certainly never released or cried. You can imagine I was a pressure cooker ready to pop. Through my journey, I found out I am not alone. Many others are having the same experience of separation and loneliness. Tired of trying to hold it all together and finding that in the release EVERYTHING is available.
This is why I created Goddess Process to support powerful women tapping into their power through vulnerability. The feminine is the emotional conscious of the planet. Goddess Process merges the doing and being. Flow and action. Building trust among women by expressing our unique and similar experience of being female. The vision of Goddess Process is empowerment, connection, relief, a group to lean into and explore new ideas. Try these new ideas out in the world and have a safe place to come back to a soft landing while learning new aspects of ourselves.
Great, so let's dig a little deeper into the story – has it been an easy path overall and if not, what were the challenges you've had to overcome?
NO WAY! But I wouldn't have it any other way. The contrast of life paved my path and showed and continues to show me the way. I have learned to train my brain to manifest the life I desire. I knew in my gut there was something bigger than staying in Raytown, Missouri. That there was a different way. I was curious. When I am curious ANYTHING is possible.
In my journey I have found many people living in the past. Suffering from the past. More specifically in shame of past events. Shame holds us down in life. So many people living from the past instead of creating their future and being present in the present. My path is to show others another way. A life without shame, to release the past and live in the now. Life is NOW!!!
Even with all my growth work I have bumps in the road. I make decisions out of alignment and sometimes it takes me down. I feel burnt out, allowing in negative thoughts or maybe I chose a wrong path.
Luckily I now have some tools.
I ask for support.
I practice my self care rituals.
I journal.
I move my body and allow my body to inform my mind as opposed to the other way around.
Now when I feel bad I know I am in an emotional growth spurt and I WILL come out on the other side. Emotions are like weather, this storm will pass. Trust there will be sunny skies again.
My vision for the world is PEACE ON EARTH IN OUR LIFETIME. This starts with me. I practice peace everyday (driving down the 405 – LOL) and in the frustrations of life. But as stated its a PRACTICE. WE don't have to be perfect. We get to evolve. I believe women are the emotional conscious of the planet so I am focused on healing women. Having women reclaim our feminine power through the process I created Goddess Process.
www.goddessprocess.us
Alright – so let's talk business. Tell us about Goddess Process – what should we know?
My vision for the world is PEACE ON EARTH IN OUR LIFETIME. This starts with me. I practice peace everyday (driving down the 405 – LOL) and in the frustrations of life. But as stated its a PRACTICE. WE don't have to be perfect. We get to evolve. I believe women are the emotional conscious of the planet so I am focused on healing women. Having women reclaim our feminine power through the process I created Goddess Process.
www.goddessprocess.us
Goddess Process is a 30 day intensive of women coming together to create clarity and manifest their hearts desires in four areas of their life. We focus on Self Care, Prosperity, Relationships and Community. The format is a 30 min weekday zoom video call. The call is where growth, expansion and transformation is ignited for you to go out and create your world. In Goddess Process dreams are realized and manifested in 30 days! https://www.goddessprocess.us/programs
The 30 Day intensive only happens a couple times a year so we have a self guided version where you can begin your manifestation journey today! What do you want in your life? What have you avoided? Life is now! You get to live your Hearts Desires! https://www.goddessprocess.us/programs
Amber J Lawson lives and works in her manifested beach house in Venice California with her newly rescued pug furbaby Leo J Tolstoy Lawson. Lawson holds Moon rituals, Cacao ceremonies follow her.
IG https://www.instagram.com/amberjlawson/
FB https://www.facebook.com/AmberJLawsonSPEAKER/
GODDESS PROCESS
IG – https://www.instagram.com/goddessprocess/
FB – https://www.facebook.com/YourGoddessProcess
Sign up to our goddess process mailing list and get a FREE manifestation guide!
Contact Info:
Image Credit:
Glescie Antonini, Noelle Williams
Getting in touch: VoyageLA is built on recommendations from the community; it's how we uncover hidden gems, so if you know someone who deserves recognition please let us know here.