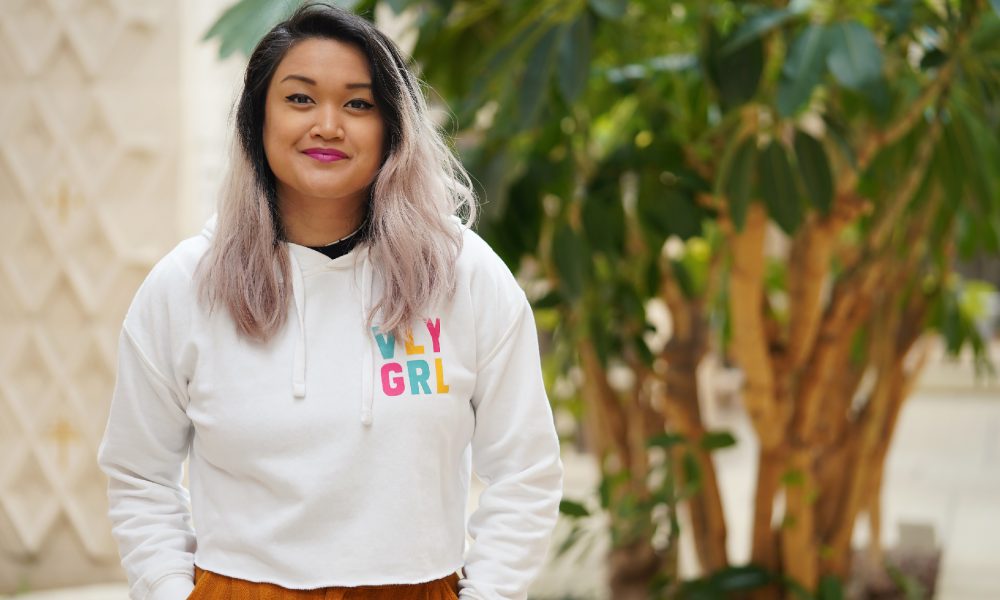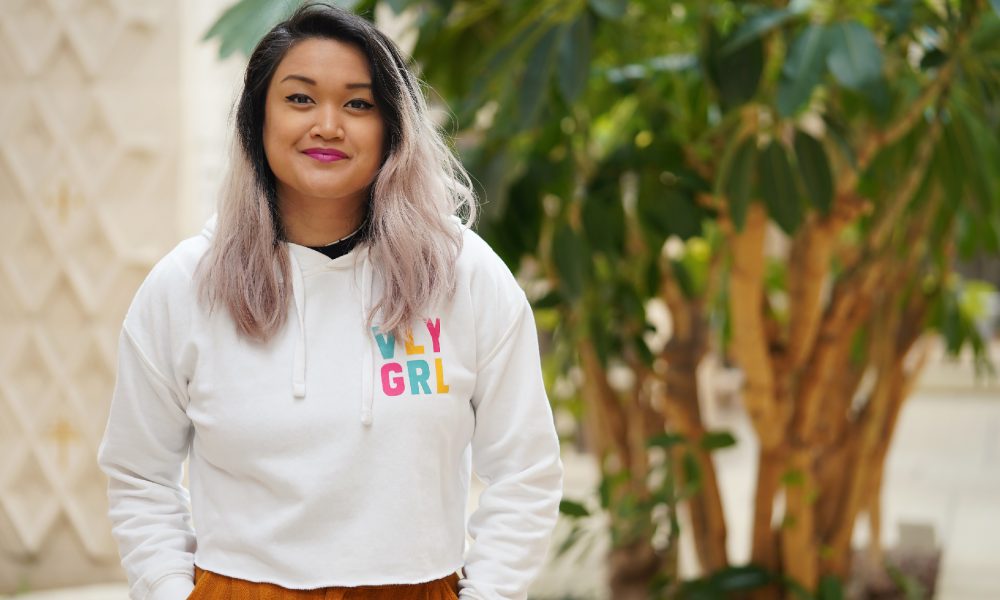 Today we'd like to introduce you to Alisa Damaso.
Alisa, let's start with your story. We'd love to hear how you got started and how the journey has been so far.
I'm a Pinay graphic designer, illustrator, letterer, and founder of VLY GRL. I'm also a vocalist in the band Vincent Gargiulo National Park. I'm originally from the San Fernando Valley and have been living and working in the San Francisco Bay Area since 2012.
It was a weird and winding road that led me to where I am now. Since childhood, I'd always been creative in some capacity. Singing, painting, writing, acting, photography, filmmaking, mixed media — the arts were my outlet. Throughout high school, I loved writing fiction and wanted to be a novelist. So I studied Creative Writing at Cal State Northridge, where I learned theories and methods that I still use today. When I graduated in 2008, I blew all my money on a month-long trip to Europe, the economy crashed, and I worked at the mall for a year. Oops!
In 2009 I became the writing assistant for screenwriter Scott Lew, one of the coolest humans ever (seriously, look him up). Scott had advanced ALS and had lost his ability to move most of his muscles, yet he continued to write full time. We communicated through software on his computer and developed a psychic connection. He made me a better writer, a better listener, a better human. He taught me tons about grit. I was Scott's right-hand woman for three years before moving to the East Bay with my partner.
While looking for work, I created an art blog where I wrote features on and interviewed artists. In my first office job, I worked my way up from Publishing Intern to Assistant Editor of a magazine in two years. Then I pivoted to communications, but it was leading nowhere. Fortuitously, in this role I got to do in-house graphic design, photography, and video — and had my first real taste of Adobe products, which sparked my love of design and led me to take my visual art more seriously. I became obsessed with making work and learning the programs. It was all I did, all I talked about. I saw a future for myself in graphic design, so in 2015 I left my job to go back to school.
I was accepted into an accelerated certification program at the Bay Area Video Coalition in San Francisco on a full scholarship. Around the same time, I snagged a part-time graphics internship with a labor union in Oakland. I was doing it! It was happening! But I had no time to myself! And when I did, I was so consumed by learning and creating that I was pushing pixels past 1 or 2 in the morning. Luckily my partner would keep me in check and tell me to rest when I needed. It was a big lesson in school/work/life balance. So I persisted and earned my Graphic and Web Design Certificate the following year.
I was ready for my first real design job, and building a portfolio became my priority. I started VLY GRL because I wanted to make work that reflected my aesthetic and stood out. VLY GRL is a line of fun accessories and apparel with a mission to smash the bimbo Valley girl stereotype. Aside from designing enamel pins and other stuff, I've been laying out and self-publishing art zines and literary zines — I've come full circle!
Putting my work out into the world has opened me up to some amazing gigs, collaborations, art shows, and friendships. The past few years have been a whirlwind of opportunities and connections, and I am grateful for the privilege to embark on this journey.
Great, so let's dig a little deeper into the story – has it been an easy path overall and if not, what were the challenges you've had to overcome?
Changing my career was one of the scariest things I've done in my life. Imposter syndrome and money worries ran rampant in my head. After my internship, looking for design jobs was brutal. As I applied and interviewed for design jobs, I took a part-time retail job at an art store while freelancing. I was overworking myself, feeling depressed, and barely sleeping. It was ten hard months of uncertainty, anxiety, and rejection before I got my first real design job at a branding agency.
My boss hired me because I had interdisciplinary skills, was mostly self-taught, and didn't go to a traditional art school (which means I had a fresh perspective). Virtually all my experience — writing, editing, photography, filming, video editing, design, illustration — played a part in getting me this position. Those previous job rejections I was so upset about ultimately led me here. It was like the last puzzle piece fell into place.
That was almost three years ago, which may as well have been a lifetime ago. I've grown so much as a designer since then: I art-directed my first media campaign for a huge client and it was their most successful to date; I've designed websites for hospitality companies and financial advisors that are atypical and cool as hell; and I'm constantly pushing the envelope on conventional design. All the challenges and unknowns build your character and allow you to grow, making those risks and hardships totally worth it. Sometimes you just have to jump in, figure things out, and power through. I'm so glad I did!
VLY GRL – what should we know? What do you do best? What sets you apart from the competition?
VLY GRL started as a way to put designs out there that expressed the essence of who I am and where I came from, and it turns out that so many people relate to it! The goal of the brand is to rewrite the narrative on what most folks think a Valley girl is, which is usually a ditzy white blonde with a credit card. Wrong!
Cultural diversity is one of the best things about the Valley. More than 43% of San Fernando Valley residents are born outside the U.S. I'm a child of immigrants. Most of my friends growing up were, too. Women from the SFV have started businesses, earned PhDs, are mothers… but the mainstream media doesn't show that, and the cliché persists. Like any negative stereotype, inaccurate representations can really do a number on a child's self-worth and what they think they're capable of. Personally, I can attest to that. You can't be what you can't see, so I want to help contribute to representing the San Fernando Valley (and California) in a more authentic way.
VLY GRL is for real Valley girls. In the VLY GRL Zine, we feature female-identifying creatives from or living in the SFV. Our stories are unique, multidimensional, and far more profound than 80s pop culture has portrayed. Putting our art out in the world and representing the Valley helps offset the stereotype (at least that's the goal).
What moment in your career do you look back most fondly on?
There are a few, actually. When I table at events and people tell me how much VLY GRL resonates with them, my heart explodes! This whole business is a passion project and I love doing it, and the fact that other Valley girls are digging it really means the world. Putting out the VLY GRL Zine is also up there — some of the artists featured in the issues are up-and-coming, and it feels great to be able to give them a platform.
At my agency job, I illustrated funky road banners for the Yerba Buena District in San Francisco, and my work is all over the city right now! It is surreal. It's also a great moment every time I impress my boss, who's been designing literally since I've been alive. It's validating as hell.
And this doesn't have to do with my career, but some of my best memories are performing live on stage. About four years ago, I joined my friend's band, and it's something I've wanted to do since I was a kid. Singing is an act of building and releasing energy, and it's a powerful feeling. It's gotten me through some rough times. I'm lucky to be able to make fun music with these guys and share it with the world. When the audience really gets our vibe and what we're trying to do, it's the best.
Contact Info:
Image Credit:
Portrait: Erick Damaso
Suggest a story: VoyageLA is built on recommendations from the community; it's how we uncover hidden gems, so if you or someone you know deserves recognition please let us know here.