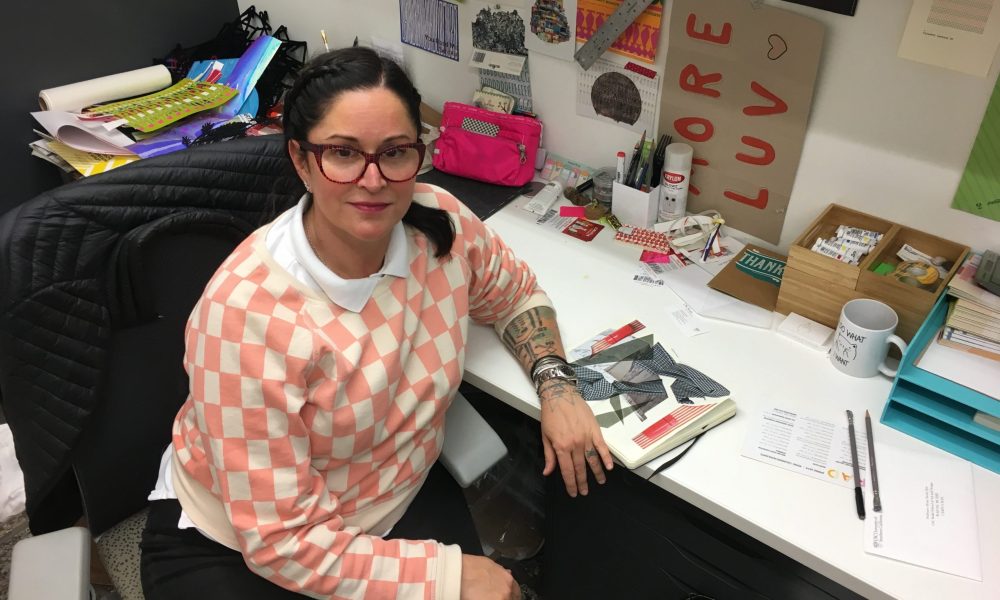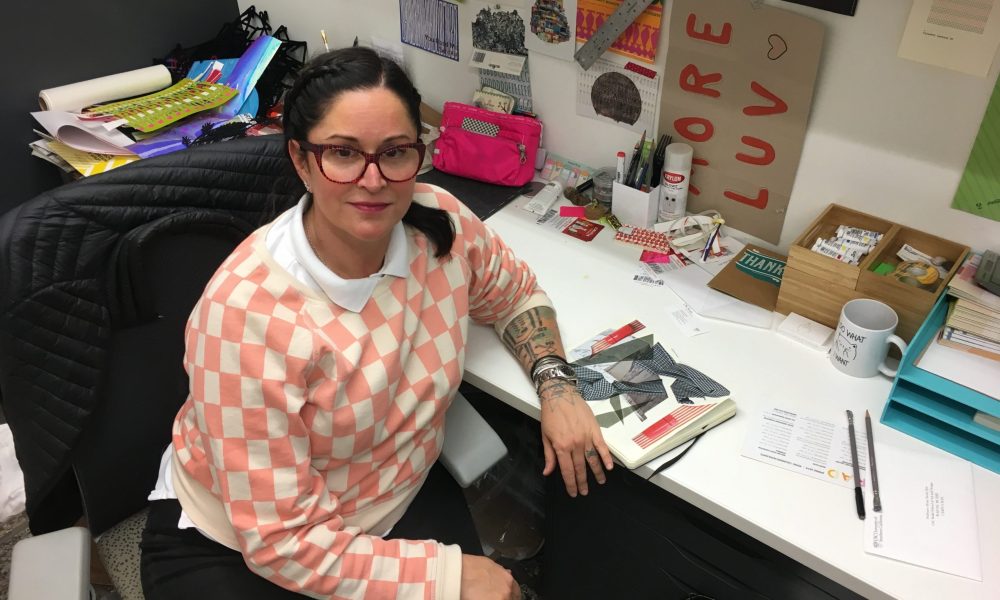 Today we'd like to introduce you to Alexis Zoto.
Every artist has a unique story. Can you briefly walk us through yours?
My fascination with art and making began in my grandmother's house, in her church, and in her sewing box.
The Albanian Orthodox church is visually rich with colors, patterns, rituals, and icons, and my grandmother's house was unlike any house I had ever visited. It was ornately decorated, and there was always something delicious cooking in her kitchen. Her sewing box was full of beautiful buttons, pieces of crochet, and embroidery in progress. My grandparents escaped to the US when Fascist Italy occupied their country, Albania, in 1939.
Growing up, I often traveled back and forth between Philadelphia, where my maternal grandparents lived, and Washington, DC, where I lived and went to school. At that time in DC, one could go see Fugazi play in the park or go to many museums for free. It was also when I first experienced the political art actions of artists like Robbie Conal and Krzysztof Wodiczko. In high school, I first became aware of some of my favorite artists like Kiki Smith and Zoe Leonard by visiting institutions like the Hirshhorn and the Corcoran.
For college, I went to art school in Boston and then transferred to USC, where I finished my degree. Los Angeles was an exciting change from the east coast and culturally very different from DC. The art world and underground scene in LA were fascinating, inspiring, and overwhelming. I went on to get my master's degree at UCSB, and after grad school moved back to LA, where I got deep into alternative spaces for exhibiting, places like the DMV and Pavilions Market.
Since then, I have exhibited nationally and internationally. One highlight of my career was participating in a collateral event at the 2015 Venice Biennale. "We Must Risk Delight: 20 Artists from Los Angeles" at the Magazzino del Sale, Venice, Italy, was co-organized by BardoLA and the Academia di Belli Arti. Another life-changing highlight occurred this past summer when I spent a month researching kilims (flat woven rugs) in Albania. While there, I interviewed weavers from all over Albania, was invited to the University of Tirana to talk to the art school, and I went on Albanian national television.
Please tell us about your art.
There is no separation between my art and my life. Whether I am at work or in a carpool line, I find things, colors, or ideas that feed my creativity. I make sculpture, site-specific installations, and works on paper. I design tattoos, jewelry, and patterns for dinnerware and rugs, and I research and teach at USC Roski School of Art and Design.
The complicated and inspiring lives of women to whom I am connected and art history are areas I turn to and draw upon as part of my process. Much of my work is inspired by my experience as a woman, wife, and mother. Inspiration also comes from my experience of my family's Albanian culture, stories of struggles with American culture, and stories about women from my community of the old world and the new. As for materials, I love reusing, recycling, and upcycling. Sometimes I weave paper trash collected from my family or students. Sometimes I pick up a discarded piece of furniture off the street for a sculpture
Recently, I became smitten with kilims, which are flat, woven rugs, from Albania. Thanks to a Zumberge Innovation Grant, this past summer I went to Albania to research these textiles. From that experience, I have made new artwork and presented the results of my research at an academic conference, the Association for Slavic, Eastern European and Eurasian Studies. I hope to have the opportunity to continue my research on kilims and other textiles of Albania. Ultimately, I would like to publish a book on this topic.
I am delighted that symbols I use in my work from Albanian kilim sources are recognized but mislabeled due to context. For example, a symbol in my work seen in Los Angeles may be recognized as Navajo or Pre-Columbian, but in other countries, the symbol is seen as Pakistani or Moroccan or Turkish. I relish this mistaken identity as an opportunity for a conversation as to why this could be.
Immigrant experiences, women's work, craft, and domestic life and items are ideas I love. I hope to engage in a kind of conversation about these ideas and experiences and hope people may change their perspective or look at things differently.
As an artist, how do you define success and what quality or characteristic do you feel is essential to success as an artist?
The role of artists remains multi-dimensional. One way in which artists help me and others is coping with the world. Artists hold up the mirror to all that is good, bad, beautiful, ugly, absurd, and everything in between. I am grateful for that.
Events in the world definitely impact me and my work. I am currently working on a project that looks at how 'fake news' has been around a long time, used in many countries and used very pervasively and effectively to control a population's perception of reality. More details on this project will be on my website.
How or where can people see your work? How can people support your work?
I am delighted to share with you that my work will be in the January 2019 Issue of FullBlede. I have several pending projects (one upcoming at LAX) and upcoming lectures. Visit my website for announcements and details: www.alexiszoto.com.
You can support me and my work! Please visit my studio, and follow me on Instagram: @alexis_zoto
Contact Info:
Image Credit:
Photos by Alexis Zoto and Debra Scacco
Getting in touch: VoyageLA is built on recommendations from the community; it's how we uncover hidden gems, so if you know someone who deserves recognition please let us know here.