Today we'd like to introduce you to Thomas Clark.
Hi Thomas, it's an honor to have you on the platform. Thanks for taking the time to share your story with us – to start maybe you can share some of your backstory with our readers?
I was primarily a freelance illustrator and graphic designer for many years working with Sony, Miller Brewing, Warner Bros., Disney, etc. I was perfectly fine going down the same path and cooking the same recipes, but, unfortunately, everything started to taste like airline food.
As I sat in front of the computer in my studio having dealt with some printer snafus and some mid-level management egos, I simply put my head down on the keyboard and prayed for direction. The answer was "What have you been waiting for?", because that week in an Easter meeting with my friend and pastor, Chuck Smith, jr., the ball was moved forward. In discussing the stage design, Chuck asked if I could paint the stage live during a service/concert. He didn't know that I hadn't painted since college 17 years prior. I felt the steady gas flame in my heart leap into high heat and turn bright blue when he posed the question. So, I said "Yes."
When I showed up with some paint and brushes that night, the painting platforms were still being built on both sides of the stage and I had some ideas but wasn't sure what I would create, trying to be open to God's direction.
One of the secret ingredients thrown in was a young musician leading worship that night named Rob Mathes who was in town making music for a local music label. Years later, he would become an Emmy-winning and Grammy, Tony and Drama Desk Award nominee. He musically directed President Obama's Inauguration, the Kennedy Center Honors and Sting's Broadway musical "The Last Ship" among other great accomplishments. So, you can imagine, the music was inspiring.
As the music kicked in and I began to paint, I was thinking to myself, "Is this good? Is this enhancing the experience?" I immediately felt a peacefulness come over me. At one point, the platform even started to fail and a man jumped out of the seats and held the platform while flecks of splattering paint landed on his shirt. This just added to the intensity of the evening.
In reflection, I was given permission to mess up, which allowed me to relax and loosened me up to paint freely and flow with the music and message. I couldn't stop the tears from flowing as this was the best artistic experience I had ever had. I learned that expression is best when you are offering your true self and the barriers fall away.
A conference organizer was in attendance that night and asked me to be a part of it, which led to many offers to conferences, concerts, fundraisers and events across the country. I just returned from Houston where I built and painted an 8′ x 12′ Kintsugi (Japanese pottery art) performance piece at Minute Maid Park in front of 20,000+ spectators in about 30 minutes.
These travels have led to many incredible experiences, friendships and unique stories. The postponement of events over the last few years offered me the opportunity to put all those experiences and photos into a book that I am in the process of printing before the end of the year. It also pivoted my work towards environmental design and public art because it basically consisted of designing spaces and walls with little human interaction.
We all face challenges, but looking back would you describe it as a relatively smooth road?
You could say "smooth roads" make for boring adventures! I find that the best art often comes out of mistakes, roadblocks or detours. Studies are showing that our reliance on GPS apps is resulting in the inability for us to find our own direction and, I believe that an artist can sometimes be a guide that interprets and offers alternative directions for culture.
I had an immediate loss of income as I transitioned from a primarily design/illustration profession to a primarily performance/commissioned art profession. However, that began to even out and the benefits and freedoms of the new direction far outweighed the temporary financial loss.
I would also say that my story, being the last of 5 kids, prepares me for a little chaos and my nature to act before I think can result in unexpected consequences. Contrarily, it also puts me in more unique and interesting situations!
One of my first performance art gigs was a large recovery conference where attendees and practitioners were visiting from across the country. The venue was set up so I couldn't get all my supplies up on stage until right before I started painting. So, I scrambled to get the paint cans open as the live music kicked in. I bought 'oops" paint, the kind you get marked down because it was miss-mixed at the paint store. Well, the colors they put on the lid…they were wrong. My heart nearly went through my chest because when I started opening the cans, I realized they were day-glo colors! I thought, holy cow, this is a recovery conference and I have all these loud, obnoxious colors. With no options, I started with the few "normal" colors as a base and as the painting transformed. I began to apply the bright colors and was soon throwing the paint at the canvas in an almost cathartic expression. It actually made sense, as these wonderful people were rebooting their lives, trying to live sober and clean and the bright colors symbolized that.
It completely changed the way I painted, I was somewhat timid with my colors and restricted by the limited color palette. Now, I don't hesitate to be expressive with my colors or somber as the subject matter dictates. I feel that life throws us curveballs like a good baseball coach because if it was up to us, we would only swing at fastballs down the middle of the plate and never improve. The curveballs force you out of your comfort zone, make you wait a bit, and adjust to the situation.
Thanks for sharing that. So, maybe next you can tell us a bit more about your work?
I am a Visual Artist. That consists of Performance Artist; painting live at fundraisers, corporate events, concerts, memorials, church services, etc., Environmental Designer; designing interior and exterior spaces, murals and other public art, Studio Artist; creating commissioned art for clients; and Graphic Designer; creating branding and promotional design for a wide variety of companies.
Some say that wearing too many hats compromises the uniqueness of the other hat, but I say it gets me into more parties with different dress codes.
My heart is to uplift, transform, collaborate, and unite community through the various forms of art I create. For years, before the pandemic, my wife, a landscape architect and I hosted, with others, creative gatherings at our home where creatives in all areas shared a chef-prepared meal and conversation to help unite and inspire our community.
I would say the work I am most proud of is when the art becomes a catalyst to community transformation. Sometimes, that is reflected in more beautiful environments, sometimes it spurs friendships that, combined, spawn productive change, creative or not.
The collaborative art projects I lead are a great example as it brings people together those who have never met and rarely do art to create a piece of art together. I create a black outline on white that is cut apart, painted, then put back together. The artists also have no idea what the final piece will become since they are creating a small part of a larger image. This frees them to be open with their color and creative choices. Sometimes, it's for a corporate event that helps establish bonds between the employees. At another married couples event, the husbands and wives had to learn to share their ideas and create better communication. I've created them for memorials, where the friends and families participate and the immediate family places the final piece to complete the visual.
A very large example of this was a 16′ x 100′ mural/stage backdrop that was built by the congregants of my church outside during the pandemic in the weeks leading up to Easter. People of all ages were painting together who hadn't seen each other in months. The artistic stage set was revealed on Easter and became a front-page story in the regional newspaper with the title "Expression of Joy."
Sometimes the responses to the art I create are as inspiring for me as they are for the viewer. After one of my live painting events, a gentleman approached the stage and I noticed movement behind his legs. He told me that his daughter was an artist and wanted to meet me. A towheaded eight years old poked her head out from behind her dad's leg and produced an embarrassed smile. I knelt down and for some reason and said, "You know, Jessica, you don't have to paint between the lines." I had forgotten the encounter until I received an email from someone I knew who knew the girl's family.
Apparently, the young girl had struggled with perfectionism and was very hard on herself and it was adversely affecting her in many aspects of her life, including family life, school and friendships. That innocuous statement I made to her broke through and she had a whole new attitude about herself and art and her parents were quite relieved. Sometimes, it takes the word of a stranger to spur change.
The most obvious thing that sets me apart from other visual artists is that the predominate amount of my work is produced out of the studio in the public square. From 24,000 viewers at U.S. Bank Stadium in Minneapolis to a few dozen orphan children in Kostroma, Russia there is an exciting engagement that can't by found in a quiet studio. I have painted at fundraisers across the country with auctioned paintings raising tens of thousands of dollars and painted at music festivals with some of the best musical performers in the world. I have created murals in most of the 50 states and designed indoor and outdoor stages that have been seen by millions. That's unique and fun!
The crisis has affected us all in different ways. How has it affected you and any important lessons or epiphanies you can share with us?
When you lose most of your work because of a lockdown and are considered "non-essential" you literally have to get creative! I got involved with or started projects that weren't dependent on large groups of people.
I collaborated on a visually immersive event space where smaller groups could hold celebrations. I designed the identity, the outdoor courtyard, wall murals, a gate design, lighting fixtures and painted a 10′ x 16 mural.
I worked on a public art initiative called "Elephant Parade" where a select group of artists were chosen to paint 4′ x 6′ elephant sculptures. The elephants are placed throughout select cities around the globe to raise awareness to the plight of Asian elephants.
I got involved in mural projects, the ultimate pandemic art project. You and a wall!
I organized photos and stories from over 20 years of performance art and travel and put a book together.
I went back to my roots a bit with some corporate identity and marketing projects.
So, in a sense, I learned you can't wait for projects to occur but instead create your own lane for creativity. Most importantly, I learned how important community is for the mental and social health of our culture and that art is an important and essential part of that dynamic. Art gives people a shared space to engage with beauty and non-judgment.
Pricing:
Performance Art Events: $1,800-$5,000
Murals: $20-$40 per sq. ft.
Graphic Design: $150 per hour
Contact Info: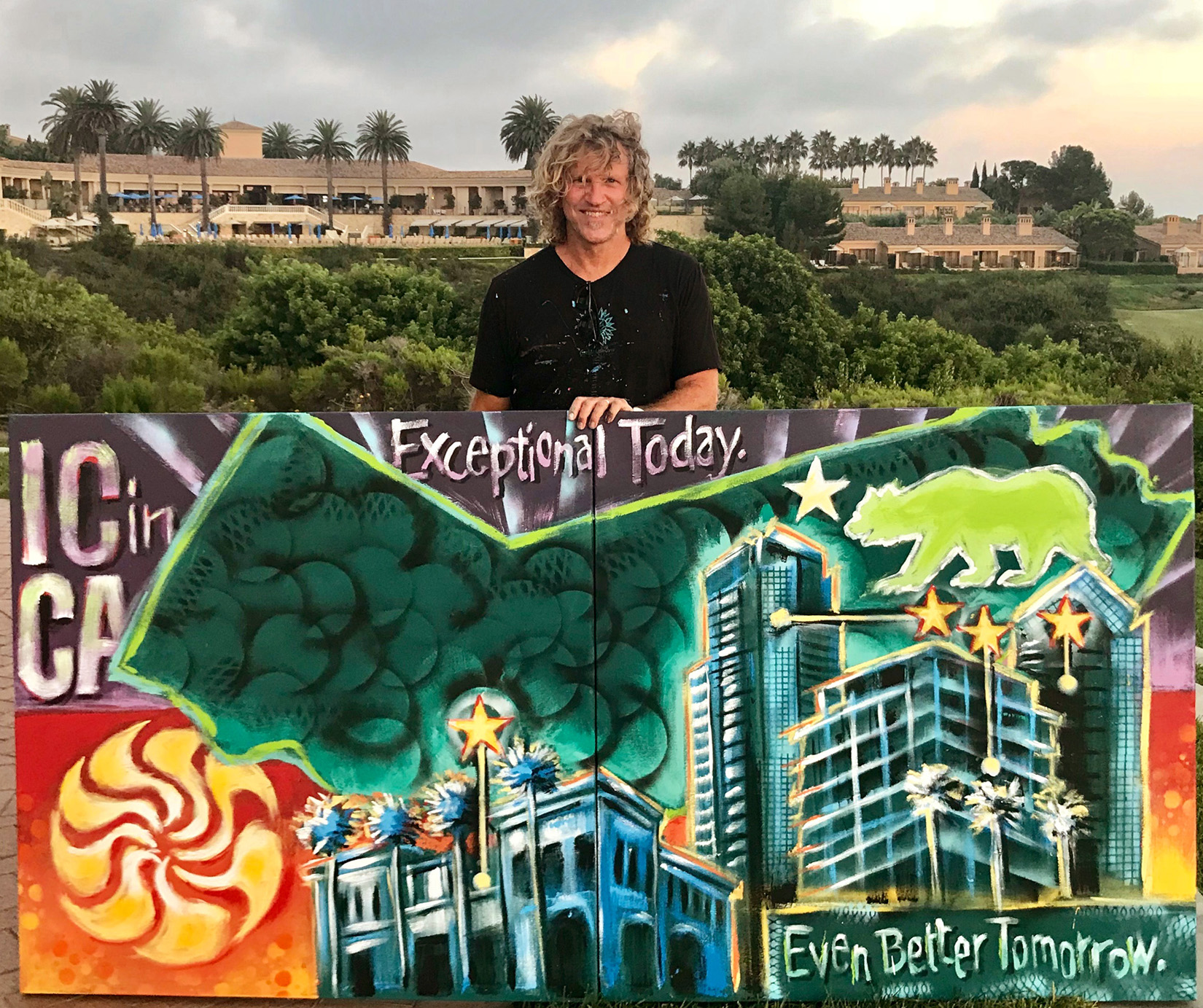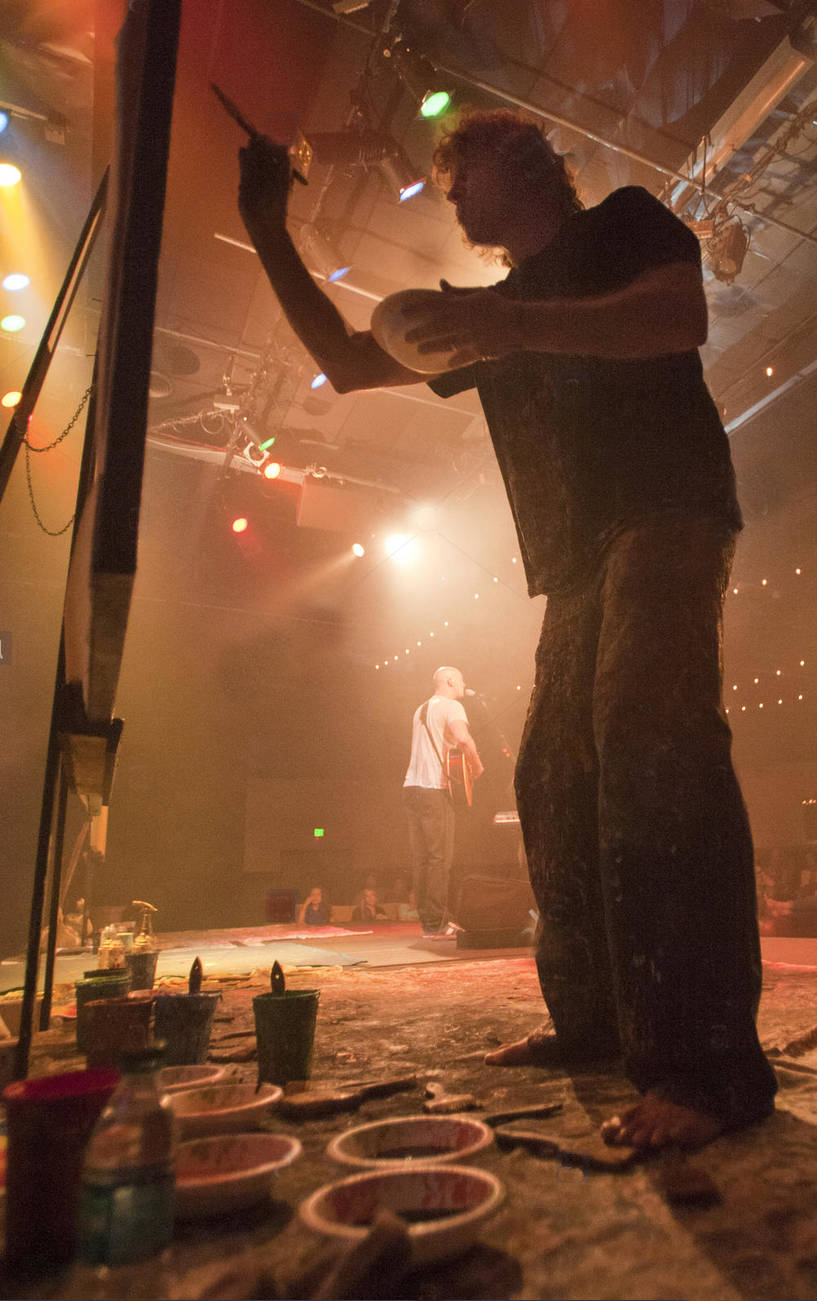 Image Credits
OC Register (me holding square. Not sure it's kosher to use) Bob Ortiz Shannon Rurup
Suggest a Story:
 VoyageLA is built on recommendations from the community; it's how we uncover hidden gems, so if you or someone you know deserves recognition please let us know 
here.