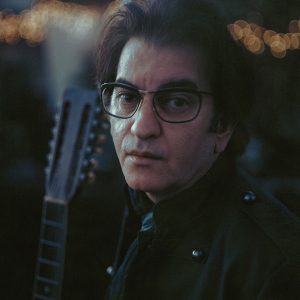 Today we'd like to introduce you to Ian Gothe.
Alright, so thank you so much for sharing your story and insight with our readers. To kick things off, can you tell us a bit about how you got started?
I am a musician, music was my first friend. Music has been the soundtrack of my life. Whether it has been the music of others or my own serving as guideposts to my memories, I know that music will be my last friend too. If I want to go back to a certain point in time in my life, I only have to think about what music I was listening to or creating at that time and watch the experiences and moments emerge in their wholeness to remind me of myself. Music is the marker of my time, the guide through my historical emotions, and a harbinger of the moments yet to be. When I was 12 years old, I was looking through my cousin's record collection and on the turntable there was a record. I pressed play and what I heard totally mesmerized me, it was "Spanish Caravan" by The Doors, the first track on side B of 'Waiting For The Sun'. That's when I said to myself, "I want to learn to play the guitar."

I am a self-thought musician. I did take a few lessons when I got my first guitar at age 14 (after much begging to my parents for a guitar) but learning scales and notes were extremely boring to me, so I quit the lessons and started learning songs that I loved by ear, by trial and error. That's how I learned to play the guitar, flute, and harmonica. I do encourage musicians to go to school and study the craft, but it just wasn't for me. In my 20's I was a bartender in a dance club. One night we were joking around how it would be easy to write a high energy dance song, and a buddy challenged me to write one. I went home and recorded a demo without vocals. I didn't know what the song would be about then, but I gave the demo to the DJ at the club the next night. He played it the same night to a packed dance floor. I remember standing there cleaning glasses as the bar was clearing out and some guy walked past me whistling my tune. We knew we had something. Later the DJ came over and said he wanted to produce the song, and then we decided it would be about Cleopatra. I went to the library check out a few books on Cleopatra and wrote the lyrics.
After production was done, we sent it to a long list of DJs, and soon after, it hit number one on the DJ pool dance charts. Producer Christian De Walden released the song in Europe, and about nine months later, I started getting checks from BMI when I found out that the song was a radio hit in Italy. I had released Cleopatra under the artist's name RSVP. That was my first musical success. One of my proudest moments in my musical journey happened last year when Robby Krieger of the Doors endorsed me when he heard my cover of 'Spanish Caravan'. He said, "I love it"! It's tough to cover Doors songs because the originals are so iconic. But Ian wasn't afraid to stick to the original format and did a great job of capturing the feel. There's a new flamenco/rock movement happening now in Europe – maybe Ian will lead the way!" Robby has been a lifelong musical inspiration to me and it was such an honor to hear these words from him.
Would you say it's been a smooth road, and if not what are some of the biggest challenges you've faced along the way?
As far as obstacles and challenges, besides the obvious ones such as finance and physical health, I would say I had to work on letting go of my perfectionism. I remember when I was young that I would proudly state that I was a perfectionist, thinking that this was a reflection of how hard I worked. Now when someone tells me I am a perfectionist, I take a step back and apologize because I have learned that in the creative process, perfection is the death of creativity. Perfection has the power to kill the "would have been" with its death grip on a nonexistent benchmark, and this inherent goal of perfection clouds the creative process with crippling doubts and constant reworking. I'm not saying that one should not work hard and take the time to create something they love, but it is important to remember that what you consider perfect now, you may not consider perfect a year from now. To move forward, I know that I must let go, and I find now that as I let go of perfection, I am writing more. I have learned that creativity is relative, and there is acceptance in knowing that what I create in one moment is dependent on what is happening to me at that point in time.
In that moment, I may be frustrated, but so many times, I have written or recorded something that I didn't like and shelved it only to find that when I discovered again years later, I would listen to it and say "Damn this is good. Did I do this?" I would have new eyes and ears for a new time and space, and I would realize that because of my perfectionism, I killed a good project. Repeating this experience has taught me the importance of letting go of self-judgment and getting out of my own way. Owning that you and only you can get in the way of your creativity is the first step to creating honestly. The life of a musician is a life of always learning. While you can never master the vastness that is music or creativity, as long as you seek to set aside judgments, whether from the external or your own doubts, you will have the foundation to create from a place of truth.
Thanks – so what else should our readers know about your work and what you're currently focused on?
I don't like to label music/art, but for the sake of business and categorization, I describe my music as eclectic progressive folk or eclectic Indo-European progress folk. In 'Memento' you will find elements of rock, jazz, pop, folk, world and classical music. There are two tracks that are instrumental, two songs that I sing in Armenian, few songs I sing in English. When I was shopping the record, I would hear from labels that they don't know what to do with the album, and my response to them was thank you for the compliment (LOL). But Manda Mosher of Blackbird Record Label saw the value of the uniqueness of 'Memento' and signed me.
Currently my focus has been on writing, I actually have enough material for my next album which I'm planning to go to the studio at the end of the year to record. Also, we just finished a music video for a new song called 'Upside Down' that will be released next month.
Where we are in life is often partly because of others. Who/what else deserves credit for how your story turned out?
On my full-length album, 'Memento' (Blackbird Record Label, February 2020) I had the privilege of working with a core team of gifted musicians. A shout-out to Fernando Perdomo (Jacob Dylan, Fiona Apple), Derek Frank (Shania Twain, Gwen Stefani), Tamir Barzily (Marcy Gray, Tal Wilkenfeld), and Sam Babayan (The Dirty Diamond). Also, it was a dream come true to work with the legendary Grammy-winning producer and engineer Jim Scott at Jim's Plyrz Studios. Jim Scott and I decided not to rehearse with the band prior to going into the studio. We wanted to let the magic happen and capture it in its first precious moments. Also a shout-out to Manda Mosher of Blackbird Record Label for her input and guidance.
Contact Info:

Image Credits:
One photo for the feature by Martin Yernazian 5 images of my work by Patrik Der Ashodian last image of my work by Martin Yernazian
Suggest a Story:
 VoyageLA is built on recommendations from the community; it's how we uncover hidden gems, so if you or someone you know deserves recognition please let us know 
here.