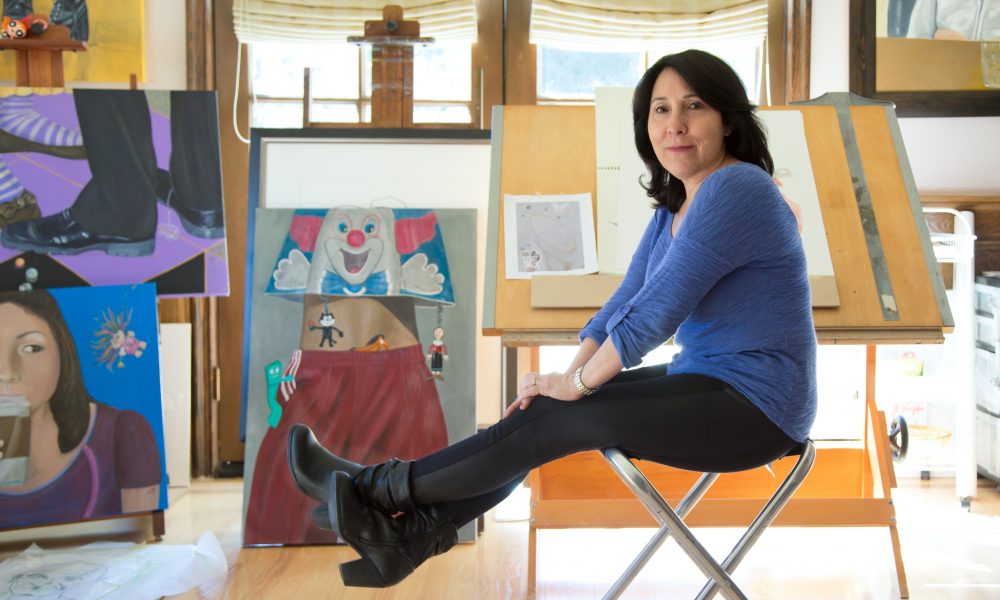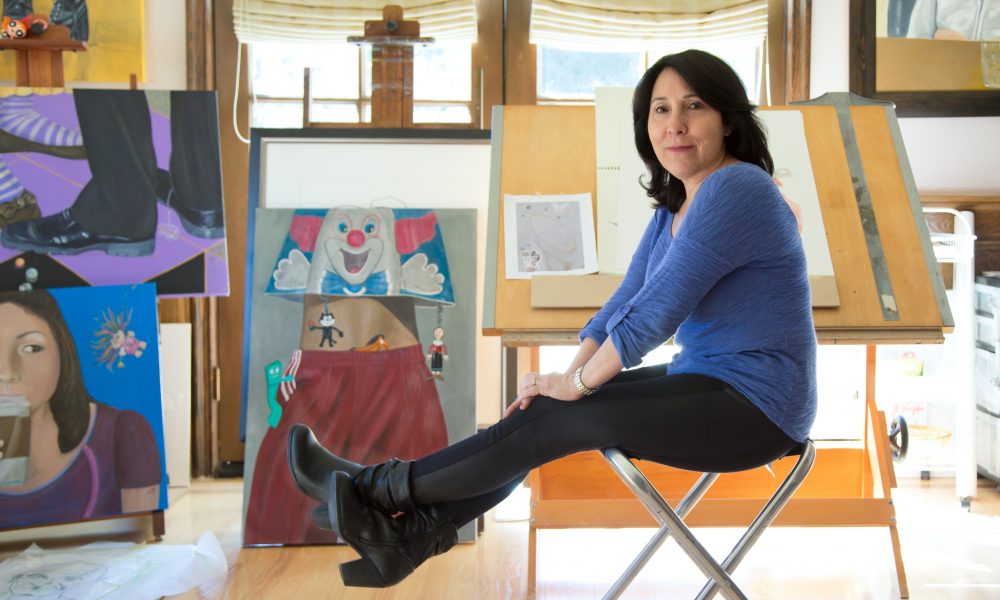 Today we'd like to introduce you to Sheila Fein.
Alright, so thank you so much for sharing your story and insight with our readers. To kick things off, can you tell us a bit about how you got started?
I had two passions in life growing up on Long Island in New York in the 60's. They were drawing and writing. I added a third when my older brother gave me a Brownie Camera for my birthday when I was in 6th grade. These passions kept me happy and busy in our chaotic household. My parents were overwhelmed with their own struggles and raising four children only added to their confusion. I hardly slept throughout these years coming alive at night to draw and write instead. My burning goal was to be as good of an artist as my mother. She didn't paint often, but when she did, I thought it was magic. In school, I wished I was in art class all the time. Looking back, I realize how lucky I was to be in the Jericho school system because my art teachers were very supportive. Their positive words gave me encouragement to be myself as an artist. I also was able to attend college during my high school years at C.W. Post, Long Island University where my love for drawing the human figure was realized.
I wanted college to give me all the artistic information that I could not figure out on my own and launch my art career. I was accepted into many wonderful art programs, but Buffalo State College was the most affordable. I cherish the friends I made there and still keep in touch, but it was the height of 70's drug culture and the times were chaotic reminding me of my house growing up. I regularly slipped away to hide in the polka dot painted basement of my dorm to complete assignments. I was also thrilled when the college agreed to underwrite me as one of their first semester abroad students. Off I went with my now husband, Steven, on his college's abroad program to study independently in Bath, England. I would often take a bus for six pence to the photo labs at Bath University or to the market with my basket for bread, cheese, and fruit. I was living my dream in an apartment filled with students from Brown University, who left every day, while I developed my painting skills with total concentration.
Upon coming back to Buffalo State and having been exposed to European culture, I further dug into my classes and work. Determined to finish school early and start my career, I applied for food stamps so I did not have to work more than 10 hours a week and I could take more classes. Somehow, I graduated in 2.5 years. I was itching to finally earn a living as an artist, but I had no clue on how to do so. With no place to go, I went back to my parent's home on the Island. I eagerly took the train from the Hicksville Station to NYC daily in search of a job.
Living at home and commuting to the city was difficult. I did not make enough money freelancing or from the day job I got putting ads together for a department store to afford living in the city.
I changed direction and moved to Schenectady, NY where Steven was finishing his senior year at Union College. I had very little money and put the last of it down on a studio apartment near him. Once I got situated, I opened the phonebook and dialed until local advertising agencies met with me. One of them gave my information to a group that had received a C.E.T.A. Grant and was looking for a graphic artist. The caveat was I needed to be destitute. I fit the bill and had one of my favorite creative experiences becoming their graphic artist, illustrator, and life drawing instructor for workshops I created. I served the community and its community of artists. I was able to get by financially and be with the love of my life.
Fast forward to my life today as the mother of four grown daughters. I am a fine artist, illustrator and writer, as well as a facilitator of figurative drawing workshops. All of these endeavors allowed me to earn a living while using my skills to collaborate with artists of all ages, curate shows for others and myself, design commercially and teach privately. I have also had gallery representation in many parts of the country and still sell my drawings and paintings on my own. My favorite commissions are for portrait paintings that I call my Fein Fantasy Portrait Series. It is a good feeling to know that my work is displayed in numerous private and public collections throughout the country and people can enjoy my creations.
These experiences have brought me to a new creative juncture where for the past few years, I have been concentrating on being an illustrator. Since I answered a query from MacLaren-Cochrane Publishing and was paired with author Mayra Calvani to illustrate Mama Graciela's Secret, I have been inspired to illustrate children's books with publishers and authors.
Some of my favorite books I have recently illustrated and designed are My Milk Will Go, Our Love Will Grow by Jessica Elder, and Okelani's Enchanted Wheelchair Space Bound! and its companion coloring book written by Alexandra Sanchez.
Now, I am in the middle of co-writing and creating Pookie and Dookie, Become Friends with author Robyn Flans. I am excited to continue my journey as an illustrator and expand my voice as a writer.
Can you talk to us a bit about the challenges and lessons you've learned along the way. Looking back would you say it's been easy or smooth in retrospect?
The times we all live in today are a struggle for most and finances from the start were an issue for me. I was impatient to become part of the art world and afraid of the debt I was accruing beyond the grants I received for college. Needing to hold down a job made it hard to be a student and engage in all that the college had to offer. That fear propelled me to rush myself into the working world without a clear direction. I often wish I had explored more internships to give myself clarity because I felt caught between being a fine artist and a graphic artist. I wanted to paint, write, and illustrate. Somehow, I incorporated them all into a dynamic career by forging my own path. I even managed to keep photography as a hobby. I can say it has never been boring wearing so many hats. But as old obstacles end, new challenges arise. Unfortunately, on November 8, 2018, the Woolsey Fire raged through the Santa Monica Mountains where I live. We almost lost our home in that fire as well as all my work from my childhood to now. I am still affected by this emotionally and professionally but realize how lucky we are to have our home mostly intact. After 8.5 months of living at another location while we dealt with the smoke damage done to our home, we finally were able to move back. However, our relief felt short-lived because the Covid-19 Pandemic began, further changing our lives and now the lives of the world. The joke I tell people is, "We could not live in our home for over eight months, now we can't leave it!" 13.5 months later, we are finally venturing into the world again.
As you know, we're big fans of you and your work. For our readers who might not be as familiar what can you tell them about what you do?
I view the world in a whimsical and dreamlike way, even though there is so much pain humankind endures from so many unresolved issues. Still, I have maintained a positive attitude and desire to share the drawings and paintings I create. A favorite medium I draw with is color pencil. This is when my imagination knows no boundaries and I am in a relaxed meditative state letting my imagination guide me. My Fantasy Pop Series, Personification Series, Just a Line Series, and my figurative work with oil pastels on cardboard have been the outcome of my artistic exploration of different subjects and mediums over the years. These explorations made my leap to being a digital illustrator easy for me and creating children's books possible. I have always loved technology as a form of artistic expression. Delving into illustrating and writing books has carried me through this pandemic as well as drawing online with zoom sessions run by independent figure models. This allows me to keep in touch with my community and maintain my drawing skills. I look forward to each new day since you never know what a difference a day makes and what you can accomplish.
What were you like growing up?
As a child, I was mischievous, curious, adventurous, and bold. Younger than five years old, I remember walking out my front door of my childhood home in Jericho, Long Island to knock on neighbors' doors looking for other children to play with. Since my mother rarely left the house, I took it upon myself to explore my neighborhood. I am not sure what my friends' parents thought, but I was always welcomed into our neighbor's homes. This desire to explore the world around me is why I am an artist today. To me, being an artist is like living in a waking dream, and I am still that dreamer.
Contact Info:
Email: feinfantasypop@gmail.com
Website: www.sheilafein.com
Instagram: @sheilafeinillustrator
Twitter: @sheilafein

Image Credits:
Kara Fein, @feinke, @feinphotos
Suggest a Story:
 VoyageLA is built on recommendations from the community; it's how we uncover hidden gems, so if you or someone you know deserves recognition please let us know 
here.