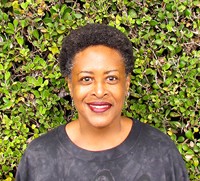 Today we'd like to introduce you to Fran Sutton-Williams.
Alright, so thank you so much for sharing your story and insight with our readers. To kick things off, can you tell us a bit about how you got started?
I'm an African American woman born October 8, 1950 in Brooklyn, New York. This means I was born before civil rights and grew up in a very segregated America. As a child, I was lucky to live in a diverse neighborhood where I had no idea there was such a thing as racism. Then in 1962, the New York City Board of Education created an integration program for the NY public school system. It was called Open Enrollment and I was one of the first 100 Black students put into the program and "funneled" into Bensonhurst, a white neighborhood in Brooklyn. I finally learned about racism the hard way. Bensonhurst became infamous when Yusef Hawkins, a young Black man, was beaten to death there by a group of Italian youths in 1984, so you can imagine what it was like in 1962.
I attended Bensonhurst Junior High School, 128, then Lafayette High School. Those six years left deep wounds that I still deal with today. I tell people that it's one thing to live in a racist culture but another thing entirely to understand the facts of systemic racism. I had no idea how intersectional and deliberate racism is until seven years ago when I joined two anti-racism organizations and began studying the facts of the enslavement of Africans in America and all that has followed since then. The two organizations are Race Relay (RR), founded by Denise Hamilton, and Coming To The Table (CTTT), founded in Virginia in 2006. Race Relay began as a play with multi-media presentations that had actors of various races talk about their experiences with racism in America. The audience, mostly white, was invited to participate by asking the questions they had always wanted to ask people of color. I saw the play that night and joined what became an on-going, monthly conversation held at the Common Peace Center for the Advancement of Nonviolence in Culver City. CTTT grew out of an idea that Will Hairston, descendant of one of the largest slave-owning dynasties in the US, had after attending a reunion of Black Hairstons when he was eighteen. It was a life-changing experience and in 2006, he and a few others with enslavement in their family trees got together and laid the foundation of what became CTTT. I was introduced to CTTT when I read the book "Inheriting the Trade" by Tom DeWolf, a descendant of the largest slave-owning family in the north.
Having grown up in the north, I was intrigued by the idea that someone would write a book telling the truth about racism there instead of just in the south. At the end of the book, mention was made of CTTT. I called hoping to get an email address so I could communicate with Tom and was amazed when he answered the phone. That was the beginning of a long and deep friendship with Tom and my participation in CTTT first as a member, now as the co-facilitator of the Santa Monica chapter that I founded in 2017. (See, "About Us," on the CTTT site: https://comingtothetable.org/about-us/) I'm retired so I have plenty of time to devote to the cause of anti-racism. CTTT has two chapters in Los Angeles, ours in Santa Monica (though we meet monthly on Zoom now and will be moving to Culver City when the COVID quarantine is over,) and the other in Pasadena, which was the first chapter of CTTT in L.A., founded by the late leader Lisa McMurray. The past four years has seen an increase in membership of both organizations but it was the murder of George Floyd that led to a dramatic rise in the number of chapters of CTTT that spread across the US. My history of being on the front lines of integration led me to work at bridging the gap between African Americans and whites. Today I participate in over 15 Zoom meetings a month and oversee an email list that requires me to answer about fifty emails a day, most requesting information about racism. Both RR and CTTT are about having the difficult conversations about racism that have been avoided for centuries. We create safe spaces for people to unpack their prejudices and speak candidly about their fears, concerns and aspirations.
We're all seeking to close the racial divide that is swallowing Democracy in what has been touted as being the most democratic country in the world. People of all races are invited to come sit at the table and have deep dialogue about our troubled past and our possible future. On a personal note, I graduated from Marymount Manhattan College in 1972 with a degree in theater. In 1974 I moved to L.A. to go to UCLA and get my Master's and break into acting. I never got the Master's, I got married and became a stay-at-home mom. As for the acting, I took classes for three years but the acting never evolved past doing some student and industrial films. In the early 70's there was no market for a Black actress with a heavy Brooklyn accent. I've lost (most of) the accent (until you get me mad!) and spent years helping to raise my stepson and doing animal rescue at a local shelter. After my divorce in 1987, I went back to work. It took me a long time to gain experience in the world that had been seriously changed by the computer revolution. I worked my way up through various jobs until I was hired by Warner Brothers Studios in Burbank in 1989 to be a dialogue coach. Not a dialect coach teaching people about accents, but a dialogue coach which is basically an acting coach who works with children or people who have not had much acting experience. The shows I worked on, Family Matters, Parent 'Hood, and the Jamie Foxx Show, had children in the cast.
Frequently these shows had guest casts like rappers and other musicians or dancers who had little or no experience with acting. It was my job to help them learn their lines and hit their marks. I retired in 1999. The one thing I do besides the anti-racism work is written. I love fantasy fiction and have written a few short stories that can be found on Amazon. I also published my first book last year. It's called "Fierce Truth," and it's a collection of short stories told from the point-of-view of sexual abuse victims, some of them children. Not an easy read! The stories grew out of my healing process as a survivor. I'm now in the process of outlining a memoir about my experiences with racism. I've lived in the same house in Palms for 36 years along with pets that have ranged from rabbits and guinea pigs to dogs and cats, all of them rescues. Today I live with Jack the Cat, aka "The Chicken Ho" (can you guess his favorite thing to eat?) I just had my 70th birthday on Zoom with friends and relatives from coast-to-coast. I love collecting well-written children's books with great art in them and watching nature documentaries and Fantasy and Sci-Fi animation. My house is full of books on a variety of subjects.
Would you say it's been a smooth road, and if not what are some of the biggest challenges you've faced along the way?
Not at all. Being Black and female are two huge, life-long challenges. In addition, I'm a survivor of various forms of abuse, including racism. All my life, I've fought clinical depression, dissociation, PTSD and agoraphobia. Despite all that, I've managed to hold down jobs, help raise a child (he was six when I met him. He's now 52,) and write (though not as much as I would have liked.) Psychotherapy, medication and a deep spiritual connection have sustained me. I've also been blessed to have wonderful friends.
Thanks for sharing that. So, maybe next you can tell us a bit more about your work?
My work is in two areas. I lead anti-racism meetings in Santa Monica, now online with Zoom during the quarantine, and I write fantasy fiction as well as short stories about being a survivor of various forms of abuse. I'm more known to the public for my anti-racism work as it's done through a national organization that I've worked with for over six years. I'm proud of that, but I'm most proud of my writing, which can be found on Amazon. The short stories are for anyone, but the book "Fierce Truth" is for professionals and survivors dealing with sexual abuse. People tell me that I'm an excellent leader and speaker and my writing, though some of it is emotionally difficult to read, has a profound impact. I believe that what sets me apart is the quality of my ability to distill experiences and make them easily understood by others. When I share about racism and abuse, I've been told people understand the issues in ways they never had before.
Are there any apps, books, podcasts, blogs or other resources you think our readers should check out?
Wow, there are too many books, videos and movies to list here. I've consolidated most of the anti-racism resources into two lists. One is a long list, "CTTTSM (Coming To The Table Santa Monica) Resources," and the other is a shortlist for those new to the subject and is called "CTTTSM Racism Kit 101." As for my work on abuse issues, the books I've found most helpful are "Trauma and Recovery" by Judith Herman, "The Courage to Heal," by Ellen Bass and Laura Davis, "The Boy Who Was Raised as a Dog," by Bruce Perry and, "The Body Keeps the Score," by Bessel Van Der Kolk.
Contact Info:

Image Credits:
Group photo credit should go to Jane Feldman, Coming To The Table.
Suggest a Story:
 VoyageLA is built on recommendations from the community; it's how we uncover hidden gems, so if you or someone you know deserves recognition please let us know 
here.