Today we'd like to introduce you to Yassin Koptan.
Hi Yassin, we're thrilled to have a chance to learn your story today. So, before we get into specifics, maybe you can briefly walk us through how you got to where you are today?
It started in 2005 when my classmates encouraged me to start skateboarding when Skateimpact, Egypt's first skateshop, started. I was 11 at the time and didn't expect much out of it but being a first-generation skater, that was probably one of the most important pivotal moments in my life. In 2009 I got sponsored by Skateimpact and by that time, I had already picked up some skills like filming, editing, organizing events, photoshopping posters, printing stickers etc. The skateboarding scene in Egypt was pretty limited. No skateparks and no more than 3000 skaters so we had to pull a lot of the leg work ourselves and we still do.
At the age of 15 I was cast in a feature film called 'Microphone' as myself. The film focused on the underground scene in Alexandria that's always had an edge in the country with hip hop, rap, rock, metal, skateboarding, graffiti artists and independent talent as a whole. The film went to TIFF, won some awards in other festivals and became an iconic piece in Egyptian film history even though it was doomed with its release that coincided with the 25th of January revolution in 2011.
After that I was a senior in high school and was struggling to convince my "middle eastern" parents to pursue a skateboarding career, I was able to convince them to pursue a career in filmmaking. and in 2012, I was on a plane on my way to Los Angeles.
When I arrived to Los Angeles my first semester went well but then in the second semester, I was put on probation for missing classes and partying too much. In the third semester, I was finally kicked out of school by the dean. I made a deal with the administration that if I to go to community college for the summer, got good grades and then reapplied, that they would consider letting me back in. And after I did that, I was let back in! This was definitely another pivotal moment in my life because when you come from a country like Egypt that doesn't respect guidelines (EX: driving) like the west does, there is a very good chance that you will struggle to adjust and if you just happen to get over that struggle, you will change for the better.
And I did change. This turned me from a reckless rebel to a responsible one. Now, I look back at that person and wonder how we're even the same person. You could say my character took a 180-degree turn. A small example is just how messy and unorganized I used to be and how now I am the complete opposite. That still baffles me to this day.
Skip a few years, I'm about to go into my final semester and after taking the registrar's office okay to go to Egypt to direct my thesis, I head out there to do my first ever short film about a skateboarder that gets his board taken away from mall security and the story of how he tries to get it back. I called it Piece of Wood. It took a few twists and turns but production went successful-ish. But when I went there, I was kicked out by my school once more, this time by the freaking Vice President who sent me an email I'd love to share. The reason was because the plan was to go to Egypt to prep, fly back to LA for classes and green lighting, then come back again to Egypt to shoot. But because I was kicked out the first time, my visa was late a semester and I took the responsible approach to renew it. But the US embassy gave me a yellow security card that basically said things are going to take more time than expected which pissed off the administration.
So I was able to convince the school to let me back in one more time because it wasn't really my fault but I was stuck in Egypt for 10 months and my final semester had to be repeated and postponed. It was a tough 10 months in Egypt but when I made it back, I was already done editing my film and already in festivals. Just like the character in the film, I also did go through a lot of trouble for Piece of Wood. But it paid off, the film screened at Austin Film Festival, Cannes Film Festival, SF Indie Fest and 11 more fests. When I released it, Thrasher Magazine featured it as well. I got a generous amount of buzz back home because of it and it helped the skateboarding scene. So it was worth the trouble.
After avoiding another close expulsion by my dean (again) in my final makeup semester, I finally graduated and I was free. I had a work visa for a year provided by the school and had already garnered up a lot of editing and directing work in my portfolio during my college years so I was sort of prepared to take on this insanely competitive market.
I got a job editing at a production company that films communities and properties and during that time, I directed 'Layla', a music video for probably the biggest band in the Middle East, Cairokee, who are famous for their post-revolutionary music. I shot the video in LA without the band as well. That project is probably one of the best I will ever make because of how universal and timeless it is. And my goal is to always try and export eastern and western cultures to one another. Some didn't see it that way in Egypt though and called the video a byproduct of a psychopath :D. The video was Kitchen Films' debut project.
Then I found another job editing and directing food content. But my visa was about to expire so I needed to find a new way to stay in Los Angeles.
I applied for an O-1 Talent Visa which is basically a tough visa to obtain. The company I was working at sponsored my visa and 6 months later I received an approval letter. But during that 6 month period, my dean, who previously took the decision to kick me out of college, needed an editor and my directing teacher, William Dickerson, who previously believed in my skills and hired me to edit his trailer for his feature film 'No Alternative', recommended me and before you knew it, I was on my desk cutting my former dean's film. The movie ended up getting released on Netflix which was a great reward but the best part is him hugging me at the end and we both finally closing a chapter in probably the best way possible.
Later I was hired by a close friend who was Tony Kaye's producer, American History X director, to edit a few projects for him. One was for the democratic party and the other was this pitch he was working on. Honestly, that was short-lived but it was another mini film school just watching this guy just behave. The filmmaking wasn't even most interesting part. Then after going through a terrible breakup, my friend hit me up to direct her short film and I was able to express my experience onto it and make it personal. We called the film Skumjas and I'm proud to say it screened at Woodstock, Santa Monica International Film Festival and some of the biggest if not the biggest LGBTQ festivals around the world like Frameline
Then in 2019, after 7 years of living in Los Angeles and 3 years left to go on my visa, I decided to go back to Egypt to open an office for Kitchen Films, focus on helping the skateboarding scene and catching with family and friends.
From 2019 until 2021, Kitchen Films and myself made music videos for top rappers and musicians. Some were #1 trending on Youtube and some not but we did great to be bold and not care about making others uncomfortable. In Egypt, ads are king and they pay most. You can even see how some movies here look/feel more like ads just because filmmakers and people that studied conventional storytelling are struggling to get their projects funded. And when ads are king, then the customer is always right and that really doesn't align with what I learned about filmmaking over the years. In cinema, we convinced that the customer is right until they realize, they are not. and what can we really expect from a country whose economy is highly dependent on imports, trade, fast cash and middlemen? The only reason Egypt is the most influential country in the Middle East is because it has a bigger industry but not better filmmakers and storytellers, not even close.
In a nutshell, I've faced crazy opposition here trying to create independent projects but I won't stop. There was even a music video we signed with Black Coffee, Diplo & Elderbrook for a song they made together but didn't work out because of how tricky it is to even get a permit to shoot at the beach here sometimes because of the military system. Independent art is thriving in Egypt but the climate is still very much fighting it.
I am currently working on a music video for The Saturday Saints, that takes place in the world of skateboarders in Egypt, and developing my latest feature film that is also a skateboarding story and plans to film it here and go back to Los Angeles. I'm working on my visa again and decided that maybe the best way to treat this western/eastern cultural exchange program I set up for myself is to never settle in either. The best way to go on about this is to do a project here then promote it there and vice versa. So just like a skateboarder, I don't think I'm settling in a specific place. But LA will most likely be where I aim to distribute and market while also working on "upsetting the apple cart" in Egypt.
Can you talk to us a bit about the challenges and lessons you've learned along the way. Looking back would you say it's been easy or smooth in retrospect?
Hell No.
Being able to focus on your personal projects that you believe will lead you to where you need to be while also making a living.
Spending your money on your projects instead of on other worldly pleasures or sometimes necessities.
Friends and family that don't understand what it's like to be an artist. Whether it's about the struggles, the rewards, the need to express and most importantly, the sacrifices we are willing to make for our goals.
Avoiding selling out in general.
Funding films as well but that's just normal. Even the most experienced directors go through some type of funding process its just about the ability and experience to do so.
Giving some people the benefit of the doubt.
Thanks – so what else should our readers know about your work and what you're currently focused on?
Write, Produce, Direct, Edit
I'm known for Skateboarding & Filmmaking
I'm most proud of my willingness to sacrifice for an independent and universal approach to things and that I am not driven by superficiality. But sometimes I wish I was just because it might make some things easier.
What sets me apart from others is that when you watch my work, you will know its my work. So maybe the answer above as well applies here.
Before we go, is there anything else you can share with us?
Just like Egypt is hyper-commercialized and is being socially engineered with propaganda, I noticed that it's just methods we learnt from the west, and to be specific, the states.
Propaganda is all over the place in the states it's just hidden better. Like for example, Marvel films. I hate myself for saying that because I'm a huge Marvel comic book fan but no one can deny how their movies are constructed to play with the minds of masses in a specific agenda. I mean Disney are pros at that but this is getting a little bit sketchy.
But that doesn't mean I'll ever stop enjoying these films. They're part of why enjoy life lol. But sometimes watching Disney/Marvel films are like watching a popular Russian or North Korea film that was funded by their regimes. It's just cringe American Exceptionalism.
Contact Info: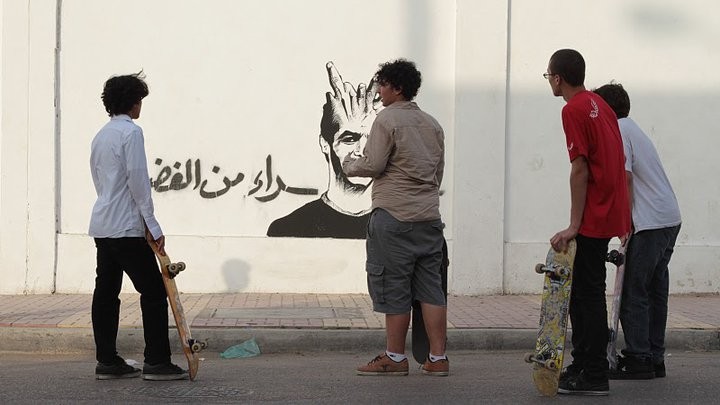 Suggest a Story:
 VoyageLA is built on recommendations from the community; it's how we uncover hidden gems, so if you or someone you know deserves recognition please let us know 
here.