Today we'd like to introduce you to Alyson Shelton.
Hi Alyson, thanks for sharing your story with us. To start, maybe you can tell our readers some of your backstory.
I grew up in SoCal, moved to Boulder, Colorado for High Schoo(l), with my mom, and ended up at Northwestern University. I studied theatre and Creative Writing for the Media and I will be forever grateful for meeting my first mentor there, Delle Chatman. She was the chair of the Creative Writing for the Media program and she encouraged my creative work but more importantly she championed work/life balance. She made it clear to us from the beginning that work is not going to fill any holes in your soul, you got need to work that stuff out on your own.
We all face challenges, but looking back would you describe it as a relatively smooth road?
I wouldn't describe it as smooth but I have always, always had a place to live, food in my fridge and love in my life, so I'm grateful for those things. Creatively I hit a big wall when I graduated from USC with an MFA in Cinematic Arts. When I graduated, I hoped and imagined my degree would help me secure work and an agent, um, not so much. In fact, my first job happened through a college friend connection. I worked as an assistant at a production company and continued to write on the side. I did all the things I felt like I was supposed to do; network, write, read others' work, submit, etc. and I didn't feel like I was making any headway other than becoming a better writer through practice, but I didn't appreciate that personal growth at the time. Eventually, my good friend and now indie film producer, Jen Prince, said,
"Well, why don't we make a movie."
And we did. I wrote the script, "Eve of Understanding" and we fundraised our tiny budget by hitting up friends and family, this was before crowdfunding, and made the film, coming in under budget and on time. The film did well on the festival circuit and secured distribution but it did not provide the breakthrough we hoped it would. It got me meetings, but not a rep and as many people probably know it is more difficult for a woman to direct her second feature than her first and I am definitely proof of that.
I took time off from writing indefinitely when I got pregnant with my first child. I felt like I didn't have anything to say that anyone cared about and I was happy, relieved in fact to let it all go.
After many years away, I did return to writing but this time with a new perspective. I decided to write for myself. To write for my audience. For my friend, Jen and people like her. I wrote a couple of screenplays, one which my friend, television producer and director, Jessica Petelle, proposed we turn into a comic.
We did that. That comic is Reburn and we are so incredibly proud of it. We successfully Kickstarted Issues #1-#4 (the first arc) and now we are weighing what's next.
During Covid, I started writing and publishing essays, and I love it. It's incredibly empowering not concerning myself with a greenlight. I can write. I can search for publishers and submit and keep writing. I've had essays in a number of publications including The New York Time, Ms. and Brevity. I'm now at work on a memoir in essays and I'm making progress! It's daunting, claiming the space, saying, "I'm going to write a book." And yet, making that proclamation has been powerful. Believing in ourselves is powerful.
I host a weekly IG Live Poetry Series inspired by George Ella Lyon's poem, "Where I'm From" Each week a guest shares their poem, using associated prompts and then we chat for a bit about their experience writing the poem and life. I've had the joy of interviewing George Ella herself and over 50 other citizen poets.
I've also guested on a bunch of podcasts, and it's been so fantastic. Starting in 2023, through a female podcast collective I'm a part of, I'll be hosting a monthly series called Fine Cut with Alyson Shelton where we'll discuss a scene from a movie/TV show/comic/book etc. in-depth as it relates to a larger issue. It should be fun!
Reading this back over, it sounds like it's been pretty smooth sailing cause I'm mostly hitting the highlights. Baked into any amount of success is a ton of rejection. There's been a staggering amount of that, which is totally normal. Over time, my relationship to rejection has evolved for the better. More rejection means more acceptance. And so I've gotten exponentially better at putting myself and my writing out there.
As you know, we're big fans of you and your work. For our readers who might not be as familiar what can you tell them about what you do?
I'm a writer in many different mediums. I've written screenplays, teleplays, stage plays, essays, comics and emails, so many emails. I also host and interview. I am curious about stories and I love to create. I'm a great listener, a high-quality note giver and excellent problem solver. I love to collaborate with like-minded people, it's the most incredible feeling.
Any advice for finding a mentor or networking in general?
I think saying "yes" is incredibly important. Saying "yes" without strings attached. If someone asks you to collaborate, say "yes." If someone asks you to join them on a podcast, say "yes." If someone asks you to contribute a piece to a collection, say "yes." But then if you're saying "yes" all the time how do you find time for yourself? For your own work? The trick is to only say "yes" to people you actually want to work with, to people who you admire, who make you laugh or think or both. I've wasted some time saying "yes" to people I thought might do something for me. They didn't. Because we weren't a good fit, we weren't building anything together. Learn from my mistakes, don't do things with people cause you hope they'll do something for you. Collaborate with people you like to be around, so even if nothing professional comes of the relationship at that moment, you have gained a friend, maybe even a cheerleader and you never know what will happen in the future. Be a good person. Be true to your word. If you ask people for their input, listen and take it if it works. Understand that everyone has a story and stress and dreams and disappointments. Advocate for yourself, your voice and your ideas without putting down the ideas of others. If you can, try hard not to see your peers as competition but as future collaborators, friends and maybe even as employers and employees. The journey is long if we're lucky, so try to enjoy it.
And most importantly, keep creating. Don't wait for someone to tell you you're good enough, you are. Your voice and ideas matter, get out there.
Contact Info: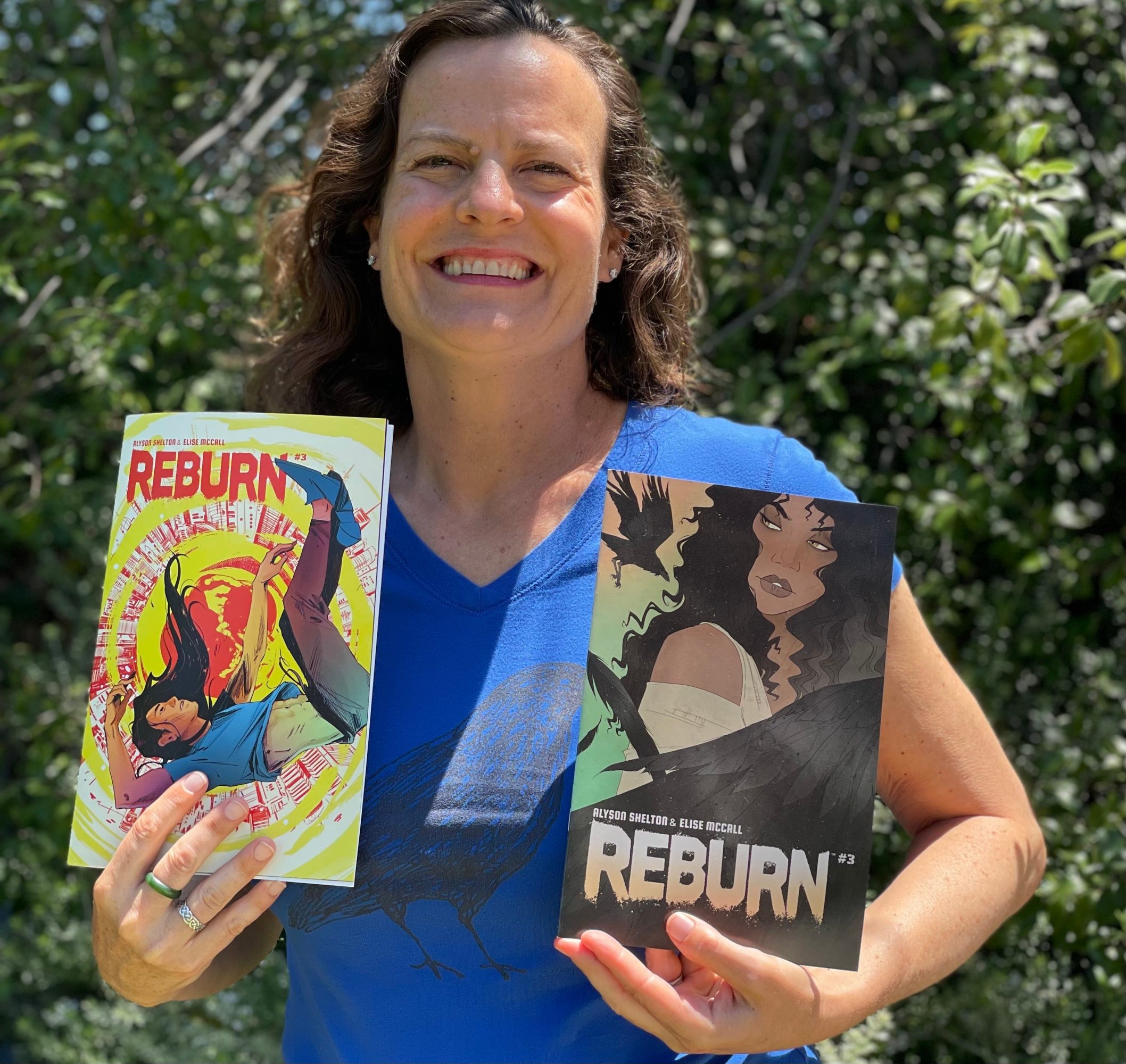 Image Credits
Cody Shelton
Suggest a Story:
 VoyageLA is built on recommendations from the community; it's how we uncover hidden gems, so if you or someone you know deserves recognition please let us know 
here.