Today we'd like to introduce you to Neil Rambaldi.
Hi Neil, so excited to have you with us today. Can you briefly walk us through your story – how you started and how you got to where you are today? You can include as little or as much detail as you'd like.
Well, the way I became a professional musician, recording artist, etc. began with my deep love for music, which has been here for as long as I can remember. At the age of 7, I was very excited about my first chance to begin studying and playing an instrument at school — the violin. Sometime after that, I took an interest in the alto-saxophone, followed by the trumpet, but by age 11 or so I became very interested in a lot more of guitar-centric music. However, after having started three instruments, in a way — I had to prove to my parents how much I wanted to play guitar. So after talking about it for a few years, by age 16, I finally took a trip to the music store and traded in my trumpet to buy my first guitar. I fell in love with guitar music and playing the instrument, and I have never put it down since then. I knew soon after beginning that I wanted to make a career with the guitar in my hands.
Although I am primarily a self-taught guitarist and musician who was simply obsessed with learning music and music theory on my own using my ear and many books (because there was no internet when I started!), I did decide in high school after taking a music theory class and playing in the high school jazz band to get a degree in music anyway to round out my studies.
I received a Bachelor of Arts degree in Music from William Paterson University, which included a concentration in audio recording (as I knew this would be a great asset to have). So in addition to my music studies including everything from music theory, to ear training, to classical guitar ensemble and more, I also took a total of nine semesters of recording engineering-related and physics courses of all levels in my studies to round-out my recording education. I also really enjoyed doing a Summer Guitar Session at Berklee College of Music in Boston in 1997 with group classes I had with Jon Finn and Jack Peterson among others. All of these experiences have definitely had a positive influence on my musical abilities, my experience, and my trajectory.
Although I love to continuously expand my knowledge, and I continue to do so in my discipline as a musician and artist, if I had time, I would also pursue a master's degree or possibly even a Ph.D. in music composition and music theory, but I choose (at least at this time) to focus more on what I feel I've most been put on this earth to do artistically and in terms of my spiritual evolution, which includes continuing making and releasing more solo albums, and continuing other inspired musical work — whether it be music for film and TV, etc. or session and touring work on guitar and vocal with other artists.
In between my very beginnings and where I am now, I began first working professionally playing guitar with bands and local artists in the New York area both live and in the studio starting in the late 90's, while also beginning to work as a guitar instructor, and parallel to all of that — working at a handful of recording studios building some of my music production chops working with various artists, engineers, and producers. Out of my studio production work during that time, it included working with the late, great Charles Earland on a record he did at Fox Studios in Rutherford, NJ, as well as multi-platinum artists such as Marc Anthony and world-renown mix engineer Michael Brauer among others back in my days at Sony Studios in New York City. I actually declined an offer to work full-time with Michael Brauer because at that time, I was leaving Sony (and full-time studio production and engineering in general) to fully pursue my vision and career as a professional musician. These experiences enhanced my ability to produce my own albums — A Call To The Wild and Perpetual Horizon thus far — on which I wrote, arranged, performed all instruments, produced, recorded, mixed and mastered everything at both my past and present personal recording studios, including in L.A. and New Jersey — with the exception of one guest performance on a song for my first album.
As things progressed, I continued writing and recording a large amount of my own music while starting to play with even more artists — first in New York and New Jersey, and later in L.A. — while turning my focus (ever since late 1999) almost exclusively to performing guitar (and sometimes vocals) in the studio and live, while also songwriting, composing, releasing solo albums and playing on other albums, music licensing, producing, and arranging. In 2001, while all of this was happening, I was very grateful to find out that I was chosen by guitar legend Steve Vai and the music business website of the time — Tonos — as a top-10 international guitar finalist in the Tonos Steve Vai Guitar Challenge. It was a tremendous honor! I eventually decided to move to L.A. in 2008, where my career continued to grow, and now, ever since 2020, I've been working bicoastally.
We all face challenges, but looking back would you describe it as a relatively smooth road?
Challenges are particularly inevitable when you aim high, so there has been no lack of challenges on the road I've taken. And when you choose to pursue an unconventional career, you usually have to work even harder to achieve it and make it work in a society that has less space for what you do. Choosing the path of an artist, especially when remaining 100% true to yourself and what it is you have been inspired or called to this world to create, is like choosing the path of the warrior. It requires persistence — knowing your path and sticking to it — and also destruction of any fears we may have about putting ourselves out there — especially when the art and music you are creating is authentic — because in essence, you are turning yourself inside-out to the world.
Then of course, the next challenge is finding a way to make a steady living doing this thing you feel "a calling" for. In many careers, it is a more cut and dry situation (i.e., a regular salary, etc.), unless you are self-employed. However, in other fields, like the one I have chosen, you often have to get creative with your business choices, which may involve identifying what you feel comfortable with doing on a regular or semi-regular basis within a range of likeness to whatever your original calling is, and often have to come up with diverse ways to make your living within a broader range, but keeping your original calling at the center. For example, if you like… (scratch that) — if you LOVE playing an instrument or singing, and you also write music and are really serious about all of it, you should see if you also would enjoy learning something like music production, or the music business, or maybe invest in further studies on how to improve your musicianship and songwriting skills, which can all present more opportunities. Additionally, you can start teaching your craft parallel to performing, recording, touring, etc. Some professional musicians also get involved in music therapy and other things. Regarding improving your musicianship and songwriting skills, that should be a lifelong thing. Even the masters are always learning. That is part of what makes them masters!
Anything is possible. Just make sure that your actions are INSPIRED actions. The Universe will handle the rest. Inspired action is like riding a wave that can become exponentially more powerful. Contrived action generally yields far less results. Having balance in your life, like exercising or something specific such as hiking in nature, can help with all of this and more. I love being out in the wilderness, whether it be at the top of a mountain overlooking an ocean or standing in a pristine desert with views for miles, doing any of these things balances me and is a great reprieve from hard work. It recharges me and gets the creative juices flowing.
On my career path, all of these challenges have applied, and then some. Identify what you love, and stick to it with authenticity. If you do so, the sky (or beyond) is the limit.
We'd love to learn more about your work. What do you do, what do you specialize in, what are you known for, etc.? What are you most proud of? What sets you apart from others?
As a professional guitarist, recording artist, songwriter, composer, arranger, and producer, as well as guitar mentor today, I've become best known perhaps for my two solo albums thus far, which can be described stylistically as modal rock fusion, blues rock, and instrumental rock (with elements of jazz, classical, classic rock, and hard rock at times), including my latest release, a 67-minute body of work — A Call To The Wild, and my debut, Perpetual Horizon, which came out much earlier in my career when I started in the New York area while playing guitar for artists such as Universal Records' Lilian Garcia (also of WWE fame), and others.
Very gratefully, both albums have received extensive FM and AM radio airplay internationally in 15 or more countries to date and heard on TV in 35 or more countries thus far through music licensing of my songs over the years with companies like Rumblefish and a few other music licensing agencies and publishers.
Regarding licensing, my songs have been featured on TV and elsewhere in feature films, TV shows, commercials, video games, and other media. Some sync licenses or other uses of my music and/or guitar playing include a commercial spot for Audi of America, the Wii video game "Dancing With The Stars: We Dance," AMC TV's "Hollywood Icon," the ESPN feature film "199 Lives: The Travis Pastrana Story," the extreme sports DVD video series "Nitro Circus," and many others including productions featured on MTV, AMC TV, National Geographic, and Fuel TV, among others.
Regarding U.S. and international radio airplay, I am very grateful for A Call To The Wild to be considered one of Cupertino, California-based veteran D.J. Don Campau's "favorite albums of the year," as declared on one of his broadcasts when the album came out, as well as grateful for the amount of very favorable reviews and various airplay of both albums in those countries, which include the U.S., Canada, Germany, Argentina, Chile, Mexico, Italy, Czech Republic, France, Belgium, Austria, Poland, Australia, and others. Notably, for doing this interview with VoyageLA, the U.S. airplay also includes L.A.'s very own KPFK 90.7 FM on the radio show "Head Room," which radio-debuted my song "Everything You Say" — a funky blues rocker off of A Call To The Wild with lots of over-the-top kinds of guitar lines and a vocal hook in an otherwise instrumental-dominated track.
I've also become known for my session guitar work doing multiple styles from rock to pop, blues, soul, rhythm & blues, jazz, hard rock, Latin jazz, Spanish / flamenco-influenced guitar, Americana, classical guitar and more — both in the studio and live, as well as songwriting, song arranging, music directing, and producing with other artists, including lead guitar and song arrangement on Michelle Kash's #4 hit on the Billboard Dance Club charts in 2020 for her cover of "Personal Jesus," which was produced by Aaron Kamin of The Calling (of RCA records). In addition to collaborating with these great artists, including also Lilian Garcia (of Universal Records and WWE) who I mentioned, I have shared the stage both on tour and locally or collaborated in various capacities in the studio setting with many other amazing artists and musicians including Gabriela (of Trans-Siberian Orchestra), Nuno Bettencourt (of Extreme & Rihanna), Stu Hamm (of Joe Satriani and Steve Vai fame), Demian Arriaga (of Miley Cyrus, The Jonas Brothers, Nick Jonas, and formerly with Richie Kotzen), Carl Restivo (Tom Morello's music director and touring bassist), Kenny Simmons (of The Commodores), Ty Oliver (of Powerman 5000), Spacey T. (of Fishbone and Sound Barrier), and John Taglieri (of R2 Records), among many others. Besides on Michelle Kash's #4 hit and another single of hers, I also have worked as her live guitarist, music director, and backing vocalist since 2016.
Parallel to my music career as an artist and musician, I've also been a guitar instructor of multiple styles to a now two-and-a-half decades trail of very talented (and in some cases, well-known) guitar players, songwriters, and even actors and actresses. Some of my former guitar students include multi-Grammy nominated solo artist Phoebe Bridgers (of PAX-AM Records, and member of the supergroup Boygenius), platinum-selling producer / songwriter / multi-instrumentalist Andrew Wells (whose album credits include Jason Mraz, Celine Dion, Halsey, and Phoebe Bridgers), actress Zoey Deutch (of Zombieland: Double Tap), touring bassist Alicia Vigil for DragonForce (of Roadrunner Records and Universal Records), members of The Regrettes (of Warner Brothers Records), actor Will Bradley (of Pretty Little Liars), guitarist Waylon Rector (of The Drums, and formerly of Kitten and Phoebe Bridgers), guitarist / producer Mark Raggio, and many more.
Parallel to continuing to write, record, and actively book tour dates with both my solo live band trio and as solo acoustic, etc., I currently still teach many guitar students both online via Skype and in person at my studio, with many students from L.A., as well as all over the U.S., and even internationally.
As far as touring, I would love to land an opening slot on tour with artists such as Eric Johnson, Joe Satriani, Steve Vai, Joe Bonamassa, Andy Timmons, David Gilmour, Jeff Beck, or any of the like, as I feel my music fits within a broad range of guitar players like these. I work with some great drummers, percussionists, and bassists in both L.A. and the New Jersey / New York area for any full-band solo touring opportunities. I also have an extensive solo acoustic setlist that I perform for more intimate live dates.
I am also always seeking more sync licensing of my songs for films and TV, etc., and at some point, I would also like to become a regular contributor to a guitar publication as a columnist on guitar techniques and style.
I am an officially endorsed artist with Spectraflex instrument cables, whose products I love. I also have worked with Tim Godwin at Taylor guitars for my steel-string acoustic guitar needs, and I would love to also work with companies like Fender (whose electric guitars I use extensively) and Seymour Duncan (whose guitar pickups I also use extensively).
As far as your question about what I am most proud of, if I had to pick just a few things that give me great pride, I would say simply staying on "my" path, fulfilling long-held visions, and always keeping authenticity in my music. If those things are in place, then it is easy to be proud of your work. Of course, I would also have to say that I am particularly proud of my latest solo album, A Call To The Wild, which was a tremendous amount of material for me to put out (at 67 minutes and 13 tracks), and on which, I performed every single instrument, minus some drum programming mixed with live percussion, which I also performed, not to mention doing all of the production, and mixing, etc. as I mentioned. It felt amazing to release that, and I am looking very forward to releasing my third album as well, as I have already written a very large amount of music since A Call To The Wild.
As far as your question about what sets me apart from others, I would simply say that as musicians, we all are doing our own thing the way we are called to do so, and the more authentic we are with our craft, then the more people will be drawn to what we do. I strive to be 100% true to what I'm inspired from "Source" to create, without any influence of trends. It's all real and aligned with my naturally evolved path as I continue on my journey. Hopefully, everyone else does the same, and if we all do this, that alone will especially set us all apart from one another with regard to what we do musically.
What do you like and dislike about the city?
The ubiquity of artists of all types coming here to make it happen — making their vision become a reality — that is what I like most. As a musician, it has been very inspiring on a creative level being around tremendous talent, but being that I really need to connect with "Source" on a regular basis deep in nature, I admit that I've gone away frequently over the years to either the distant beaches of California or the deserts in either California, Arizona or beyond. This has really helped me balance out the L.A. city experience with being in the wild. I prefer to live a relatively quiet life when I'm not collaborating, which enables me to "get out there" every time I'm called to do so.
Contact Info: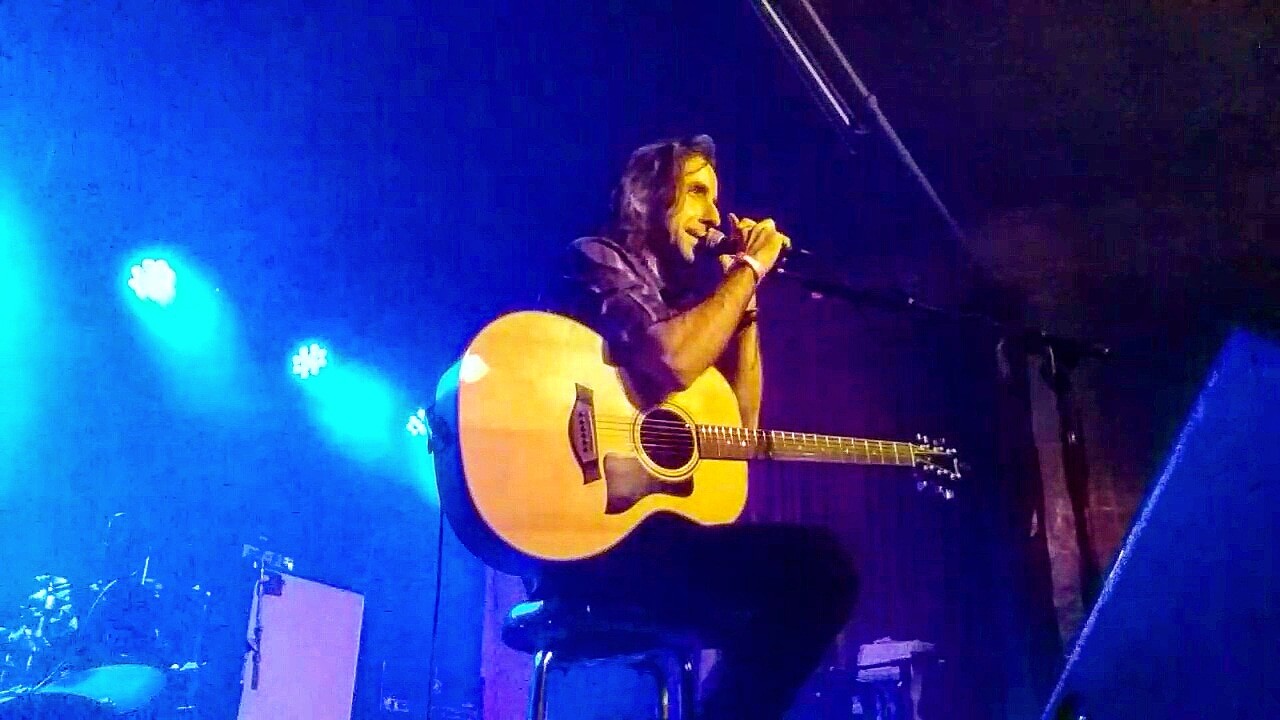 Image Credits
Michele Wernick / Justin Guarino / Gabriela
Suggest a Story:
 VoyageLA is built on recommendations from the community; it's how we uncover hidden gems, so if you or someone you know deserves recognition please let us know 
here.