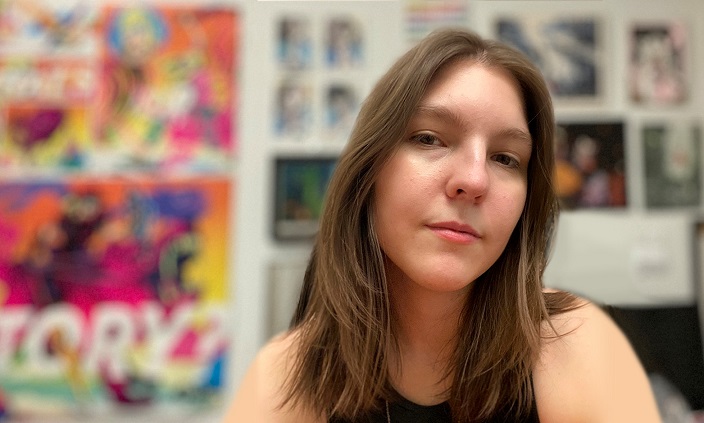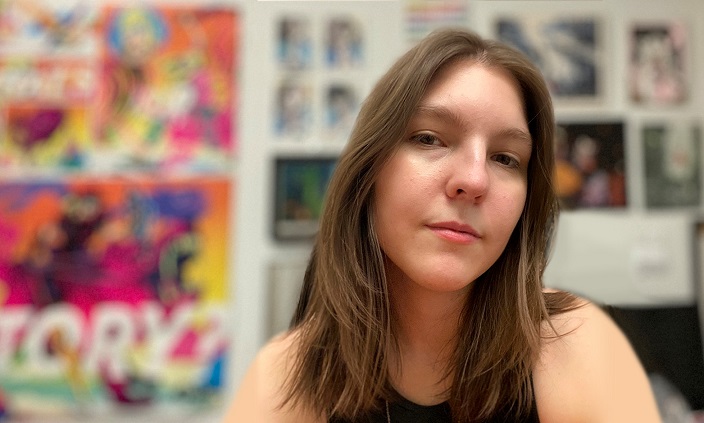 Today we'd like to introduce you to Jordan Lisicky.
Hi Jordan, thanks for joining us today. We'd love for you to start by introducing yourself.
I'm a senior BFA illustration major at the School of Visual Arts, and I specialize in Risograph printing. Starting at the beginning, my love for drawing was always present but took a long time to develop. Growing up in downtown Baltimore, I was constantly surrounded by a strong community of artists, and I think that fostered my fascination as a kid. In Baltimore, I feel it was quite common to spot students attending the Maryland Institute College of Art, colorful murals that decorate the sides of buildings, and craft fairs such as Artscape that would occupy the streets and churches. As a kid, I would spend my time tracing the box art of my VHS tapes or admiring the art on trading cards. I would create flip books and staple my own newspapers, ironically, which are reminiscent of zine culture today. I liked telling stories and making characters that would fit into them; however, some of my favorite memories are drawing animals requested by my parents. I remember in fifth grade, I was really keen on trademarking this character I had designed, and I think that just shows that even back then, I felt a sense of pride and ownership in my work. I went to Baltimore School for the Arts for high school, and it was there that I started to take art seriously and was given foundational drawing training that I still utilize today. I think community is a prominent aspect as to why I make art, and at BSA, I was able to bounce ideas off of other students and share in their passions and goals. In high school, I focused on gouache painting, pastels, and self-portraiture.
At BSA, I created a large body of work, and with the school's help, I was able to apply and attend the summer Pre-College program at the School of Visual Arts in NYC. I had always felt SVA was my "dream school" because their faculty consisted of big-name working artists, and it was this summer Pre-College program that I really loved the relationships I built with these professors. Within the program, we had three weeks to complete a bound book, and we also had to incorporate linoleum cut prints, and I found the printmaking process especially enjoyable. After that experience, I applied to SVA for college and was even awarded a presidential scholarship, so I felt as though the feeling was mutual. I always had an interest in Risograph, having been exposed to it at arts and craft fairs and seeing it online. My freshman year, I attended MOCCA Fest and met the cofounder of the RisoLAB here in NYC, and that was just the start of my Riso journey. After foundation year, I was finally able to hop on a Risograph machine for a zine class, and it was there I fell in love with the process of Riso printing. This copier-like machine utilizes fluorescent layered colors, and each copy is unique. I felt it was a harmonious blend of traditional and digital media, both vintage and contemporary. Texture and color are both things I find truly fascinating. On the east side, I ended up helping a facility maintain the machine by cleaning it and assisting others to produce work. One of my Riso prints was chosen to be a part of the 2020 Society of Illustrators Student Scholarship exhibition, and that had been one of my dreams. From there, I ended up at the RisoLAB, where Panayiotis Terzis has only strengthened my desire to pursue Riso. At the RisoLAB, there is a sense of community, fellow printmakers, who exchange prints and work collaboratively on artist books and zines. I currently work as a teaching assistant there, and it has gotten so bad that I have had dreams of Riso printing. I've tabled at conventions with my prints, and I feel that is another element of the artistic community that is extremely rewarding, and I've also been featured in AI-AP and Society of Illustrators LA. I have finally found the perfect balance between work and doing what I love, without neglecting my imagination and what comes naturally. I'm telling stories and making characters, and I want to share them with people.
We all face challenges, but looking back would you describe it as a relatively smooth road?
I think the pandemic was a huge obstacle. It limited accessibility to Riso, studio spaces, and artist collectives, ESPECIALLY for printmakers and those who promote their work at conventions and art markets. It makes me feel as though I have to make up for lost time and work even harder. In actuality, as a student, I think my biggest challenge has been the struggle of staying true to myself. For a long time, I thought illustration had to look a certain way and I was hyper-focused on technical skill. In reality, it is broad and bleeds over into other areas such as graphic design, cartooning, animation, and printmaking, and that's why I chose to be an illustration major in the first place. I'm glad that I am now drifting away from that and journeying back into the realm of fantasy. I'm blending what's in my head with what I have learned in observational drawing rather than forcing myself to create a piece just because a professor would like it. It shows in the work. I think the lesson is that it's not about what people want to see, but instead, people will be drawn to what you are passionate about.
Thanks – so what else should our readers know about your work and what you're currently focused on?
I fell in love with Risograph printing, and my friends have dubbed me a master. Risograph is the marriage between the mimeograph and screenprinting, though completed on a copier-like machine. It's still very new and not necessarily intended for artist use, so everything we create is innovative to the practice, and each print is unique. I love mixing the fluorescent colors on the Riso, but it may sound like a science or some sort of magic to others. There's something about the manual process of physically loading the paper and moving parts such as the drums that I find so satisfying in a digital age. Generally, I love the texture and color Riso printed work provides, and my subject matters focus on fantastical beasts and duality, such as the dark yet whimsical. Growing up, I really liked Grimm's fairytales and often reflect on how stories such as Little Red Riding Hood can appeal to both young children and adults. That is something I try to maintain within my work. That being said, I love making illustrative prints on the Riso and helping others understand the machine so they can tell their own stories. I make zines, character designs, background paintings and write a little as well. I consider myself a printmaker, although I am also exploring the world of screenwriting and poetry. I want to tell stories, whether that story is communicated through writing or an illustration.
In terms of your work and the industry, what are some of the changes you are expecting to see over the next five to ten years?
I think Risograph is still new in the industry and currently lives in the same realm as self-publishing and indie comics though it is slowly gaining appeal. A lot of people just don't know what it is or struggle with the machine, so they dismiss it entirely. I think that's something that will change over time, and Riso will gain more traction as there are more places for exposure. Perhaps this is because of the pandemic, but I think conventions will have a large resurgence once it is safe to gather again. I'm hoping, at least. I also think mixed media is a big shift within the art world. In my experience with art school, I feel there's a tendency to stick to labels and isolate departments from each other despite overlap and collaboration existing in the industry. The combination of traditional and digital work is something I used to really debate with, although I feel now it's about documentation and doing your best work regardless of medium, and that will only evolve over time. Art school very much fosters the idea of having a specific style and medium, but diversity and breadth are also equally important. I don't think the visual art world will collapse in 5-10 years, but I definitely think there will be changes and maybe a bit more freedom and acceptance.
Contact Info: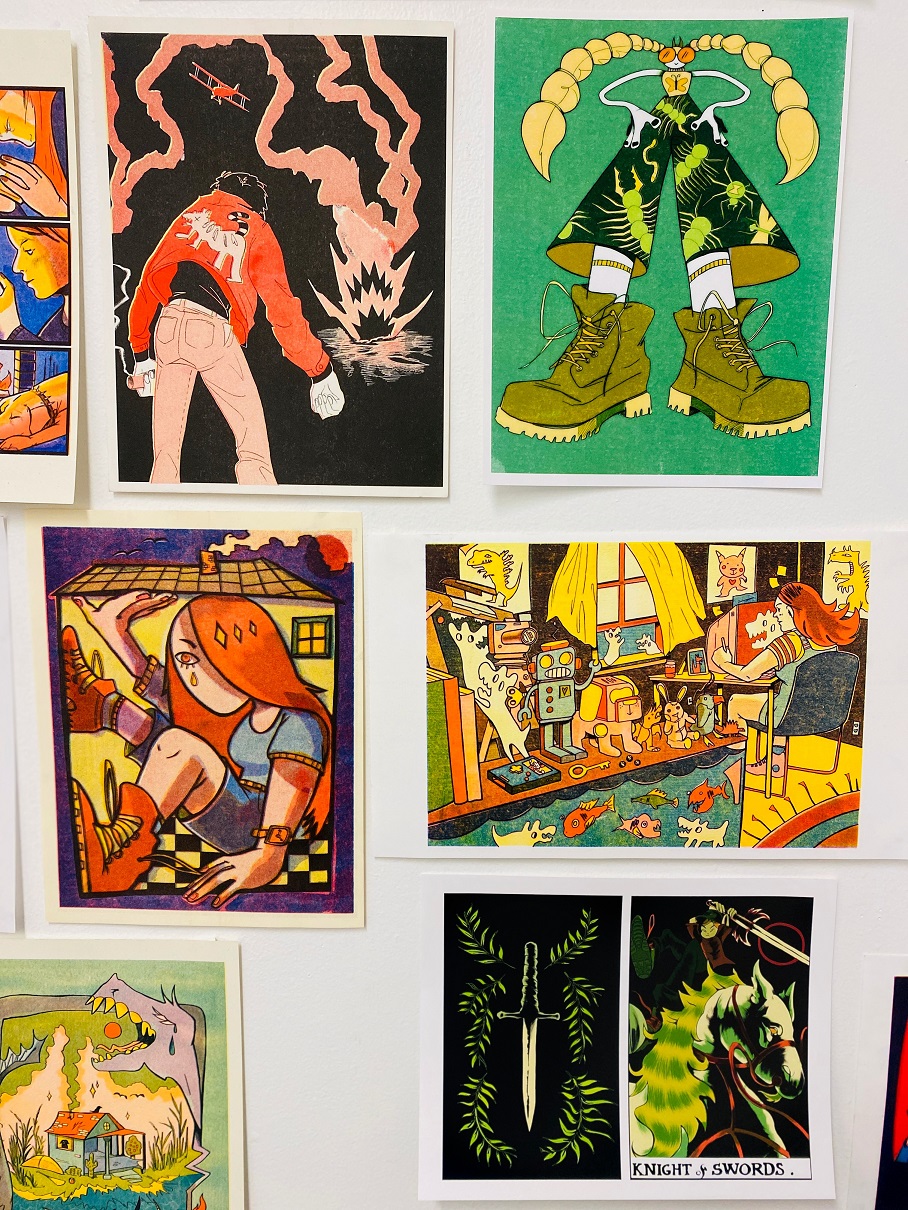 Suggest a Story:
 VoyageLA is built on recommendations from the community; it's how we uncover hidden gems, so if you or someone you know deserves recognition please let us know 
here.